The strained political and military relations between India and Pakistan have not stopped people from both nations forming friendships and relationships that endure despite the tension. Sutirtha Saha talks about his experience meeting such a couple, and discovering a story of love across borders.
It was one of those days. I was returning from the USA, the first leg from Seattle to Dubai was a long one, lasting around 14 hours, and I desperately wished for some Indian company. I was not one of those types to spend my time watching back-to-back movies. I was seated in the middle section of the plane and had neither aisle nor window in my vicinity.
It was during one of these wishes that the couple laboured to their seats next to me. I could make out that my wish had been granted by the coffee complexion of their skins and the jewellery adorning the lady. She took a seat on my left while the man sat on her left. They seemed very engrossed in themselves, so I did not rush into an introduction. After all, 14 hours are more than half a day.
Both of them seemed to be in their late 30s—the man had a clean-shaven bulbous head with a French-cut beard, while the lady had long hair. They conversed in Hindi, and so my doubts were cleared—soon, I would be able to strike a conversation, and then the time would pass quickly.
At some point, I switched on my mobile, configured it to the mid-air Wi-Fi, and was on WhatsApp very soon. The woman watched me, and both of them kept murmuring to each other until finally, the man asked, "Brother, how are you able to do WhatsApp in mid-air?" That was enough to break the ice.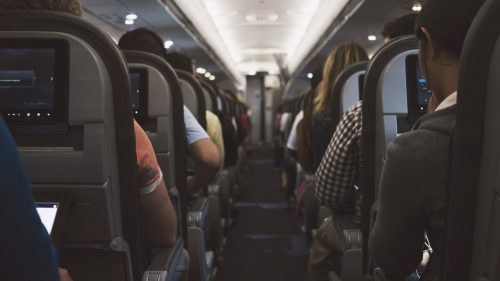 After educating them about the facilities of mid-air Wi-Fi, I moved on to introductions. The lady was from Benares. I got excited on hearing Benares—as an amateur photographer, I told her that I had been to Benares on campus recruitment, and had found Dasaswamedha Ghat and Assi Ghat a photographer's paradise. Then the man introduced himself. He was from Lahore!
"Lahore?" I repeated. That's blasphemy in this age—how can a Hindu lady from Benares be married to a Muslim man from Lahore? What was the unappreciative term that was given to such things – 'love jihad', or something similar?
Long ago, the man's father had come for work to Benares, when the couple met and fell in love. Those were peaceful times, and falling in love was easy. By the time they got married, his family had gone back to Pakistan, but he had got an Indian visa, and they had a grand wedding.
That was then.
Things changed for the worse and they migrated to Seattle, away from both their countries in a neutral land. They got work in a hospital there and soon, two children came along.
Five years had passed since they last came to this region, and they were desperate to meet their parents. "I was refused an Indian visa," stated the man in a matter-of-fact way, "So she got a Pakistani visa. Her parents are going to Pakistan also, so that we all meet there."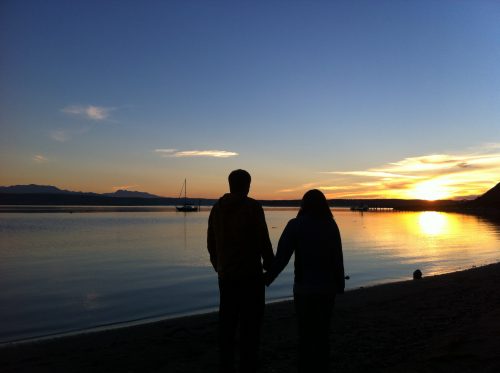 I listened dumbstruck as they narrated their story. "Where are the children?" I asked. "We left them with an aunt in the USA. We weren't confident enough to bring them," they explained.
Dinner was served and the lights were dimmed. Conversations reduced to murmurs and soon died. I was fast asleep, but woke up with a jerk at one point.
In the dim light, I watched the lady sleeping, with the bulbous head of her husband cradled in her arms, blissfully oblivious to the troubled times. Their coming days were uncertain, but who cared – it's the present that mattered. After all, love is strange, and does not really understand the boundaries made by the human mind. I let them sleep—as long as they were on the flight, they were safe.
(The author is an engineer by profession, a writer by chance, and a photographer by passion. He loves reading about photography, and his favourite photographers are Steve McCurry and Raghu Rai. He's won a few awards in photography, as well as poetry and writing competitions in his childhood, and recently he's contributed to the Chicken Soup for the Indian Soul books (six of them to be precise)).
This post first appeared on Bonobology.com. Have an inspirational story about couple relationships in India to share with us? Write in to Bonobology today.
All images are for representational purposes only.
Like this story? Or have something to share? Write to us: contact@thebetterindia.com, or connect with us on Facebook and Twitter.
NEW: Click here to get positive news on WhatsApp!