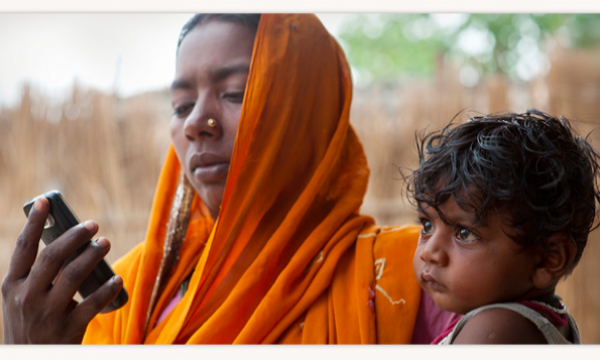 >Dimagi, which means 'of the mind', is a team of intellectually committed professionals who envision applying innovative, scalable, open-source technology solutions to improve community health programs around the world. Here we present the Dimagi founders, Jonathan Jackson and Dr Vikram Sheel Kumar, two enthusiastic young men with Harvard and MIT background.
Dimagi, which means 'of the mind', is a team of intellectually committed professionals who envision applying innovative, scalable, open-source technology solutions to improve community health programs around the world. Here we present the Dimagi founders, Jonathan Jackson and Dr Vikram Sheel Kumar, two enthusiastic young men with Harvard and MIT background!
It was in 2002 when Dimagi was conceived with a mission to deliver open and innovative technology to help under-served communities everywhere. It is a privately held social enterprise having its headquarters in Cambridge, Massachusetts, USA.
The enterprise has performed technical strategy, systems design, software development, and health research for over 130 projects in over 35 countries.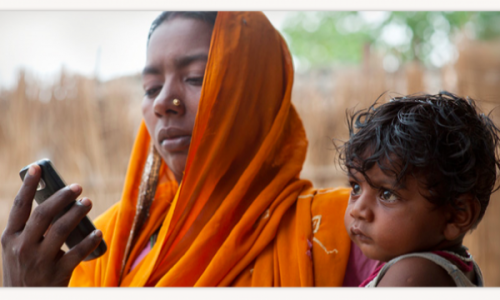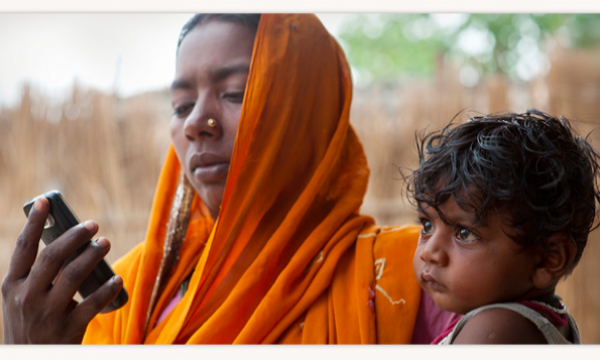 The group is very clear in its thinking that they explicitly wish to care about impact, team satisfaction, and profit (in that order). Jonathan Jackson and Dr Vikram Sheel Kumar, the founders and CEOs wish to share their vision and talk about their way ahead with our readers.
In building our business, Dimagi seeks a ground-up approach, applying a principal which we call 'design under the mango tree,' meaning that it is the end user and beneficiaries who drive the design and development of our tools. Our unique global network of field managers and partners constantly feed that innovation as we seek to be more responsive to the end user's needs, while providing clear and actionable data for project managers. Our field engineers share experience and lessons-learned with each other, but cultural diversity has taught us the need to develop technology that is equally diverse and flexible.
It must be mentioned forthright that Dimagi has successfully focused on addressing the challenges of maintaining an effective community health program including limited training and supervision for front-line workers (FLWs). In order to realize the true potential of FLWs, we need systems that ensure all beneficiaries have access to timely, high-quality, and engaging care, and that all program managers have access to current and accurate data.
Our primary goal in addressing this challenge is to track and support front-line workers throughout under-served communities to further enable training, support, and supervision of local development initiatives in low-income countries. Ultimately we believe that empowering these FLWs through the application of mobile technology will result in better development outcomes. Expanding on our significant body of work in the public health sector, Dimagi has been looking to leverage our experience in addressing a wide range of development challenges in fields that include agriculture, gender-based violence, and emergency and humanitarian response, to name a few.

We could not resist asking the team Dimagi one question – what prompted them to focus on mobile technologies if only 20% of Indian population uses smart phones? Their answer was bang-on target.
Mobile technology is the way of the future, particularly in many developing countries where cellular phones have a significantly higher penetration rate than land lines and more conventional communications technologies. While we recognize that a relatively small proportion of the Indian population uses smart phones, we have designed our technologies to work on a wide range of devices from the high-end smart phones and tablets, all the way down to more basic Nokia feature phones. In fact, in many of the contexts in which we work, these more basic handsets are preferable due to their longer battery life and general durability. Moreover, access to smart phones and the myriad features they offer will only increase in the coming decade.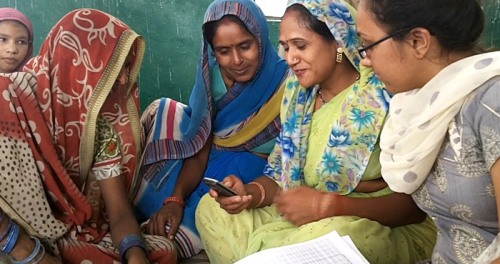 Team Dimagi also enlightened us about CommCare, their award winning health platform which was developed for use in the public health sector. On a fundamental level, CommCare transforms the conventional practice of a community health worker (FLW) – or any front-line worker, for that matter – manually filling paper registers and carrying large flipbooks. With CommCare, each FLW is equipped with an inexpensive phone running Dimagi's open source software. The FLW registers clients using electronic forms that have been effectively used by low-literate FLWs.
During home visits, CommCare aids a FLW with real-time guidance through key counselling points, decision support, and simple referral algorithms. Each counselling point is reinforced by images, audio, or video clips that the FLW can use to engage their clients. We have found multimedia to be universally popular among both FLWs and clients, and there is strong evidence in the literature for the role of recorded audio to improve the persuasive power of health messaging. CommCare also submits visit data in real-time (who was visited, for how long, and what answers were given) to our central cloud server, CommCareHQ, where it is privacy-protected, backed up, and immediately made accessible to supervisors and program managers.
CommCare currently support numerous mobiles handsets from inexpensive Nokia phones, to high-end Androids phones and tablet PCs, allowing a range in economic scale. Dimagi team is closely tracking the data for the usage of CommCare.

As CommCare scales, they are also tracking the impact of operational processes on programmatic variables such as enrollment, visit rates, and length of visits as well as health indicators including client uptake of services and health outcomes including neonatal mortality.
They are working on many other successful projects all around the world.
In terms of adoption of CommCare, we have had almost 500 projects to date, nearly 200 of which are still active. Our current projects span 31 countries, actively tracking 60,000 beneficiaries. Last month we collected over 200,000 forms. These numbers are modest, but we are excited to see them double about every six months.
Team Dimagi is very hopeful about the bright future of information and communication technologies in health sector.
Since 2005, the National Rural Health Mission in India has trained and deployed 750,000 Accredited Social Health Activists (ASHAs), a type of community health worker sponsored by the government of India, to provide proven health interventions at the community level. However, despite largely achieving its goal of enlisting 'One ASHA for every village', the ASHA program has been limited by persistent challenges related to training, motivating, supervising, and monitoring ASHAs. With funding from USAID, the Bill & Melinda Gates Foundation, and a range of NGO partners, Dimagi has been focusing our efforts on demonstrating the utility of mobile technology in over 40 projects across the subcontinent. Given the emphasis that the government has placed on the ASHA program, as well as the tech boom in the country, we are already seeing strong indicators that this sector is growing rapidly, with demonstrable benefits being passed down to the target populations.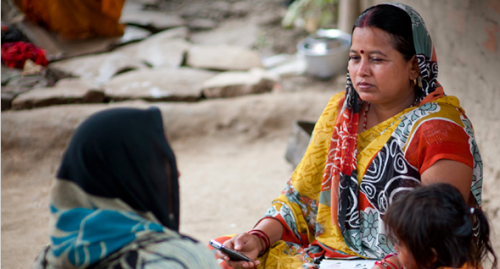 The Dimagi team feels that their biggest and greatest achievement till date lies in empowering their partners, whether they be the M&E Officers who enjoy more accurate real-time metrics regarding their cohort of FLWs, or the FLWs themselves who receive better feedback, enhanced decision support, and better access to patient histories. Dr Vikram spoke in detail on how technology will play a key role in the future as well.
Technology has a significant role to play in enhancing communication, making accessible regions and communities that might otherwise have been left behind. As we have already seen through the action of bringing CommCare to some of these communities in India and elsewhere, we are better able to interact with patients in the comfort and security of their homes freeing up time for them to engage in other income generating activities. It is important to remember, however, that technology is only as impactful as those who are applying it. It is with this understanding of the human element of Information and Communication Technology for Development (ict4d) that Dimagi strives to design our solutions around people, soliciting user input and feedback from beneficiaries.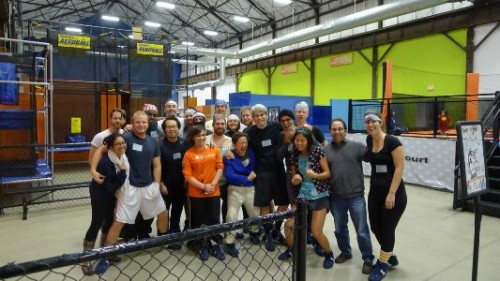 We appreciates Dimagi's commitment and the way they are addressing global development challenges. As a horizontally structured organization, Dimagi prizes open, efficient, and continuous communication. At the core of their work is a big team of field managers, scattered across projects in Asia, Africa, and the Americas. Each one of them operates on the principal that team satisfaction and the impact that can be achieved when we love what we do are paramount to our overall success.
Indeed, the mind gives its best when we all work from heart!
This post was published on 
Halabol Voices
, which is an initiative of Halabol – a platform for initiating change, and reprinted here with permission.
We bring stories straight from the heart of India, to inspire millions and create a wave of impact. Our positive movement is growing bigger everyday, and we would love for you to join it.
Please contribute whatever you can, every little penny helps our team in bringing you more stories that support dreams and spread hope.
Tell Us More