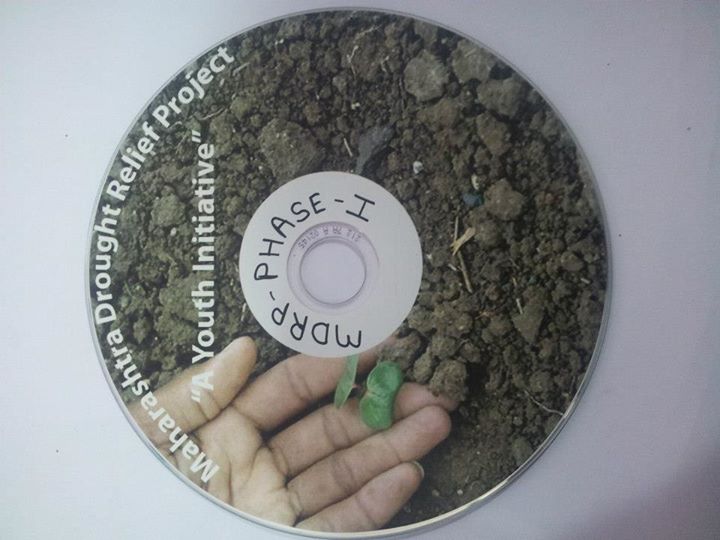 In March-April 2013, Maharashtra suffered from what was probably the worst drought in 40 years. The people were once again at the receiving end of the wrath of Nature, as it took a heavy toll on the lives of the people on the parched lands. It also led to the formation of a youth organization dedicated to helping the victims and finding long-term solutions. This is what began as the Maharashtra Drought Relief Project, and is now called Yuva Foundation.
In March-April 2013, Maharashtra suffered from what was probably the worst drought in 40 years. The people were once again at the receiving end of the wrath of Nature, as it took a heavy toll on the lives of the people on the parched lands. It also led to the formation of a youth organization dedicated to helping the victims and finding long-term solutions. This is what began as the Maharashtra Drought Relief Project, and is now called Yuva Foundation.
The Maharashtra Drought Relief Project germinated from an inspiring seed of thought of Soham Sawalkar and Aditya Sureka and blossomed in the month of March 2013 in some of the severely drought hit areas of Maharashtra. The initiative began when Sawalkar and Sureka heard the news of the most severe drought that the state had ever seen. It would have been easy for Sawalkar, who had been preparing for his CS examinations while working at a leading firm in the estate industry of Mumbai and for his friend-cum-colleague, Sureka, to sit back and express sympathy for the drought victims from the safety and comforts of their home and concentrate on their busy schedules. But they decided to stand up and take charge.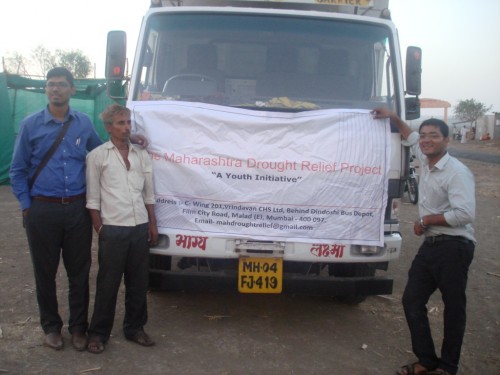 Armed with empathy, a willingness to help and a strong motive to bring about change, they initiated the project, inspiring youngsters around them to join in and take responsibility. It was this team of young minds, collectively called "Our Own People" who worked on this project. They visited the drought affected areas, and what they saw left a deep impression in their hearts. The poor condition of the people, the disastrous climate, and the consequences that led them to die of hunger and sun strokes strengthened their resolve to help out the villagers in distress.
Action Time
The basic objective of the initiative was to first, physically check the conditions and the requirement of the affected areas, and then provide the necessary food, water, fodder and other relief materials by collecting donations, preferably in the material form. Besides, the team planned to provide long term solutions to the problems being faced wherever possible.
The team worked in two phases. In Phase I, the team covered Maan Taluka and the corresponding villages. In Phase II, the team covered Ashti Taluka, Beed district and the villages that were included.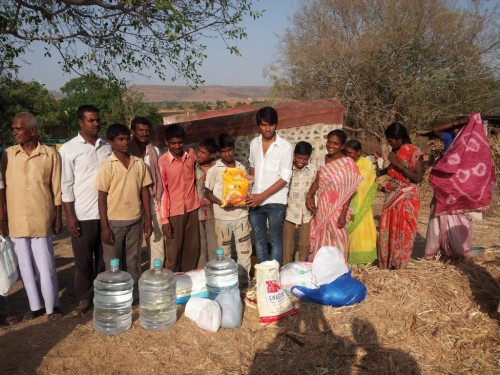 The work was divided among the team members based on their specific skills. For instance, the tech-savvy people in their project led the social media management. The people led teams in their areas, passing on information to others in order to identify people who would be interested in donating water and food. Applauding the invaluable utility of social media in times of such a crisis, Sawalkar, Project Coordinator says:
It has been the greatest tool in helping the team to spread the word. Strangers, who saw us on the social media, offered their residences as collection centers of their respective areas. Similarly we created different collection centers across the suburbs where all the collected packaged food and water was stored.
Likewise, more teams were formed on the basis of the tasks that had to be carried out. Another team played a major role in visiting the affected areas and conducting an intervention to analyze the needs in the affected areas. A special logistics team took care of coordinating and ensuring transport arrangements for all the materials to the respective villages.
The Donations
Donations were given, keeping in mind the present, as well as the future needs of the people. Explains Sawalkar:
Donations were collected majorly in the form of food and water. Even PVC pipes were provided to set up a water supplying unit, in order to avoid such situations in the future. The donations in the form of money were used in transport and buying fodder for the cattle in these areas. Since people didn't have food and water for themselves, even their cattle was dying without any fodder, which in turn led to more poverty as their source of income depended on their cattle.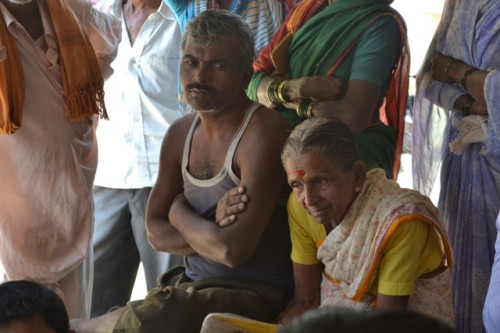 The relief materials were dispatched by sending trucks to the villages and then distributing the items equally among the villagers. The team was privileged to have the support of many in this endeavour. One of the key mercenaries, Malati Iyengar (GM – Supply Chain – ISS Integrated Facility Services Pvt Ltd), helped the team to arrange a 9 tonne tempo for free, to carry all the collected goods to the drought-affected area.
Ground Realities
The team had its share of challenges to be overcome while executing the project. While at times, people questioned their genuineness and authenticity, there were still other times when corruption rampant even in the sphere of social service had to be dealt with. There were also situations wherein people would just inquire, get involved, take up a lot of time and then disappear without any particular contribution. However, every cloud has a silver lining. It was a simple plan of action that helped them sail through this testing time – To have a one-point focus on their goals only. It did help. Says Sawalkar,
There was a situation when we discovered that middlemen had involved corruption even in such miserable conditions; where they used to collect money from villagers for water tankers, and the amount considerably exceeded the actual cost! But on a good note, the Tahshildar at Ashti Taluka opened his office on a Sunday and supported us throughout the project phase in the villages. It was amazing to see such penance from Government officials.
The period of drought not only was a difficult phase for the villagers but also posed several obstacles for the rescue operations by the team. Surviving in the scorching heat even for a single day, was a task in itself, leave alone, locating and helping out the villagers in distress in these arid weather conditions and areas. However, it was probably this struggle in the heat that helped the team empathize even better with the painful plight of the villagers who actually lived in exactly these climatic conditions, with only broken roofs to shield them from the unrelenting sun and no money to mend their houses for shelter.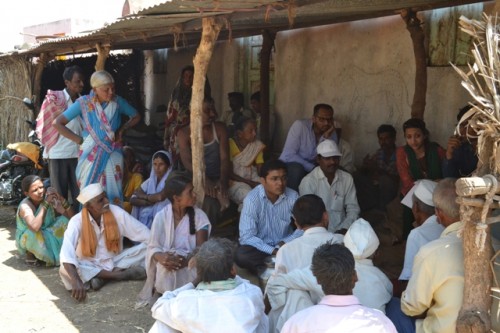 In what would be a distinguishing line of action, the team reached out to even the mystical, spiritual domain as a part of their ceaseless efforts to smoothen out the effects of drought. They invoked spiritual blessings, in order to get relief from the drought. They started a daily Prarthana (Prayer) where they meditated and offered their prayers to Mother Earth for the well being of the society. Their belief in spirituality aside, they had a solid rational reasoning behind this.
"It is proven that our sounds create vibrations which affect the environment and surroundings. No wonder the scientists are researching on the effect of sound vibrations from a word as simple as 'Om'. We followed the same concept. For if the law of attraction mentioned by Rhonda Byrne in her book "The Secret" actually works, then why won't prayers from a calm, meditative mind work on nature? It did work."
Fundings
Awareness about this initiative is being actively spread by word of mouth and through social networking sites such as Facebook and Twitter. This has helped them receive a lot of support and funds, globally from people who want to lend a helping hand to the needy and affected. There are people from as close as their neighbourhoods to those living overseas, who have donated in money and in kind willingly. Sawalkar mentions:
Groups of people got in touch with us from various places like Pune and Surat. Shravan Purohit, from Surat, came all the way to Mumbai, after seeing our work on our Facebook page. He inspired his people back in Surat and helped in collecting donations for Maharashtra, even from Gujarat. Similarly, there were friends in the United States who collected donation from their friends there and sent it across here.
The initiative also saw its share of corporate social responsibility being undertaken through the active involvement of the corporate bodies. ISS Integrated Faculty Services Pvt Ltd helped out by providing free transport for nine tonnes of material in trucks during Phase I. Nice Systems Ltd provided 80 PVC pipes for installation at Vaghluj Village in Ashti Taluka, thus creating permanent solutions for water scarcity for the inhabitants of Vaghluj Village.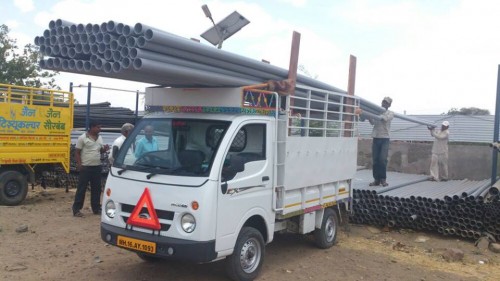 Receiving funds from willing donors was a different ball game altogether. Unexpectedly, what should have been a simple process of giving and accepting money, was what turned out to be caught in a complicated web of bureaucracy. However, who knew that it would be precisely this problem that would give rise to the formation of a new charitable organization by this team, united by a new name? Sawalkar recalls:
Often we were faced with questions and doubts from donors, regarding our genuineness. They would ask for bank account in name of the project. Since we were just a group of people who got together to bring about a change, without any affiliation to any organisation, it used to be challenging to buy trust. Donors often asked for 80G certificates too. That's when we decided to register ourselves as a charitable society. We took this initiative after completing our Phase I of the project. Finally, we have completed the procedure of the registration. We're now called – Yuva Foundation.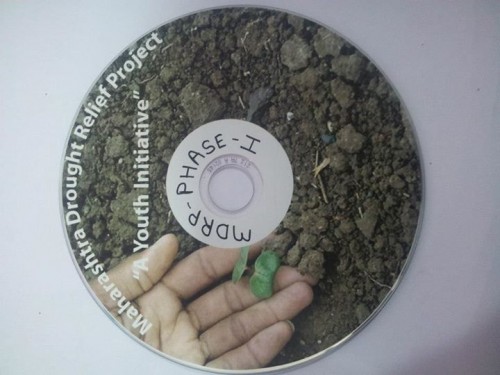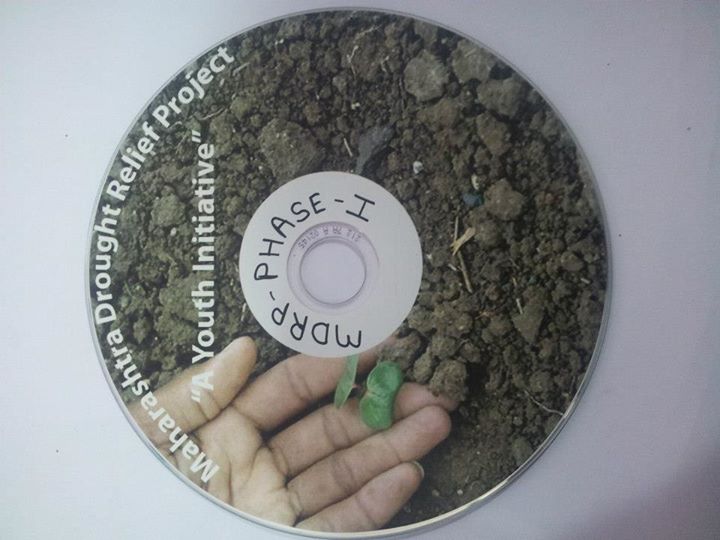 Future plans
The Maharashtra Drought Relief Project has today broadened its horizons and re-christened itself as the Yuva Foundation. They aim to not only serve people during a natural calamity, but also reach out to people in all respects. They already have another project called the "Responsible Citizen of India" in execution. Through this project, they inspire people to come together and start taking actions to get their problems resolved, instead of cribbing and complaining about them. Its objective is to make people aware that addressing their rights, as well as duties and responsibilities, however small they may be, can create a bigger impact.
Photographs: Courtesy MDRP
Ipsita Sarkar is a freelance writer.
We bring stories straight from the heart of India, to inspire millions and create a wave of impact. Our positive movement is growing bigger everyday, and we would love for you to join it.
Please contribute whatever you can, every little penny helps our team in bringing you more stories that support dreams and spread hope.