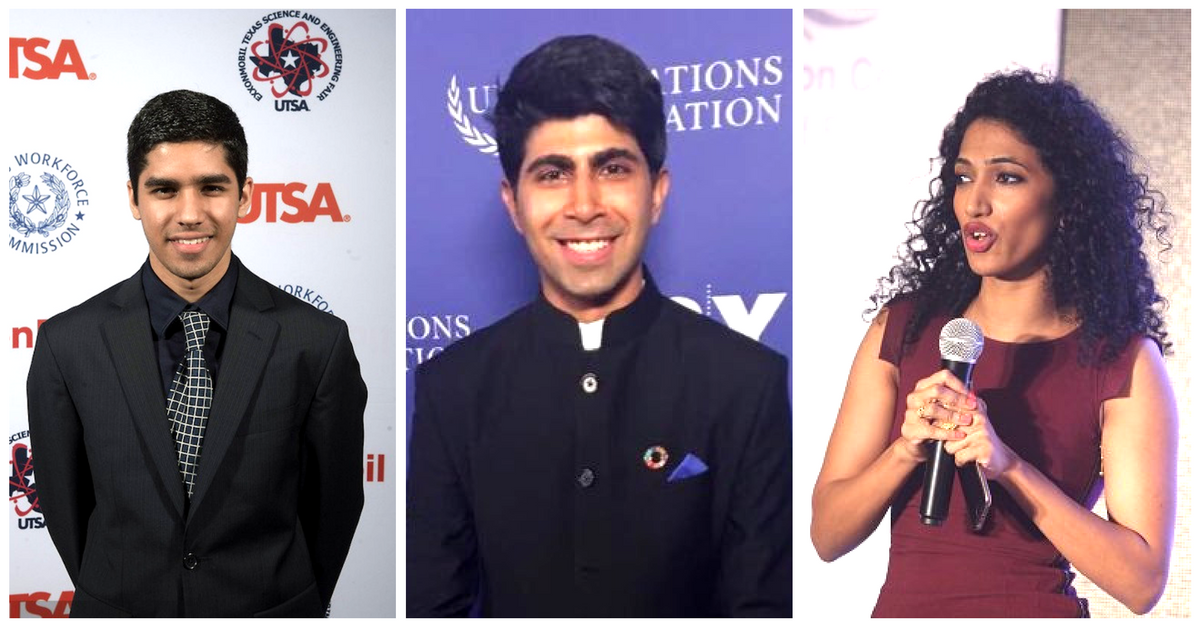 On September 19, 2016, United Nations unveiled the names of the two Indians and one Indian American selected for the inaugural class of UN Young Leaders for Sustainable Development Goals. Here are the inspiring stories of these three young leaders who are already transforming their communities through their work.
"They are a testament to the ingenuity of youth." –  UN Secretary-General Ban Ki Moon
On September 19, 2016, United Nations unveiled the names of the 17 youth leaders selected for the inaugural class of UN Young Leaders for Sustainable Development Goals. Two Indians and an Indian-American are among the youth leaders selected for their leadership and contribution to end poverty, fight inequality and injustice, and tackle climate change by 2030.
Trisha Shetty, 25, is the founder and CEO of SheSays, a platform she launched last year to educate, rehabilitate and empower women to take direct action against sexual assault in India.
Ankit Kawatra, 24, founded Feeding India in 2014 to address the issues of hunger and food waste, particularly by distributing excess food from weddings and parties to the needy.
Indian-American Karan Jerath, 19, invented a ground- breaking, sub-sea wellhead capping device that contains oil spills at the source, as a solution to the ecological damage done by oil spills, in the aftermath of the British Petroleum deep-water horizon oil spill – the largest marine oil spill in US history, near his home in Texas.
Here are the inspiring stories of these young leaders who are already transforming their communities through their work.
1. Trisha Shetty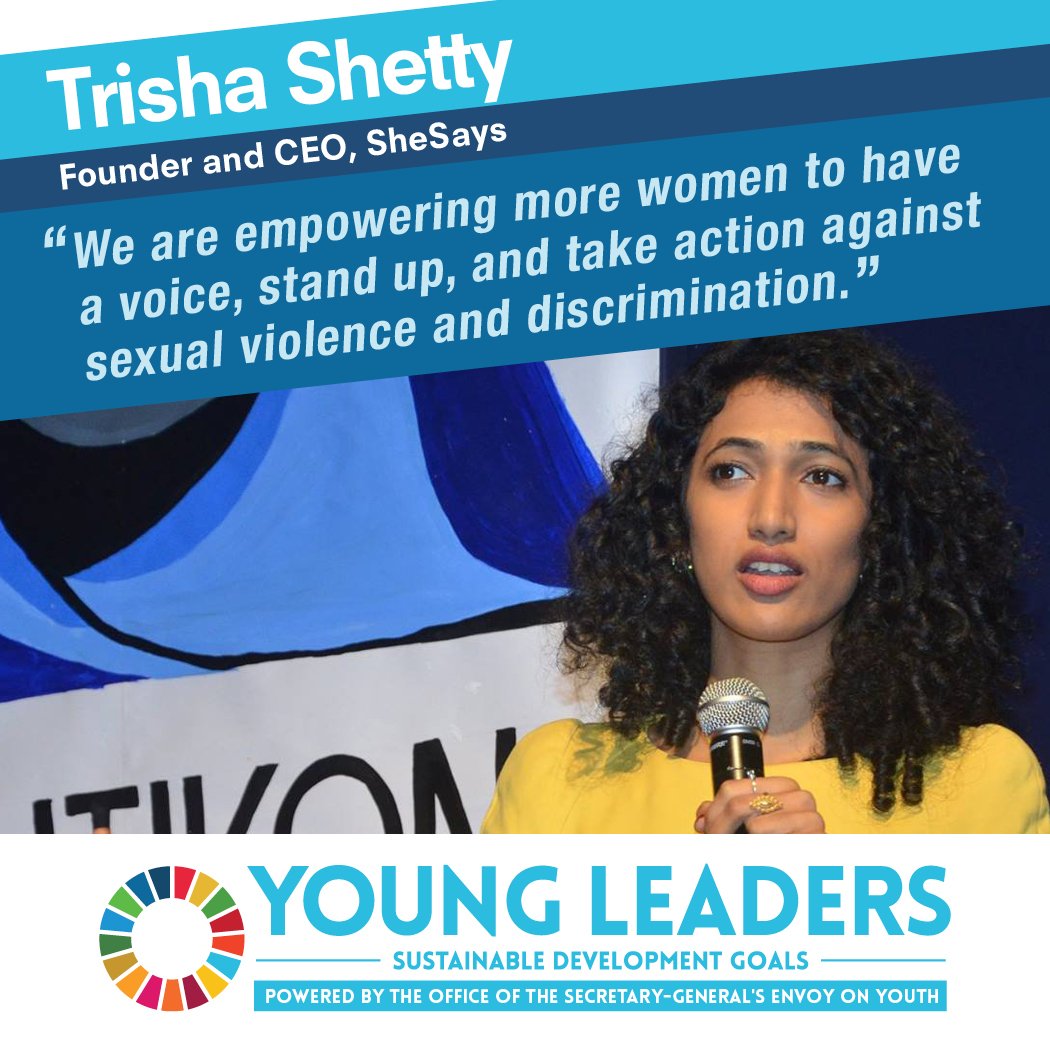 Violence against women in India is a problem everyone acknowledges but very few actively do something about. Trisha Shetty and her team at SheSays are determined to change this. SheSays is an initiative aimed at creating an environment of zero tolerance towards violence against women in India. It does so by educating people with pertinent information regarding the laws and procedure of the country and building a network of support that recognises all levels of sexual abuse and provides the necessary means to fight it.
According to Trisha, when she googled what she could do if she ever faced any kind of sexual abuse, all she could find were news articles about rape cases in India or links to NGOs and their contact information. This inspired her to start SheSays.
"As a victim of sexual abuse, unfortunately with the way our societal fabric is, it's hard to even pick up the phone and reach out for help. Complete lack of information, and perhaps the notion that the process to file a complaint is arduous and uncooperative, works as a huge deterrent for people to speak up and address the issue. Which is why my co-founder Neha and I launched the portal, to provide a holistic approach to address sexual abuse," said Trisha, in an interview to DNA newspaper.
Launched on August 8, 2015, the SheSays website is the first of its kind in India that provides all the relevant information in one place, highlights all levels of sexual abuse and encourages people to work with the system to fight it. It is accessible in six languages –Hindi, Marathi, Gujarati, Kannada, English and German.
On the website, there is pertinent information on identifying acts of sexual abuse (as listed by the Indian Penal Code), presented in a simplified format. Also mentioned are the step by step procedural measures to be undertaken when going to a hospital and police station, how to get lawyers assigned to yourself, briefs on court proceedings, as well as how to address sexual harassment at the workplace.
SheSays has developed a Sexual Violence Prevention & Education curriculum to be conducted in colleges. This curriculum aims at sensitising the youth on gender based violence, educates them on consent, builds bystander intervention skills, simplifies the law and enumerates how to seek remedies.
Currently, when an assault victim goes to a police station, she is taken only to a government hospital. Or, if she herself goes to a private hospital, if its confirmed that she was sexually assaulted, she is generally sent or referred to a government hospital. This is according tho national protocol which says "Examination of a case of rape shall be conducted by a registered medical practitioner (RMP) employed in a hospital run by the government or a local authority and in the absence of such a practitioner, by any other RMP". Keeping in mind this ground reality, SheSays is working with private hospitals in India to encourage them to proactively offer treatment to rape victims.
Also, not all police stations and hospitals have counselling services to help victims get over trauma. Private services are too expensive and not everybody can afford them. So SheSays sponsors psychiatric care for survivors.
SheSays is also mapping the closest help-agencies (police stations, hospitals, vetted psychiatrists and psychologists) across several Indian cities. This information, accessible via Google Maps, will help women in distress seek aid.
It is also tying up with music festivals and bars/restaurants to ensure that establishments take direct responsibility for making public spaces safe for women. Current tie ups include NH7 Weekender (Music Festival), The Barking Deer Brew Pub, 3 Wise Monkeys, Quarter Pillar, and Tilt All Day, among others.
Trisha says that support has been unexpectedly positive for SheSays since it inception. Irrespective of gender or institution, everyone understands the need for such a portal. However, she knows that even though a lot of progress and dialogue have taken place, there is still a lot more that needs to be done to educate, rehabilitate and empower women to take direct action against sexual violence in India.
Visit the SheSays website or their Facebook page, SheSays India, to know more.
---
You May Like: Nominated for IUCN's Heritage Heroes Awards, Bibhuti Lahkar Has Protected Manas NP for 20 Years
---
2. Ankit Kawatra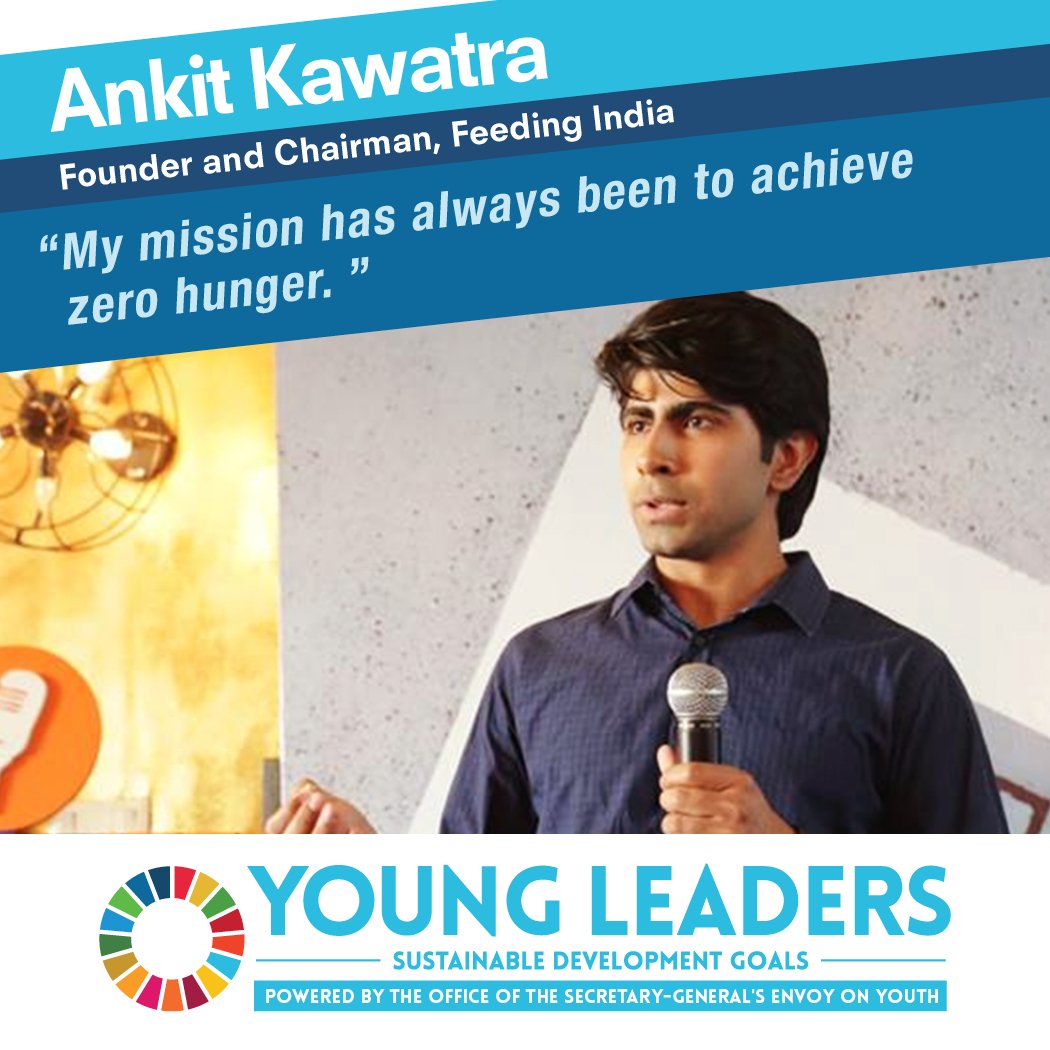 Twenty crore Indians sleep hungry every night, 1.3 million Indian children die of hunger, and 42% of Indian children suffer from diseases related to malnutrition. About Rs. 58,000 crore worth of food is being wasted in India. According to FAO (Food and Agriculture Organization), India has a staggering 194.6 million people who are under nourished – the second highest number in the world. Stunned by the amount of food going waste in India, Ankit Kawatra founded Feeding India, with the aim of solving one of India's biggest problems – hunger. To date, this organization has fed over a million meals through its large youth networks and regular feeding programmes that run in over 28 cities of India.
Belonging to an affluent business family, 23-year-old Ankit Kawatra has been to several big fat Indian weddings. It was one such star-studded occasion that turned out to be a moment of harsh truth for Ankit. Explaining what happened, Ankit sais:
"There was a lot of food, from a staggering 37 cuisines for the 10000 guests at the wedding! I wondered what would happen to so much food, so I decided to stay back at this particular wedding and saw that heaps of leftover food were sent straight to the bin. It could have fed 5000 people just that night."
Although he was appalled by what he saw, he thought it was a one-off incident. When he enquired about what happened to leftover food at events and wedding functions, he was told by various vendors and organisers that the surplus food was always thrown away! Shocked and dismayed, Ankit decided to do something about this.
Along with his friends, he founded Feeding India, an organization that collects excess food from parties, events and weddings and feeds the hungry.
With Feeding India, Ankit has partnered with several caterers and restaurants. They let him know about any events lined up in the coming weeks. In the middle of a wedding/event, the caterer gives them a call to tell them about the approximate amount of food that is going to be left over. Once this has been confirmed, volunteers who are closest to the venue reach there, collect the food, and distribute it to the needy immediately.
Since looking for the hungry on the streets at 1 in the night is not as easy as it sounds, Feeding India has now tied up with NGOs and shelter home likes Rain Basera; the team goes and drops off the meals at these places. It also has a 24×7 helpline that can be used to put the excess food to better use. Ankit and his group also initiated several campaigns such as the magic truck and world food week. Several corporate houses, as a part of their community social service, have partnered with Feeding India.
Knowing that food security today would result in a healthier and more productive India tomorrow, Ankit's long term goal is to make people more conscious about food wastage.
Visit the Feeding India website or their Facebook page, Feeding India, to know more.
---
You May Like: India-Born Scientist Ramesh Raskar Wins Prestigious $500,000 MIT Award for Path-Breaking Inventions
---
3. Karan Jerath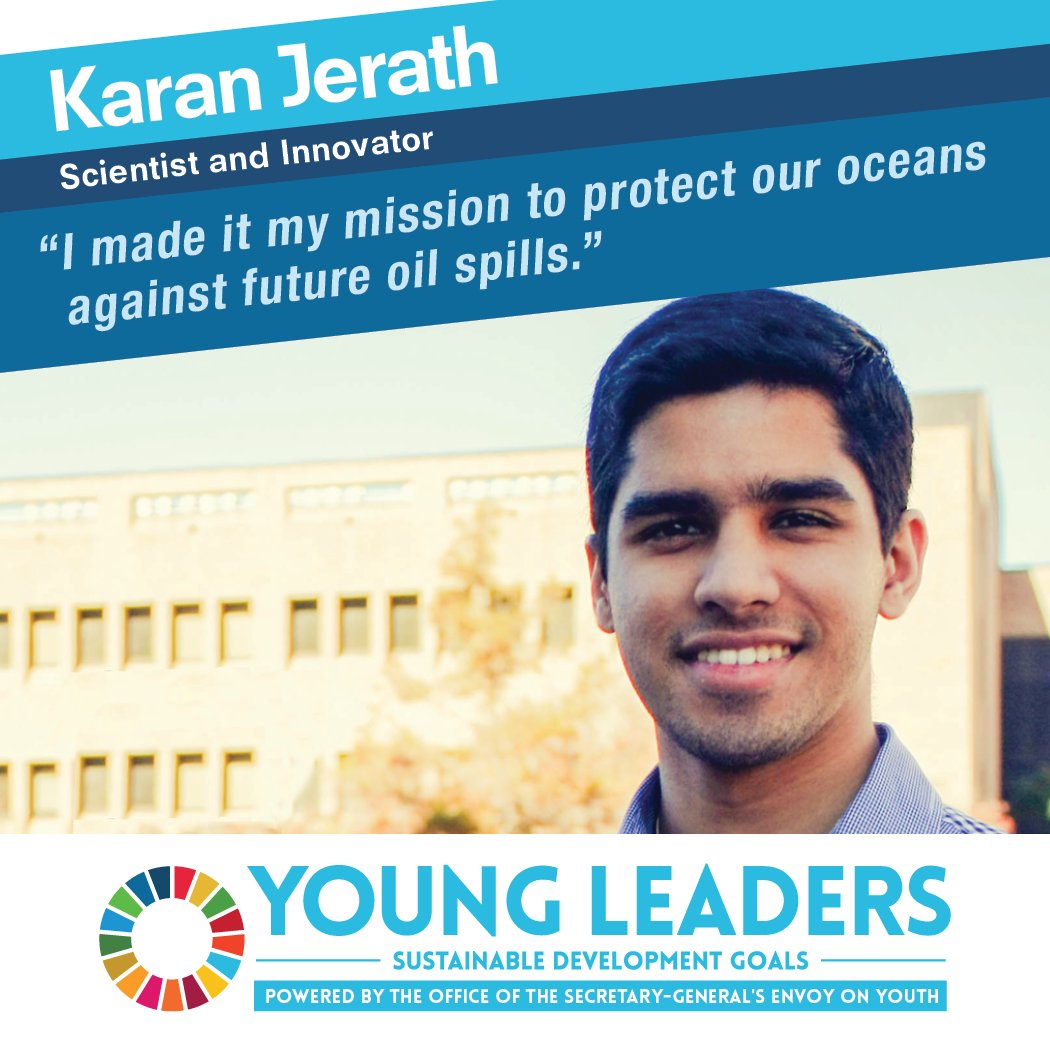 In 2015, an 18-year-old Indian American boy won the prestigious Intel Foundation Young Scientist Award (ISEF) for designing a device that shuts down undersea spills. Karan Jerath had designed a sturdy device that could measure the temperature, pressure and density of the mixture of gases and fluids spewing from a broken well on the sea floor before collecting them, thus preventing an ecological catastrophe. The innovative device would also reduce clean up costs.
Karan Jerath was born in Mumbai, India, but moved to Malaysia where the family lived  for 11 years, before immigrating to the US. Back in 2010, Karan was in Texas when the British Petroleum oil spill in the Gulf of Mexico made headlines. A science buff, the 13-year-old boy followed the coverage of the explosion, the sinking of the Deepwater Horizon oil rig, and how it malfunctioned.
"The fact that it happened in my backyard woke me up to the true nature of the environmental damage this was wreaking. I had to do something about it," says Karan.
Encouraged by his high school science teacher at Friendswood in Texas, Karan spent 800 hours (working 9-10 hours a day) designing and experimenting till he finally succeeded. In 2015, Karan presented his wellhead containment device at the Intel International Science and Engineering Fair. Hailed as a veritable visionary, he was awarded one of the Young Scientist awards along with prize money of $50,000.
Determined to take his invention to the next level, Karan used the prize money to pay for his tuition at the University of Texas where he is majoring in petroleum engineering. Given his constrained resources, he wants to utilise every opportunity the university department and his professors offer him to develop the model further. This year, he was selected for Forbes' 2016 30 Under 30 List, the youngest in the energy group.
The young scientist has some advice for other budding innovators. He says:
"It doesn't really matter how old you are or what your project is. Keep working at it. As long as you allow it to become a reality, the world will sit up and notice it. Just never give up."
You can follow Karan Jerath through his Facebook page.
---
Also Read: How a 13-Year-Old CEO Is Changing the Lives of School Children Around the World
---
Like this story? Have something to share? Email: contact@thebetterindia.com, or join us on Facebook and Twitter (@thebetterindia). To get positive news on WhatsApp, just send 'Start' to 090 2900 3600 via WhatsApp.
We bring stories straight from the heart of India, to inspire millions and create a wave of impact. Our positive movement is growing bigger everyday, and we would love for you to join it.
Please contribute whatever you can, every little penny helps our team in bringing you more stories that support dreams and spread hope.