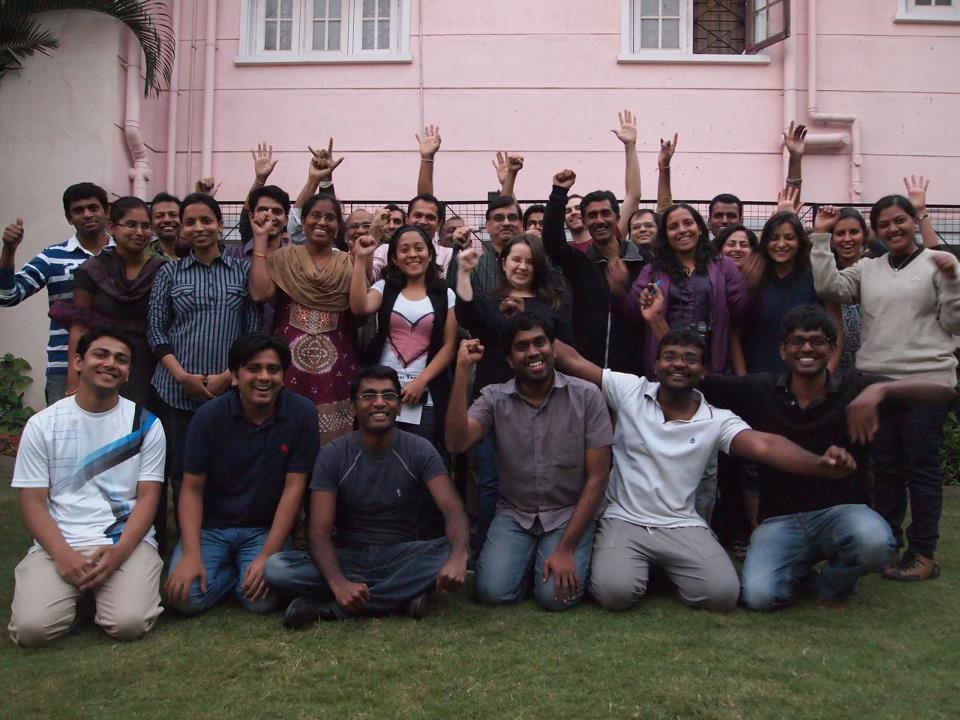 Random Hacks of Kindness provides a platform for geeks from all over the world to come together and utilise their combined technological prowess in creating innovative open source solutions for challenges facing humanity, both locally and globally. In India, techies can join in the hackathons held in Bangalore or Pune.
What does the term 'Hacking' bring to mind? Something illegal? Nefarious? Criminal? Well, here's an organization that has taken the infamous term and given a completely positive spin to it. This is through the events it holds every year, calling technologists from all over the world to come together and build solutions for humanitarian problems using open source platform. These events are, very appropriately, called Random Hacks of Kindness (RHoK).
They are driven by their belief that every human being seeks the joy of service; and that given the opportunity, people around the world will dedicate their time and skills to creating a positive impact in society. Looking at the numbers that turn up for their 'Hackathons', their premise seems to be founded on solid ground. For many years now, RHoK has been working to create a self-sustaining global community of innovators building practical open technology solutions for challenges facing humanity, both locally and globally.
How does RHoK work?
RHoK achieves its purpose by bringing together technology experts, communities and organizations together in order to define real world problems and work towards an acceptable solution. This is done by hosting weekend 'Hackathons' around the globe at the same time twice a year.
On 1-2 December 2012, 30 cities in 18 countries around the world hosted RHoK hackathons. Bangalore and Pune joined in from India to hack for humanity along with like-minded hackers from other countries.
The Bangalore Hackathon:
RHoK hackathon in Bangalore was hosted at office of the Center for Internet and Society (CIS). Over the weekend the office of CIS was filled with frantic keystrokes and discussions to get some proof of concept that techies had in mind to be transformed into reality.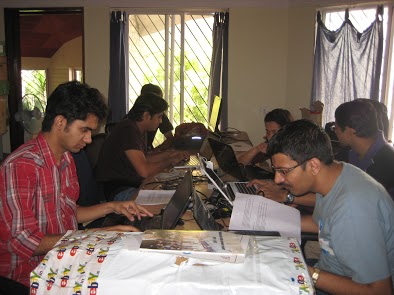 On Saturday morning at 9:00am the subject matter experts presented the problem statement they were sponsoring and the techies chose what they wanted to solve and how they wished to do it. After that the techies formed teams and started hacking over the weekend. Around 30 techies formed 5 teams in Bangalore, and 1 team was working from Chennai, so totally 6 teams worked on the problems over the weekend. The hackers made the most of the time they had over the weekend, some of them stayed overnight at CIS to get some more work done. At the end of the day and half of hacking the teams came up with their proof of concept / work in progress which was judged by a panel of judges.
The Hacks Developed at RHoK Bangalore 1-2 December 2012:
1. Help for Cause: This team was working with Greenpeace. The idea of the hack was to bring the NGOs (who need volunteer time) and weekend volunteers (who have volunteer time) together on technology platforms including mobiles and web. The team worked over weekend to come up with an iPhone app as a proof of concept.
2. Green Trails Project: This problem statement was presented by India Hikes. Trekkers go to the mountains and take a lot of necessary things along like bottles of water, food packets, etc, and many a times leave the waste behind in the hills polluting the hill's ecosystem. This team worked on gamification of incentives program for the trekkers who will clean up the hills out of goodwill or for incentives. The team came up with a nice web-based application as proof of concept for the same.
3. Data visualization for NGO reports: The problem was presented by Amnesty International. It asked for data representation on a map along with timeline to be available on web for creating awareness. One individual hacker worked on this to come up with a timeline to represent the report.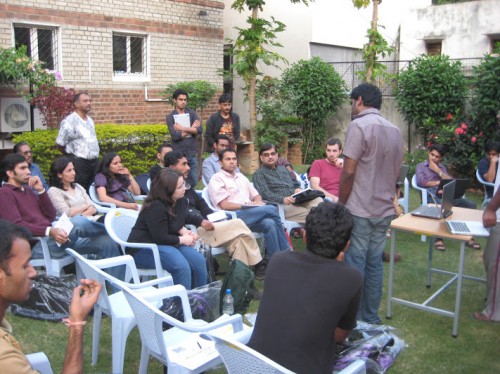 4. Micro Finance report customization: A team of developers from HP worked with Micro Finance Open Source (mifos) for extending the mifos platform functionality by developing a module to create a template to get custom reports for the micro finance institutions. The team came up with an almost finished product in Bangalore and a similar product was developed by a team from Chennai who worked over the weekend from that location. HP employees from 4 locations around the world: Bangalore, Chennai, Dublin & San Francisco were working on MIFOS project at this RHoK, this whole HP-MIFOS project was coordinated by Social Coding for Good.
5. Missing children: A problem presented by Mr. Praveen, a designer from Yahoo Labs, who narrated a story of his friend from Kanpur, a roadside vendor who lost his son and couldn't trace him in the city. This problem seeks to get a smart phone app where people will click snaps of homeless children on the road, railway stations, bazaars, etc. These photos will be stored on a server along with their location data and whenever some parents upload their missing child's photo, then the database of the photos will be searched for matching face and the location will be given. The team came up with server side app for uploading the photos and location data as a proof of concept.
The judges for the event were luminaries from different walks of life like the corporate sector, development sector, investor community, academia, etc. No doubt they had a difficult time selecting the best hacks from the ones presented on the final day. The event ended with the teams resolving to meet over the next few weekends to finish the pending work on their projects, and see it implemented in real life.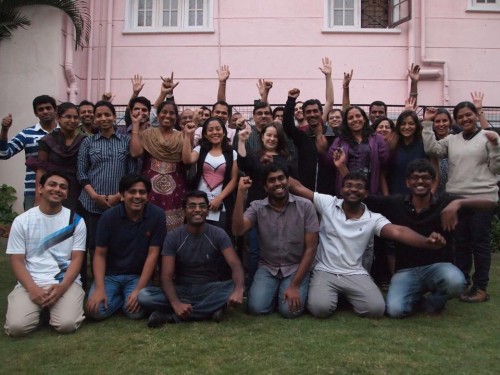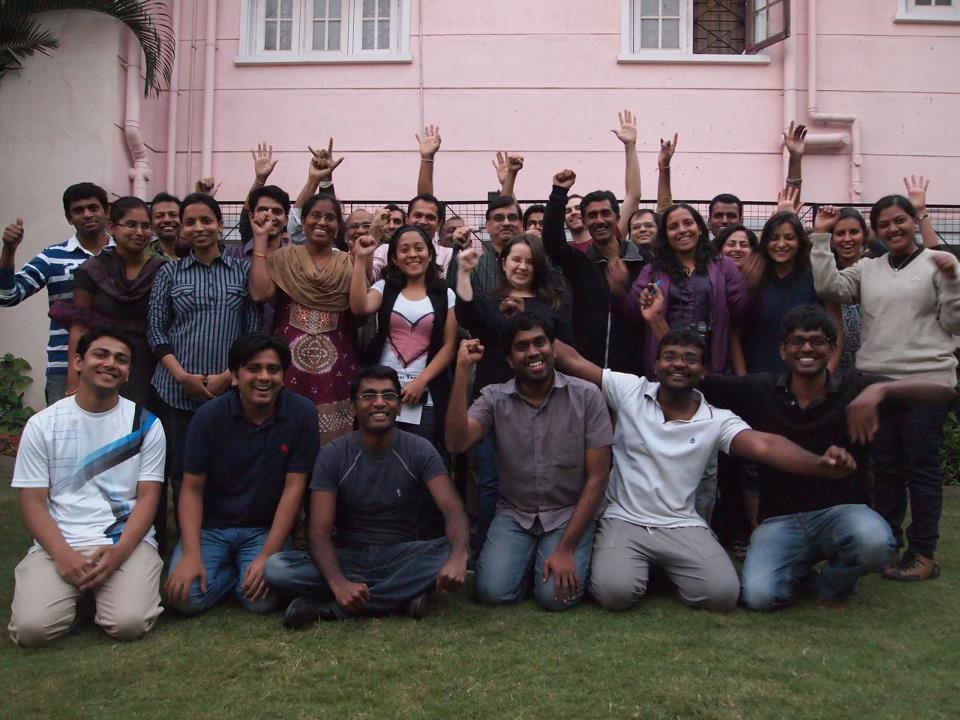 It is heartening to see many of these ideas being taken to execution stage with the potential to impact many lives, as I witnessed at the previous hackathon, held in June 2012, when I was judging the event and was highly impressed by the solutions presented by the teams. One hack that really stood out was an SOS application called Bachao that acted as a witness for crimes and an alert system in case one felt one was in distress. The team continued working on it after the event, and their app has now been incubated by Geeks Without Bounds. We hope to see it available on our phones very soon!
To know more about RHoK events, and how you could participate, visit the website: http://www.rhok.org/ or get in touch with Yogesh Londhe at: yoga1103@gmail.com
We bring stories straight from the heart of India, to inspire millions and create a wave of impact. Our positive movement is growing bigger everyday, and we would love for you to join it.
Please contribute whatever you can, every little penny helps our team in bringing you more stories that support dreams and spread hope.