A new book is applying Economics and related sciences in the Indian context in attempting to explain and demystify problems and phenomena that are peculiar to modern India and define it to a large extent. Read further to know whether it really succeeds, and how you could win yourself a copy too!
Your maid slacking off at work has a lot in common with the banks that caused the global financial crisis which started in 2007 and under which we are still reeling. Just as her banging the pots and pans in the kitchen is similar in behaviour to the government ministers who keep ordinary citizens waiting for an audience. At least, in economic terms they are very much alike, according to Rupa Subramanya and Vivek Dehejia, as they explain further in their new book, Indianomix: Making Sense Of Modern India.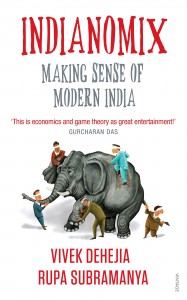 This is where you will find explanations to a lot of peculiarities about India that you might have wondered about or puzzled over. Such as, why do people cross railway tracks when so many of them lose their lives on it every year? Is democracy better for India, or can an authoritarian regime propel it on the path of bonanza growth? And most perplexing question of all – why do autorickshaw or taxi drivers refuse our fare, even if it means they have to travel empty a further distance before they could find a fare?
Going beyond the realm of pure economics, and leaning heavily on disciplines like behavioral economics, experimental economics, game theory and even political science and the theory of evolution (!), the answers are usually insightful and entertaining.
Attempting to make sense of a hugely diverse country like India is an ambitious undertaking by any yardstick, and this becomes evident at times when the explanations become unwieldy and dense. While making a valiant effort at understanding phenomena prevalent in modern India, the narrative does fail at times to dispel the clouds surrounding many mysteries. Perhaps it would have been a more coherent read minus the economic terms sprinkled liberally all over. Nevertheless, it is a good springboard from where to bounce off one's thoughts, and definitely tickles your curiosity, which can only be good!
The topics covered are varied and touch upon many interesting aspects of India. There is also a chapter on violence against women, which throws out statistics and research that is both illuminating and surprising. In this, it tries to find the reason why India features at the bottom of the rankings in a global poll ranking countries based on how good they were for women, even lower than countries like Saudi Arabia and Indonesia where basic civil liberties are denied to women.
Marching boldly into the territory of the path-breaking Freakonomix, the authors have done a commendable job of choosing some of the most relevant and uniquely Indian problems to tackle and make sense of. Throwing to the wind conventional economic assumptions like rationality of the human being in making decisions, it explores different ways in which new research can be applied in the Indian context. All in all, this is a great read for anyone attempting to understand the vast and varied land of India, and why we Indians are 'like this only'!
TBI Book Giveaway #3:
Here's your chance to win a copy of Indianomix! All you have to do is tell us about some of the most peculiar or inexplicable things you have come across about India or Indians. Earn yourself brownie points by sharing about something positive or lovable! You can submit your entries either on our Twitter handle: @thebetterindia accompanied by the hashtag #TBI, or by replying to our facebook post here. The contest is on till 10th February 2013, and is brought to you in partnership with Random House India. So, hurry up!