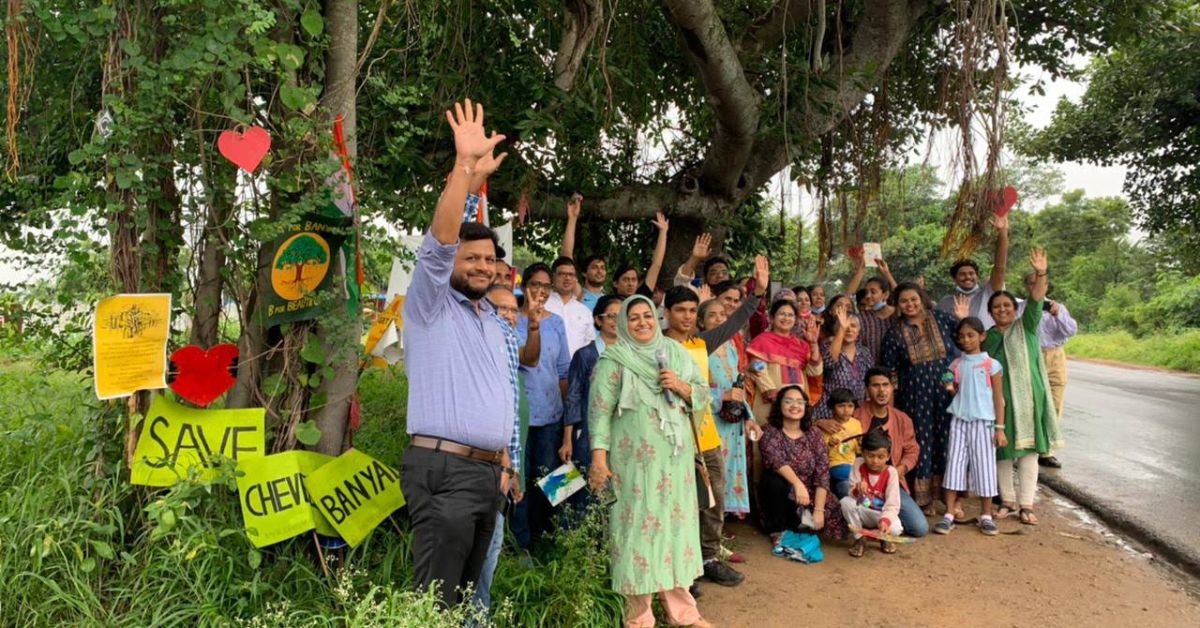 In Hyderabad, citizens came together to save old banyan trees from being cut down for a new national highway. The recent decision by the National Green Tribunal is a big win for everyone. Here are their tips for those who want to protect the environment.
Born and raised in Hyderabad, 53-year-old Asiya Khan grew up admiring the banyan tree. Whenever her family vacationed in the Ananthagiri hills, they crossed a 46-km stretch under the interlocking canopy of the giant ancient trees.
She recalls, "Often, we would take these road trips to the hills. Imagine travelling under the shade of some 1,000-odd banyan trees on a long stretch. It was like being in an old Bollywood song. These trees are almost 100 years old."
Sadly, the banyan trees — revered as symbols of immortality and designated as the 'National Tree of India' — faced the threat of being felled to make way for the expansion of the road to a four-lane highway between Moinabad and Manneguda, sanctioned by the National Highway Authority of India (NHAI).
In 2019, a group of about 20 citizens from diverse backgrounds — including Asiya Khan — got together to fight the authorities to save their beloved trees. For this, the citizen action group 'Save Banyans of Chevella' also filed a petition.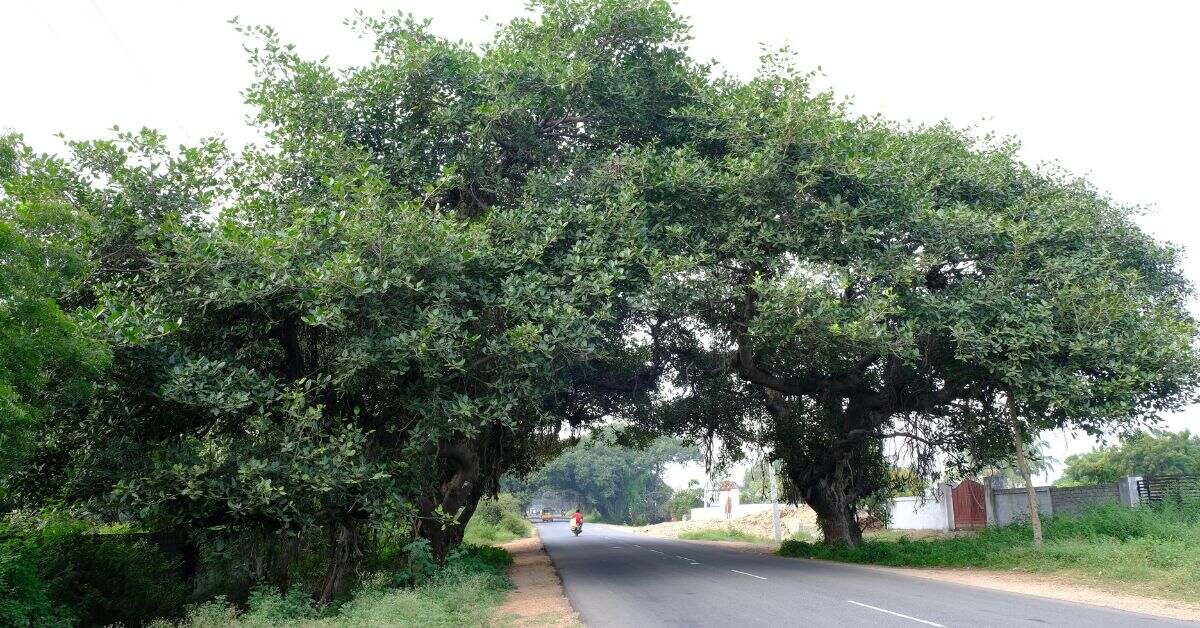 Now four years later, the National Green Tribunal (NGT) has directed NHAI to conduct an Environmental Impact Assessment (EIA) to minimise the felling of hundreds of century-old banyan trees in the Chevella region before taking up the expansion of NH 163 between Hyderabad and Bijapur, which passes through Chevella in Ranga Reddy district.
The citizens' group has welcomed the NGT's decision.
Citizens vs NHAI
In mid-2019, the members of this citizens' group, supported by around 300 individuals, were informed that about 1,000 banyan trees were to be chopped off or translocated for the road widening project. "There was no one who intended to speak against this decision. This is when we decided to get together and take action," Asiya tells The Better India.
"We found that the authorities could easily chop off trees in the name of developmental project, and there was no law to protect them. However, we found a loophole. The NHAI did not conduct the EIA," she adds.
The Environment Protection Act 1986 mandates an Environmental Impact Assessment (EIA) to assess damage in the development projects and provide a plan to reduce the negative environmental effect of proposed development projects through alternative approaches and design modification.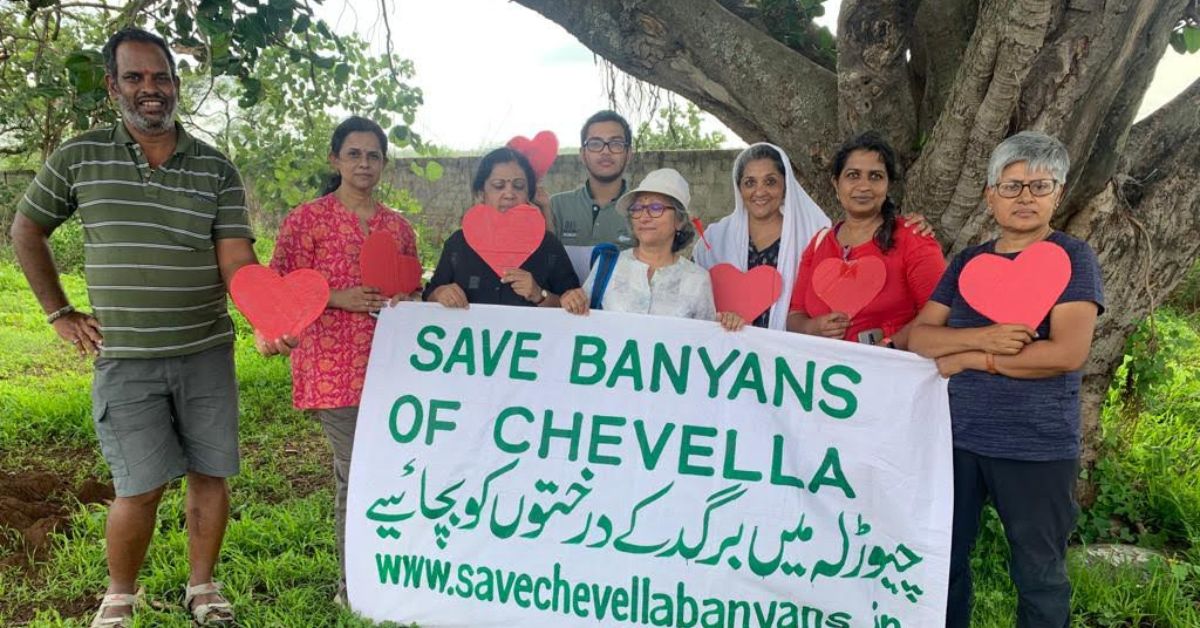 "In the NH 163 widening project, the NHAI did not look into alternative routes and conduct an enumeration of the trees affected, despite awarding contracts for developing the road. The old road, with thousands of trees including banyans planted by Nizam's government, has a heritage value," points out Natasha Ramarathnam, one of the members of the citizens' group.
"The banyans form an ecological corridor connecting different parts of Telangana state for many birds and other species. Neither the unique features of this corridor nor its historic value were addressed. In an era of climate change, we must reevaluate what it means to cut down trees, especially in the thousands," she adds.
Moreover, EIA is usually required for a development project when there are protected areas like national parks, wildlife sanctuaries, and biosphere reserves in the project area of influence.
One of the applicants in the NGT petition, Tejah Balantrapu, tells The Better India, "We realised that trees have a legal value if they form forests and reserves, but trees lined around the road do not have such value. Essentially, all these natural landforms — trees, rocks, boulders, and water bodies — are looked at as obstacles in the way of expansion."
This is the reason, the 43-year-old says, why NHAI said EIA was not required in this particular project. "It said that EIA needed to be conducted only for highway projects longer than 100 km. And since this stretch was below 100 km (46 km), it did not require an EIA. However, NH-163 has been expanded before, again in small stretches, from Warangal to Hyderabad. As a result of this segmentation, the full length of the highway escapes the rule of assessment for impact," he informs.
"But as per Indian Road Congress (IRC) guidelines, NHAI needs to incorporate natural landscape in road design. Besides, these banyan trees in thousands act as a corridor for several species like hornbills and have their own ecosystem. If these trees are axed, where will these species go?" asks Tejah.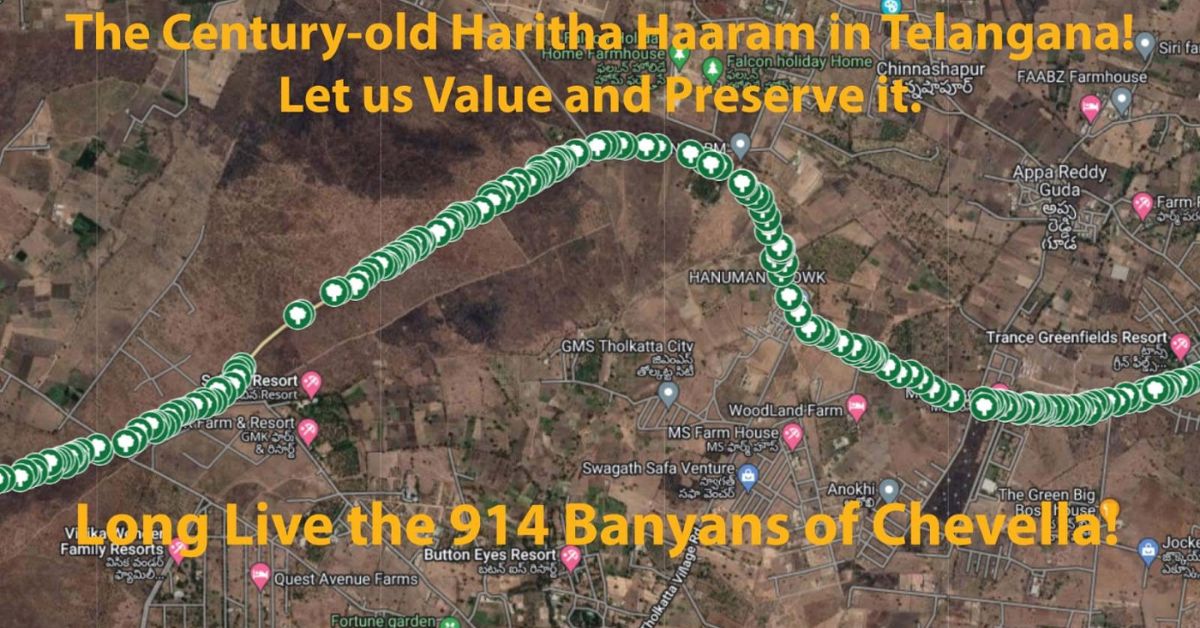 Geotagging Chevella banyans
In the absence of precise documentation on the number of banyan trees in the stretch that were at risk, the group also conducted an exercise to geotag all the trees.
Armed with GPS locator applications, they geotagged and photographed all the Chevella banyans in June 2022. It took them four days to complete the exercise. The data came out to be for 914 banyans on the 46.6 km stretch, which was lower than what the authorities quoted (749), informs Natasha.
"With this database, we could counter the claims of NHAI that these were very small and stunted trees and it would be no loss if they were axed. What we took to NGT was not just an emotional appeal but actually data backed with facts and figures. Also, anyone can replicate this method with little effort to geo-tag trees in their cities and hold authorities accountable when healthy trees are made to disappear overnight," she tells The Better India.
The citizens' group also sought help from several ministers, Members of Parliament (MPs), and Members of the Legislative Assembly (MLAs), Asiya says. But when no one in power listened to them, they approached the National Green Tribunal and filed a petition against the decision in 2020.
While three citizens — including Natasha, Pranay Juvvadi, and Tejah — became applicants in the case, the remaining citizens kept organising awareness campaigns across the city to make authorities understand why there was a need to save the giant trees.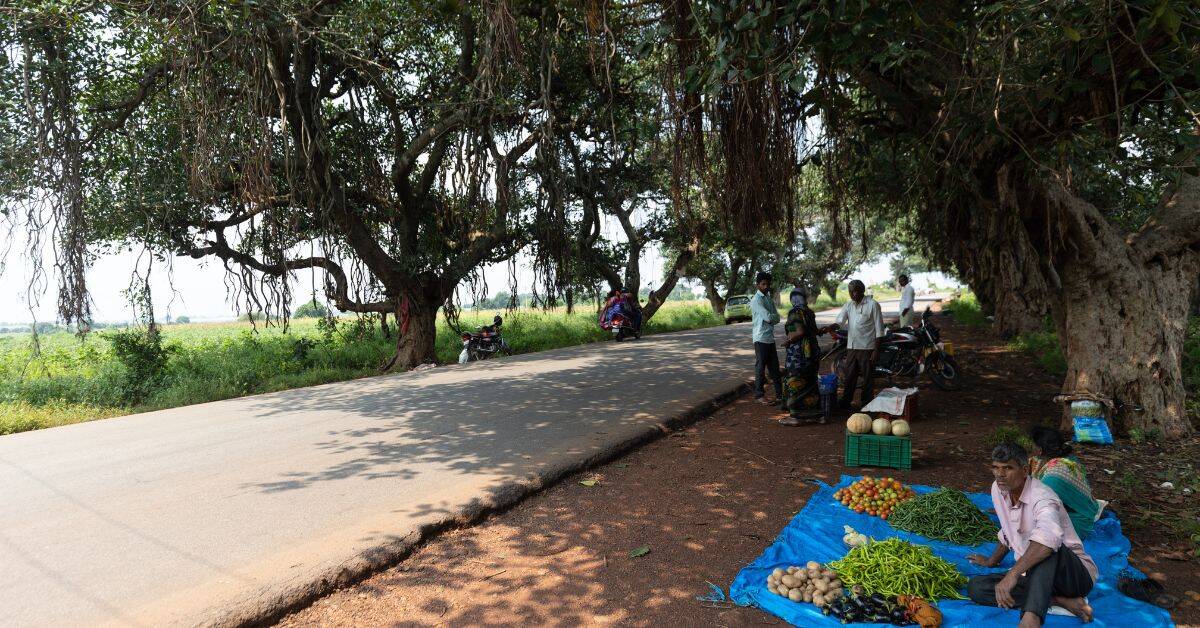 Finally, on 7 November 2023, the NGT directed the NHAI to conduct an EIA. The NGT has also directed the Union Ministry of Environment and Forests to issue the Terms of Reference (ToR) at the earliest and complete the process within four months.
"We welcome the decision, but the battle is not won yet. It is a small victory but we are not being complacent about it. We do not know the kind of report NHAI will come up with," says Asiya.
How to fight authorities as individuals
Tejah adds that the judgment is unique and will be exemplary for people in the future.
"When we started, we did not have any such examples where people rose against the authorities to protect natural landforms. Others can use this judgement as a precedent which was not an option for us," he says.
Based on their experiences, Tejah also shares five tips on how to fight for public and natural properties as individuals.
1) Come together as a group: Tejah says, "We are not a big non-profit organisation or any powerful agency, we are just a group of citizens. The reason why we won is that we picked a specific issue, came together, and fought the case to the very end."
"Engage people from across diverse cultures, backgrounds, and age groups. Build a group that is as broad as possible," he adds.
2) Do not doubt yourself: "None of us are lawyers, professionals, or in power. But we put in our time to read and speak to experts to understand the cause. It was not impossible. If we could do it, others can do it," says Tejah.
"If four years back, somebody asked me to head a petition like this, I would have ended up laughing and questioning my abilities. There was a time when I could not differentiate between the varieties of trees. It has been a learning process for me as well," he adds.
3) It is not good vs evil: "The NHAI is doing its job. So, ideally, there are no real villains. However, we needed to highlight what constitutes a public benefit and a better society, and how development projects should learn to incorporate nature and rethink these definitions in the context of climate change and better practices," he says.
4) Understand what is legally possible and legally viable: Tejah points out that as citizens, we may think that the national tree of India will have some legal protection but apparently they don't. "We then have to negotiate a space for them in our legal framework. What we think is legal and what is viable become two different things," he adds.
5) Do not get overwhelmed: "The government's nature is to produce volumes of documentation. Our job is to try to understand what these documents are and seek experts' help whenever required. Have patience in understanding documents and Excel sheets," he says.
Edited by Pranita Bhat; All photos: Nature Lovers of Hyderabad.
We bring stories straight from the heart of India, to inspire millions and create a wave of impact. Our positive movement is growing bigger everyday, and we would love for you to join it.
Please contribute whatever you can, every little penny helps our team in bringing you more stories that support dreams and spread hope.
Tell Us More