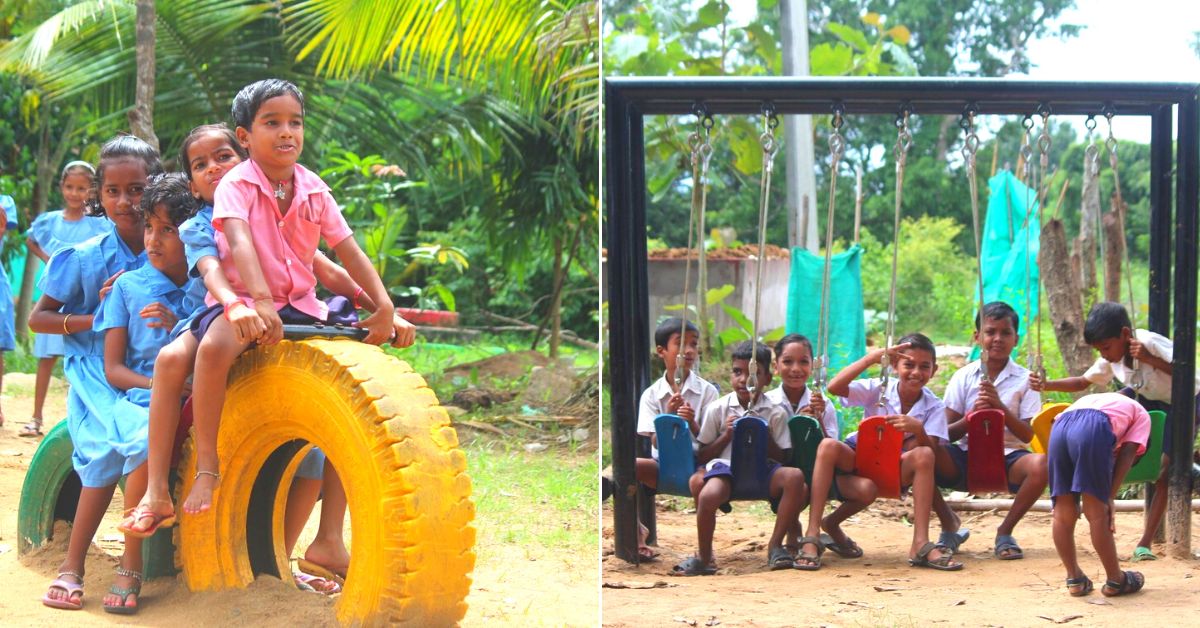 In the previous article, we spoke to Anthill Creations, a Bengaluru-based non-profit, about what it takes to build a playground that is safe, sustainable and inclusive. In the second part, we explore the importance of playgrounds, state of their infrastructure and reclaiming play spaces.
This article was published in collaboration with EkStep Foundation.
When Anthill Creations, a Bengaluru-based non-profit organisation building low cost and sustainable playgrounds around the country, began their operations in 2017, the discourse around playgrounds and the infrastructure required to build them wasn't very advanced. 
"When we started out, there was a lack of awareness around the importance of play. We would go to schools and tell them that we'll build a playground for the kids. In response, they would say 'no' and note that it would distract their students. We would often hear, 'We don't want a playground at our school. We want children to study.' With that kind of mindset, I think it was very discouraging in the beginning, but I feel that attitude has markedly changed," says Pooja Rai, CEO and co-founder of Anthill Creations, speaking with The Better India.
"Also, during the very first few pitches that I made for corporations for CSR funding, they would say 'Our focus area is education and your product is not does not fall into that category'. This is no longer the case and there is definitely a change that we have seen from them," she adds.
Another challenge was when Anthill pitched their ideas to potential stakeholders, people would look at the play elements they made out of waste material as something of poor quality.
"We have overcome all of these challenges in some way. At this point in time, there is very high awareness around play-based learning. All education is becoming gamified be it digital or non-digital. Everyone is talking about play-based learning today. So there is definitely a very high awareness that has happened over the past five or six years," claims Rai.
(You can read more about play-based learning here and here.)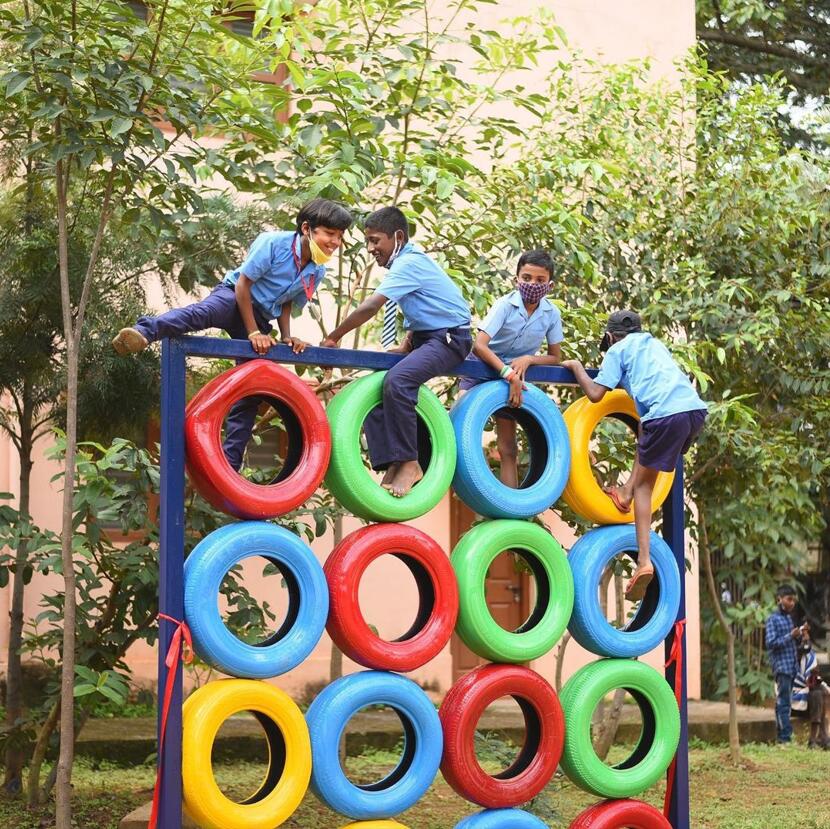 'Education should never be about textbook-based learning alone'
Like the National Curriculum Framework for Foundational Stage, where the Union government spoke of play-based learning, the Delhi government has introduced a 'Happiness Curriculum', an initiative that challenges traditional pedagogy and practice. These policy decisions created a lot of awareness around the importance of play-based learning, she adds.
This has neatly translated on the ground when they're working with government functionaries.
"Every time we speak to a district collector or IAS officer today, they understand our work in facilitating play-based learning. In fact, in their training module itself, they're being told about concepts like BaLA (building as a learning aid) and how they can improve educational outcomes. It's extremely useful when we have other parties/stakeholders whom we don't have to convince on the basic importance of play-based learning," she says.
Abhishek Gowda, a sub-divisional officer (SDO) posted in West Garo Hills district, Meghalaya, who has collaborated with Anthill to build playgrounds in government schools in the past, says, "The Central and State government are as a matter of policy focussing on early childhood development, of which play-based learning is an integral part. Building of structures like playgrounds with children playing in these spaces will facilitate their cognitive and behavioural development during early childhood. What's also particularly encouraging is the minimal cost that went into building these playgrounds."
"Education should never be about textbook-based learning alone. The focus should be on the holistic development of children. Play is an integral part of the overall growth of a child. We have been mandated to focus on early childhood development (ECD) by the Union and State government because this is the time when children learn the most," he adds.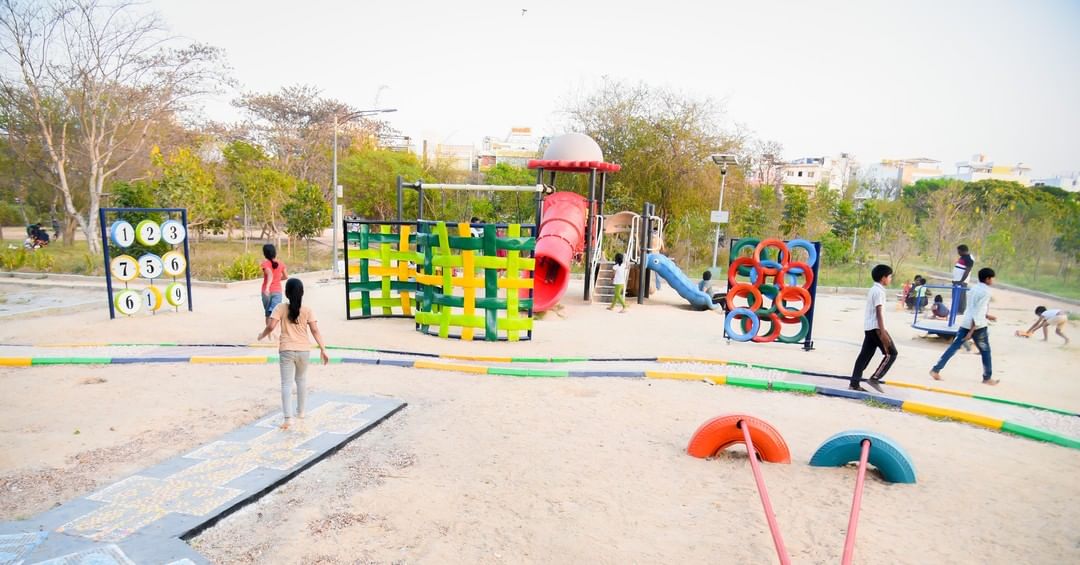 What can be done to improve playground infrastructure
Having said that, in rural areas and in more remote geographies, Rai argues that we need more playgrounds. "We have built playgrounds in 23 states, but not one in Bihar or Chhattisgarh for a variety of reasons. There is a big need for playgrounds in those states, but we've just not been able to raise funding to build playgrounds in those states. So, I think there's an imbalance in where these playground resources are available and where the need is most urgent," she says.
How do you resolve this conundrum? Rai notes that one of the biggest things that can be done is bringing the government, corporates and playground builders together.
"A lot of times we see there is funding, but there's no government support. At other places, we have government support, but do not have funds. Bringing all three parties together has been a challenge. There are occasions when the government has funding, and they just install a few plastic slides, which is okay but not good enough. They can bring in organisations like us who are building playgrounds at lower cost that are also more durable and help in children's growth and learning. We must align different stakeholders to one common mission," claims Rai.
"According to the All India School Education Survey conducted in 2016, 62% of government schools in India do not have playgrounds. Diving deeper into the data, we realised they're just talking about open playgrounds. They weren't even considering play infrastructure," she adds.
Given this state of affairs, better collaboration between the government, corporations and playground builders will go a long way in addressing this lacunae.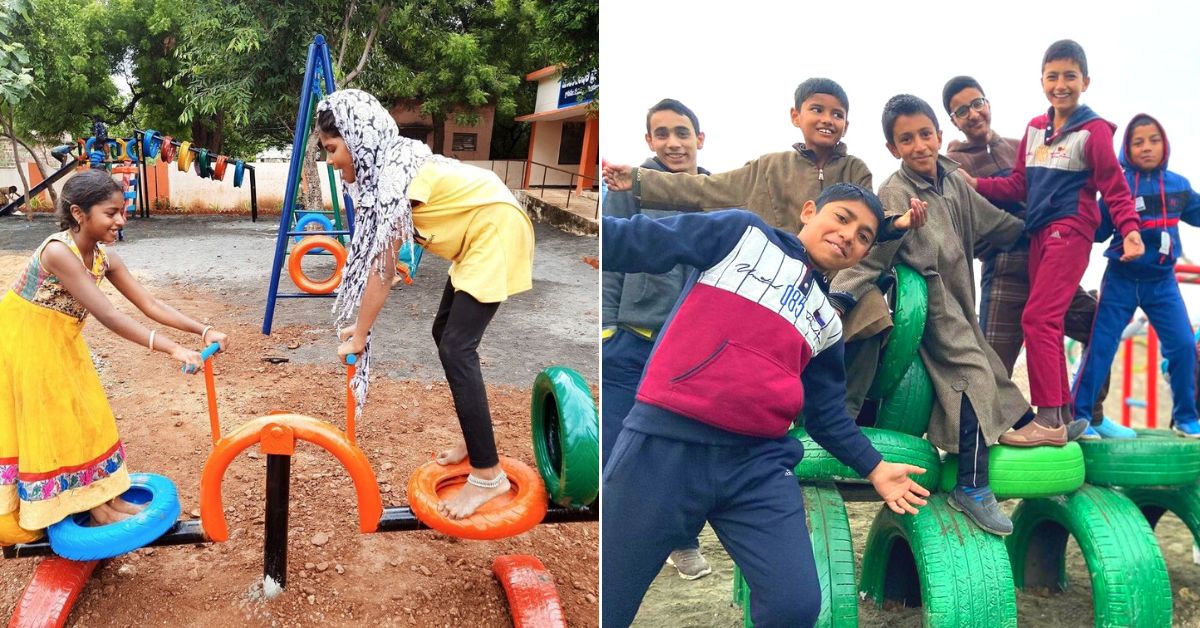 Rural versus urban
Around 60% of playgrounds built by Anthill Creations are situated in rural areas, despite their extensive work in major urban centres like Delhi, Bengaluru and Mumbai. And as expected, there are major differences in how playgrounds are built in urban versus rural areas.
Here's how Pooja Rai explains these differences:
1) "In terms of designs, when we do these activities with children and urban areas, the kind of responses we get are very different. In rural areas, people want play elements that speak to their sense of adventure, but also stories that they care about. So, you have play elements shaped like elephants, horses, and more nature-based play," says Rai.
"When we build playgrounds in urban communities, children want toy elements resembling cars or computers in their playground. If we go and just put the same play elements in all of these geographies, we are not really contextualising play to their local contexts," she adds.
2) In rural areas, there is a lot of space as compared to urban areas where sometimes they see schools, which are just four storey buildings with no additional playground.
3) "In urban areas, children might have seen a playground, so they are more familiar with what to expect. In rural communities, I see children get so amazed when we build the playground. For instance, we had built a slide that basically included tires to climb and then a slide, and they used to call it Disney World. The appreciation for playgrounds is a lot higher," she says.
There are two key challenges when it comes to building playgrounds in rural areas as compared to urban areas:
1) Funding: "When we are working in cities, there's more funding available in terms of CSR. A corporation would want to build something in the local vicinity so they can also kind of monitor and take care of it in the long term. In rural areas, the funding availability is lower," she says.
2) Transporting material to remote areas: "One of the playgrounds that we had built in Odisha did not even have electricity. We had to get generators to use power tools that we needed to build a playground. For one of the playgrounds we built, the team had to take tires through a boat because there was no road near the town of Baulakani," she adds.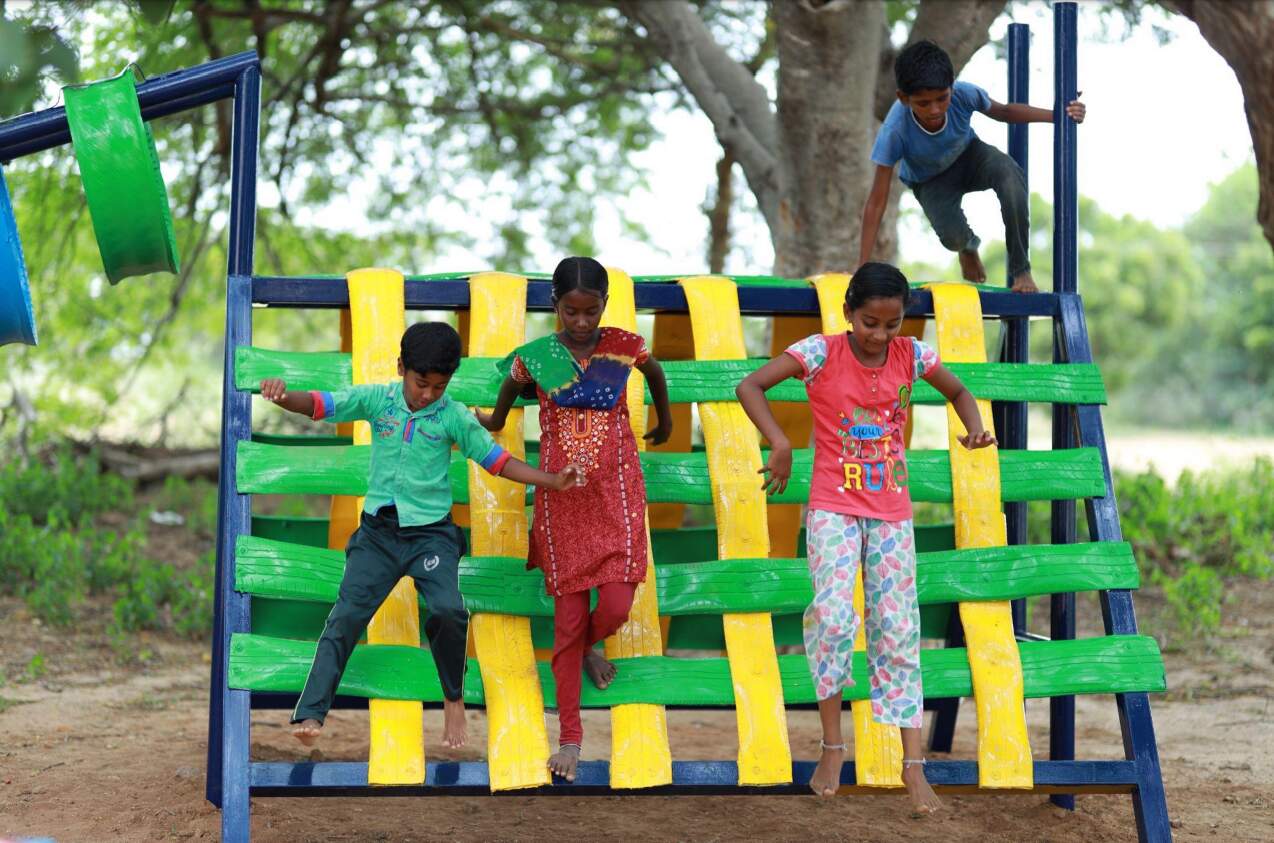 Retrieving play spaces
Challenges, however, aren't restricted to rural playgrounds. In urban centres, particularly the major metros, there is a serious paucity of space due to a variety of factors.
Take Bengaluru, for example. According to Janaagraha's survey (2017-18) on parks and playgrounds in the city, Bengaluru only has "2.2 sq.m of open space per person, which is significantly short of the recommended 10-12 sq.m by the URDPFI (Urban and Regional Development Plans Formulation and Implementation*) guidelines set by the Ministry of Urban Development (MoUD), India." 
In terms of playgrounds, only 38% of them across the city have play equipment or facilities, while only 1% are equipped with drinking water facilities. Going further, nearly half the playgrounds in the city lack lighting facilities, while only 4% of them have toilet facilities and 70% are suffering from litter and garbage piling up.
In Part 1 of the article, Srikanth Viswanathan, the CEO of Janaagraha Centre for Citizenship and Democracy, noted that although the survey was taken in 2017, "things haven't changed much since". Given the circumstances, there have been episodes where communities were required to reclaim play spaces for their children.
Back in 2015, a couple of former students of Round Table School in the Roopena Agrahara area of Bommanahalli, Bengaluru, led by Pallavi S and Ranjith M, began the process of retrieving a playground in their neighbourhood that the government wanted to sell to private builders to build an apartment complex. These students held conversations with local community leaders and legislators about the importance of the playground for the growth of a child's learning abilities.
They managed to persuade the local councillor and MLA to spend Rs 12 lakh of their own funds to upgrade and maintain the playground after inviting them to a few sessions of an After School Life Skills programme organised by Dream a Dream, a Bengaluru-based non-profit. As a result, about 15 schools in the Bommanahalli neighbourhood share this playground.
All this was achieved thanks to people like Pallavi and Ranjith, who come from marginalised backgrounds. As children, Ranjith picked up rugby while Pallavi played football on the same ground under Dream a Dream's 'After School Life Skills Program'. Established in 1999, Dream a Dream is a well respected Bengaluru-based non-profit working in the space of education and youth development for children from marginalised circumstances.
Besides the sport, they had also picked up life and leadership skills on this ground. Over time, however, as development work picked up in the area, a dispute over who owns the land began to take shape. The government also got involved in this dispute. As a result, it grew into a vacant piece of land where people would dump garbage.
Chandrasekhar — who handles a team of 28 members in the After School Life Skills Programme for children from marginalised communities — recalls, "One of the challenges we faced before opening our centre there was that it was occupied by a local politician. Ranjith, Pallavi and a couple of more products of our programme fought for that space and regained that public ground for children in their community."
As Ranjith recalls, "The ground in question was under litigation between some private players and the government, and over time, had become a public dustbin of sorts filled with garbage and stones. The end result was that there was absolutely no space in the community for young people to play football or any other sport. Upon seeing this vacant ground, Pallavi and I decided to do something. After all, there was no playground within a three kilometre radius of where we reside. So, we reached out to our community leaders asking them whether we can repair the ground and use it given that young people from the community have no space to play."
"After approaching community leaders, they offered their support to clean up this ground. We also enlisted the support of the local councillor and MLA as well. Many people in our community got together to clean up the ground even though its legal status remains under a cloud. Today, we play different sports and organise a bunch of local tournaments there," he adds.
After nearly a year of negotiations, the alleged owner agreed to convert that vacant plot of land into a community playground for children. It took three months to convert that vacant plot to a community playground. By 2018, the playground was open for children from the community.
Today, Dream a Dream runs their football programme, which falls under their After School Life Skills programme, on this playground. The moment when Ranjith, Pallavi and other former students rallied the community to ensure that they have a playground for children was significant. After all, no one knows the value of play better than people like Ranjith.
Getting introduced to rugby literally changed his life. Ranjith today is a college graduate who works at Dream a Dream as an associate manager, plays rugby for the national team and even coaches the under-14 and under-18 national team in the sport.
Suffice to say, this is what a playground did for Ranjith's life. Without play spaces like these, children suffer in ways that impact their long-term growth and development. In many of our cities, these spaces are shrinking and much more needs to be done to build and retrieve them.
Have you come across any innovative ideas or construction executed in playgrounds in your city? We'd love to hear all about it. Send pictures and information about the playground to editorial@thebetterindia.com with the subject line "Childhood Dialogues".
(Edited by Divya Sethu; Images courtesy Anthill Creations)
We bring stories straight from the heart of India, to inspire millions and create a wave of impact. Our positive movement is growing bigger everyday, and we would love for you to join it.
Please contribute whatever you can, every little penny helps our team in bringing you more stories that support dreams and spread hope.