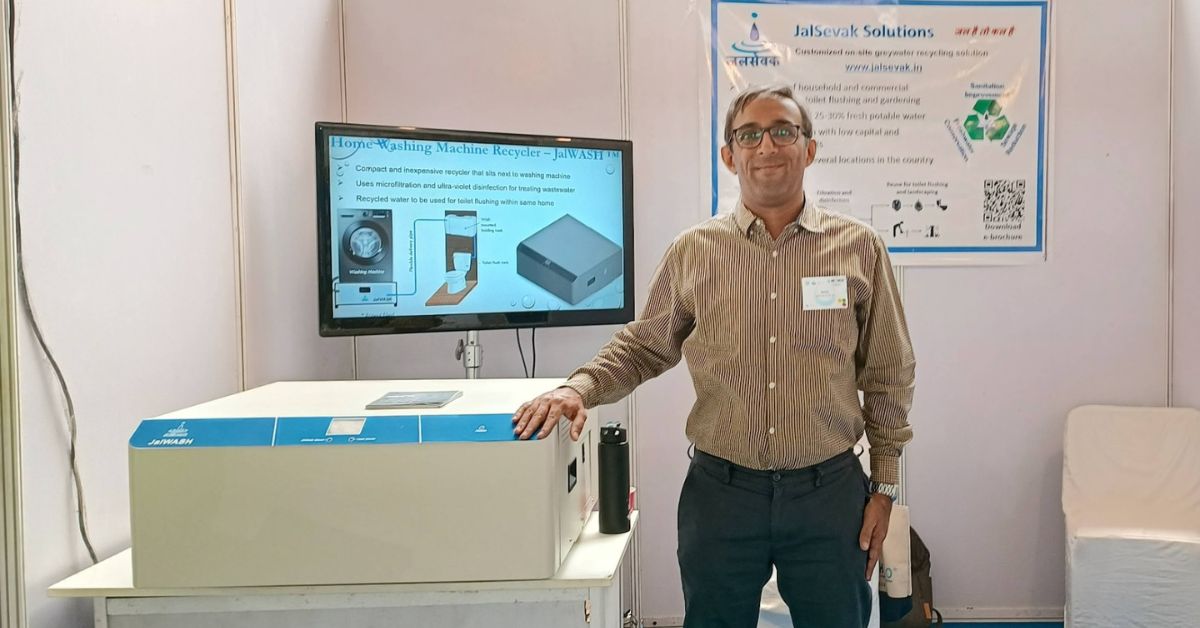 Pune's Abhijit Sathe started JalSevak Solutions to provide an affordable alternative to greywater recycling to Indian households. He has helped install this compact system in residential complexes, individual homes, schools, public toilets, and more, across 12 Indian cities.
Did you know that 31 billion litres of greywater are generated every day in India? Amid the absence of cost-effective wastewater recycling systems, gallons of greywater end up polluting water resources in India, which is already grappling with a water crisis of unprecedented proportions.
One of the most effective ways to conserve this water in everyday life is greywater recycling — a method of recycling wastewater from kitchen sinks, showers, and washing machines. This can help conserve up to 40% of freshwater, which would otherwise have been consumed in activities such as toilet flushing — which wastes at least six litres of fresh water per flush.
Installing a suitable system to recycle greywater can prove to be expensive, which means that Indian households require a more affordable alternative. It was with this motive — and an aim to address an important and often overlooked problem faced by Indian cities and towns — that Pune's Abhijit Sathe started JalSevak Solutions.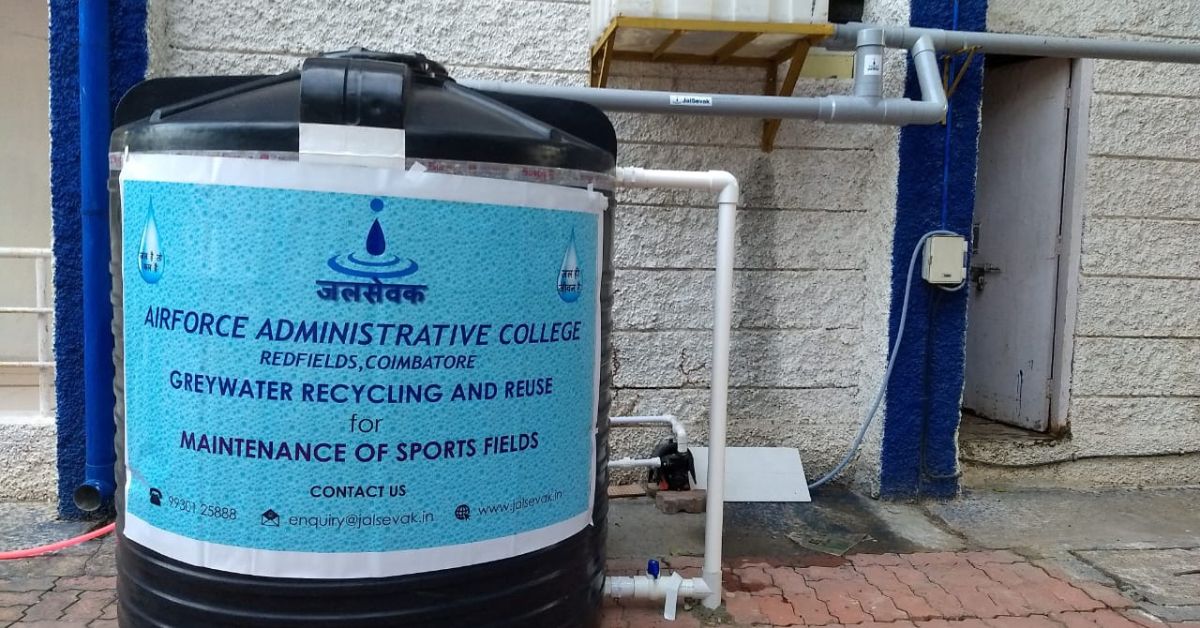 "We have developed India's first compact, on-site, and affordable greywater recycling solution for residential and commercial facilities. We have ensured that our system is not over-engineered, but is convenient, scalable, easy to operate, and sustainable," the 45-year-old tells The Better India.
"Making it cost-effective was my priority so many people can adopt it. The whole process cost Rs 1.25 lakh, which is 30% less compared to alternative wastewater recycling systems. Additionally, the recurring and maintenance costs are also lower," he adds.
Abhijit explains that greywater comprises up to 75% of daily water use. With his system, a family of five can save at least 500 litres of greywater daily. "We are also saving polluted water from entering water bodies by recycling and reusing it at an affordable cost," he adds.
Every drop counts
Born and raised in Barshi village in the water-scarce Solapur district of Maharashtra, Abhijit would struggle for clean water. "We did not receive good monsoons. I spent my childhood fetching water from far-off areas. There was no 24-hour water supply," he says.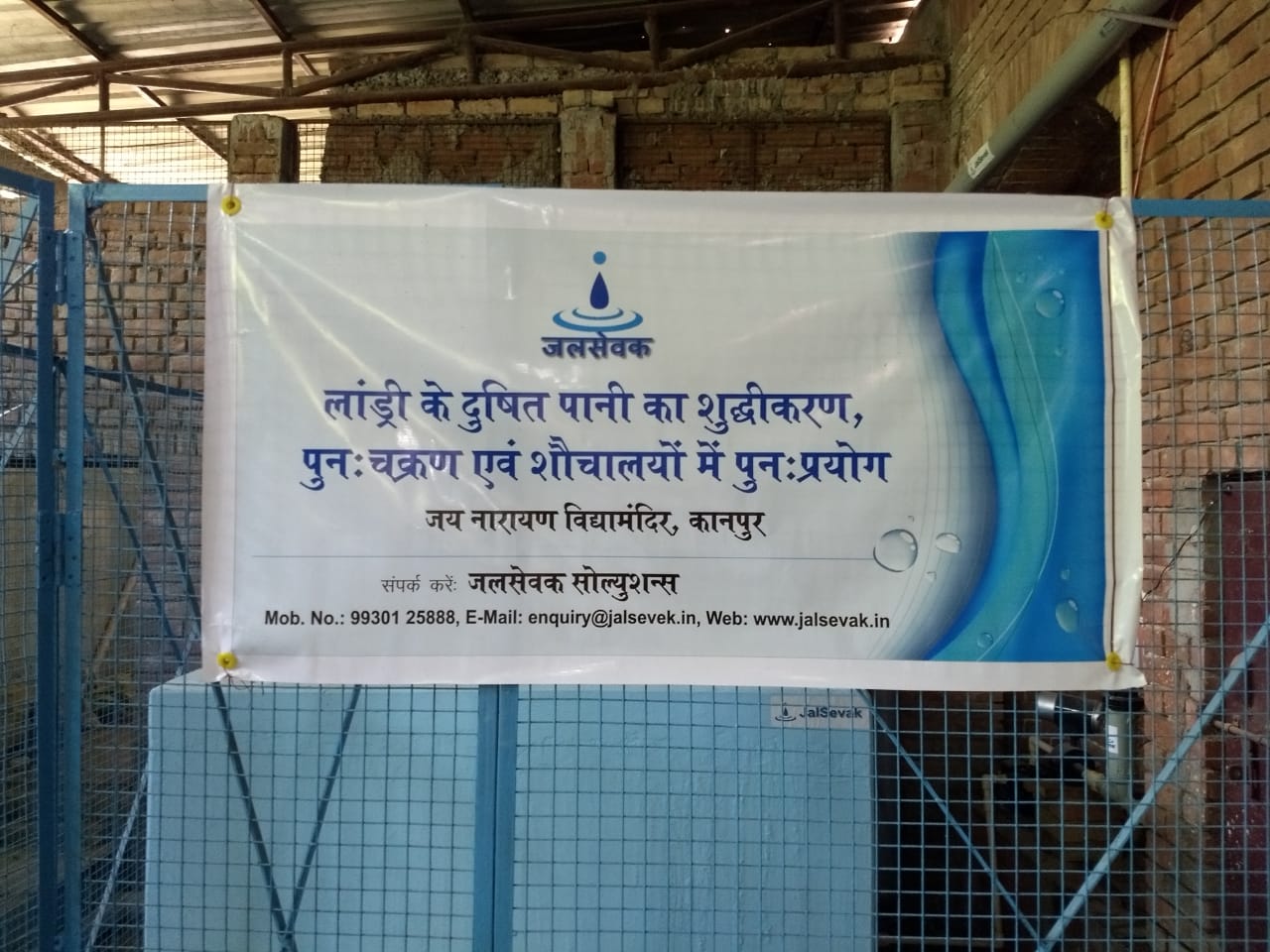 After he graduated from IIT Madras, the engineer went to the US for higher education and work. In 2012, when he came back to India, he strived to start his own venture. "I realised that most of the engineering jobs are service and sales-based, not product based. I was not very comfortable pursuing a job in the sales field. I wanted to start my own business and the water sector was always on my mind," he says.
"In India, some areas are largely dependent on water tankers for daily needs, yet people do not feel as accountable to save water — a precious resource — as they get water by pressing a button, it is only when you face its shortage that you become vigilant about conserving it. I started figuring out ways to come up with recycling and reusing water," he adds.
So after a decade of corporate experience, he quit his well-paid job to start Jal Sevak Solutions in 2018. Since then, he has installed greywater systems in 25 places including residential complexes, individual homes, apartments, schools, hostels, office quarters, and public toilets across 12 cities including Kanpur, Hyderabad, Coimbatore, Delhi, Mumbai, Bengaluru, Gorakhpur.
From kitchen sinks to toilets
Abhijit's low-cost greywater recycling system is a six-step process. Explaining how it works, he says, "Firstly, we collect greywater from showers, kitchen sinks, washing machines, and washbasins. This greywater contains suspended solids, dirt, mud, nails, dissolved soap, and a negligible percentage of bacteria."
"Second, greywater is sent through multiple layers of filters to remove all suspended solids. Filters capture particles of up to 5 µm size," he adds.
For filtration, Abhijit uses a nylon-based strainer to remove big particles like thread, hair, and paper, whereas another bucket filter comprising propylene cloth is used to clean the water further. These filters, which cost up to Rs 250, require cleaning once a week and replaced every six months.
Third, filtered greywater is stored in a temporary holding tank where aeration prevents the rise of pathogens in the stored water. In step four, a pump carries water from the holding tank to a rooftop tank, and a dosing system adds disinfectant into the outlet manifold. In the fifth step, any excess disinfectant and residual solids in water are removed by passing the filtered and disinfected greywater through a final filtration stage of dechlorination.
The treated greywater is sent for use in toilet flushing, floor cleaning, and gardening via dedicated piping. "We do not recommend using this water for any other activity as it would require other expensive multi-stage processes," says Abhijit.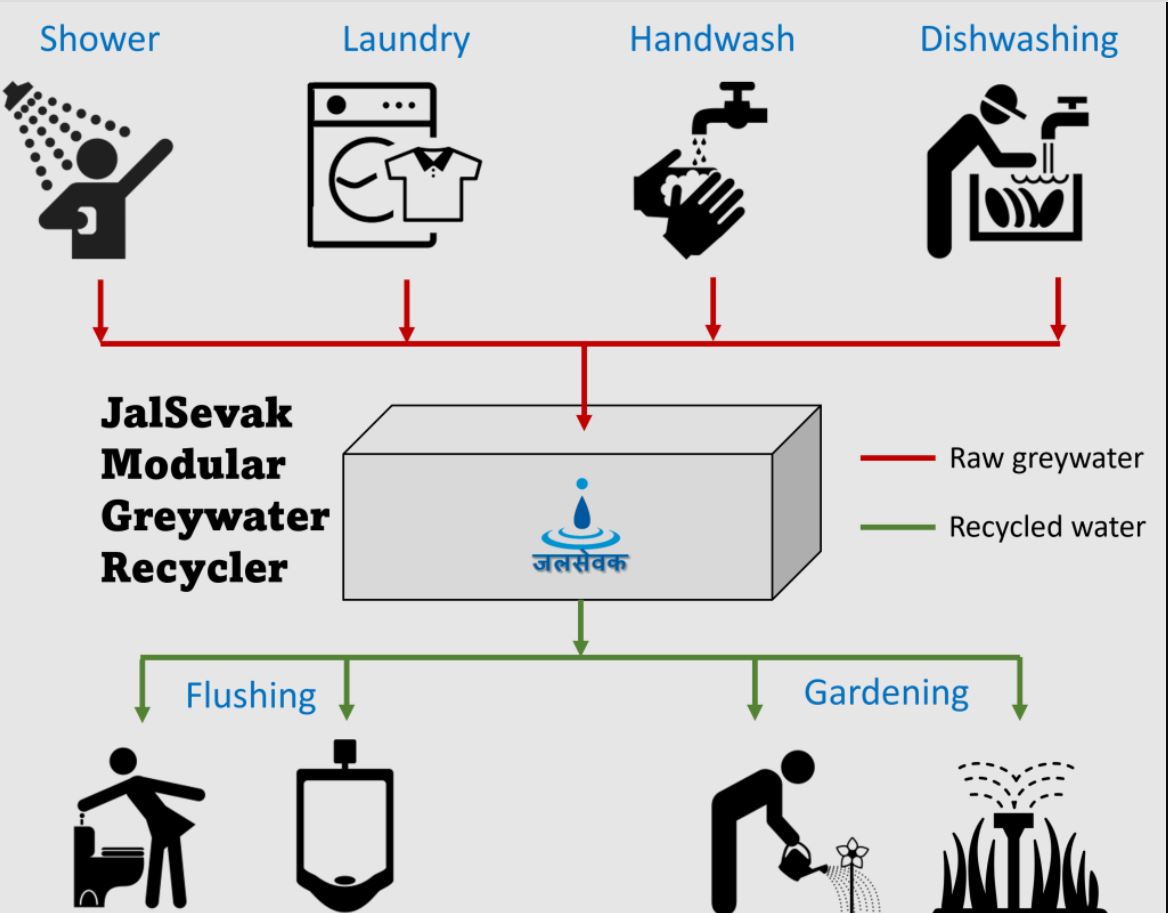 He informs that it takes at least one week to install the system in an under-construction complex and two weeks to set up the system in an existing structure. "Generally, it is advisable to install the system during construction only otherwise the system will require replumbing," he says.
Two years ago, Dr Mukul Verma, who works at Noida's Apollo Hospital, also considered adding a greywater recycling system while constructing his new home in a hill village of Uttarakhand's Almora district. For this, he began using Jal Sevak's device.
"In our village, there is no water supply in nearby areas. We are entirely dependent either on rainwater or irregular municipal water supply. Every month, I visit our home in the hills and stay there for a week. Today, I am able to save water by reusing it for toilet flushing as well as irrigating my crop, without the guilt [of wastage]," he tells The Better India.
'Need more competitors'
Unlike other entrepreneurs, Abhijit wishes for more competitors in the market. "There is hardly any dedicated company or individual working in this sector. We need similar products coming in the market so that more innovative ways are given thought," he says.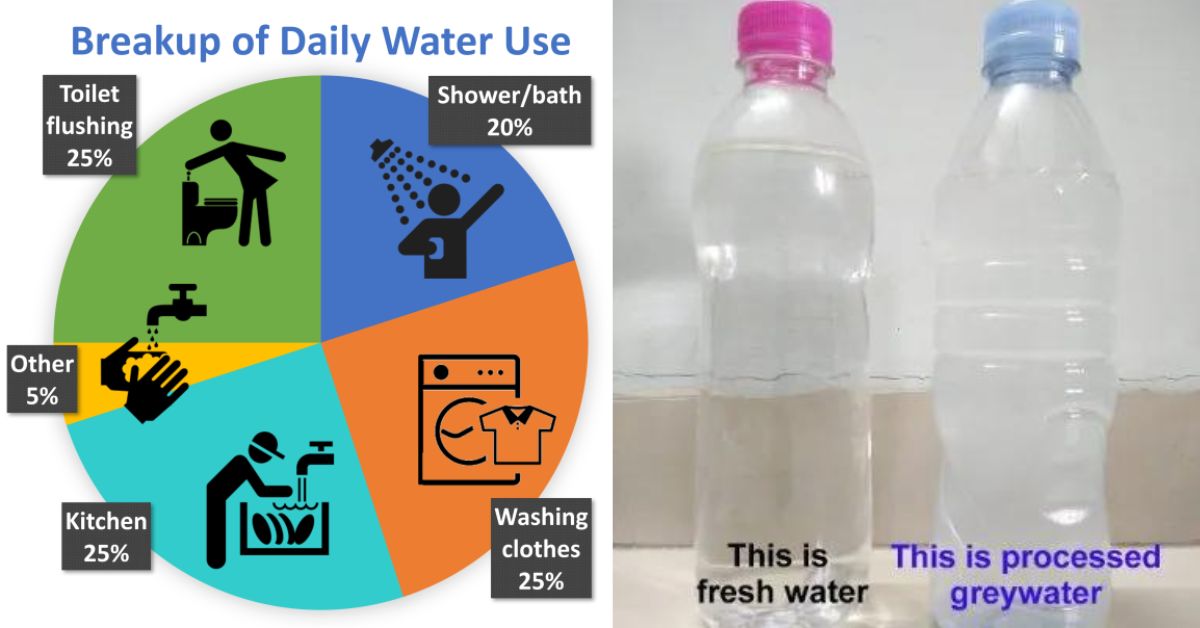 Meanwhile, highlighting the limitations of greywater recycling systems, Abhijit says that space is a major constraint. "Because we have to check where we can set up the tank to collect greywater. Generally, we set it up underground and in a basement. We get many queries from individual flat owners, but we can set up such a system for an entire building, as it would not be cost-effective for them," he adds.
From residential complexes, Abhijit aims to expand this system into restaurants, institutes, canteens, etc.
"Currently, we are totally dependent on the monsoon every year, which has not failed us. But with changing weather patterns amid climate change, we are to get below average monsoon in the coming years. Our water resource is limited but our consumption is increasing, which is not sustainable unless we take such initiatives. Hopefully, with our low-cost recycling system, people will come forward to adopt such practices," he adds.
Source:
Union Jal Shakti Minister Launches Sujlam 2.0 Campaign: Published by Press Information Bureau on 23 March 2022.
Edited by Divya Sethu; All photos: Abhijit Sathe
We bring stories straight from the heart of India, to inspire millions and create a wave of impact. Our positive movement is growing bigger everyday, and we would love for you to join it.
Please contribute whatever you can, every little penny helps our team in bringing you more stories that support dreams and spread hope.