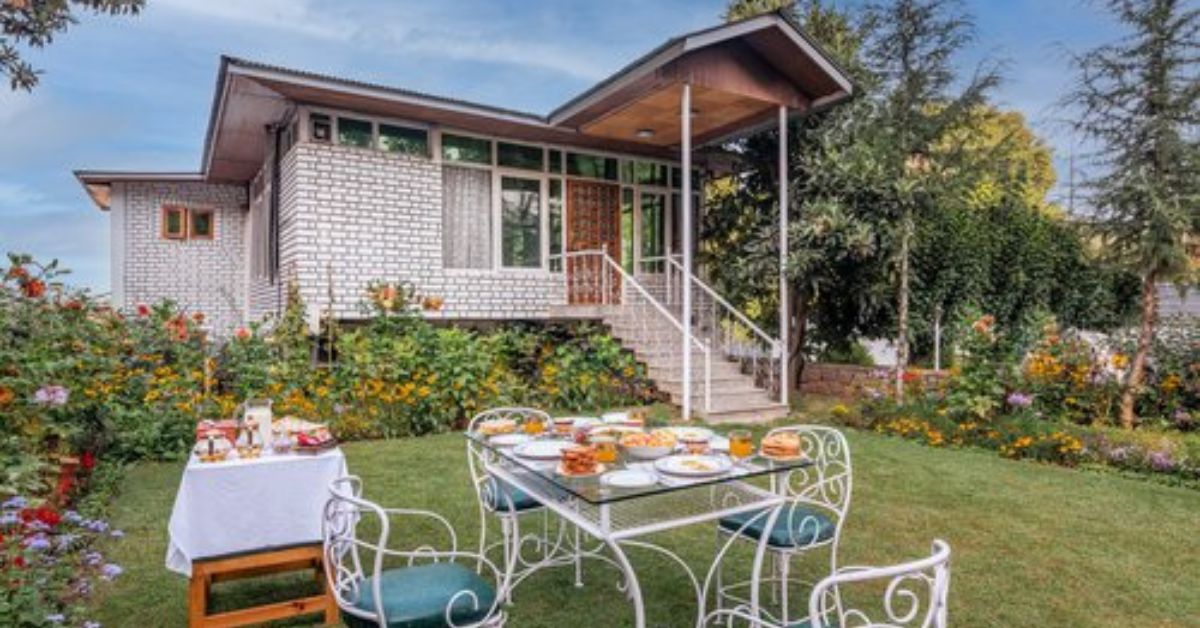 Aamir Khanyari took his ancestral land and turned it into My Kashmir Home, a beautiful homestay nestled amid Kashmir's valleys, where you wake up to vast orchards, chirping birds, and traditional Kashmiri food.
On the eastern outskirts of Srinagar, there lies a town where the phrase 'heaven on earth' seems almost true. Hailed for its well-manicured lawns sprawling for miles, the Nishat Bagh, which is the second-largest Mughal garden in Kashmir, is a true paradise.
Describing the beauty of this town is almost like trying to interpret a postcard. Nestled amid the backdrop of the glorious Zabarwan mountain ranges, it holds a fascination for every traveller who makes their way here. Aamir Khanyari recalls that when his grandfather arrived here in 1965, he was no exception.
He was so taken up with this land, its beautiful orchard, and its charm, that he decided to purchase it and build a home for the family. This quest eventually led to 'My Kashmir Home', a tranquil homestay that is today run and managed by Aamir.
The happiest memories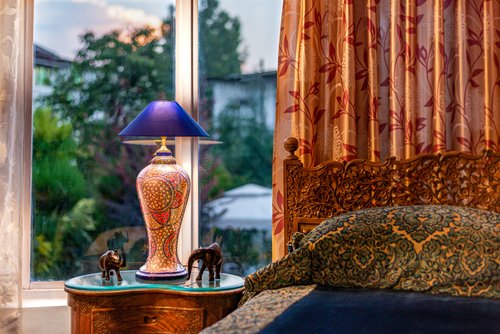 Speaking to The Better India, Aamir, now in his forties, recounts that a lot of his passion for travel and the world stemmed from the growing years his family spent in Nishat and Shalimar.
"Childhood was filled with the sweetness of the peaches, plums and apricots that we would get from these trees in the orchard," he says. The home that Aamir's grandfather had beautifully constructed for them was a place of laughter, chatter and stories — ones that for some of his happiest memories.
"My grandfather was assisted by two renowned Indo-French architects, who later became best family friends. The aim was not just to build a house, but rather to create a home," shares Aamir.
His favourite memories growing up were the lush green gardens that expanded across the driveway, and the walnut furniture that adorned the interiors, which he says "has collected stories of people and places from a variety of cultures, customs, thoughts, and attitudes".
"The traditional Kashmiri carpet, decor, and handicrafts introduce a tasteful simplicity, which over the years has built the home's reputation within the circles of Kashmir and around the world."
After his grandfather passed away in 1984, things came to a slow pause for a while. The children grew up and moved out, and while the house continued to be looked after and cared for, it served its purpose more as a vacation home for Aamir's parents during the summer. Meanwhile, Aamir and his wife were busy backpacking through the world and have had adventures in 50 countries and counting. When they weren't exploring a new place, they'd come back to the home they loved so much.
But it was only in 2014 that Aamir wondered something.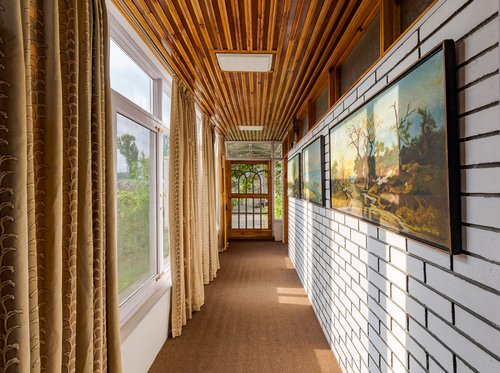 "I grew up in this house and came to love it so much. Why not invite others to explore and enjoy the warmth of a traditional Kashmiri home too?"
This thought was the conception of 'My Kashmir Home'. Highlighting the meaning behind the name, Aamir shares, "It was always my home, since I've lived here since my childhood. I wanted it to be your home when you come here. That's why the name."
Ever since 2014, guests from all over India as well as overseas have been welcomed with open arms to witness the beauty of the Kashmir Valley, all the while enjoying the luxuries of the homestay.
Every room has a story
Once he came up with a plan, a lot was to be done, says Aamir, who was working in his family jewellery business at the time. Nishat, where the house is located, is classified as a 'green belt', which meant that they could not carry out too many structural modifications and constructions.
So the house that guests book for their stay is the very same that has existed since 1965.
The 10,000 sq-metre property is palatial, housing the suites, the orchards, and the kitchen garden. Aamir says each suite has been named after a gemstone. This serves two purposes — it gives the room a theme, and reflects the family's history with jewellery.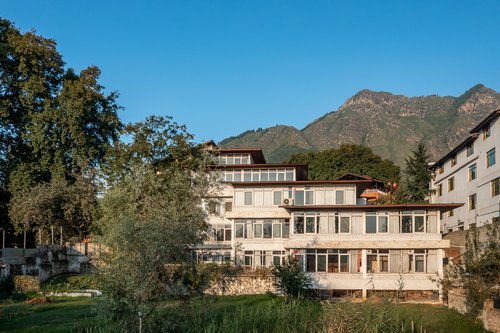 "There are three super luxury suites: Ruby, Sapphire, and Emerald. Each is decked in upholstery and colours of the gemstone, is 1,000 sq-ft, and equipped with all amenities such as a water kettle, a fridge, a flat-screen TV, WiFi, AC, and anything that people might need. A sitting area, a dining space, a kitchenette, bathroom accompany every room."
The five semi-luxury rooms are named Garnet, Quartz, Topaz, Lapis, and Agate. Keeping to the tune of the gemstones, Aamir says, "In the future, we see a Diamond room with a 360-degree view."
He adds that the heating blankets on the beds ensure that guests can always be warm, even when the weather outside is chilly. And even as a blanket of snow covers the orchards in Nishat, a kitchen garden is always in bloom.
Aamir shares that the garden is an abundant source of all their daily greens — potatoes, corn, onions, garlic, zucchini, cucumbers and more — and that the family rarely has to venture to the market for their produce.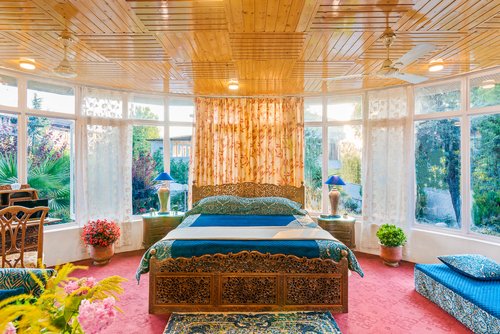 Ishita, one of the guests who visited in May this year, describes her stay as "wonderful". "It's a beautiful place, a heritage home where all the modern amenities are made available. The food was delicious and was prepared exactly how we had requested. My daughter enjoyed picking strawberries in the beautifully manicured garden. It was a memorable experience and I would surely love to spend another vacation at this place."
A meal fit for kings
Perhaps every guest who has stayed at the homestay will agree that the main draw here is the traditional and authentic Kashmiri wazwan.
Coined from two Kashmiri words, 'waz' meaning cook and 'wan' meaning shop, the Wazwan came to India in the 14th century when Timur, a Mongol ruler, invaded India.
"While the original version comprised seven dishes, over the years, the feast has stretched to serve thirty, mostly mutton, dishes," explains Aamir. "Each part of the sheep is used to prepare specific dishes as per the recipes. The first dish served is rista — meatballs cooked in mutton stock, mild spices like cardamom and cloves, garlic, and Kashmiri chillies that add more colour than spice to the food. The methimaaz is cooked in mutton stock, mild spices, and fenugreek leaves. For the tabakhmaaz, whole ribs are boiled with salt and garlic. Then, after chopping it into smaller pieces, the fried crispy brown delicacy is served piping hot. Finally, for the rogan josh, medium chunks of meat from the sheep's lower back are slow-cooked in gravy."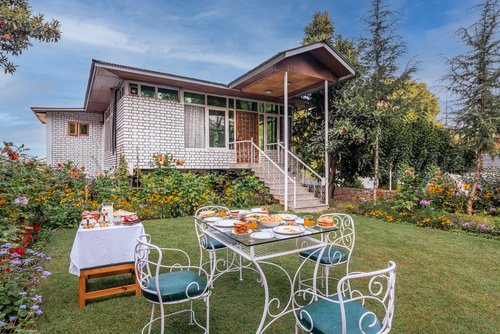 He adds, "The feast takes 24 hours to prepare."
Other dishes at 'My Kashmir Home' include harissa lamb cooked with oats, trout, Kashmiri Kehwa, and Marchewangan Korma, among others. Like the food, everything at the homestay is rooted in Kashmir's heritage and tradition.
Meanwhile, Aamir, who watches his guests enjoy every moment of their time here, says that when he started out, the intention was never for their guests to be tourists, but rather feel that this was their home. "This is now true."
Edited by Divya Sethu
We bring stories straight from the heart of India, to inspire millions and create a wave of impact. Our positive movement is growing bigger everyday, and we would love for you to join it.
Please contribute whatever you can, every little penny helps our team in bringing you more stories that support dreams and spread hope.