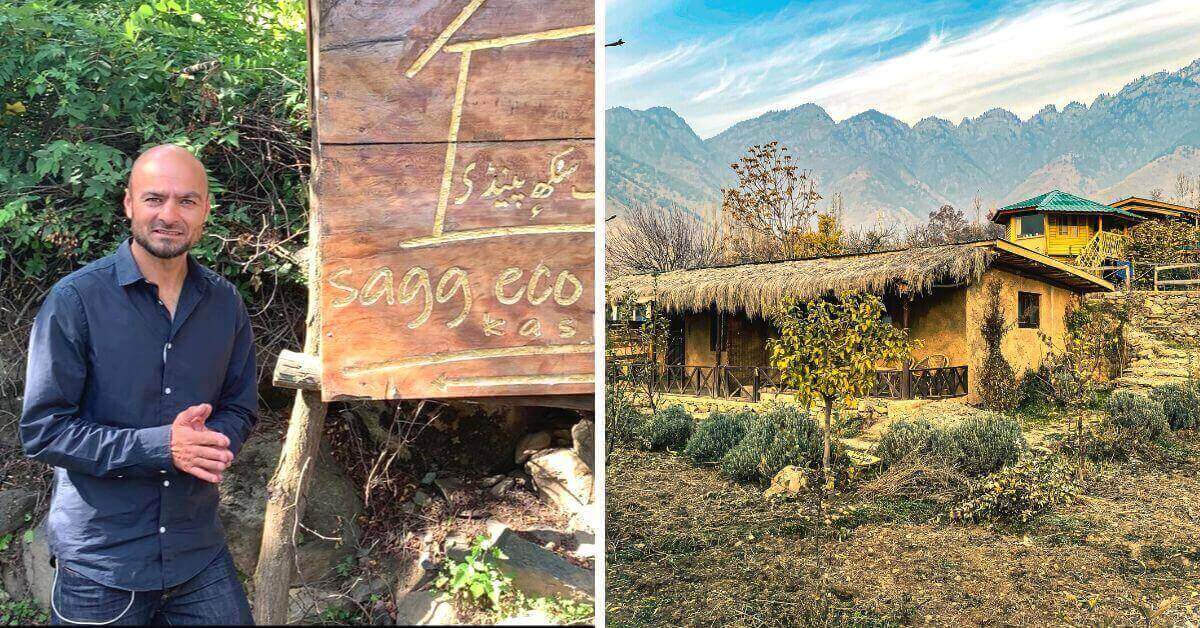 Fayaz Ahmad Dar, a resident of Ganderbal, Kashmir, set up his homeland's first and only eco-village Sagg to promote sustainable tourism and the Valley's culture and heritage.
When Fayaz Ahmad Dar moved back to Kashmir in 2010, he only had one vision — to work towards upholding the rich cultural heritage and values of his homeland.
Born and brought up in Ganderbal, Kashmir, Fayaz always took pride in his roots and upbringing. After schooling, he had to move out of his homeland owing to further studies and jobs. Though this gave him a chance to explore different countries and cultures, he always longed to return home.
His love for his homeland, and his strong ambition to give back to the community, resulted in the creation of the Sagg Eco-Village in Ganderbal district.
Opened in 2016, it is the first and only ecologically sustainable village in Kashmir.
Building Kashmir's first eco-village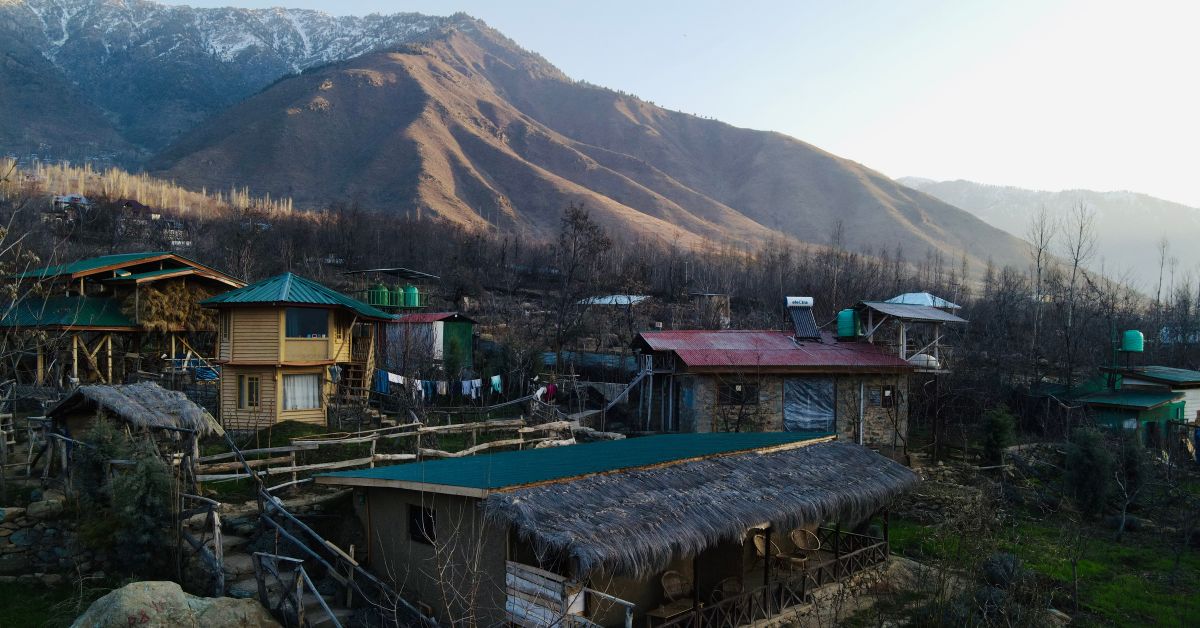 Set on the foothills of the Sindh River, Sagg is a unique initiative to preserve and promote Kashmir's cultural and traditional heritage, as well as to highlight the importance of sustainable living.
Spread across close to 1.5 acres, the eco-village boasts of beautiful mud houses to stay in and an organic farm for fresh produce, and thoroughly follows the zero-waste concept, thereby promoting sustainable tourism.
Besides hosting recreational stays, Sagg also offers residential and educational camps for students, workshops, and training facilities, and even consultation services for people interested in building sustainable and eco-friendly spaces.
"Sagg is not just an attempt to build a sustainable recreational space, but also an effort towards moulding the younger generations, especially here in Kashmir, to make them realise their real potential and to guide them towards making better life choices," Fayaz Dar tells The Better India.
Fayaz says that he was very well exposed to diverse cultures and people. "I worked in eight to ten organisations across different sectors, and travelled a lot. My journeys, in fact, helped me understand varied cultures and those experiences made me realise the need to do something for my own homeland," says the 46-year-old.
Fayaz started out as an assistant in a homeopathic dispensary and eventually moved to different fields, upskilled himself, and later became an administrative and project officer for the United States-India Educational Foundation (USIEF).
"I quit my work life in Delhi in 2009 and pursued a course in the US, later moving back to Kashmir. My life journey helped me understand how the way of upbringing in Kashmir conditions someone and why most of us end up sacrificing creativity over security. So, I decided to come back and work with the younger people here to share my experiences and share my experiences to guide them," he says, adding that he started with a non-profit initiative named Mool Sustainability Research and Training Centre, where they collaborated with different NGOs and did participatory research projects trying to understand the needs of the youth.
"The first research project was titled 'Needs Assessment of Youth' where we engaged in conversations with students from educational institutions in Kashmir, Ladakh and Jammu to understand their problems and find solutions for them," he says.
"Through our projects, we tried to envision the kind of society we all wanted to live in and how it can be made possible with our efforts. People often talk about coexistence, self-sufficiency, sustainability, dignity, equality, inclusivity, and so on. But there were no on-ground or practical initiatives that would exemplify all these. So, we decided to do it ourself and that's how the Sagg eco-village was born," explains Fayaz.
To nurture the roots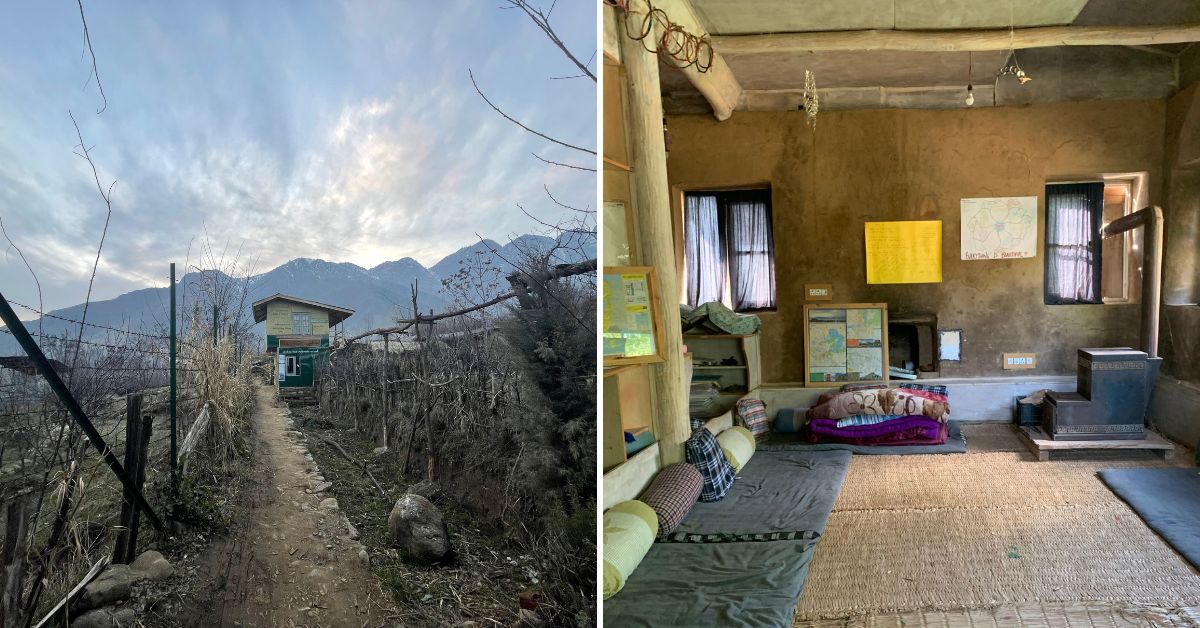 "'Sagg' in Kashmiri translates to nurturing," says Fayaz.
In 2013, he bought the land to set up Sagg. "It was a barren and abandoned piece of land on the foothills. There were no basic facilities like water and electricity, and it was completely filled with rocks and thorns. But I felt that I can transform this piece of land into something successful," he smiles. "Slowly and steadily, with the help of our volunteers and staff, we were able to transform the land into what it is today."
It took him around three years to set up and open the ecological entrepreneurial venture that exudes the true essence of Kashmiri culture and heritage. He spent an initial investment of around Rs 60 lakh to set it up, using his savings and borrowing money from his friends and family.
Sagg is now an eco-cultural, recreational, and educational farm and camping facility.
"We built mud houses and cottages that used to exist in the olden times, with decor using wood and cane. Also, all the utensils we use for serving food are made from mud," says Fayaz. "All materials required for the construction have been sourced locally, and even the furniture used here is built by artisans using local wood."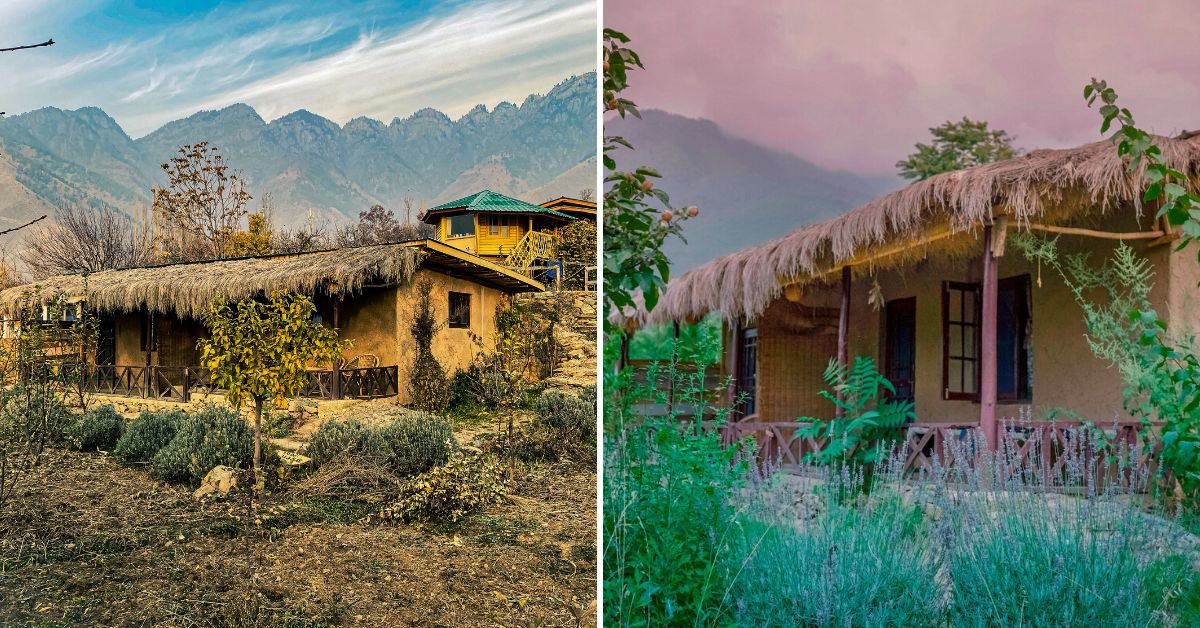 Other than individual and recreational stays, Sagg also hosts events and retreats, social gatherings, walks, treks, workshops, eco-therapy, art-therapy and mud-therapy sessions. They also provide transformational education, work, development and leadership capacity building and consulting programs to individuals, groups and organisations in Kashmir and outside. Their workshops mainly focus on entrepreneurship, organic farming, composting, upcycling, food processing, handicrafts, livelihood generation and so on.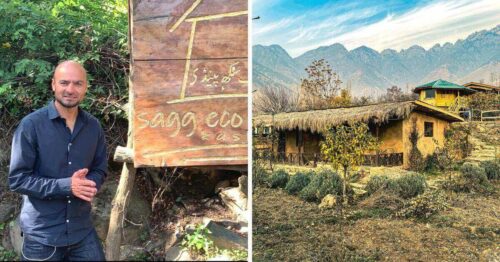 Parsa Mahjoob from Srinagar says, "In 2020, I attended their leadership programme, which was a residential programme. So, I visited Sagg for two-three days every month, from October to December. It was a life changing experience and I got emotionally attached to the place."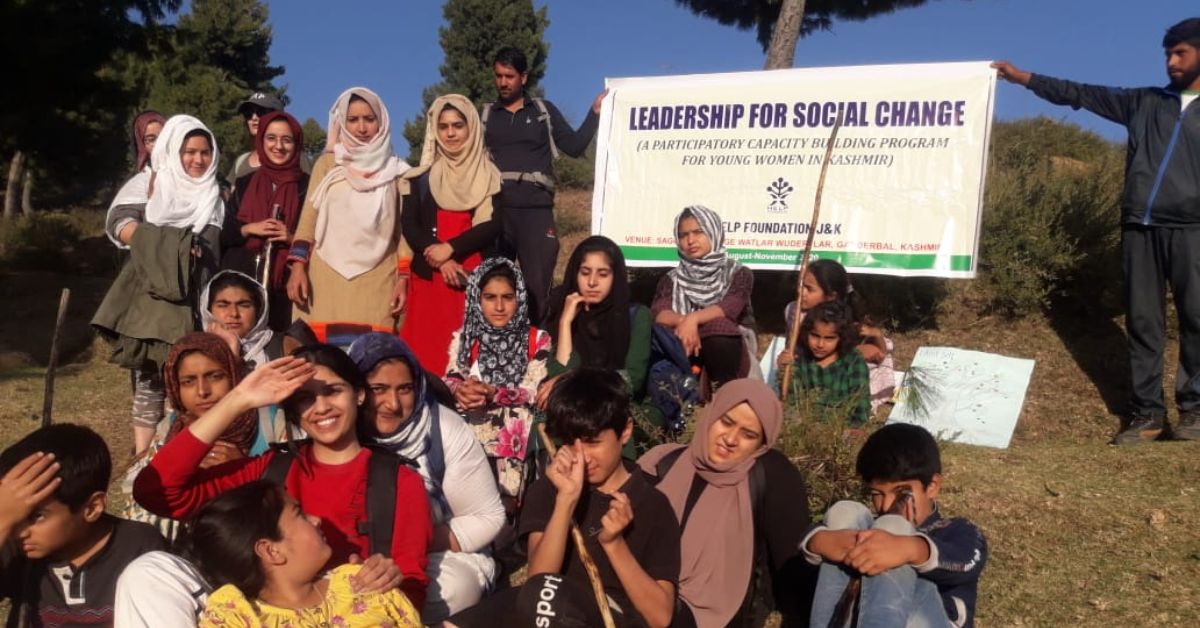 "I spent almost 18 years of my life in Bengaluru before I moved to Kashmir in 2019. But I got to learn more about the Kashmiri culture through Sagg. Besides, the place is built indigenously and they have tried their best to promote Kashmiri culture in every aspect," says the 21-year-old, adding that after the workshop, she has been volunteering at Sagg Eco-Village whenever they organise an event. "I make sure that I am part of their initiatives because the cause they are working towards is so meaningful. Living in a conflict region like ours, we actually don't have such spaces where we can actually grow in the way Sagg wants the people in Kashmir to grow," she adds.
Fayaz says that the rates at Sagg have been kept nominal and affordable by keeping youngsters in mind. "We charge Rs 500 including breakfast for camping with an overnight stay and Rs 700 per person for dormitories. Even the educational programmes like mindset sessions cost Rs 299 and the residential camps for students for four days and three nights cost Rs 5,000 per person," he adds.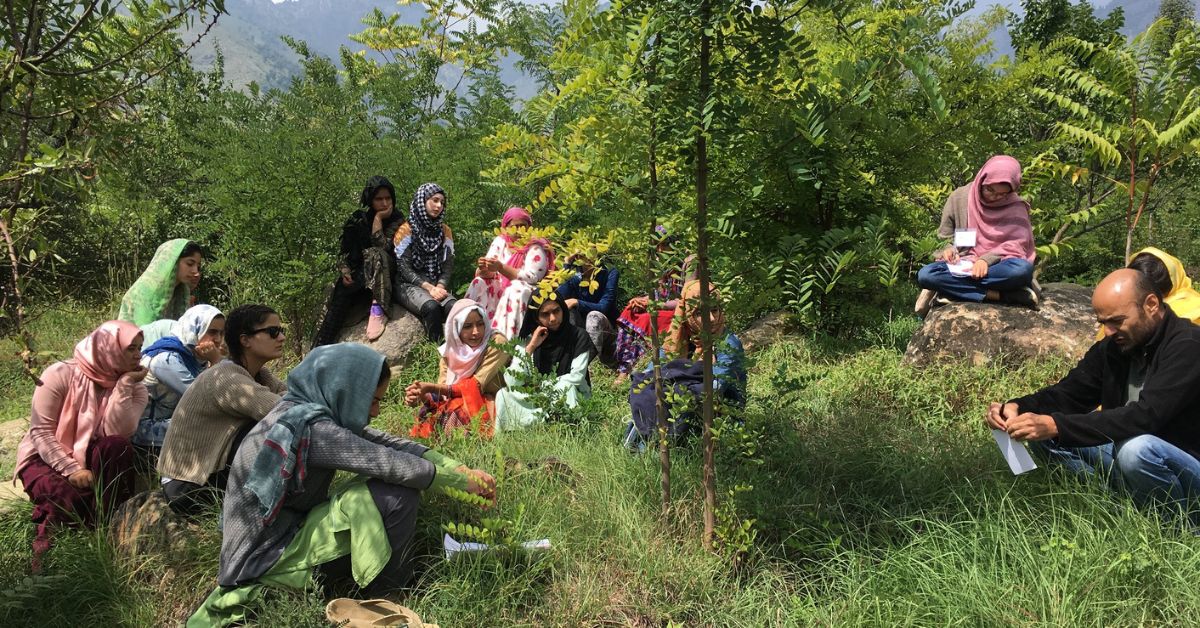 They also have an organic farm where they cultivate fresh and organic vegetables, spices, and herbs.
"At Sagg we promote the zero-waste concept by practising composting, organic farming etc, and prepare and sell healthy foods based on natural ingredients and traditional recipes. We use the produce from our farm in our kitchen, as well as during workshops for locals, where they are taught how to make value added products like pickles, jams, handmade soaps, etc, out of different produce," explains Fayaz, adding that he makes sure that all the recreational and educational camps have at least 20 to 25 per cent of local participation, by providing them with scholarships.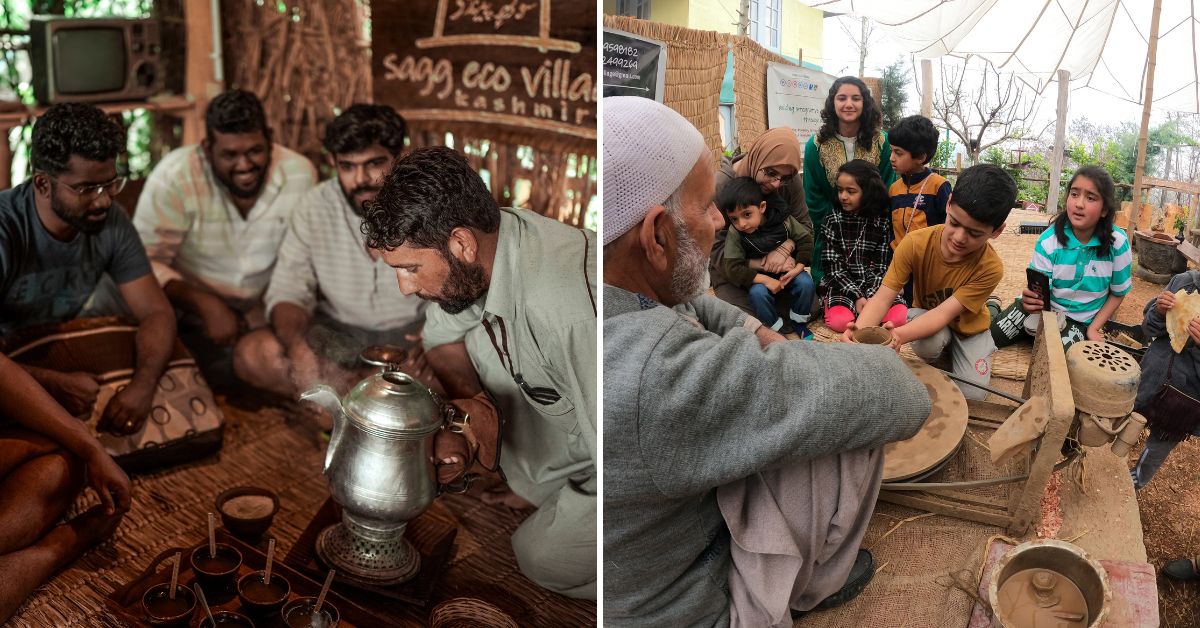 Though the business slowed down during peak COVID times, he says that it has been picking up slowly, with a current income of around Rs 5 lakh per month.
For more information, you can visit their website.
Sources:
Kashmir's first ecological entrepreneurship festival held published by Greater Kashmir on 29 March, 2022.
Sustainable Development: Kashmir Gets Its First Eco Village That Is Reviving Old Culture published by India Times on 15 June, 2022.
(Edited by Divya Sethu)