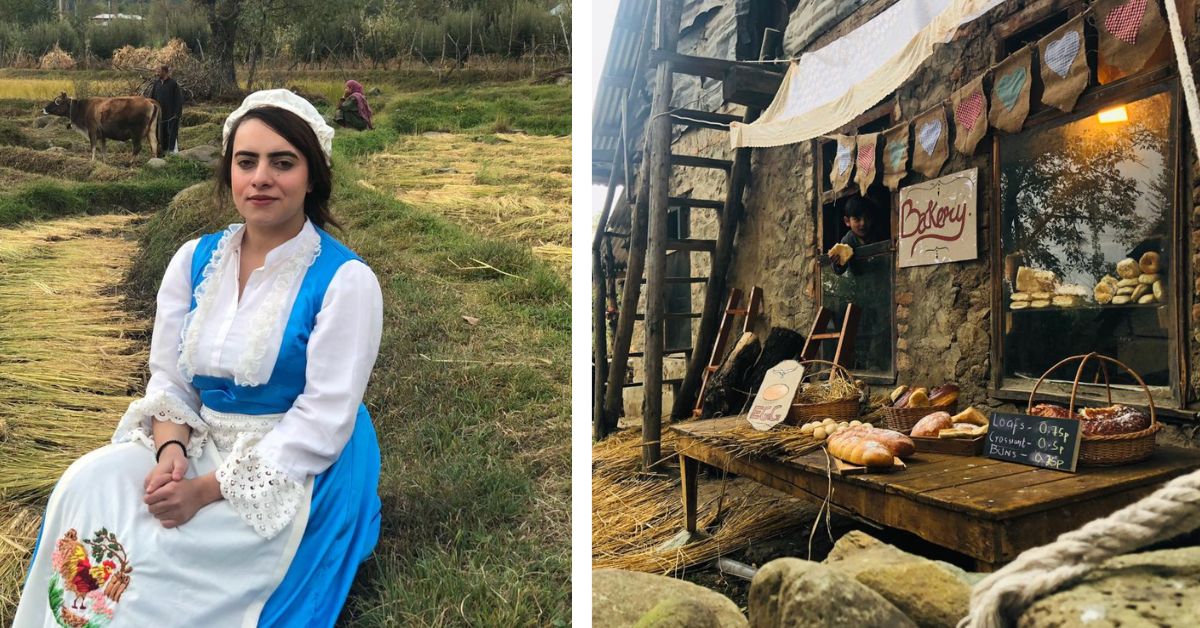 Engineer Insha Qazi returned to Kashmir from the UK to show tourists just how stunning and picturesque her homeland is. On an old land she built the Cheese Cottage, a homestay that is an ode to her love for the valley.
If we were to ask you your idea of a dream vacation, what picture comes to your mind? Does it include bonfires at night, set amid sprawling estates? Do you envision nothing but fruit orchards for miles, and the gentle chill of the falling snow, coupled with the warmth of a hot yakhni kofta? If yes, we'd tell you it is no dream — instead, it's a paradise located in the valleys of Kashmir.
The Cheese Cottage has an eclectic ring to both its name as well as the beautiful experiences it offers to its guests. With polished, elegant wooden interiors and luxurious furnishings, the cottage seems like it has borrowed a lot of inspiration from fairytale books. And behind this beautifully done-up two-floor work of art is Insha Qazi, whose pride for her birthplace is reflected in every corner of the home.
The 32-year-old civil engineer, who has a marketing degree from the UK returned to Kashmir in 2015. Intent on spreading her passion among the young minds in her hometown, she started what went on to become one of the valley's first fashion and design schools. Since 2016, the SSMD School of Fashion & Design at Parihaspora has been churning out batches of individuals adept at carving a niche for themselves in the world of fashion and interiors.
The root intent of all her work, says Insha, has always been to create employment opportunities for the youth of Kashmir, who exhibit so much creativity and only need an outlet. So is the case of The Cheese Cottage.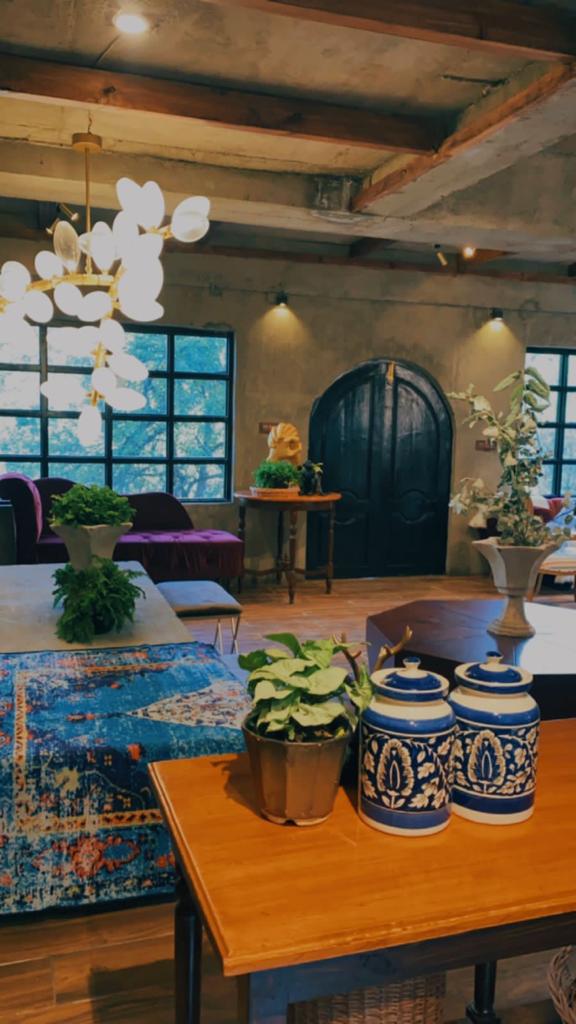 A royal land in ruins
In the year 2000, Insha's parents stumbled upon an estate land established in 1943 in Tangmarg, Kashmir. The land, which they say belonged to Maharaja Hari Singh Ji — the last ruling king of Jammu & Kashmir — was in ruins and under the custody of a royal family. Insha's parents took one look at the land and knew it was a paradise in the making, if only seen through the right eyes. They purchased the land that same year and began growing orchards amid the ruins.
When Insha returned to Kashmir, she was astounded by this land's beauty. "Tangmarg has a rich tradition of dairy, and my first thought was to set up a cheese factory and utilise the local resources and skills. With its pine-scented air, sunrises and scenic beauty, Tangmarg would be a great place for tourists," says Insha in conversation with The Better India.
Insha began work on setting up the cheese factory in 2020, where they began making gouda, kalari, and more. But a month in, they soon had to shut shop when the COVID lockdown hit.
When one door closes, another opens soon enough. So as Insha sat wondering how she could let such a beautiful space go to waste, she realised there were numerous avenues that were waiting to open for her.
"Looking at the snow-clad peaks of the valley, the stream bubbling out from the estate, I just knew what I wanted to do in this space," says Insha, referring to her dream of designing a home here.
The Cheese Cottage Homestay is a haven for anyone looking to immerse themselves in the beauty of the valley, while also opting for a more peaceful trip in the mountains. But, says Insha, what was most fascinating about setting up the homestay was being able to imbibe her own love for art into its every corner.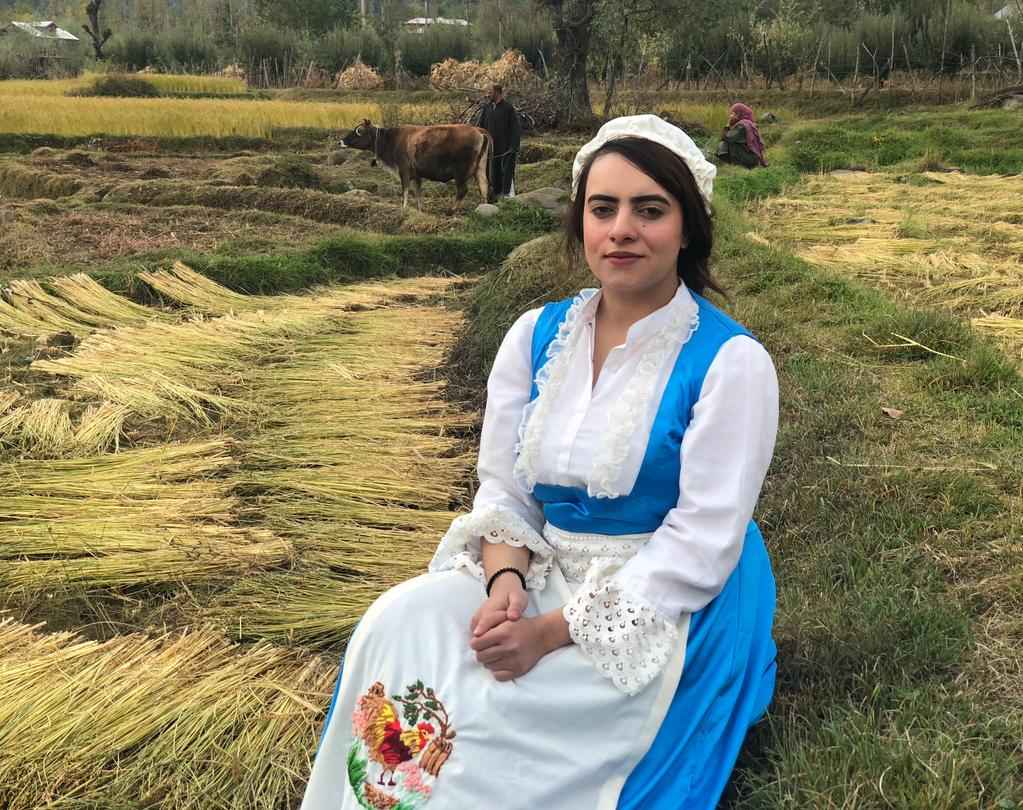 Inspiration was everywhere
As a patron of arts, Insha says she spent her college years marvelling at how culture sows its seeds through art. So her design philosophy was to opt for local material like deodar wood and walnut wood, famous for their rot-resistant character and native to Kashmir. Having lived in Europe and studied Western art, she wanted the cottage to be reflective of European industrial age design — jewel-toned upholstery and gothic interiors.
"We sourced a local wicker man to design wicker plant holders, bathroom baskets, etc. We also used handcrafted Kashmiri carving copperware known as traam. This is usually used in weddings to display the food, and we used it in the form of sinks, etc," says Insha.
At the time, Insha simply wanted a space for her family. She had no intention of a homestay. But it was only when the construction and decor was completed, and she put up pictures on social media, that requests started pouring in from people, who all said the same thing – "Can we book a night here?"
And in September 2022, The Cheese Cottage went from being Insha's dream to the dream vacation home of several people around the globe. "The 30-acre land looks straight out of a period drama," she points out as she takes us on a virtual tour of the home.
"There are two luxury rooms and two standard rooms. Antique clocks around the home, coupled with provincial French chairs, exquisite chandeliers, dramatic lighting, gilded mirrors and paintings and textured lighting, are the main draw," she says.
Guests love sitting by the fireplace that immediately renders a cosy vibe to the hallroom, which is filled with chintz armchairs, larger than life paintings and vintage decor that Insha has sourced from local markets around Kashmir and Europe.
For guests who are of a more adventurous nature and want to explore the outdoors, there's the Drung waterfall in Tangmarg, which originates from glaciers and freezes completely in winters forming large icicle structures that take the beauty of the place up several notches, if that were possible. Insha adds, "Guests often take a picnic and have it by the brook or do a heritage walk wherein they explore the town. There are plenty of activities of everyone."
After a day of adventure, she says, there is always a hearty meal awaiting guests.
"We have traditional dishes such as woste haakh (red amaranth cooked in Kashmiri spices), dagith handh (pounded dried dandelion leaves stew), kangucchi pulav (mushrooms cooked in lightly flavoured rice), marchawagan korma (mutton cooked in red chilli gravy), daniwal korma (mutton cooked in yoghurt and coriander) and waaz kokur (a special chicken preparation), as well as hamburgers, pizzas, pastas, aubergines in tamarind sauce, etc." The vegetables that go into the dishes are straight from the blooming orchards on the property. Acres of walnut, pine, oak, apple, plum, pear trees make The Cheese Cottage a delightful space for a nature lover.
The milk, meanwhile, comes from the cows reared here. All of this can be enjoyed by guests for Rs 25,000 a night.
Shubham, one of the guests, termed his experience "a very comfortable one". "I had great views of some of the prominent Himalayan peaks. Shivraj the caretaker is warm and helps you explore nearby areas. He is a great cook too. He cooked us some local delicacies which were awesome. Don't forget to explore a nearby village called Naugaon. it's a small farmer's village which has its own unique culture."
Meanwhile, Insha, who says the cottage has been a full house ever since they started welcoming guests, is proud of her labour of love. "I grew up loving Kashmir and always planned on coming back even after I went overseas. Now that I am able to have others marvel at my hometown, it makes me happy."
We bring stories straight from the heart of India, to inspire millions and create a wave of impact. Our positive movement is growing bigger everyday, and we would love for you to join it.
Please contribute whatever you can, every little penny helps our team in bringing you more stories that support dreams and spread hope.