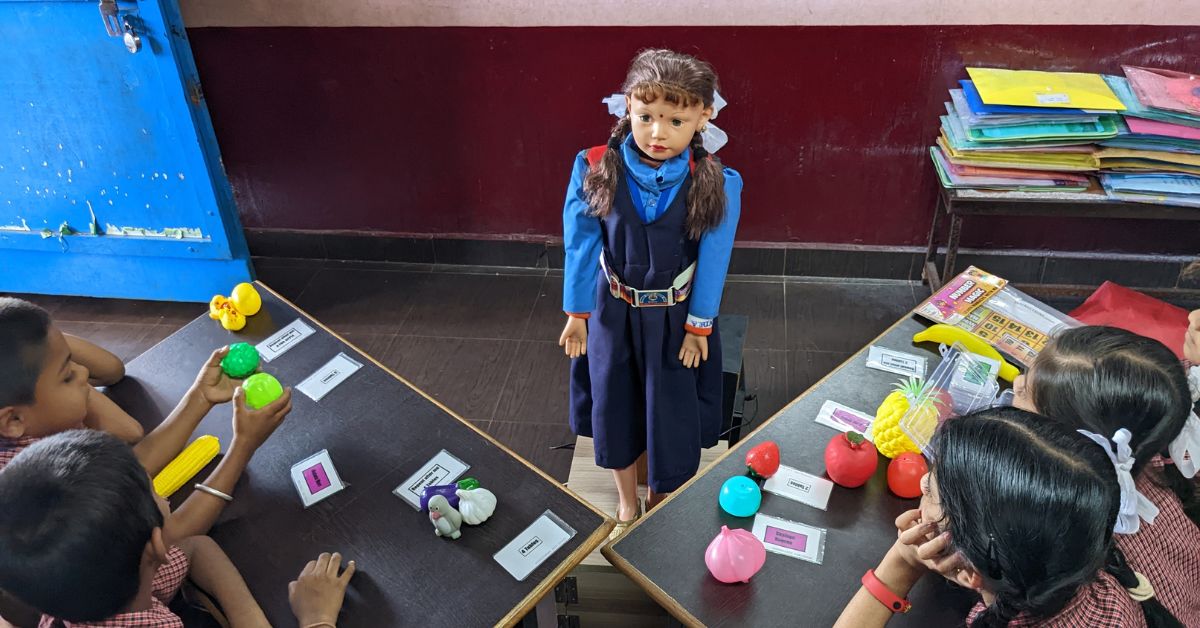 Karnataka teacher Akshay Mashelkar wanted to make education more interactive for children in his village, and so he built Shiksha, a humanoid robot that imparts education to children under Class 4.
Dressed in a blue shirt and tunic, with neatly parted hair styled into two pleats, the humanoid robot named 'Shiksha' bears a striking resemblance to the rest of the students of Sirsa village. As she begins delivering the day's lessons — from rhymers to the days of the weeks, names of different shapes, and more — there's a sense of wonder in the eyes of each student as they take in this remarkable teaching experience.
Shiksha is the brainchild of 30-year-old Akshay Mashelkar, and aims to make learning fun and interactive "Growing up in a village I was very aware of the limitations of schools in rural areas. We still use printed charts and blocks as a means of learning. There are no scientific methods available. I want to change that," Akshay tells The Better India.
A new way to learn
Born and raised in the village of Sirsi in Karnataka's Uttara Kannada district, Akshay grew up in a teaching household. "My mother was a teacher and from a very young age, I knew I wanted to become an educator too. While studying, I realised that I wanted to work towards improving the education system," he says.
Following in the footsteps of his mother, Akshay became a professor at a college in Sirsi after completing his degree in Physics. "While I enjoyed my job as a professor, I had many ideas to implement in the education system. With the work, there was no time for me to start working on it though," he says.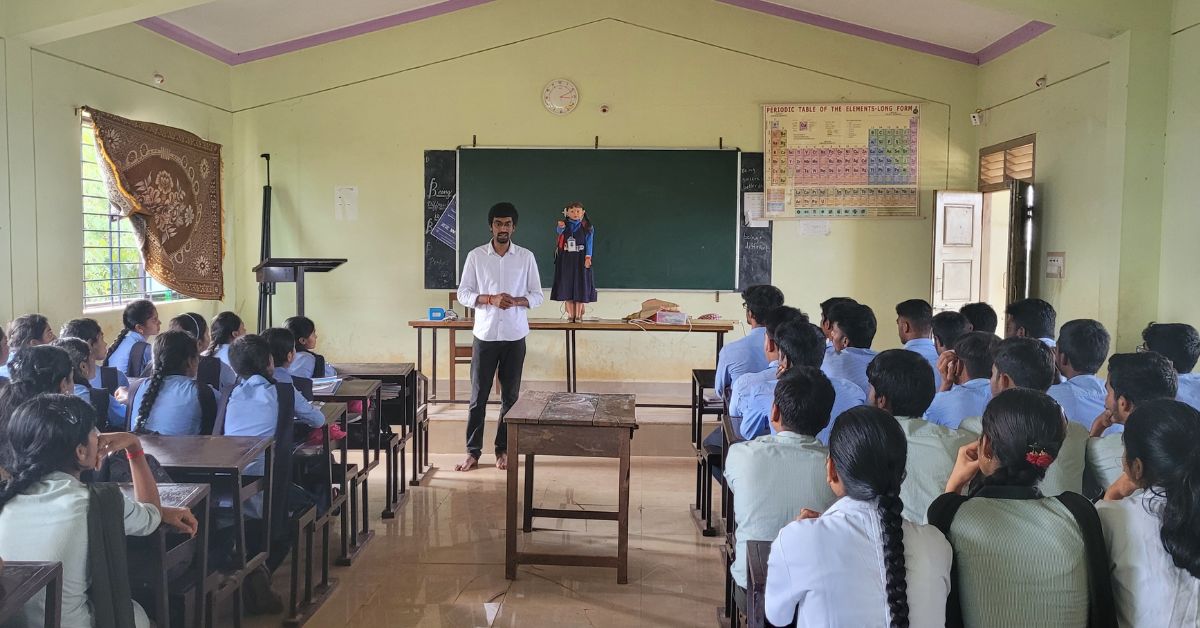 When the COVID pandemic hit and the education sector moved online, Akshay found himself relatively free.
"I found the perfect opportunity to work on my ideas. One of the most important things that I have seen in the education sector, especially in Tier-2 and -3 cities and rural areas, is the lack of modern and scientific methods of teaching. On one of my several visits to schools in the village, I saw that teachers were still using charts and blocks to teach," he says.
"Those techniques were used when I was in school. It is sad that the world has advanced so much with smart boards and whatnot, but schools in rural areas are still stuck with handmade charts. This pushed me further to give all my attention to bringing an easier and cheaper solution," he adds.
It took Akshay a good one and half years to do the research. In 2022, 'Shikha' — a humanoid robot capable of teaching in regional languages up to Class 4 — was ready.
In India, the education sector has been incorporating technology for teaching purposes for several years. Nevertheless, its implementation has primarily been observed in urban regions and expensive schools. On the contrary, rural schools continue to rely on conventional tools like charts and drawings to facilitate learning.
Moreover, teachers of government schools are overburdened with students. A recent Quint report states, "The number of teachers in government schools in Karnataka has dropped from 2.08 lakh to 1.99 lakh, forcing 6,529 schools in the state to have only one teacher. The student-teacher ratio is now 23:1 when compared to 21:1 in 2020-21." The inclusion of such a device could help fix this problem.
A mix of technology and good ol' jugaad
The robot took nearly Rs 2 lakh to build, which he took out of his own savings. "A lot of money was involved in the research and development. On average, making only a robotic arm costs nearly Rs 50,000. 'Shiksha' is an entire robot with several features. The reason why I was able to cut costs was I used jugaad. For instance, I did not use a mould for the body of the robot, instead for the arms I used plastic cricket stumps that you find in toy shops," he says.
Siksha can teach various subjects including rhymes in Kannada and English rhymes; the days of the week; names of shapes; English alphabets, and maths topics such as multiplication, addition and tables.
Explaining how the robot works, Akshay says, "The robot has two main cards — the master card that unlocks it, and the normal card to start the desired programme. The teacher has to put the master card on Shiksha's hand to start it and then they can use the programme cards to start different programmes. She moves her arms to take the card and returns it once scanned. She asks questions, recites poems, and even has trivia options," he says.
The robot has visited over 25 schools in the Uttar Kannada district, including KHB School and Urdu School in Sirsi. So far, Shiksha can teach up to Class 4 and has syllabus accommodation across boards.
Sunaina Hegde, who teaches Science and Maths at Model Higher Primary School in Sirsi, says, "Akshay came with Shiksha to our school in April. The children were so happy to see her and they took a greater interest in the class. For them, Shiksha was not a robot, but more like a friend as it was dressed like them too."
"While it is great for students to learn, it is also a great tool to be included in schools for teachers. It reduces our burden, as there are fewer teachers in government schools. Something so interactive helps children to gain more interest in science and technology," she adds.
Akshay notes, "The importance of involving village children in technology is because they are also the future of the country. An average child living in an urban setting, from a very young age, knows how to operate laptops and computers. Sadly, this is not true for kids in rural areas. When the kids saw Shiksha for the first time, I could see the sparkle in their eyes. They were intrigued, amazed and excited."
"My motive behind making Siksha was not only to introduce technology in the classroom but also to encourage children to make their robots," he says. Taking the thought forward, Akshay also opened a research centre where young robotics enthusiasts can come and learn for free.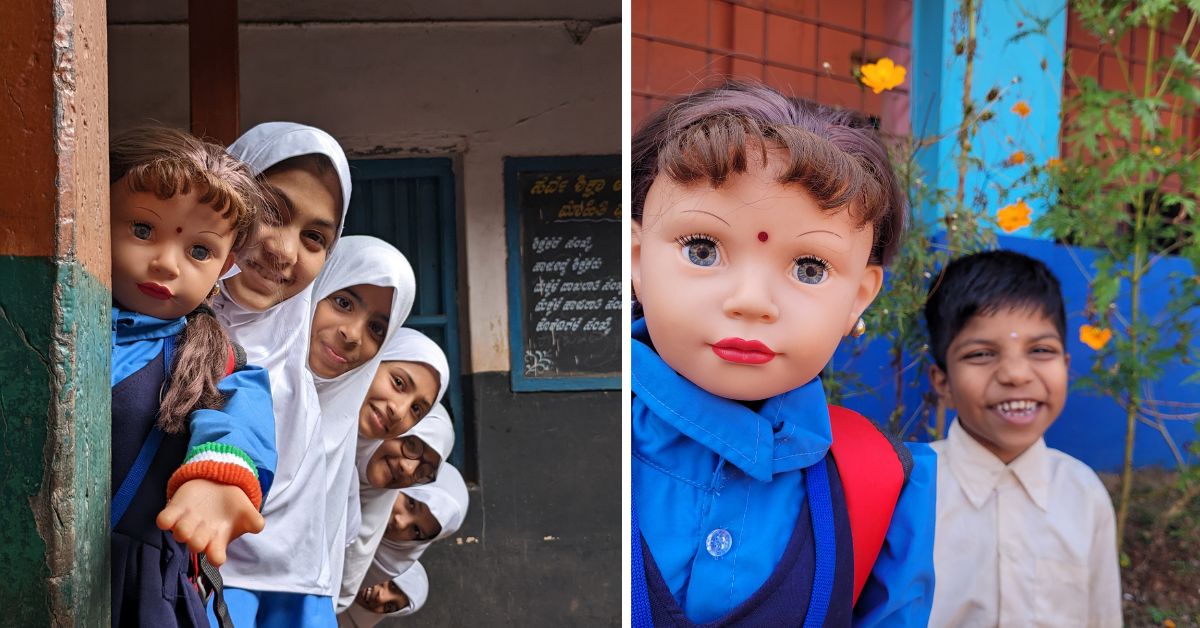 "In order to keep the cost of the operations of the centre low, we keep our centre mobile. Whenever we get low-cost places to rent in Sirsi, we move to that place. Over 200 children have visited the centre and many are regulars now. They have the space to learn from me and use the tool available in the research centre," he says.
Although the first Shiksha cost him lakhs, Akshay says that he can reduce the cost even more. "There were a lot of errors and a lot of investment in R&D initially, but now there won't be. With the help of grants and support from the government and NGOs, I can possibly reduce the cost to Rs 35,000. This way it will be cheaper to afford rural schools. My only wish is to take Shiksha to every rural school in Karnataka and make learning fun," he adds.
If you wish to know more about his research centre and be a part of his initiative, you can reach him at 74832 76508.
(Edited by Divya Sethu)
Tell Us More
We bring stories straight from the heart of India, to inspire millions and create a wave of impact. Our positive movement is growing bigger everyday, and we would love for you to join it.
Please contribute whatever you can, every little penny helps our team in bringing you more stories that support dreams and spread hope.