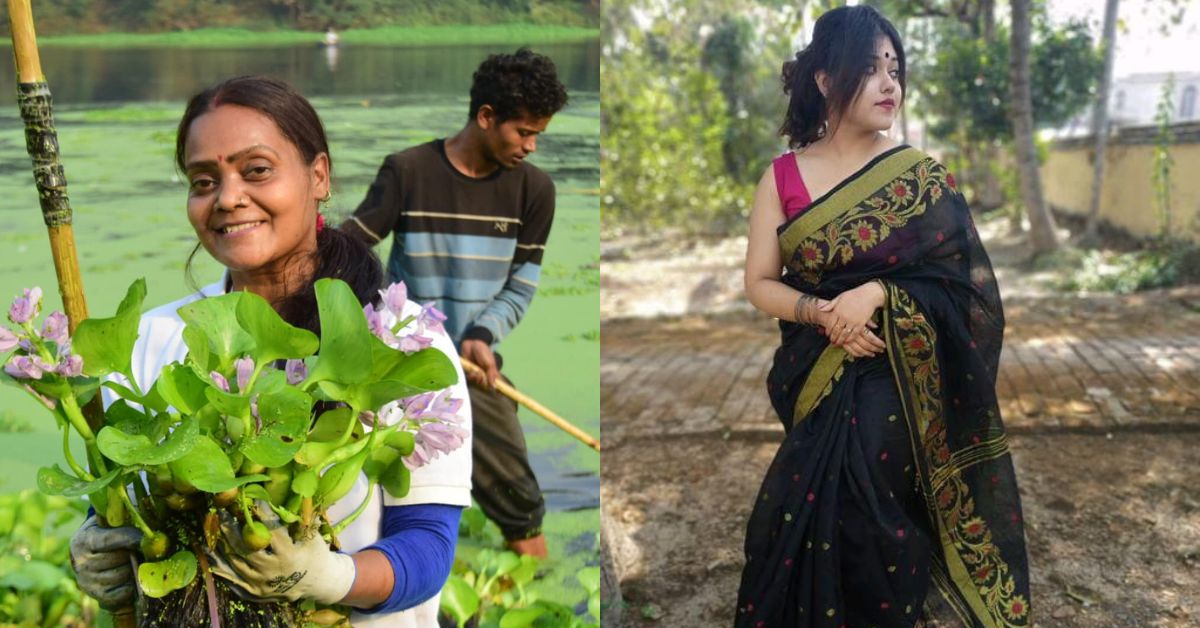 Jharkhand's Gaurav Anand left his 16-year-long corporate career to make unique handloom sarees by extracting fibre from water hyacinths, a type of freshwater weed, while helping 450 women earn a livelihood.
A nuisance for water bodies, water hyacinth is a freshwater weed with a massive growth potential that blocks sunlight and chokes the aquatic ecosystem.
"Water hyacinth is known as the terror of Bengal. This weed grows in still pond water, and almost every household here has a pond in their backyard. Aquatic life can survive only when dissolved oxygen in water is at least five mg per litre, but it decreases to one mg per litre in the presence of water hyacinth. This threatens aquatic life and deteriorates water quality. It is a global phenomenon," Gaurav Anand tells The Better India.
Interestingly, water hyacinth is used in the country to make mats, paper, and other handicrafts. But in an innovative move, the 46-year-old Jamshedpur-resident has found a way to convert this nuisance into fusion sarees by extracting fibre from the plant.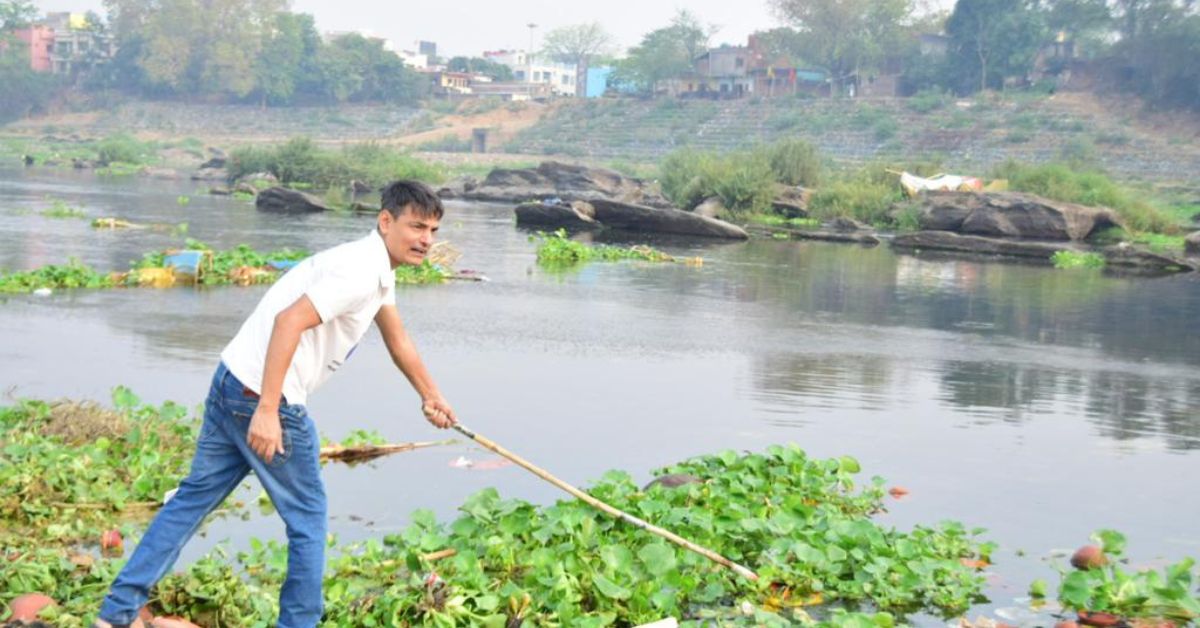 "I wanted to come up with a sustainable solution to the growing problem of water hyacinth so that people do not see it as a nuisance but as a resource. We utilise 25 kg of water hyacinth to make one fusion saree," he says.
Since February 2022, when he first made such a saree, Gaurav has been able to make 50 fusion sarees and aims to make 1,000 more by the end of this year.
Befriending the water hyacinth
The environmental engineer identified this big abnormality in the river in the form of water hyacinths during the river cleaning drives while working with TATA Steel. "It is present in almost all the rivers except flowing rivers like Ganga, Godavari, and Krishna," he says.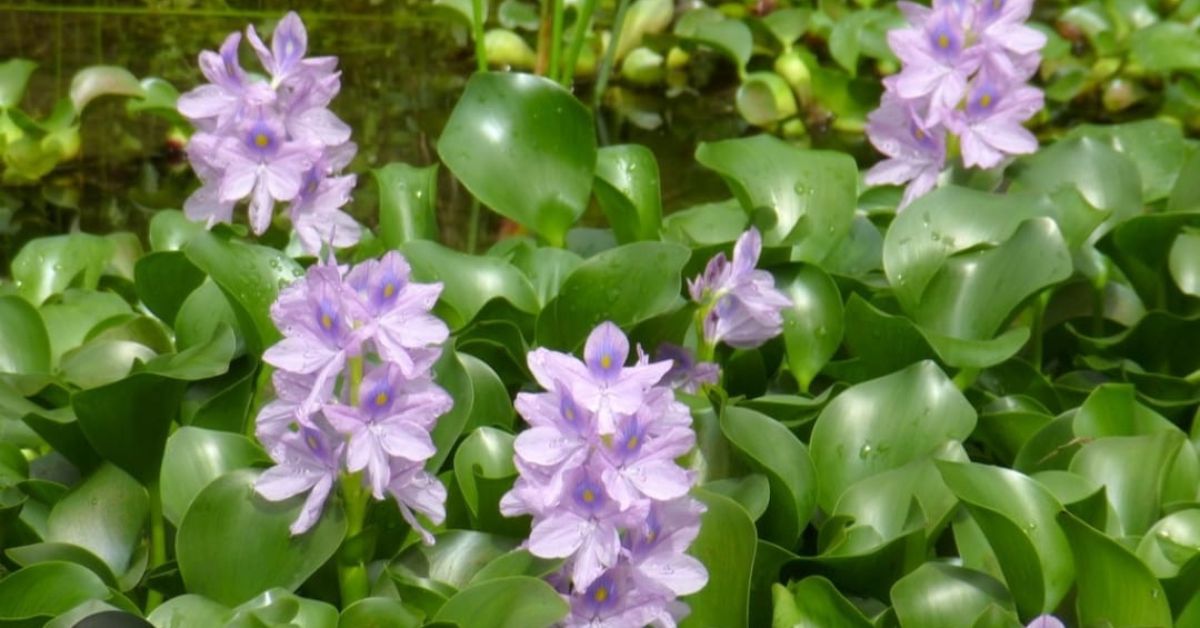 In 2018, he got an opportunity to be a part of a one-month-long Namami Gange mission to clean River Ganga, where he covered more than 1,500 km of the waterway. "After the mission, all team members went back to their respective work but for me, this was a life-changing expedition. I started dedicating every Sunday towards cleaning rivers," he recalls.
Then in 2022, Gaurav quit his 16-year-long corporate career and founded Swacchata Pukare Foundation to dedicate himself full-time to the cause.
Before starting the venture, he had started making handmade products like lampshades, paper, notebooks, and mats from water hyacinth. "While working on such products, I found that the pulp of these plants contains cellulose, which can be converted into yarn, similar to jute. A personal contact of mine connected me with weavers who implemented our idea into yarn. This is when we started fusing the material with cotton to make sarees," he informs.
How are fusion sarees made?
Gaurav says the process of converting water hyacinth into a fusion saree is arduous work. First, the stems of the plant are collected and dried in the sun for a week.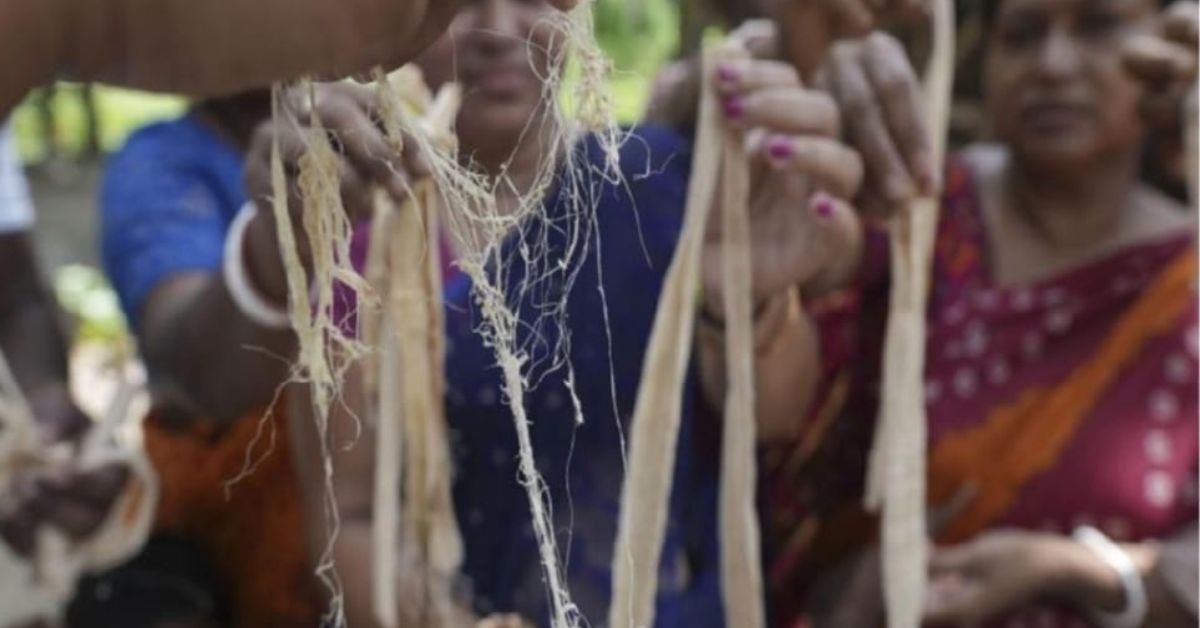 "We keep the soft cover of the stem to make paper while we use the pulp to make fibre. Fibre from the stem is extracted after hot water treatment to remove insects from the pulp. These fibres are used to make yarn, which is then coloured. Weavers then weave the saree on a handloom. They need around three to four days to make one saree. It is a first-of-its-kind product in the world," he claims.
Since it is labour-intensive work, Gaurav has kept the ratio of 25:75 for water hyacinth and cotton. "We can increase the ratio but for that, we will have to extract numerous stems, which will increase our cost of production which is Rs 1,200 per saree. The finer the fibre, the more the cost. Currently, we have priced our saree at Rs 2,000–3,500 so that it is affordable for middle-income groups as well. We have been able to sustain the business so far," he adds.
"Also, if we make a 100 percent water hyacinth saree, it will be a little weak in strength. This is the reason why we fuse it with materials like cotton. But we are planning to fuse 50 percent water hyacinth to make it more sustainable," he says.
Although his other water hyacinth products are sold through offline markets in Jamshedpur (Jharkhand) and Kharagpur (West Bengal), Gaurav aims to start commercialising the sarees soon.
Empowering rural women
With this work, Gaurav says that he has employed about 10 weaver families from Santipur village of West Bengal to improve their economic status.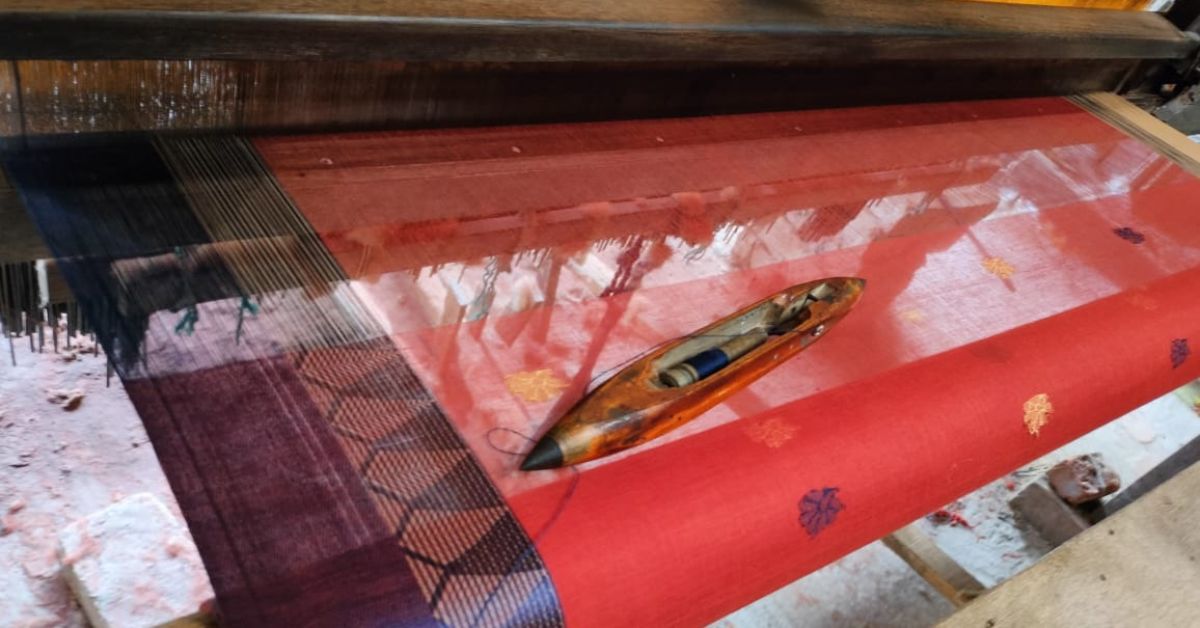 "In Santipur village, almost every household makes sarees using handlooms. But most of the weaver families were switching to alternate jobs as they were not able to earn enough income. They would not get more than Rs 500 for four days of arduous work," says Gaurav.
"Our objective is not to earn from saree making. We just want to boost the livelihood of the weavers, so they do not leave the work and remain motivated," he adds.
Apart from weavers, Gaurav has been able to empower more than 450 rural women, who are employed to collect water hyacinths from water bodies and process them before sending them to weavers.
Rama Ray, a 47-year-old widow, one of the employees, says, "Earlier, I used to work in a tobacco factory. I would often suffer from skin diseases and would spend a big amount on the treatment. Today, I am able to work in safe conditions and earn up to Rs 5,000 per month by working for three to four hours a day."
This initiative, says Gaurav, has helped him to live with a purpose. "If I had retired doing the corporate job, I would have done nothing for my country. Earlier, when I would get a salary, I was able to support only my family. Today, I am able to support so many families with this work. It is a 'wow' moment for me. I intend to increase the number of 450 women [employees] to lakhs," he says.
Edited by Pranita Bhat
We bring stories straight from the heart of India, to inspire millions and create a wave of impact. Our positive movement is growing bigger everyday, and we would love for you to join it.
Please contribute whatever you can, every little penny helps our team in bringing you more stories that support dreams and spread hope.
Tell Us More