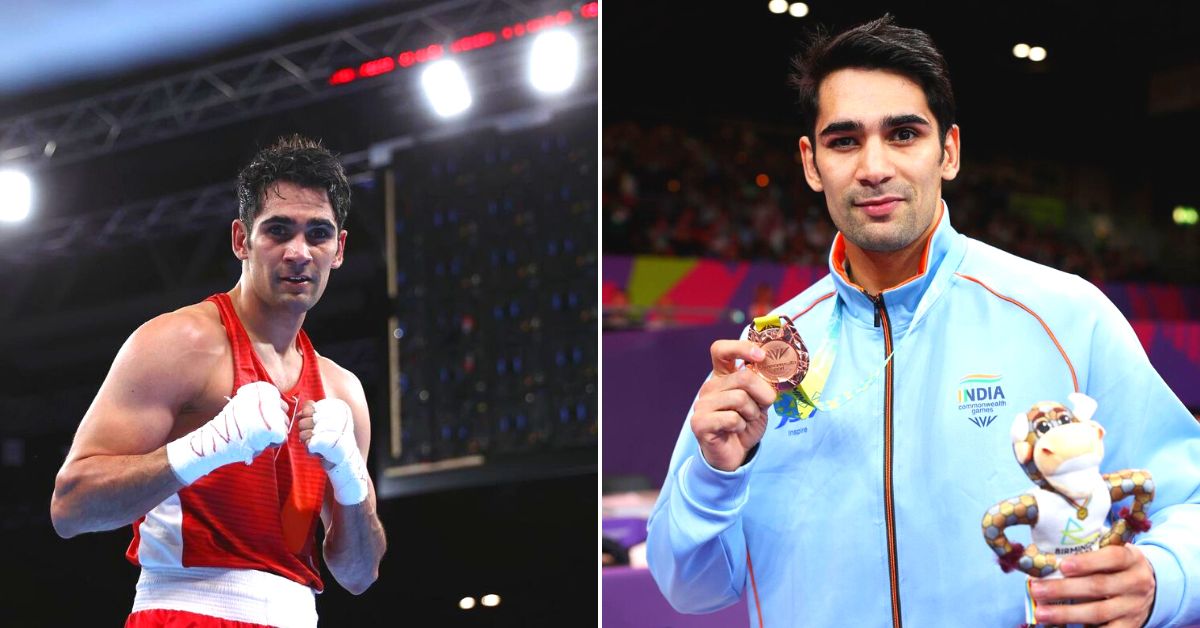 Despite three severe injuries to the same knee and a bout of COVID-19, Delhi-based boxer Rohit Tokas showed incredible resilience and mental fortitude to win the bronze medal in the men's 67 kg category at the 2022 Commonwealth Games.
It's a miracle that the Delhi-based amateur boxer Rohit Tokas even competed at the 2022 Commonwealth Games in Birmingham, United Kingdom. And it's an even bigger miracle that he won the bronze medal in the men's 67 kg division representing India.
Ten days before his first bout, Rohit injured the same knee that had put him out of the sport for more than two years. On two separate occasions in the past, he had torn his anterior cruciate ligament (ACL) in one of his knees, resulting in long lay-offs.
Ten days before his first bout, he was undergoing an intense session with his strength and conditioning coach at a training facility in Northern Ireland.
Speaking to The Better India, the 29-year-old recalls, "While doing an exercise that involved squatting and jumping (explosive jumps with the barbell on his shoulders), I twisted my knee. Following this painful injury, I was unable to bend my knee and struggled to stand up. My coaches were livid with the situation."
Despite the initial devastation, he wanted to compete.
"Responding to this situation, my physio told me to trust him and myself. He said he would do everything in his power to help me stand up and enter the ring. Inside the ring, it was up to me to compete. We worked on our knees, but after taping my leg, serious boils began to emerge. These boils caused me so much pain that I almost forgot about my ACL," he says.
Using every ounce of mental fortitude, Rohit competed. Although a gold medal was the ultimate objective, he was determined not to come back home empty-handed.
"That was just not an option for me. After all, these opportunities don't come knocking every day. It's a different kind of motivation playing for India," he shares.
"As an athlete competing at a high level, injuries are inevitable. But the objective is to not let these injuries bog you down. I've always maintained the perspective that following the darkness of injuries, there's always light at the end of the tunnel," he adds.
Following the tournament, he would learn that it was a Grade 3 tear in his ACL. According to this post on John Hopkins Medicine, "Grade 3 ACL tears happen when the ACL is torn completely in half and is no longer providing any stability to the knee joint."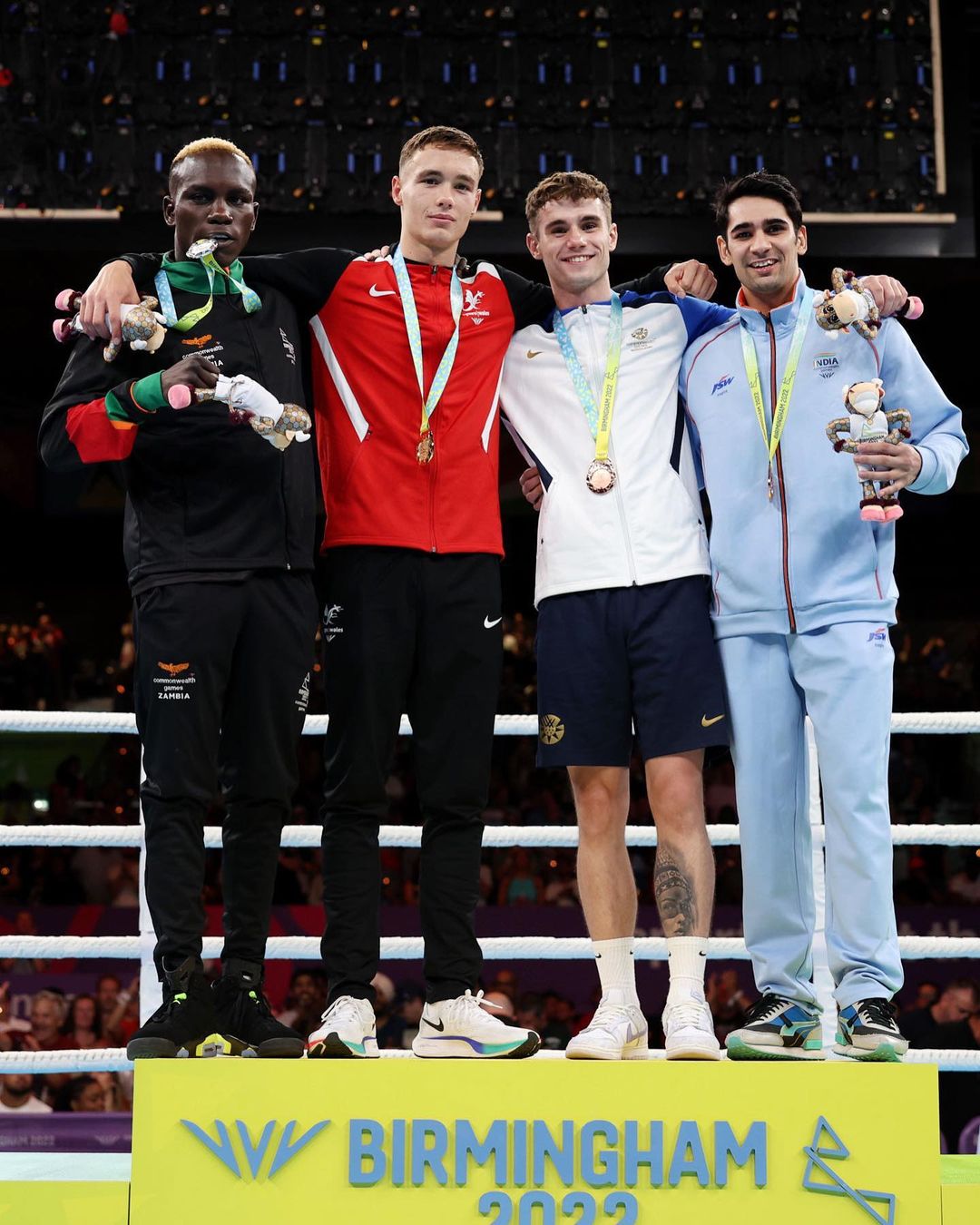 Wanting to fight
Born and raised in Munirka, an urban village in South Delhi, Rohit grew up fighting for fun, and wrestling with his brother Rahul and his cousins — who all lived together under one roof.
"In our locality, we have the local Baba Gang Nath Sports Complex near a temple, which also includes a boxing academy. Here, youngsters are taught free of cost. Instead of fighting with each other, my father, a retired police officer formerly working with the Delhi Crime Branch, directed us to train in boxing. Soon, my brother and I joined," he says.
It was around 2004-05 when he started training in boxing. After a year or two of training, he stopped and got into swimming, a more popular sport in his locality. In Class 8, however, he changed schools, and there was a talented boxer in his class.
"Watching him shadow-box, I asked him what he was showing off for and that I had already trained in the sport. After this initial confrontation, he challenged me to a sparring session. So, I went back to the academy and told my coaches that I wanted to train again. They were happy with my decision, because they knew I had the talent and that I was a good learner," he says.
After two years of swimming, Rohit came back to boxing. A month after their initial confrontation at school, Rohit and his classmate had their sparring session.
"He beat me quite handily. When I came back home, I felt dejected. For about two or three days, I didn't go to school fearing humiliation from other students at school. After stewing on my loss for a while, I was determined to get into that boxing ring and beat him," recalls Rohit.
He trained even harder and went back to attending school as well. Two months later, Rohit competed at the Delhi State Championship at the sub-junior level, followed by the Nationals. After two months of rigorous training, he became Delhi State Champion and defeated the same boy in the finals. At the Nationals, he won the bronze medal.
It was during the 2010 Commonwealth Games in New Delhi that Rohit decided to make boxing his career. Then, he was a volunteer, whose task was to help prepare the green room for boxers. When they walked towards the ring, he walked ahead carrying their national flags.
"Seeing those boxers inspired me to make this sport my life. In 2011, I won gold at the Youth Men National Boxing Championships. Following this, I joined the Indian National Camp and competed at the Cuban Youth Olympics in 2011, where I won a silver medal," he recalls.
Along the way, he collected many honours at the national and international levels, culminating in that famous bronze medal last year. As a boxer, meanwhile, he describes himself as someone with good footwork and movement. He is predominantly what boxing aficionados call a 'counter-puncher'. It's essentially a boxing punch that immediately follows an attack launched by an opponent, exploiting the opening created in his guard.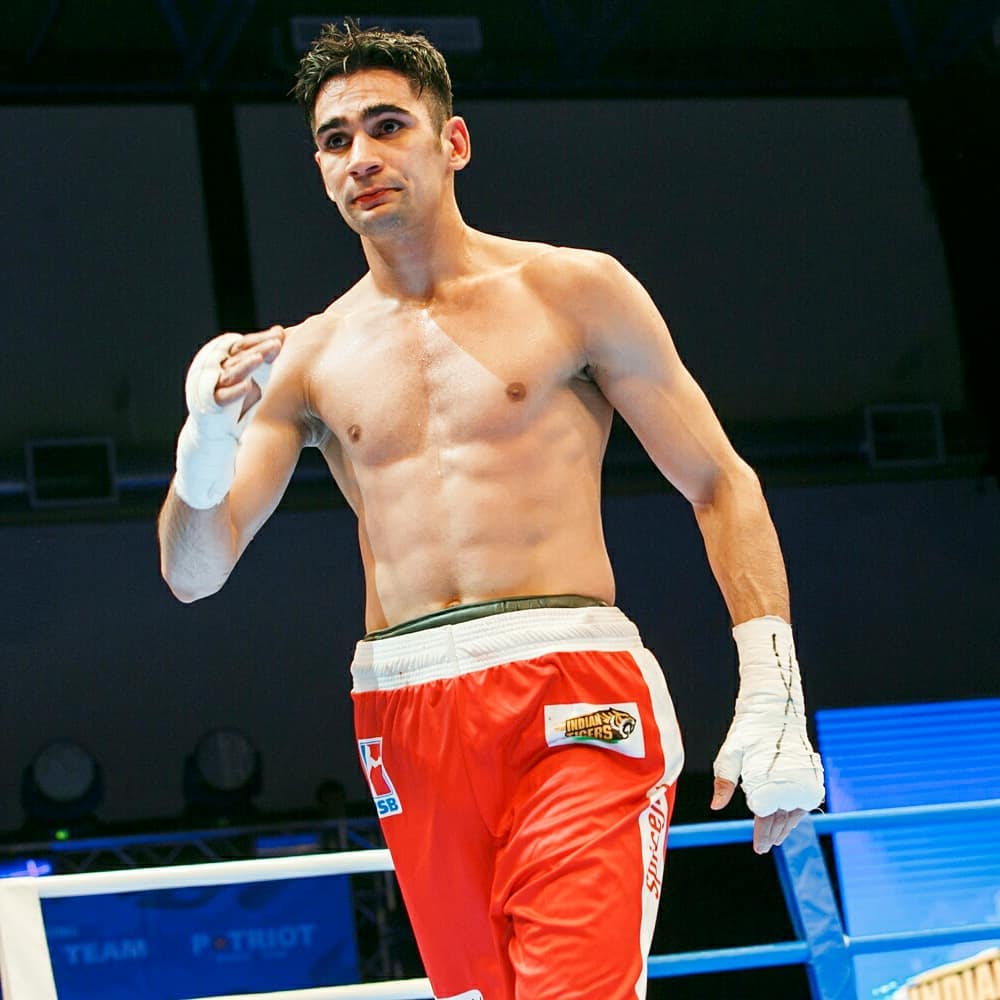 Injuries nearly halting a promising career
No one can doubt Rohit's talent. But it's an unfortunate fact that serious injuries, particularly to his knees, have prevented him from reaching the greatest heights in the sport.
His nightmare with injuries started back in 2018, when he suffered a Grade 2 tear in his ACL (anterior cruciate ligament) during a competition, which prevented him from participating in the 2019 AIBA World Boxing Championships despite qualifying for it. After surgery, his knee suffered a rare infection, which required injections and another surgery.
After spending more than a year in recovery and rehabilitation, he began training for the Tokyo Olympics. To represent India in Tokyo, he had to compete in the Nationals (October 2019).
Prior to this tournament, he competed in the men's 64 kg category. For the Nationals, however, he was going to compete in the 75 kg category, for which he spent months in intense training.
It was a remarkable run of results. He defeated all the top Indian boxers in this weight category. In fact, he stunned Asian Championship silver medallist and home favourite Ashish Kumar in the quarter-final.
But in the semi-finals, Rohit again injured the same knee. Nonetheless, he ended up becoming the national champion in that weight category. After the tournament, he went to train with the national team, but during a sparring session, he tore his ACL in the same knee again.
Despite the injury, he was determined to compete at the Tokyo Olympics and sought out a well-respected knee specialist in Mumbai. Thankfully, the doctor advised him not to risk aggravating the injury, and allegedly told Rohit that if he were to twist that injured knee, he would have to undergo complete knee replacement surgery.
"Consulting with my coaches and family members, I decided to undergo surgery to fix my knee and miss the qualifier for Tokyo Olympics. Another year went by in rehabilitation. I was finally able to compete at the Commonwealth Games last year (2022) and win a bronze," he recalls.
What was particularly difficult for Rohit after suffering the same injury twice was recovering and rehabbing during the first wave of the COVID-19 pandemic. Barely a few months into rehab and everything had shut down around him. He would consult his team physio on the phone, but it wasn't an easy process. In an attempt to rehab sooner, he started going out for runs.
It was during one such run that he caught the virus. Thankfully, it didn't debilitate him completely. He recalls having headaches and recovering in about two weeks.
"During this period, I had relatives and acquaintances telling me to give up boxing altogether. But my close family members, friends and coaches always gave me strong support and motivation. There were days when I thought about quitting the sport. However, there was a voice in my head telling me that as long as my hands and feet were working, I could always come back to the sport. I had that self-belief," he adds.
Besides supporting him through these difficult times, Rohit credits his coaches Rajesh and Jitender Tokas for the boxer he is today. They were the ones who first spotted his talent and taught him the basics at the Baba Gang Nath Sports Academy in Munirka.
"Besides supporting my career all the way, they taught me discipline. My coaches also taught us the value of a consistent work ethic and to treat the boxing ring as sacred ground. The academy has been a positive influence on our community. What's pretty special about this place is that even today seniors who learnt boxing there come back to train the young ones," he says.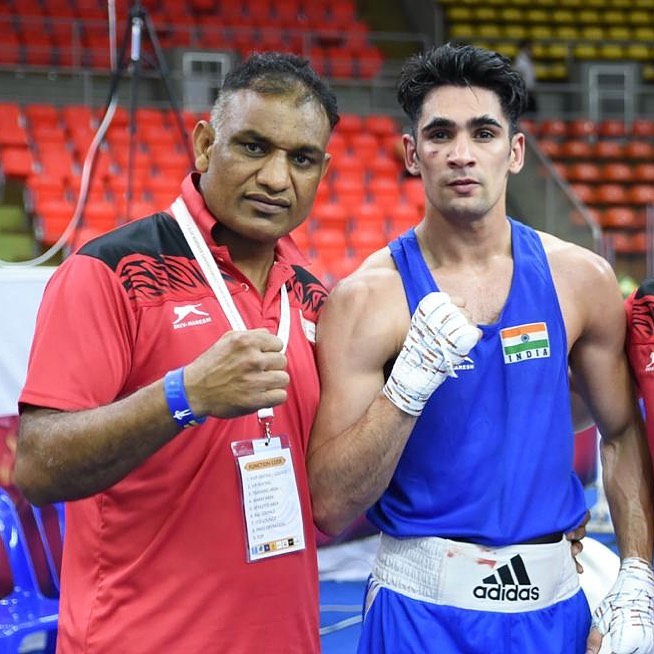 Giving back to his community
Following the example set by the boxing academy at the Baba Gang Nath Sports Complex, Rohit and his brother Rahul started their own academy following the first wave of the pandemic.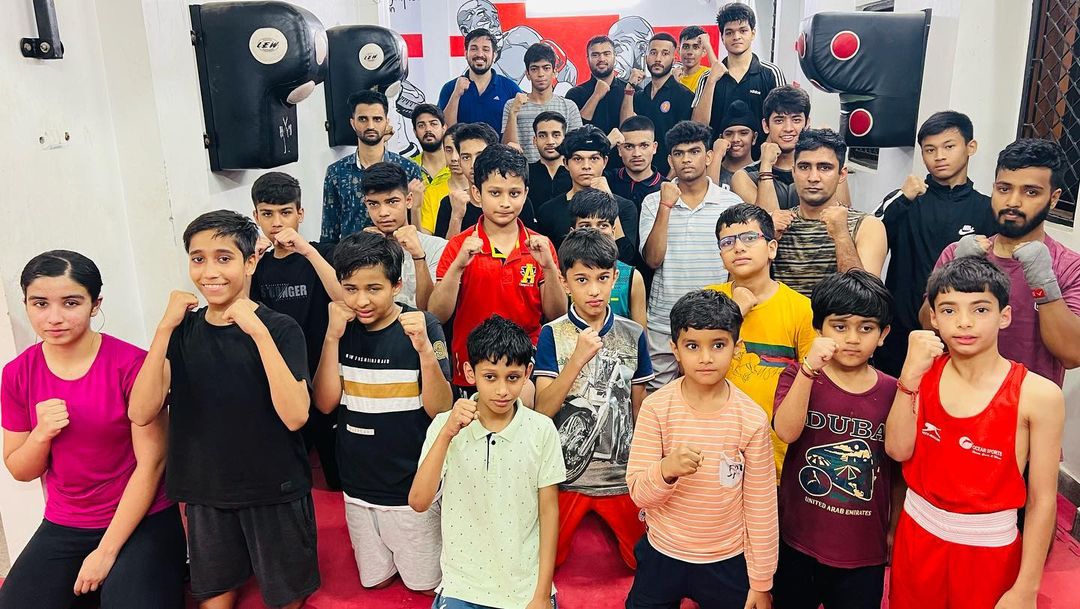 "Our objective in starting the Tokas Boxing Academy for the children in our area is to teach the sport, impart the knowledge we've gained through our experiences, and guide them towards good careers in the future, whether it's in the sport or not," he says.
Children have to pay a monthly fee of Rs 500 to attend our academy. "If training was free, these children would feel that they don't really have a stake in turning up regularly. We want to train these children and help them obtain some good sports-linked scholarships moving forward. Today, we have around 70 children at the academy," says Rohit.
Moving forward, he wants to win a medal for India in next year's Paris Olympics. Before that, however, he will compete in the Asian Games later this year.
(Edited by Pranita Bhat; Images courtesy Rohit Tokas/Instagram)
We bring stories straight from the heart of India, to inspire millions and create a wave of impact. Our positive movement is growing bigger everyday, and we would love for you to join it.
Please contribute whatever you can, every little penny helps our team in bringing you more stories that support dreams and spread hope.
Tell Us More