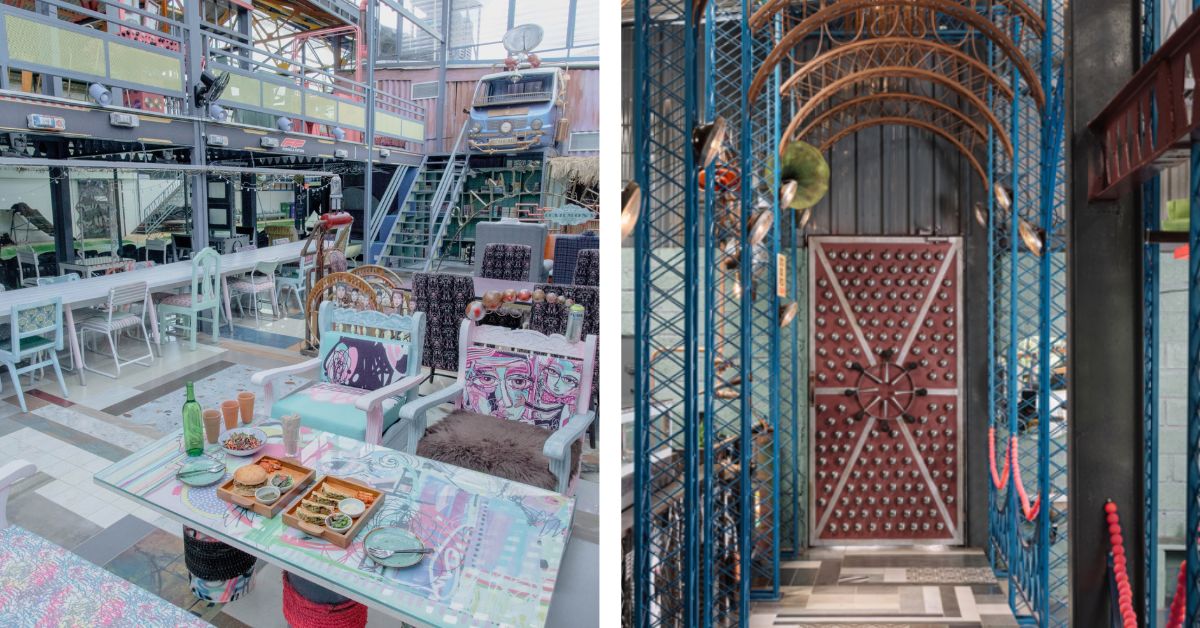 Ajay Raghavan decided to quit his law practice to promote sustainability. He invites people to have productive dialogues by starting the Bengaluru Creative Circus and The Circus Canteen.
More often than not, in one's life, there comes a moment that changes how one sees the world. For Bengaluru-based Ajay Raghavan, it came when his daughter was almost five.
On a regular evening in 2017, he was watching a documentary that would change his perspective on the world forever. The documentary was 'Before The Flood', in which Leonardo DiCaprio meets with scientists, activists and world leaders to discuss the dangers of climate change and possible solutions.
"It left me unnerved and also spooked me a little bit. Climate changes and global warming became very real, and I started to worry about what kind of a world I am going to leave behind for my daughter," Ajay tells The Better India.
After watching the film, Ajay started to read more and more about climate change and carbon emissions. In 2020, he decided to quit his decade-long law practice to do something for the environment. Today, he along with his co-founders owns Bangalore Creative Circus — an urban living lab promoting sustainability, and the star of their establishment is a farm-to-table eatery called The Circus Canteen.
Both initiatives are built from the ground up on an out-of-use warehouse in Yeshwanthpur, Bengaluru. "Around 70–80 percent of the material used in the construction are upcycled or things that would probably end up in landfills," he informs.
A place of sustainable dialogue and creativity
After the documentary incident, Ajay was on a path of discovery in which he read various books and articles to understand how much of the documentary was true.
"I was shocked to know that not only were the facts stated in the documentary true but also very urgent. I was getting more and more involved and I had to do something about it," he says.
After a year of research, Ajay decided to try and convince his law firm to set up an environmental practice.
"In 2018 when I came up with the proposal, it was something very unheard of, especially in India. But soon I realised that a law practice would not be as effective and won't give a solution to the problems," he informs.
In 2020, he decided to quit his law practice and do something in the field of sustainability.
"I was in touch with like-minded people who would help us plan something which starts a dialogue among people about these pressing issues. We wanted to create a space which not only talks about the problems but also finds the solutions," he notes.
He wanted to create a space where people can come and discuss ideas and implement them in real life.
"We were looking for a piece of land or a place for that, and we came across this recently vacated warehouse in Yeshwanthpur. A friend and also our co-founder Alok Agarwal found the property and it was everything we hoped for," he says.
"We wanted a 2,000 sq ft place but ended up getting a 20,000 sq ft plot. Now that we had a place, we could sit and plan how to implement our vision. This is how the Bangalore Creative Circus was born," he says.
Bangalore Creative Circus is an urban living lab which attempts to address issues of sustainability, nature, science and art by engaging communities through cultural events, farmers' markets, workshops and more.
The space has a museum, a garden store, and demonstrations of solutions ranging from urban farming — such as permaculture, aquaponics, hydroponics, mushroom cultivation, ecological building (recycled materials, mud building, passive lighting and cooling), waste management (segregation, compost, biogas), rainwater harvesting — to upcycled art and decor, etc.
"We thought about how we can bring more people together. Food is something that has this ability, and that is how the idea of The Circus Canteen came together," he says.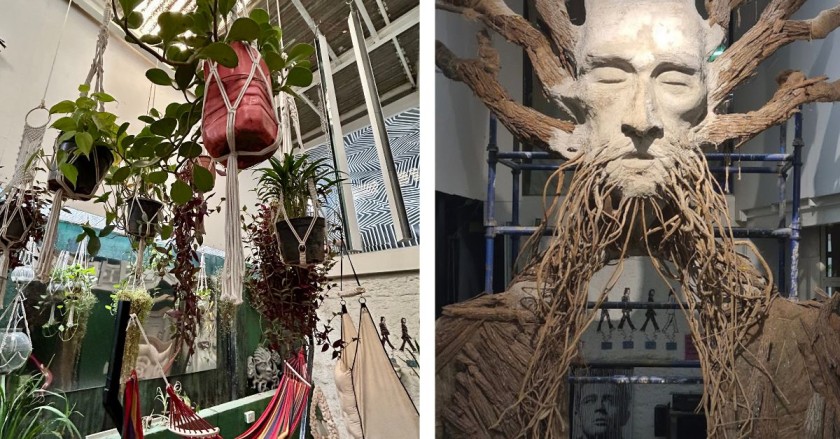 Eat, upcycle and repeat
The establishment and the planned eatery is a fully sustainable building that is made using upcycled materials retrieved from the warehouse and through collection drives.
"We had found treasure in the building. We had always had this idea that the very foundation of the place should be deeply rooted in sustainability. We started to dig up and found some amazing things like granite stones that we used for our office. We also found an old factory tank which we used as an aquaponics tank," he informs.
"Coincidently, at the same time, my previous firm was shifting their office and bringing down the old building. The debris and all the waste from that building were going to the landfills. I spoke to them and asked if I could take the scrap. We got cabin glass, AC vents, old furniture and a lot of other materials from the building," he says.
For the interiors of The Circus Canteen too, Ajay along with interior designer Smita Thomas (from Bengaluru-based Multitude of Sins) procured used materials from scrap dealers and collection drives.
What will look like a collage of unwanted things from bicycles and TV to discarded commodes is also an eatery which gives a farm-to-table experience.
"We told Smita that our intention here is to work with only used and recycled materials. We did a donation or waste collection drive through social media and received a lot of things from electronic waste to furniture and even old photographs of people. The interior decor of the place is done with 100 percent discarded materials," Ajay informs.
Talking about the canteen, Smita, the interior designer says, "When I was presented with this opportunity, it was very new. It is very uncommon for a client to come and ask us to create something out of waste. It was interesting and challenging for us, but the result is a great mosaic of all things which were once unwanted and are now adorning the place."
For the menu, the canteen has a number of dishes and an evolving menu depending on the availability of raw materials.
"We have three growing systems — the hydroponic system, the permaculture garden and the aquaponics system. So whatever we produce in those gardens — such as spinach, mushrooms, fish in our tanks etc — is used by the kitchen to create menus. Suppose in one season we have an excess of basil, then the chefs will make more basil-centric dishes that time," Ajay explains.
Up and running from November 2021, the canteen has served hundreds of people. As for the construction of the Bangalore Creative Circus and The Circus Canteen, 80 percent of the place is constructed from upcycled and discarded materials.
Reflecting on the journey, Ajay says, "I think it is very essential to have a dialogue about the various environmental issues that we have, but at the same time, bring forth the solutions. At the lab, this is precisely what we want and try to do."
"Many schools and colleges have toured the place, where we explain to them that this is the problem with producing chemical vegetables and here is the solution — organic farming," he explains.
"This way, we have sort of built a community of artists and intellectuals who use the space to bridge the gap between sustainable ideas and their implementation. It is our planet and I think this initiative is my way of giving back to the planet," says Ajay.
Edited by Pranita Bhat
Tell Us More
We bring stories straight from the heart of India, to inspire millions and create a wave of impact. Our positive movement is growing bigger everyday, and we would love for you to join it.
Please contribute whatever you can, every little penny helps our team in bringing you more stories that support dreams and spread hope.