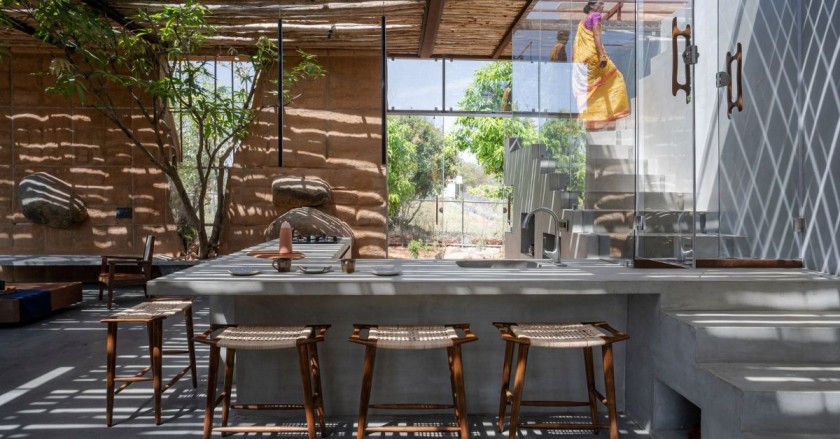 Fawaz Thengilan, who runs Studio Mitti, helped a Bengaluru couple build a beautiful sustainable home using the unique 'debris wall construction' method, which reduces carbon footprint.
On a bright March morning in 2022, Abhishek Ubale and Sunaina did what most of us dream of but often don't have the guts to — they packed everything up and moved to a house in the middle of a farm in Shoolagiri village, Tamil Nadu.
The couple, living in Bengaluru at the time, was intimidated by the rising infection cases during the pandemic and decided to opt for simple living.
"We wanted a weekend home outside of the city and we found a perfect land in Tamil Nadu. Living in the house feels like living with nature itself," Abhishek, a techie, shares with The Better India.
They approached Fawaz Thengilan, the founder of Studio Mitti, to build their dream house. The couple wanted a simple house and had no special plans for the design. However, Fawaz, an enthusiast of sustainable living, did.
He wanted to use waste materials for the major part of the construction and leave no carbon footprint behind. He decided to use a technique called 'debris wall construction', engineered by architect Vinu Daniel, to construct the wall using various kinds of waste debris. The waste included mud, straw, thatch from the farms, and granite debris from a nearby quarry.
What is this technique, and how did Fawaz make Abhishek's home carbon-neutral?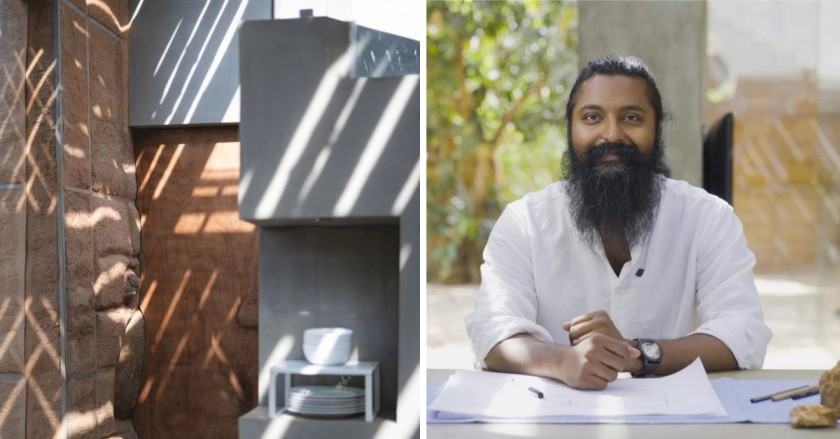 Chasing his dream
Born and brought up in Kerala, Fawaz pursued his engineering from Thiruvananthapuram. He always dreamt of learning computational design.
"The idea of optimisation in terms of material consumption and design was always my interest. I wanted to join a college in Pune but could not, because the fees were too high. I decided to work for some time and fund my education," recalls the 38-year-old.
To fuel his dream, he started taking up small projects of drafting design using computer software. In 2009, he went to Delhi to find a job and get first-hand experience in the industry.
"However, I fell severely ill and had to move back. I had to find some work so I started working with a firm in Trivandrum. They took on projects such as big buildings, hospitals and campuses. I was working there just to earn a living there as the work was not of my interest," he says.
He continues, "As a fresher, it was very hard for me to get good projects where I could make use of my creativity and designing skills. But, I think every fresher goes through this struggle. I kept on working on any projects I could find as I was sure this experience would pay off."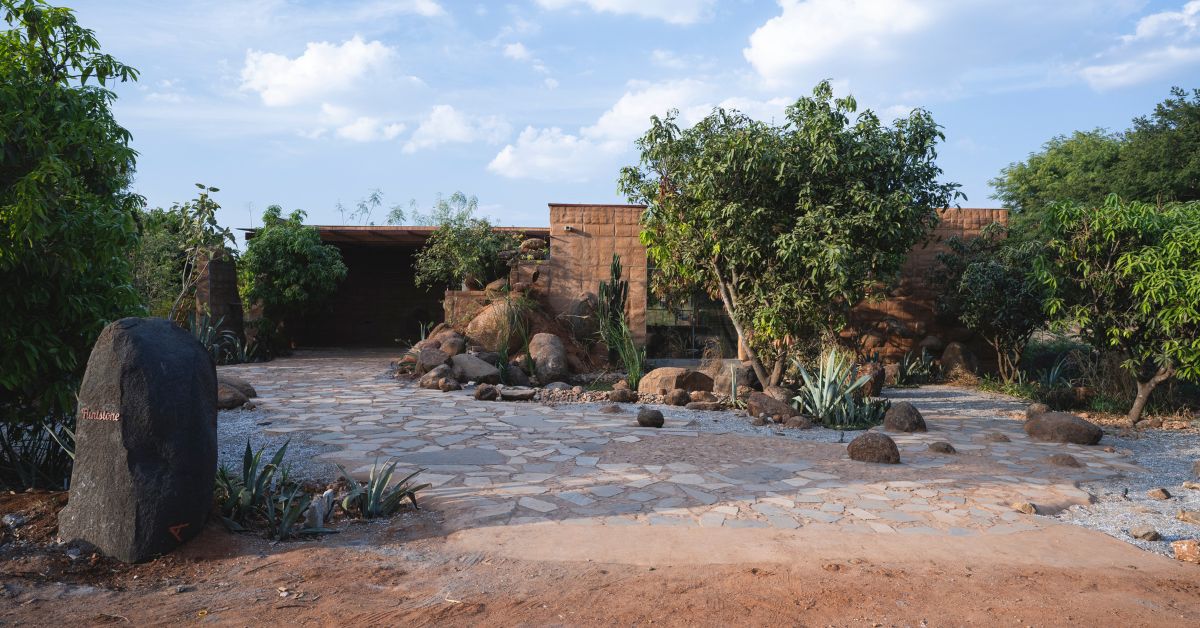 After working for a decade in various companies like Design Associates Inc and AVC Architect, in 2020 he started his own practice Studio Mitti.
"After being in the industry for so long, I knew I could learn things from hands-on experience and did not need to go to any school to learn it," he says, adding that the dream of going to that college faded as he climbed the ladder of success in his field.
In November 2020, the firm got its first project — constructing a home in the middle of a farm.
"I had many ideas in mind. I was always a keen learner and loved learning new techniques, one of which was 'debris wall construction'. The clients were open to anything and I had the space I needed for my creativity to flow."
Using waste to make a home
Fawaz had one goal in mind before he started to design the space — leave no carbon footprint behind and make the place sustainable.
"The land was in Tamil Nadu's village Shoolagiri, nestled in a farm and mango grove. The chunk of land was surrounded by plants and trees and I wanted to preserve the nature around it," he says.
Explaining the 'debris walls construction' technique, Fawaz says, "The walls are pretty much like your normal concrete wall, but the materials used are completely different. What is used in the 'debris wall' is, as the name suggests, is debris or construction waste materials found within a few miles radius of the place. It can be anything from mud to waste from quarries, excavation and construction sites, etc."
The debris in this case was sourced from an abandoned granite quarry in the area. The architect also used mud, straw and hatch from the farm for the debris. "This way, the walls do not use any new materials and instead use quarry waste, which most likely would have ended up in landfills," he says.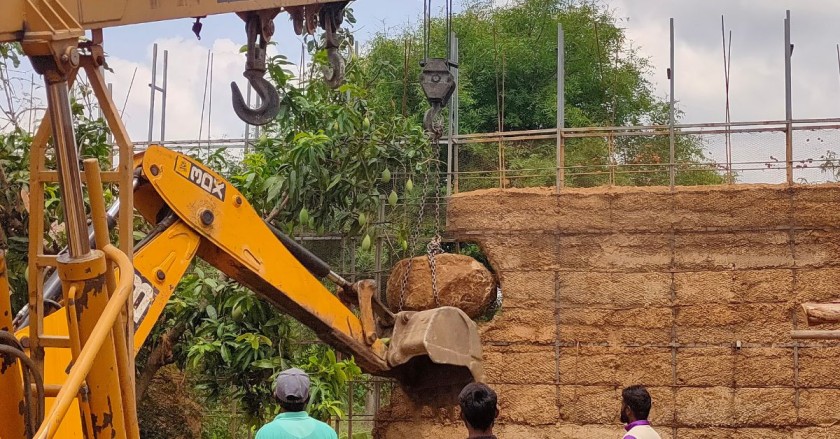 As for the roof, Fawaz wanted to make it light and airy. "We decided to reduce the concrete and use thatch instead. Additionally, instead of concrete cement beams, we have used wooden beams, which are lighter, along with ferrocement, a reinforcement material, to make the roof," he says.
All the materials used in the construction were sourced locally from nearby villages. To preserve the nature growing on the farm, the architect decided to work around nature and not on it.
"The idea was to camouflage the building around the trees and plants, and not have it stick out like a sore thumb. We did not let the trees be cut down for the sake of construction, the rooms are designed around it," he explains.
The house has huge glass windows that let in ample sunlight and offers a great view of the natural outdoors.
It took a good 14 months to complete the project. "The pandemic was a hindrance and the work, which could have been done in 6-7 months, took almost double the time," says Fawaz.
Living with nature and the wild
The couple named their home 'Flintstone6' after the American cartoon character from the show The Flintstones.
The house, spread across a 180-square metre land, is a single-storey building. It has a multi-functional hall with an open kitchen with earthy-coloured walls. The house has furniture made entirely out of wood, and the basins are carved out of granite retrieved from the quarry.
Describing what it feels like to live in Flintsone6, Abhishek says, "The place is our weekend getaway now. A home we always have longed for. The earthy tones of the walls and the huge glass windows make us feel like we are living in the lap of nature."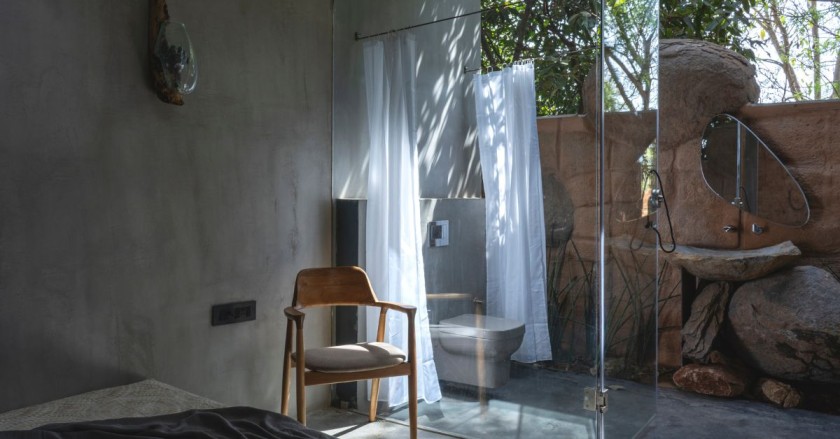 "When Fawaz came up with the idea of 'debris wall', we were quite intrigued, but also sure that it would work. We had a lot of faith in his designs and ideas. We decided that we wanted to have a home that was made sustainably and in harmony with nature. Our friends and family who come to hang out with us at the property always leave delighted and refreshed," he adds.
For Fawaz, the home is a labour of love and creativity. "When I saw the farm, I knew this project would be different from others. The house sits in the lap of nature, inside a farm made with waste material and, to me, it feels like a celebration of nature, sustainability and recycling," says Fawaz.
Edited by Divya Sethu
We bring stories straight from the heart of India, to inspire millions and create a wave of impact. Our positive movement is growing bigger everyday, and we would love for you to join it.
Please contribute whatever you can, every little penny helps our team in bringing you more stories that support dreams and spread hope.
Tell Us More