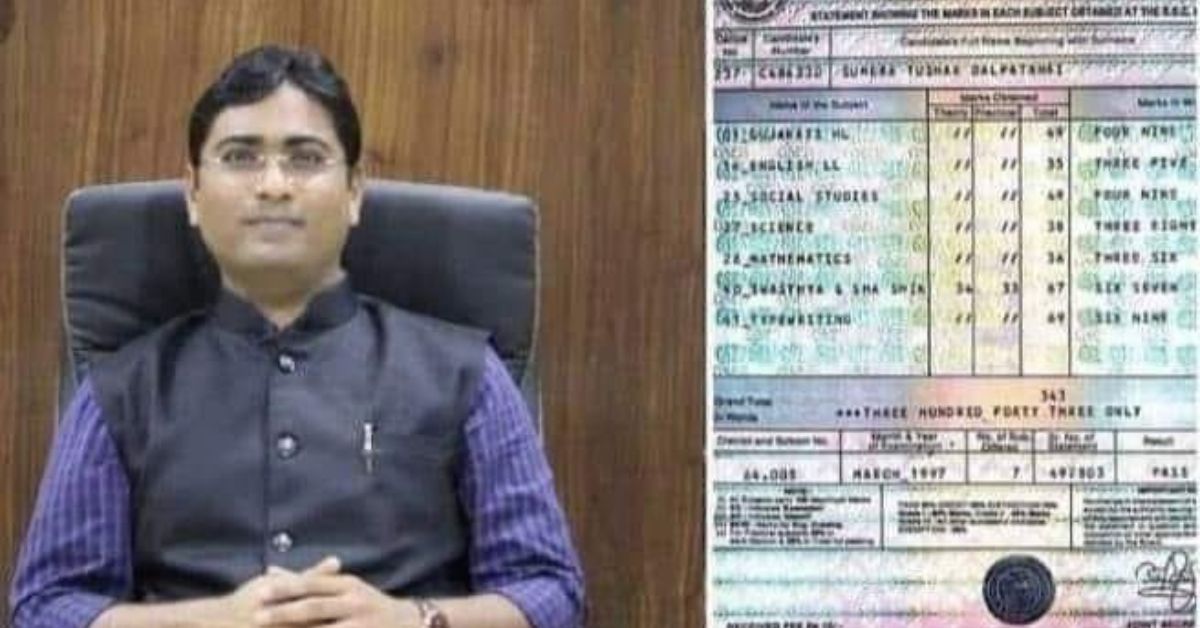 IAS officer Tushar Sumera is now the district collector of Gujarat's Bharuch district. He shared his school report card that has now gone viral on Twitter.
The Class 10 mark sheet of IAS officer Tushar Sumera of the 2012 batch has gone viral on Twitter because of the low marks he scored. He received 35 marks in English, 36 in Maths, and 38 in Science.
However, this didn't deter him from achieving his goals and becoming an IAS officer. He is now the district collector of Bharuch, Gujarat.
The mark sheet was shared by another IAS officer, Awanish Sharan, of the Chhattisgarh cadre, and first posted by motivator Shailesh Sagpariya.
भरूच के कलेक्टर तुषार सुमेरा ने अपनी दसवीं की मार्कशीट शेयर करते हुए लिखा है कि उन्हें दसवीं में सिर्फ पासिंग मार्क्स आए थे.

उनके 100 में अंग्रेजी में 35, गणित में 36 और विज्ञान में 38 नंबर आए थे. ना सिर्फ पूरे गांव में बल्कि उस स्कूल में यह कहा गया कि यह कुछ नहीं कर सकते. pic.twitter.com/uzjKtcU02I

— Awanish Sharan (@AwanishSharan) June 11, 2022
"Bharuch Collector Tushar Sumera, while sharing his class 10th mark sheet, wrote that he secured only passing marks in class 10th. He scored 35 marks in English, 36 in maths and 38 in science out of 100. The whole village and his school said that he would not do anything [in life]," the tweet read.
The mark sheet has sparked a conversation about academics and many students are drawing inspiration from his determination and journey.
Sumera claims that to clear the UPSC he prepared for English and Maths through self-study. Reportedly, Sumera graduated in Arts and worked as a school teacher before securing all India rank (AIR) 342 in the 2012 UPSC batch.
"Sagpariya knows me and he has been giving my example to students often that how with hard work one can overcome the limitations. This time he asked me to provide an image of my Class 10 mark sheet in which I got the least marks in two important subjects," Sumera told TOI.
Sources:
35 in English, 36 in Maths: Gujarat IAS officer Tushar Sumera's Class 10 marksheet goes viral; published by Times of India on 14 June 2022
35 In English, 36 In Maths: Class 10 Marksheet Of Bureaucrat Goes Viral; published by NDTV on 13 June 2022
Struggled to pass class 10th, now an IAS officer. Netizens draw inspiration; published by Hindustan Times on 15 June 2022
Complete list of UPSC Civil Services toppers; published by Times of India in 2012
Edited by Yoshita Rao