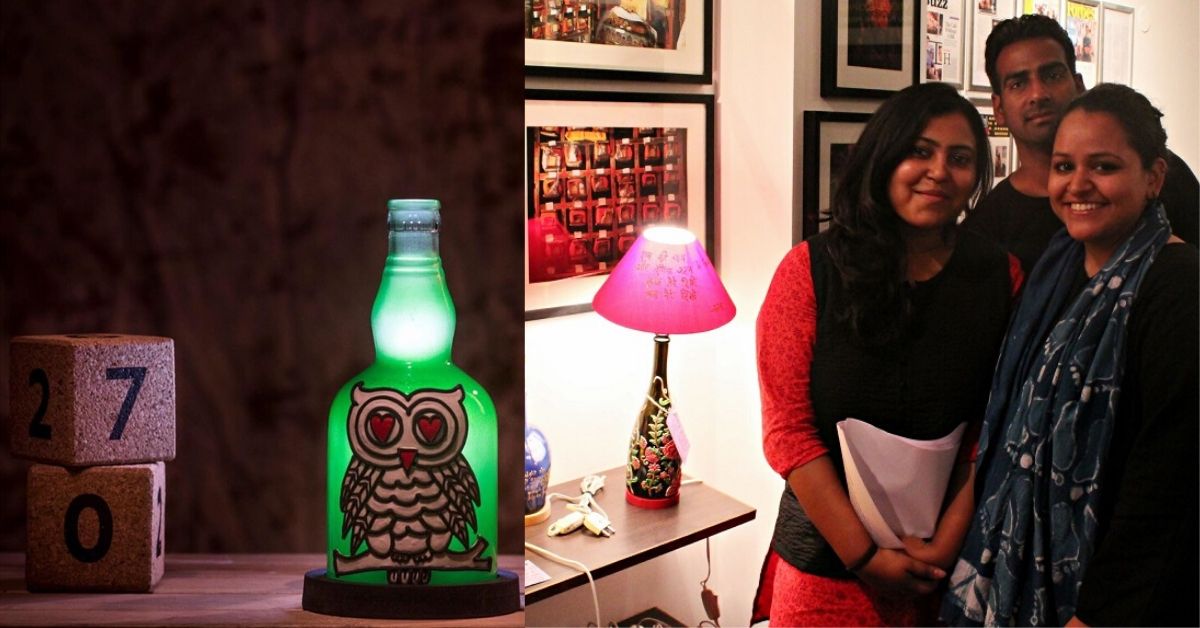 "We knew we wished to combine the causes of environment and poetry with social entrepreneurship. Our best selling products would otherwise take 20,000 years to degenerate!" says Madhuri, one of the co-founders.
I walk into a little café. It is dimly lit, perfect for me to enjoy my cup of coffee and a light read on a late Sunday afternoon. Once I have placed my order, I look up and see a lamp hanging from the ceiling. But, this is no ordinary lamp⁠—it is an upcycled vodka bottle, with a few lines of beautiful poetry etched on its body.
This lamp has been made by Kavi–The Poetry-Art Project, an independent collective that came into existence in August 2012 when three friends from Delhi decided to start something on their own.
---
Want to buy Kavi's beautiful upcycled lamps that can light up any corner? Check out their collection, here!
---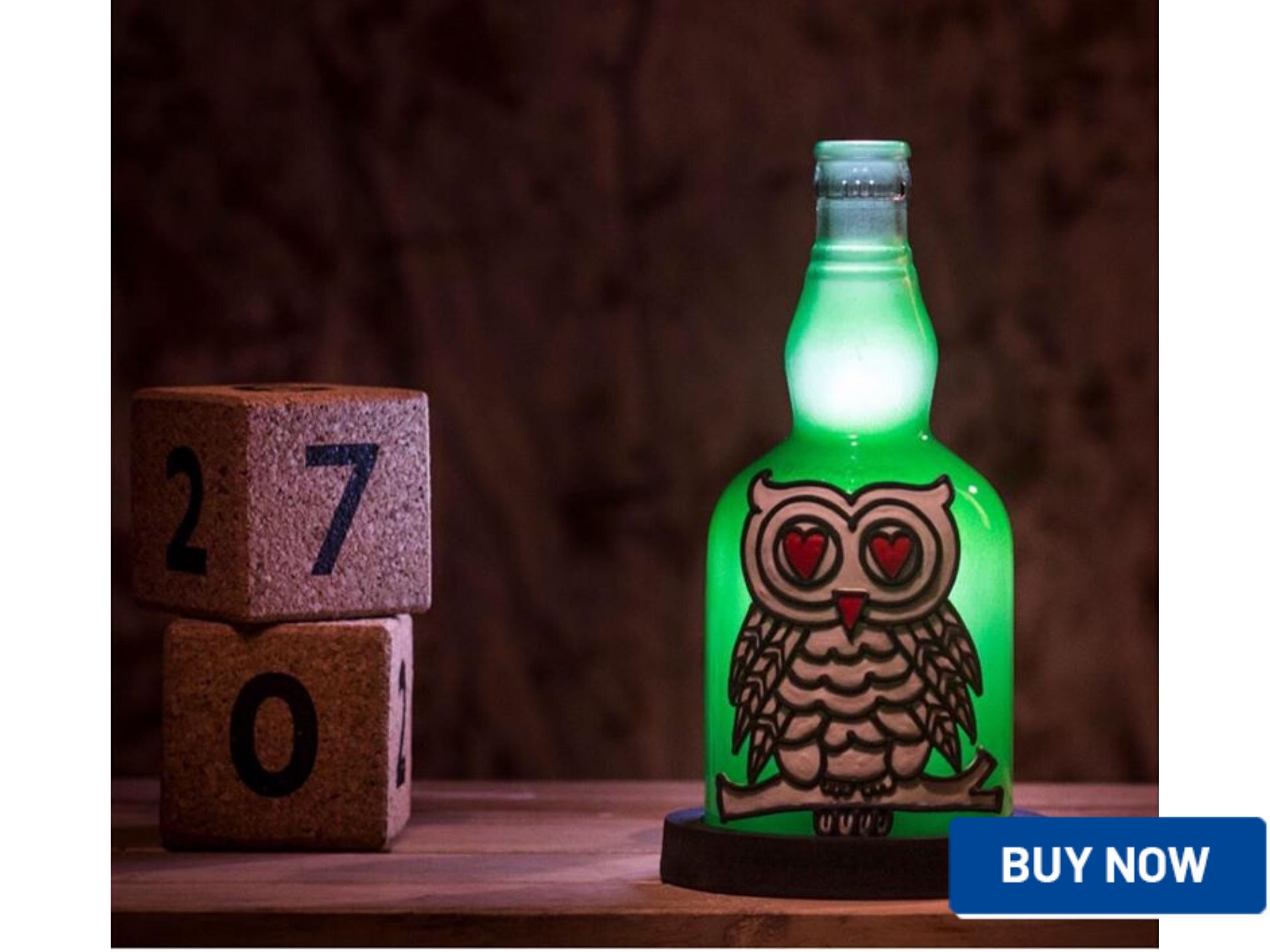 "We wanted to combine the causes of environment and poetry with social entrepreneurship and wanted to make a conscientious lifestyle a habit for the young urban community. It started with a handful of creations in a home studio and a Facebook page to spread the word and took shape thereon by word of mouth, trust and popularity," says Madhuri, 30, a former journalist, and one of the three co-founders.
The other co-founders are Amit Singh, 38, and Soumya Mukherji, 33, also journalists, who gave up their full-time jobs to become conscientious, creative entrepreneurs.
Madhuri continues, "Our journey led us into taking up an eco-conscious approach to our craft, and we saw ourselves making recycling a prime part of our enterprise. Our best selling products are all made of recycled glass bottles that would otherwise take 20,000 years to degenerate!"
What she says is true. Research states that it takes at least about 1 million years for glass to decompose, but it is also one of the easiest materials to recycle.
---
Want to buy Kavi's beautiful upcycled lamps that can light up any corner? Check out their collection, here!
---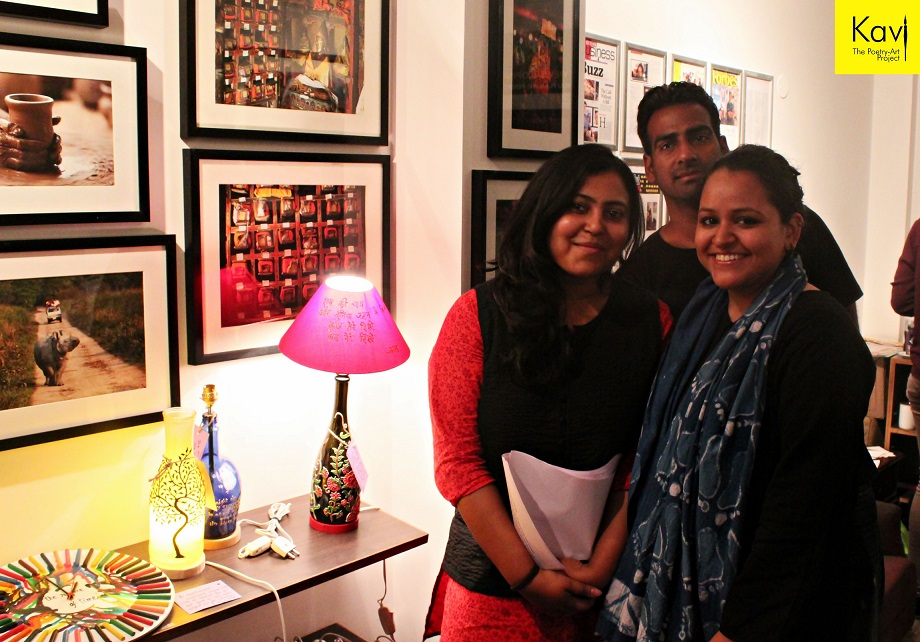 Operations, Challenges and Impact
Started in a garage with an investment of only Rs ,, Kavi now operates from a 5000 sq feet factory in Noida's industrial area.
"Honestly, we are still bootstrapped since we have not received any funding or backing and do not have any big-daddy associations. We started the enterprise with a meagre sum of Rs 7,000 and slowly saw growth by way of belief and constant hard work," explains Madhuri.
Initially, they banked heavily on fairs, pop-up shops and flea markets which were ideal for them to sell their products. This also gave them visibility, as they were personally interacting with customers.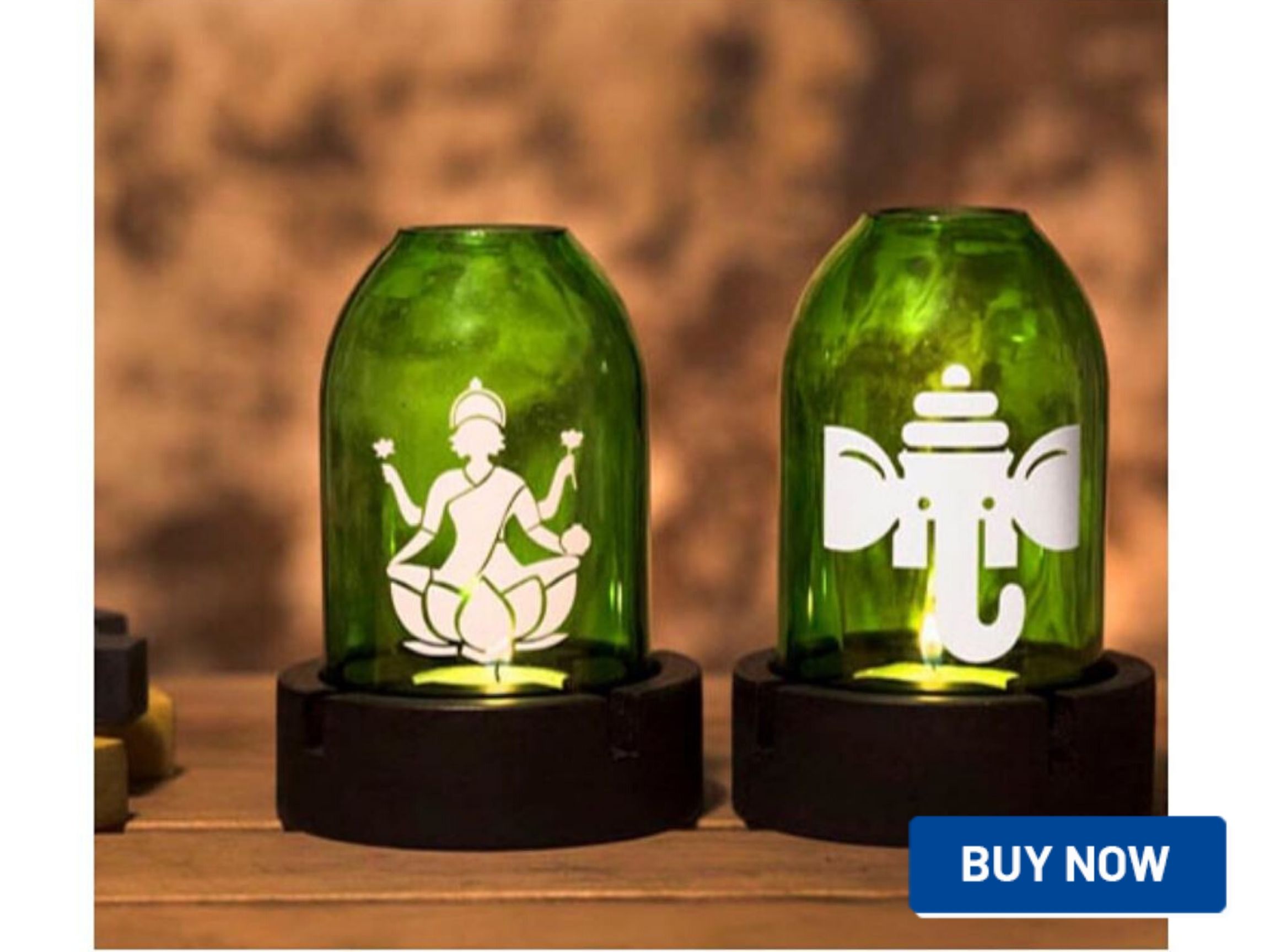 While Soumya pitched in as the literary advisor, Kavi slowly started employing experts and grassroots level artists on a part-time basis, to bring alive their vision. This practice has continued till date.
Take the example of 21-year-old Rashid Khan from Khora Colony in Noida who has been working with Kavi close to three years. Rashid, who studied up to Class 8, does all the recycled woodwork and the wiring work for the lamps.
"My father is a woodworker while my uncle has a shop in Dallupura. Here use the wood waste to make items like photo frames, the base for the bottle vases, handmade boxes. I am incredibly happy that I have a regular source of income, and even bought a new bike this Diwali," exclaims Rashid.
Happy Customers

Neha Gambhir, 34, is a freelance fitness instructor from Gurgaon and a big fan of Kavi's products that she first came across at the Diwali mela held in the premises of the Blind Relief Association in Lodhi Road.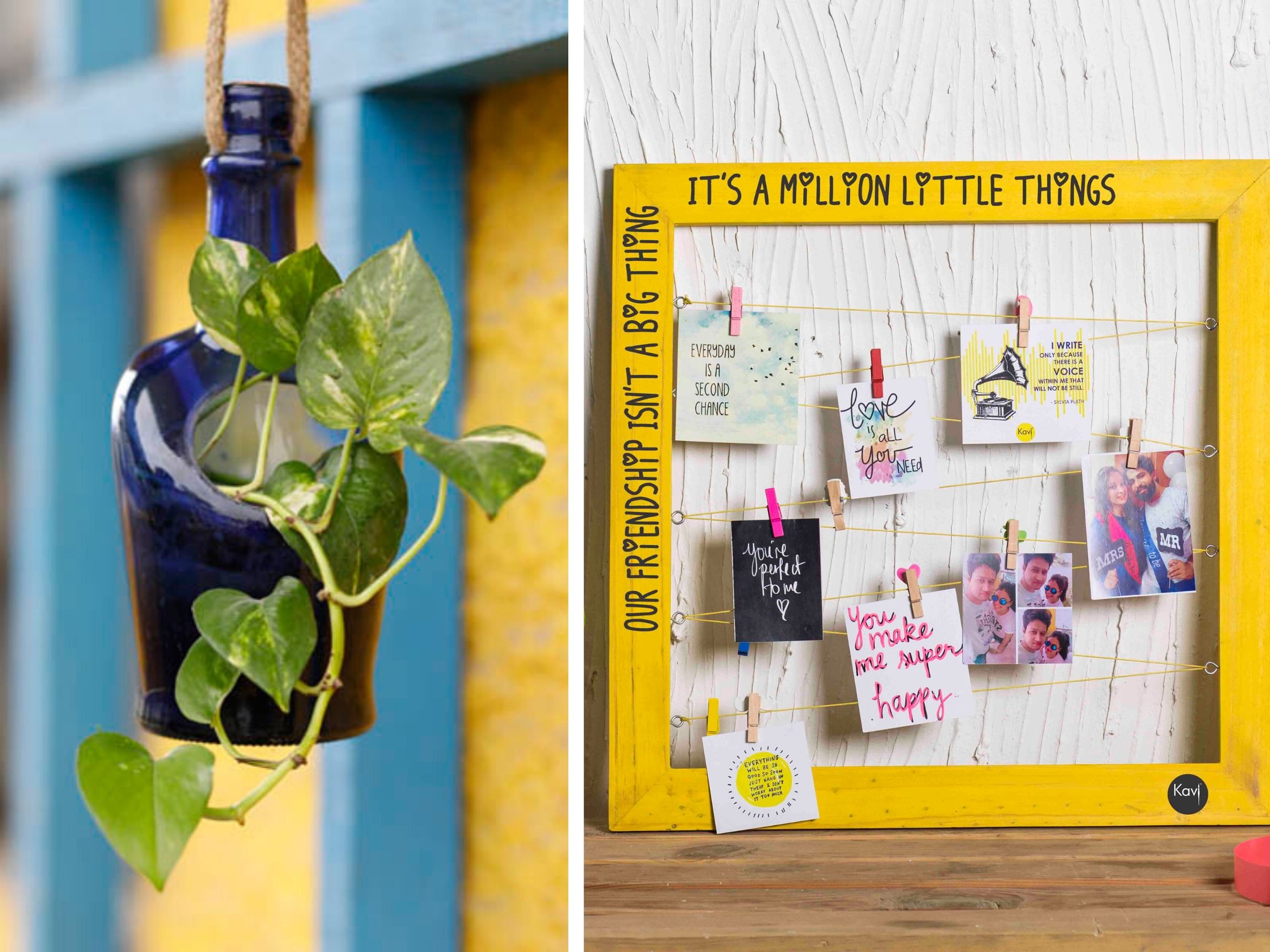 "I had never seen old alcohol bottles being upcycled and used as lamps. It is such a brilliant concept!" she gushes.
Neha bought some home decor products for herself, and a table lamp as a gift for her friend. "This lamp made from a vodka bottle is painted from the inside. It can either be used as a lighting feature in a bar or on any side table. It is something that would've ended up in a landfill but has instead been converted to something so beautiful," she says.
Neha also ended up buying glass jars made from these upcycled bottles and which can be closed with a cork.
In addition to creating lamps, Kavi also has eco-friendly cork products, wooden pallet clocks, frames wall-art, bags, cushion covers and much more on offer.
"Currently, our recycled wooden pallet memory frames, recycled bottle glasses and platters are in high demand," informs Madhuri.
Awards and Accolades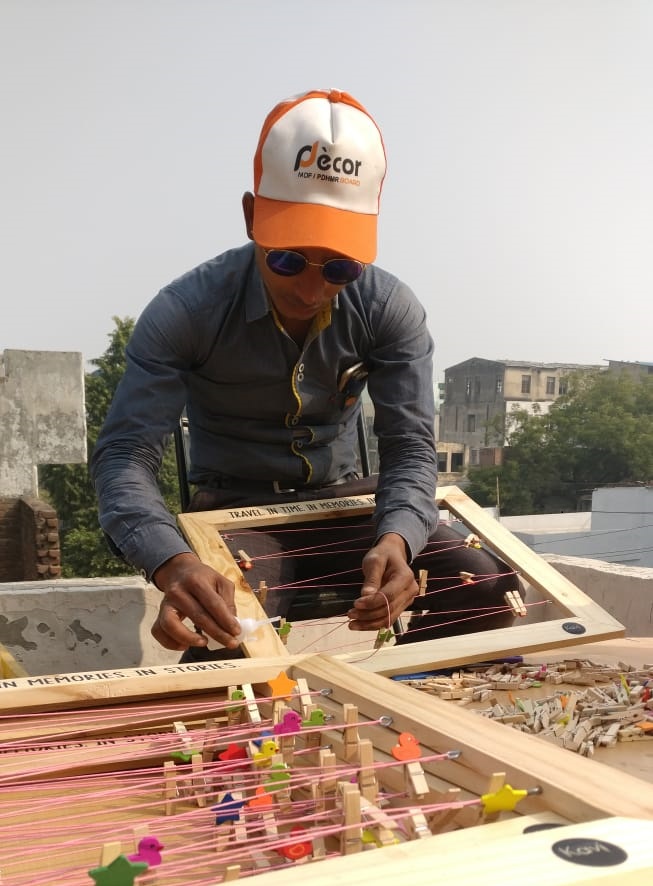 Since Kavi started its operations, the team has recycled at least 5 lakh bottles that would've been discarded away. They've also recycled 20 tons of wood pallet waste. In 2015, at an impromptu poetry jam organised by the Delhi Metro on World Poetry Day, Kavi landed a spot in the Limca Book of Records 2015 for creative social entrepreneurship.
Kavi seems to be popular with celebrities as well. "We made a customised poetry lamp for Javed Akhtar, a poetry canvas frame for Salman Khurshid and a bag with poetry printed on it for Kalki Koechlin," quips Madhuri.
Kavi has also tied up with Corona Beer for recycling their bottles and converting them into glasses for their promotional events.
Today, among other things, it upcycles different materials to make eco-friendly home décor and stationery along with personalised poetry-themed gift articles.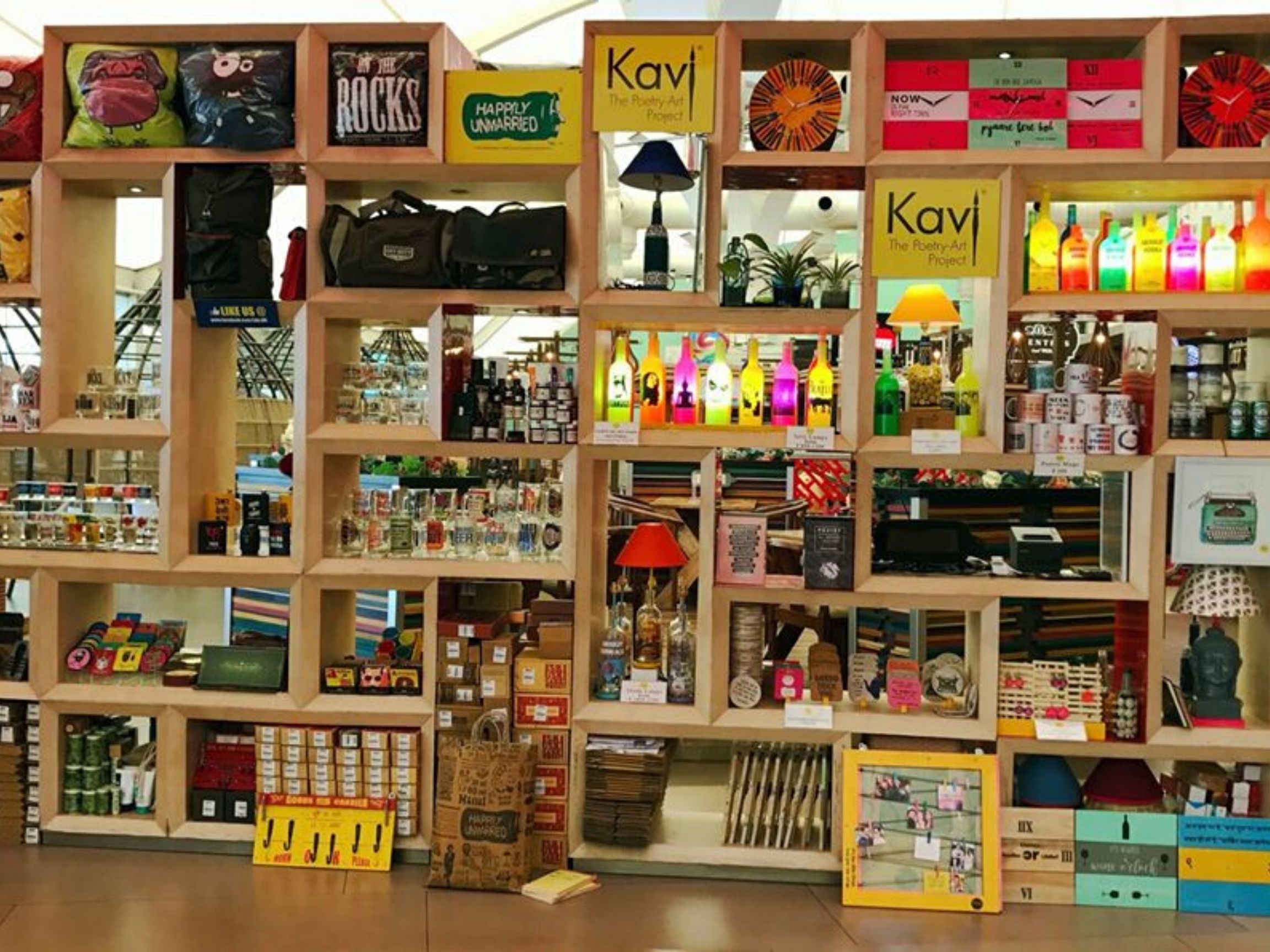 So, what do the founders aspire to achieve in the future?
In the next five years, they see Kavi breaking regional and cultural boundaries to involve stakeholders from different communities, poetry from different countries and languages, and eco-lifestyle innovations from the best brains in the field.
"We see Kavi conducting public festivals, workshops, events and exercises towards this combined cause across the world," says Madhuri. She envisions each Kavi studio to be an active and open hub to encourage sustainability.
"The collective aims to make you believe in the power of being grounded, the power of handmade art, the power of recycling and the power of literature—an explosive combination if done right," says Madhuri signing off.
---
Want to buy Kavi's beautiful upcycled lamps that can light up any corner? Check out their collection, here!
---
(Edited by Gayatri Mishra)
Like this story? Or have something to share?
Write to us: contact@thebetterindia.com
Connect with us on Facebook and Twitter.