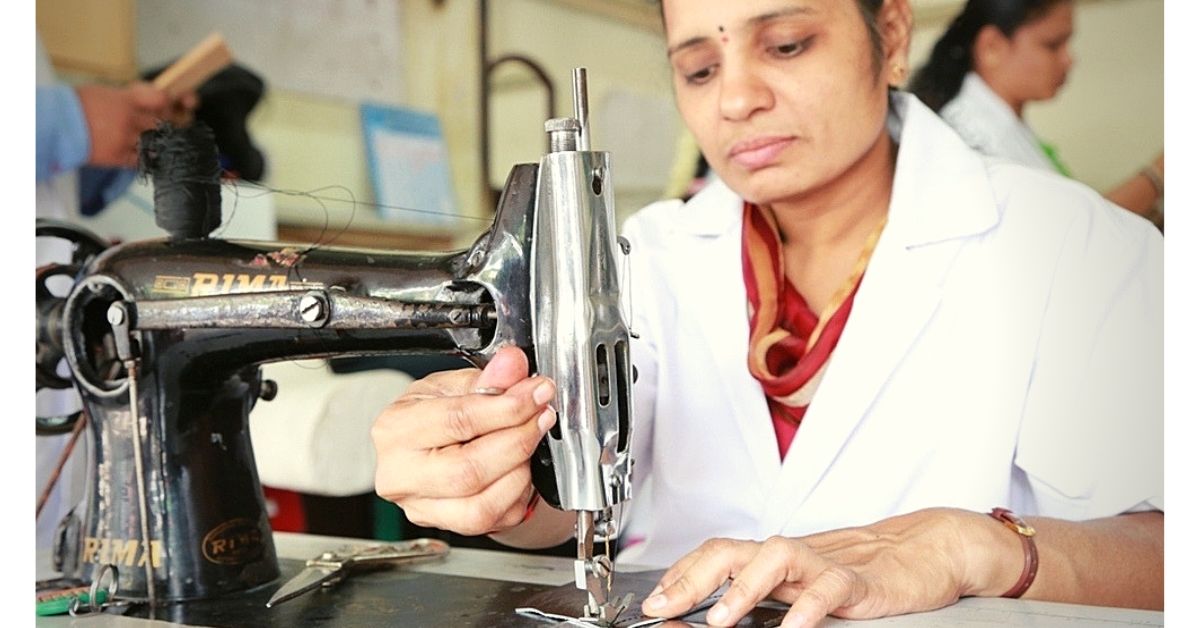 "I am honoured that despite my physical limitations, I have not just helped myself, but hundreds of other women!" says one of the gritty women. #Respect #Inspiration
For Noor Jaan, the idea of self-reliance was a foreign concept. Growing up, at every single step, a relative or a neighbour would remind her that independence was not in her fate.
"I had a polio attack when I was just three years old, and it took away the strength in the lower section of my body, from the hip to my legs. So, most of my life, I would need support either from someone, or use crutches. I had convinced myself that this is what my life was going to be like, and I had to accept it," she says.
In 1997, much to her surprise, an opportunity arrived that changed her life forever.
---
Women empowerment is more than just two words. It is not about giving a better and empowered life on a platter, but about enabling them to earn it on their own. If you want to make your contribution to it, check out items here.
---
"It feels like my life began some 22 years ago when they approached me. They said they would give me a job after one year of training in making prosthetic devices. For the first time ever, I would not just be helping and supporting myself but also be able to extend the same to thousands of women like me. It was a privilege!" recalls the 50-year-old prosthetic expert.
Like her, nine more women were approached and hired in that year.
They were all joining the Rehabilitation Aids Workshop by Women with Disability (RAWWD) formed by five passionate individuals as an offshoot of Mobility India; an NGO focused on mobility aids to the differently-abled.
The five founders—Chapal Khasnabis, Albina Shankar, Jaikodi, Ritu Ghosh and Veda Zachariah—built the institution with a vision to create a ripple effect.
Their aim was to empower a group of differently-abled women by training and hiring them, who would then do the same or even more for thousands of others.
Today, after almost two long decades, RAWWD's small office hidden under a canopy of trees, on Old Airport Road, is a second home for Noor and many other women, who found their true independence and life's purpose, right in the middle of the prosthetics workshop.
"RAWWD has not only provided these women with a new light to life, qualification and employment but has in turn provided thousands of differently-abled individuals with prosthetics and supporting devices. And all this, at rates much lower than the standard market rates," says Indra Moses, the finance manager of the organisation.
For the Women, By the Women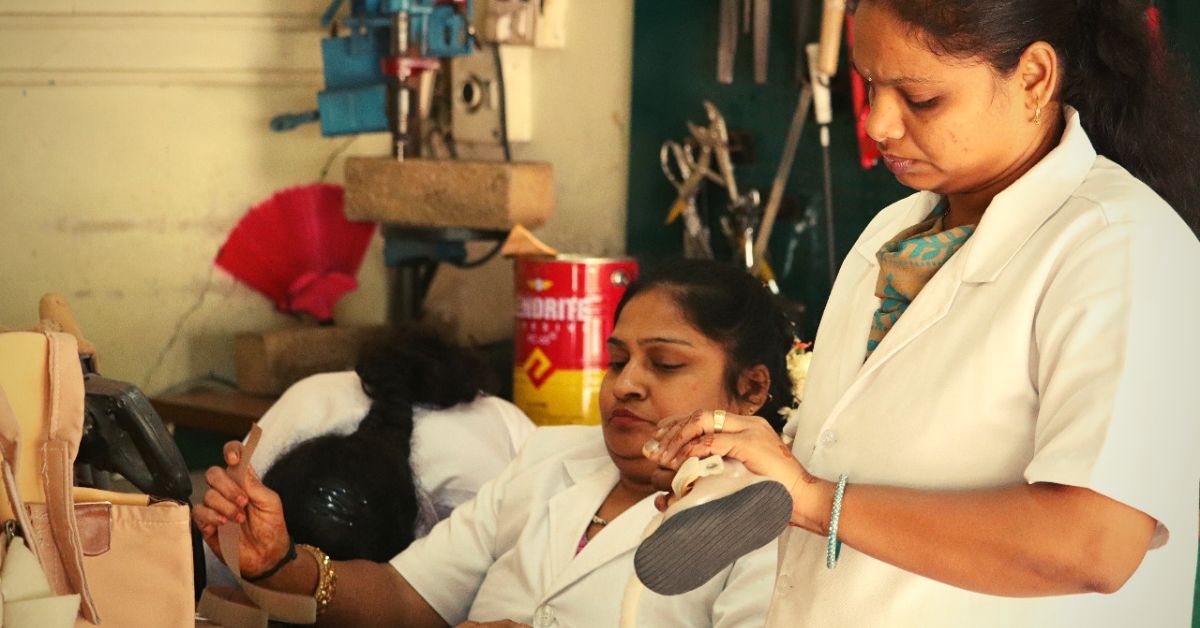 The start of the organisation sprouted from a fundamental problem faced by many differently-abled women.
"Most women with disabilities do not have access to mobility aids. The reason behind this is a simple but important one. It is because, generally all technicians and experts who need to measure them for the aids and appliances are men, causing a sense of hesitation for many. That's why most of them decide to not opt for such devices, thus contributing to the functional hindrance, both personally and as a community," Indra explains.
So, the founders came up with a holistic plan where these devices will not only be for women and children exclusively but also be made and fitted, all by women!
She adds that owing to the plan, a group of 10 women were identified where each individual took almost a year-long certificate course in prosthetics and orthotics at a Bengaluru-based training institute, accredited by the International Society for Prosthetics and Orthotics.
After the first 10, a total of 26 have been trained at the institute till now. Noor Jaan and Prerna (43) are two of the oldest members, who were a part of the first batch.
Following this, they are employed to develop both quality rehabilitation prosthetic (an artificial body part) and orthotic (supporting devices like splints and braces) devices.
The organisation now works with a total of 8 employees out of which seven are differently-abled.
"RAWWD has served as a great platform for many to launch their careers in this area. Some of us stayed back, while others gained experience and moved on to other opportunities. It's truly something to be proud of," says Noor.
Talking about the process of preparation, Indra adds, "Our clients sometimes come directly, or are even referred by city-based doctors, because of the efficiency of our employees and the affordability of the items. Each client individually consults with our employees. What sets these women apart, is not only how they make the clients comfortable but also extend emotional and technical support. They have grown to become role models for many other women with disabilities."
Owing to their efforts in the last few decades, RAWWD has been able to help more than 40,000 differently-abled individuals!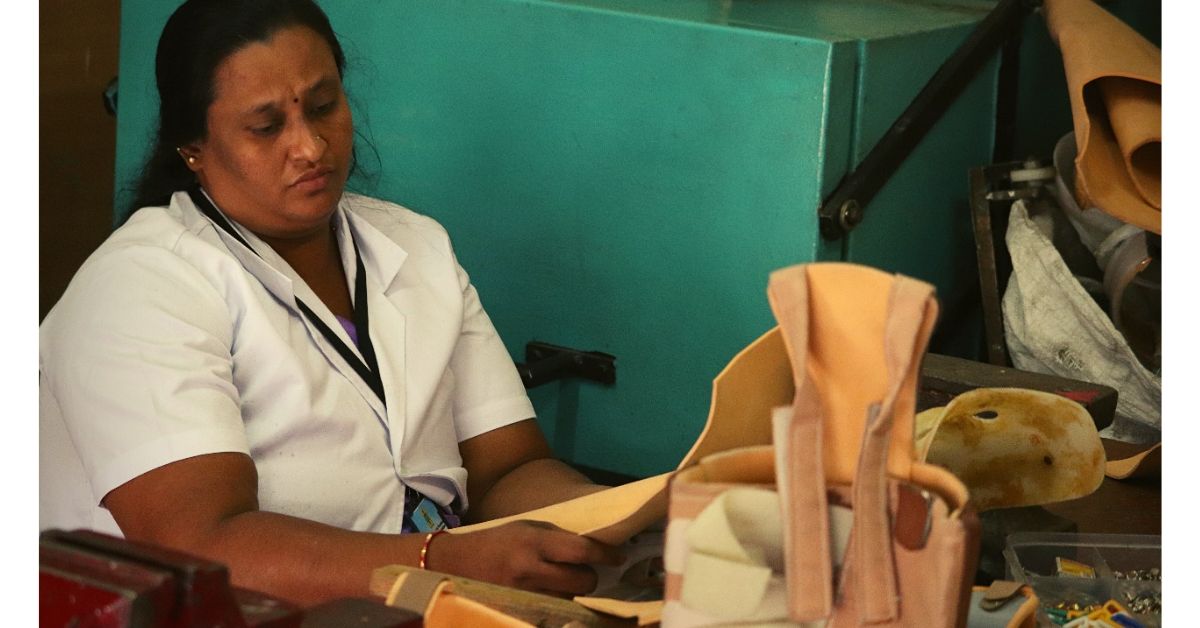 On the 22nd anniversary of her second home, Noor Jaan looks back at her overwhelming journey, and with a slightly unsteady, cracking voice, she concludes,
"People look at us with a bag full of perceptions and emotions. Our independence and self-reliance are often seen as a great feat by others, but, I am lucky and honoured that despite my physical limitations, I have not just helped myself, but hundreds of other women like me, gain much-deserved confidence and independence. Now that's something I'm truly proud of!"
---
Also Read: She Fought Patriarchy to Educate Girls, Has Helped 80K Women Live Life On Own Terms!
---
(Edited by Gayatri Mishra)