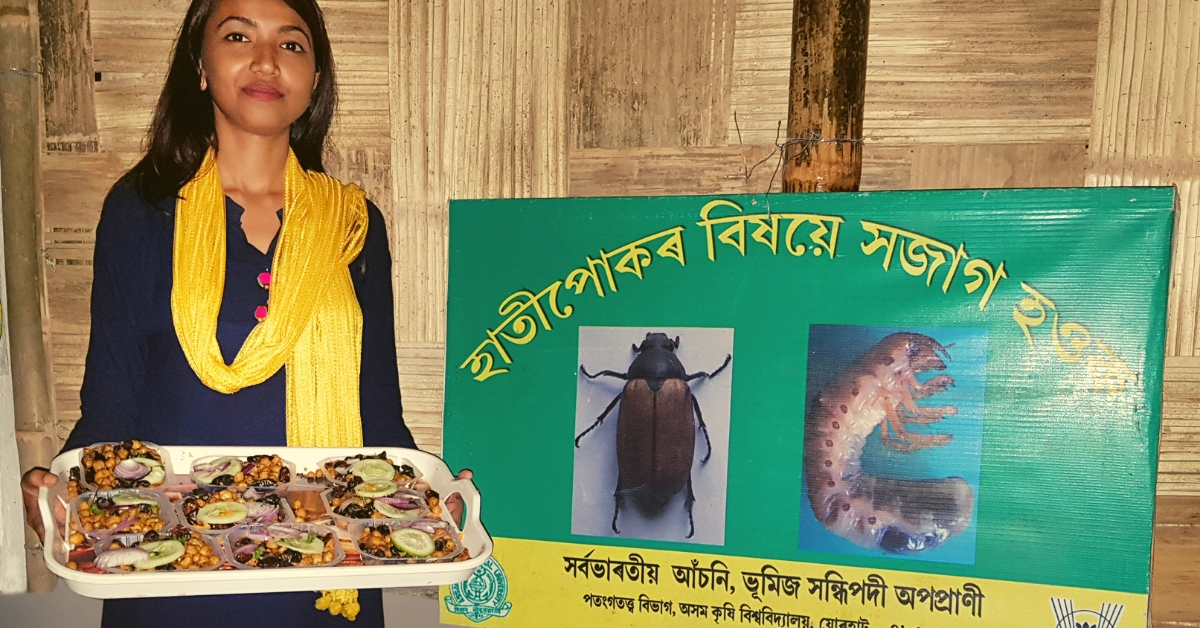 People on the world's largest riverine island have cooked up a nutritious, economical and eco-friendly way of solving pest problems on their farm land — eating the pest before it eats their crop!
Any takers for beetle fry with chickpeas? Well, if you want to have a taste, visit the world's largest river island of Majuli in Assam, where the predominantly tribal populace and agriculture scientists are cooking up a unique system of stopping pests from destroying crops—by eating them!
Among the most devastating of these pests is the white grub beetle (Lepidiota mansueta, locally known as 'hati-puk'), which attacks nearly 40 per cent of the 300 square kilometre of crop area where potato, sugarcane, colocasia and green gram grows.
Scientists with the All India Network Project on Soil Arthropods Pests (AINPSAP) funded by the Indian Council of Agricultural Research, have since 2010, conducted extensive research on this insect in Majuli.
"Farmers, particularly from the local Mising tribal community, did consume the adult beetles. However, at the time, we didn't know whether the beetle had toxic glands or what sort of proteins it contains, among other measurables. From 2015, we conducted amino acid and fatty acid analysis and studied how much protein or carbohydrate it contains," says Dr Sudhansu Bhagawati, an entomologist with the AINPSAP, while speaking to The Better India.
What they found was the white grub beetle contains 76 per cent protein, 17 amino acids, essential fatty acids and various minerals like potassium, calcium, sulphur, etc. It is a nutritious alternative to mainstream staples such as chicken, pork, beef and even fish. Besides, it is also completely free of toxins. After analysing all these components the scientists then encouraged farmers to eat them.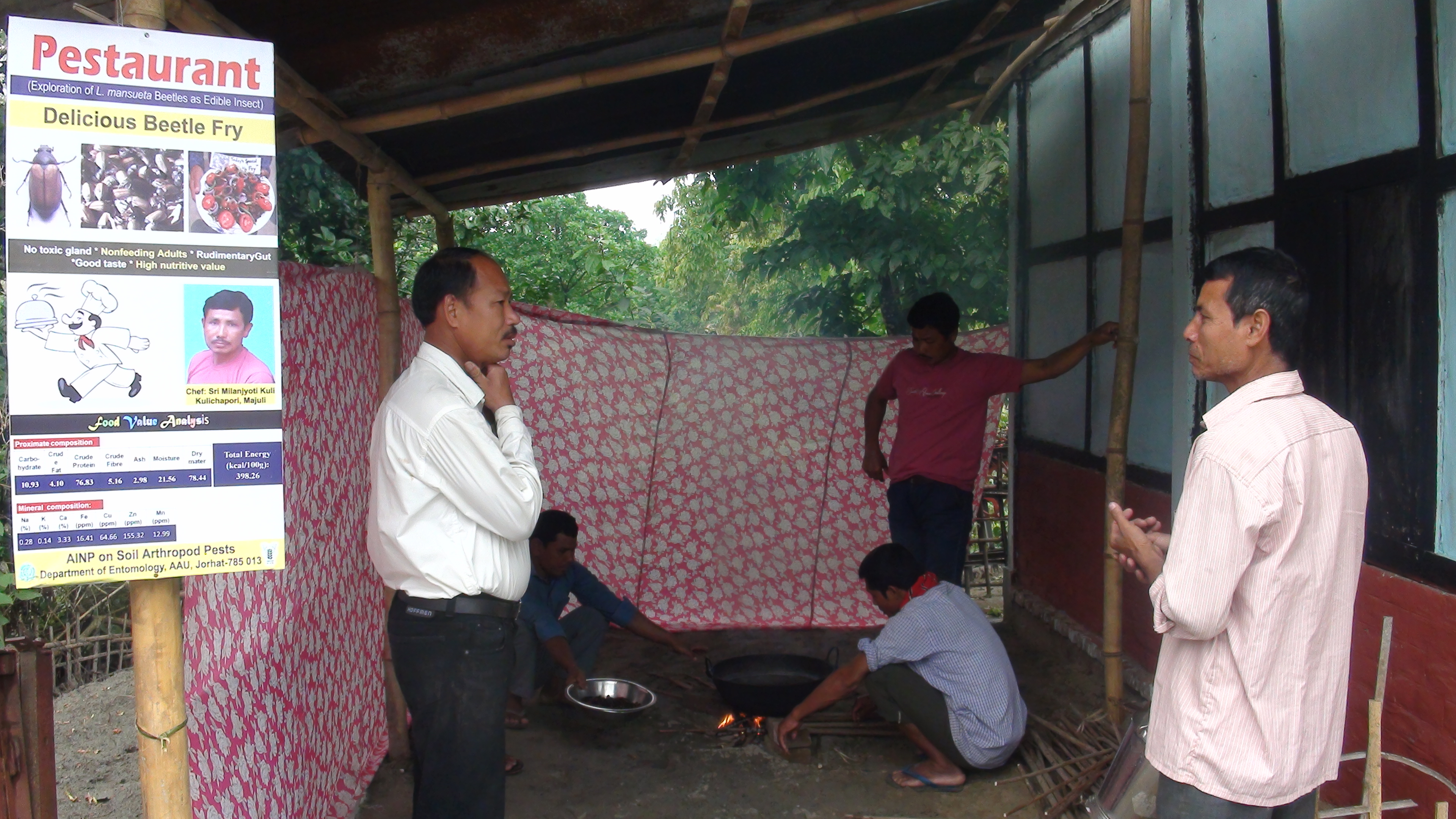 From 2015 onward, researchers have travelled to different villages across Majuli to demonstrate how to cook and eat the beetles. This month, they are planning to open two or three small outlets to attract tourists in the endemic pockets of Majuli to offer the beetles to the palates of the many foreigners who visit the area during these months. It also creates awareness among other people about these insects.
"Grubs of L. mansueta were first recognised in some sugarcane fields of Uttar Pradesh, India, during 1960 as a root feeder. However, this species did not receive due attention because of its remote incidence and unpredictable occurrence," says the Monograph on Lepidiota Mansueta, published by the Assam Agricultural University.
In fact, according Dr Bhagawati, locals knew of their presence for a long time, but really didn't take note of it until 2005, when the effects of climate change began to really take shape in Majuli. Erratic rainfall and early onset of summer, he argues, resulted in a sharp decline in the arrival of Sarus crane, a seasonal predator. As a consequence, the number of these beetles just went through the roof, resulting in crop devastation.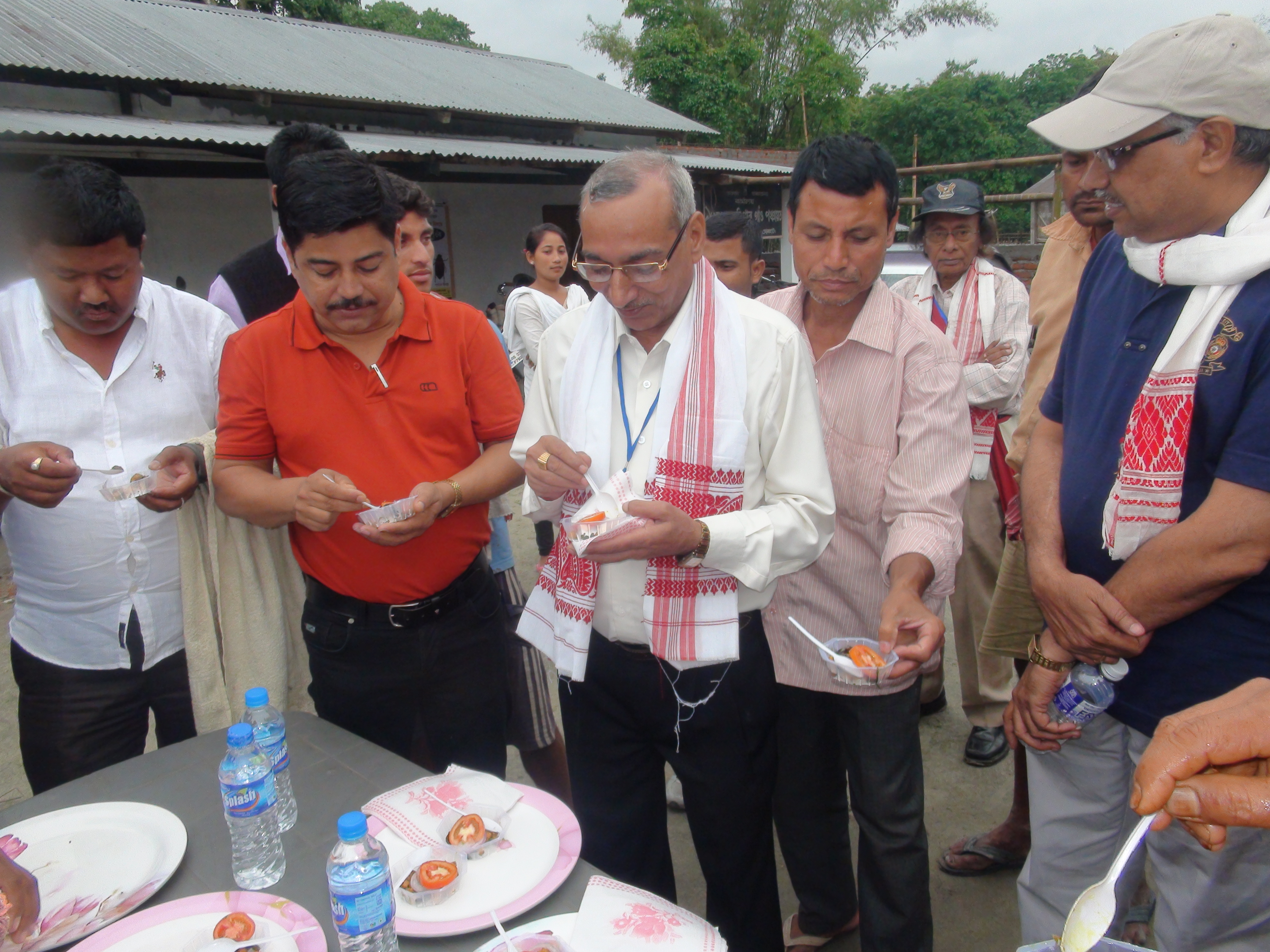 This beetle has a two-year life cycle. Adult beetles don't feed on the plants and emerge from the soil above ground in April for mating purposes.
After mating, the female goes back into the soil, lays the eggs, and dies soon after. Once they lay their eggs, some larvae emerge to remain under the soil for 19 months. In these months, they feed voraciously on different crops.
"The beetle spends its entire life cycle under the ground except for a short period during which the adults emerge from the ground for mating which is why the application of insecticides is ineffectual. We also cannot use these chemicals because Majuli has been nominated for a place in the UNESCO World Heritage site list and thus government officials don't allow us to apply insecticides or any kind of synthetic chemicals. The Centre has nominated Majuli, and certain criteria must be maintained," says Dr Bhagawati.
Their solution was to catch these adult beetles that emerge from the ground in the month of April during the evening from 6-8 pm before they begin mating.
"We told local villagers that they must catch these beetles from 6-8 in the evening. Once we catch either male or female adult, they won't be able to mate with each other and thus can't lay their eggs. More interestingly, on one occasion we allowed a female beetle to lay her eggs. We found that at one time she laid 30-35 of them. In other words, if we catch one beetle, that means we are reducing 35 potential grubs. We visited these farmers, trained them to spot, catch, kill and cook them," informs Dr Bhagawati, while describing the process.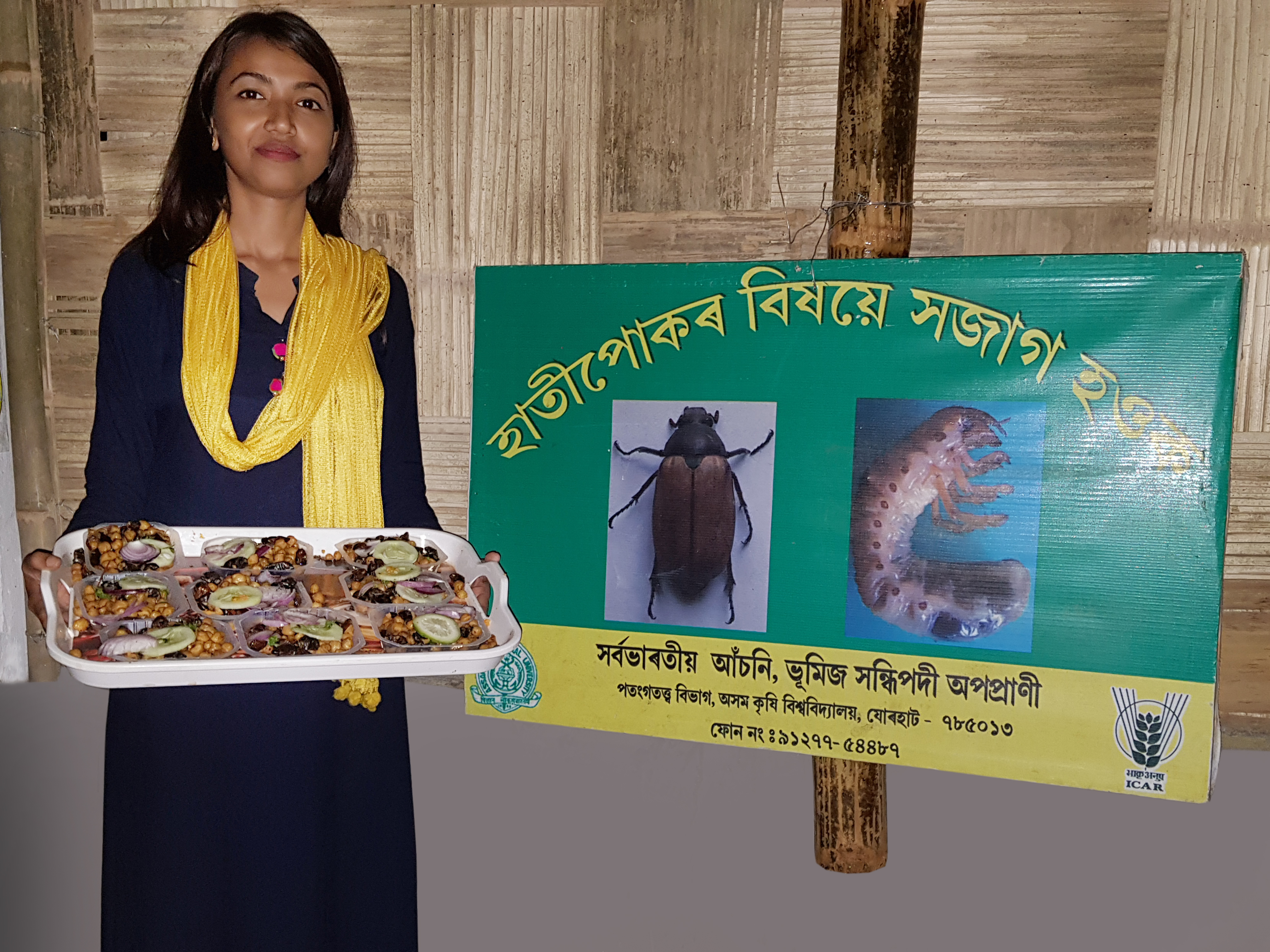 Thanks to their efforts, 400 farmers from 40 different villages are today completely free from the white grub beetle. These farmers can once again grow crops like sugarcane, green gram and chickpeas, among other crops, and earn good money.
Fried with chickpea, alongside different garnishes and some local sauces, the white grub beetle today is a real delicacy.
During the months of March and April, the AINPSAP team conducts massive mass campaigning programmes against this pest. In fact, on April 9, 2018, a 10-member research team and 100 farmers set the national record of 'Most Beetles collected in 3 hours' by gathering 73,700 specimens of white grub beetle, well above and beyond the initial target set of 4,000. Their record has found an entry into the Indian Book of Records.
Also Read: Long Before #MeToo, Assam's 'Barefoot Counsellors' Battled Rural Sexual Violence
In many areas on the island, the pest is still present, but does not pose the sort of threat it once did. Nonetheless, the AINPSAP team is yet to visit a few villages and convince them of their technique to address the pest problem. However, what they have done in these years is help locals realise that the solution to the pest problem literally lays within them.
Here is the list of researchers involved in this novel project: Dr. Badal Bhattacharyya, Principal Scientist, Dr. Sudhansu Bhagawati, Scientist, Dr. Khanin Pathak, Ms. Snigdha Bhattacharjee, Research Fellow, Ms. E. Bidyarani, Research Fellow, Mr. Peter Shyam, Research Fellow and Ms. Nang Seena Manpoong, Research Fellow.
(Edited by Saiqua Sultan)
Like this story? Or have something to share? Write to us: contact@thebetterindia.com, or connect with us on Facebook and Twitter.
We bring stories straight from the heart of India, to inspire millions and create a wave of impact. Our positive movement is growing bigger everyday, and we would love for you to join it.
Please contribute whatever you can, every little penny helps our team in bringing you more stories that support dreams and spread hope.