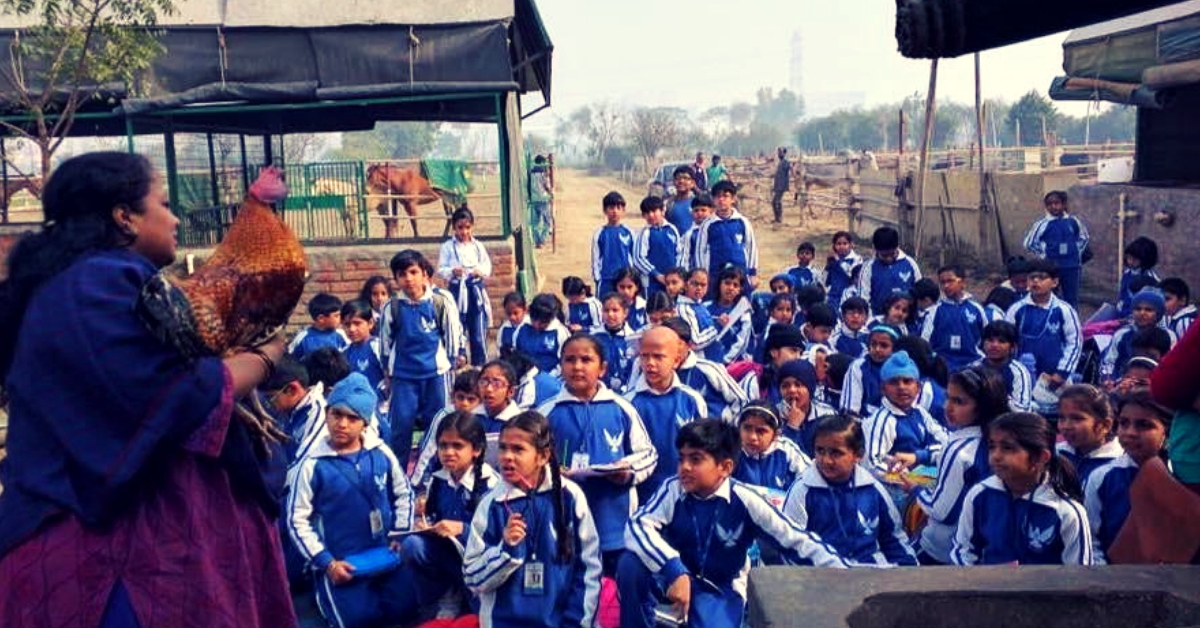 Thanks to her passion to imbibe the best practices based on climate, resources, location, and topography, the land that once lay dry and sandy with no earthworms, bees, and butterflies is now rich and fertile.
In 2014, Noida-based lawyer and animal lover Aparna Rajagopal decided to adopt a rescue horse along with her husband. After working with several NGOs for animal welfare, the young couple wanted to provide a haven for the four-legged creature.
Their urban home was too small to house it, so after consulting a few friends, they decided to lease some land on the outskirts of Noida.
"We thought perhaps a bigha or two would be enough, but the farmer who took us for the site visit told us how there was a stretch of vacant land that we could lease. I remember looking up and just thinking, 'Why don't I farm on this land?' So, to be honest, I stumbled into farming," says Aparna in an exclusive interview with The Better India.
Today, spread over 20 acres, lies the Beejom Organic Farm and Animal Sanctuary that she built over the last four years.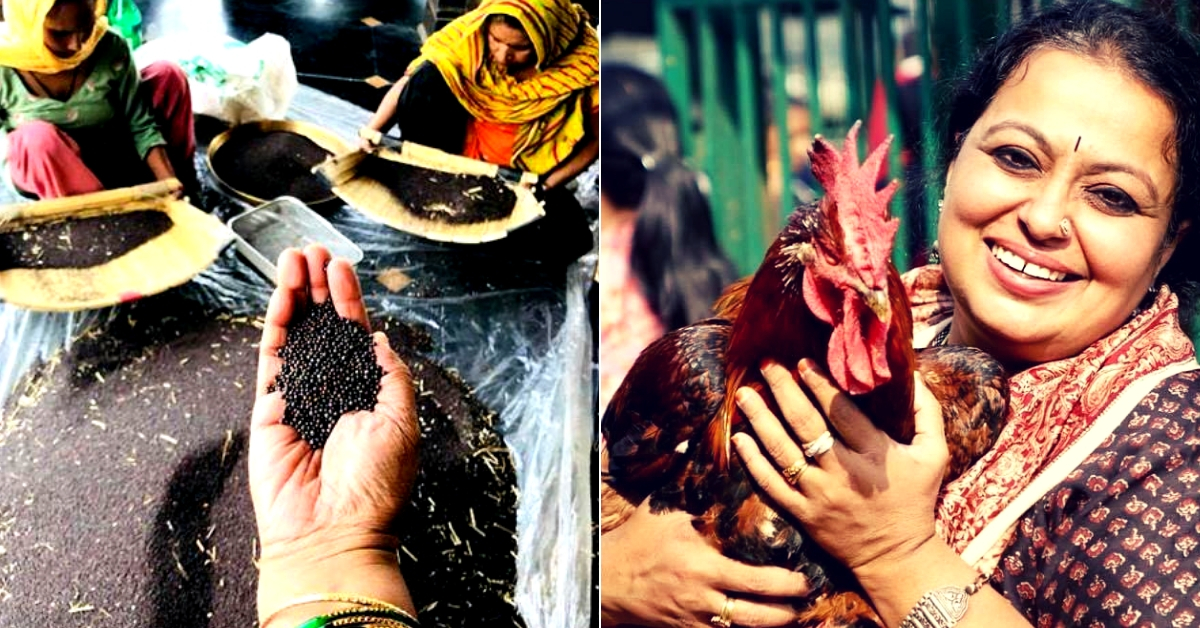 Of the 20 acres, the couple own five acres, while the remaining 15 are on lease.
Aparna takes The Better India through the journey of Beejom, how it was founded, and how it flourished into a self-sustained farm in a short period.
She narrates, "In the sweltering heat of 2014, I remember sitting on a charpoy under a Jamun tree when the idea of farming came to me. My first instinct was to Google it. While it would have been easy to get lost in the vast sea of information, fortunately, I came across Masanobu Fukuoka's acclaimed One Straw Revolution. I read it like an adventure novel. I also discovered Bill Mollison, Peter Proctor, Bhaskar Save, Subhash Palekar and was hooked to articles, documentaries, podcasts and YouTube videos on organic agriculture and natural farming."
Thanks to her passion to imbibe the best practices based on climate, resources, location, and topography, the land that once lay dry and sandy with no earthworms, bees, and butterflies is now rich and fertile.
Beejom is run by a team of farmers from seven states across India who bring in their knowledge and skill sets to grow millets and traditional foods, along with wheat, rice, seasonal fruits, vegetables, and even legumes.
Most of these crops are heirlooms or native varieties.
While oilseeds include mustard, sesame, sunflower, groundnut, legumes include masoor dal (red lentil), toor dal (split pigeon pea), urad dal (black gram), chana (split chickpeas), moong dal (yellow lentil), and arhar (pigeon pea). Similarly, they grow all kinds of winter and summer herbs like peppermint, spearmint, and pudina (mentha). They also grow different leafy greens.
"Over the years, we have seen how most of us have lost the art of eating greens. They are not only easy for the farmer to grow but also easy on the pocket and highly nutritious. They can be a good alternative to milk for calcium, especially for children and women," says Aparna.  
Apart from creating a seed bank that conserves their heirloom seeds, the farm runs completely off the grid, using solar power, biogas and bull power. 
It harvests rainwater and uses the six-pillar technique of permaculture and natural farming including intercropping, multi-cropping, companion planting, crop rotation, nitrogen-fixing and mulching.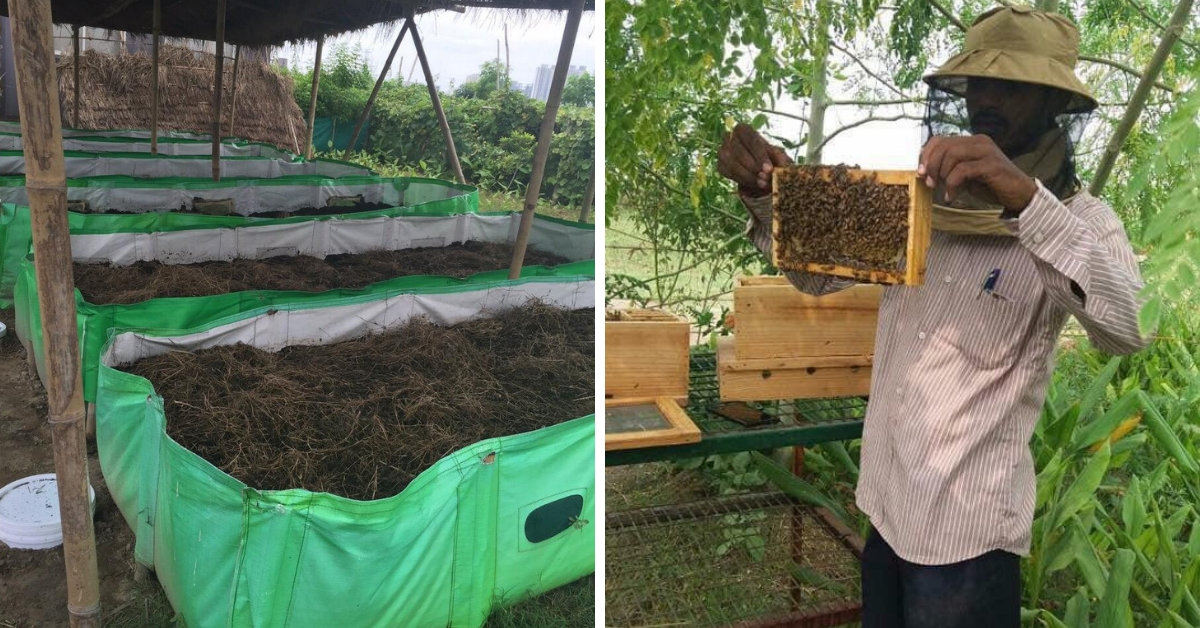 One of the other stark features that make the farm stand out is that despite having over 130 cattle heads which include nine indigenous varieties of cows from across India, it does not practice dairy farming!
Shocked? Well, the farm believes in preserving many of these endangered varieties and relies on using their dung instead of milk!
Some of these indigenous cow breeds include Gir, Sahiwal, Tharparkar, Kankrej, Red Sindhi, Rathi, Malanadugidda, Kangayam, Vechur, Hariyani, and Swarna Kapila.
"While most farmers preserve milch varieties, we preserve all three–milch, dwarf and draught cattle. We do pure breeding of indigenous cattle at the farm because many of them are endangered. Of the few 100 Vechur cows left in India, we have 11. We have a zero-dairy policy. And after observing how they are exploited in the factory culture many farms, we want to bring animals back to the farm."
Under their project Dung Ho!, Aparna and her team use cattle dung to make gobar pots, gobar logs, vermicompost, organic fertilisers (gobar khad, jeevamrutham, panchagavya), pest repellents (bramhastra, agnihastra), and dhoop. 
At a time where mechanisation in agriculture is taking over with diesel-guzzling tractors and high-end machinery, she adds how indigenous bull power drives the farm.
"On our farm, the bulls save us, we don't save them. They pull the carts and run the sugarcane, grain and oil chakkis. They plough our land and help water the fields too."
---
Also Read: Rattled by 7 Cancer Cases, Kerala Villagers Join Hands to Turn 63 Acres Organic!
---
At Beejom, organic is not just a method of growing food without chemicals but a way of life. The focus is on growing healthy foods, keeping the soil healthy and changing minds, just like their tagline–Growing soil, changing minds.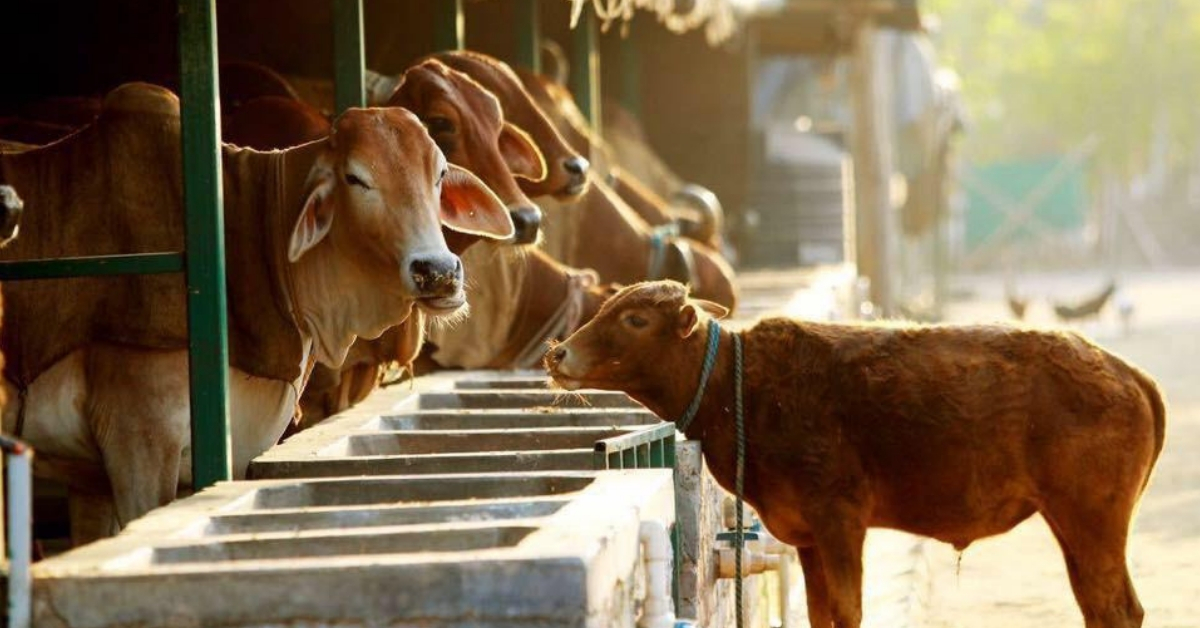 I ask her about the increasing pressure on farmers to switch to organic farming, and she puts forth a very interesting perspective, "Most farmers live hand to mouth. And therefore, asking them to grow clean and organic food when their most basic needs like education, healthcare, and sanitation are not met, is elitist. They need to be provided with the right kind of support for these needs so that they can concentrate on growing food."
To ensure this support system, Beejom runs a school for 140 children of farmers and a free weekly medical clinic for the communities around them. These projects have been christened 'Beejom Shiksha' and 'Beejom Arogya', respectively.
While morning sessions at the school are for kids who do not go to school, the afternoons are reserved for kids who go to school but need additional support. These kids are provided with meals too.
Beejom also runs a self-help group for the wives of farmers. These women, who have lived in a purdah system for most of their lives, are encouraged and skilled to become entrepreneurs.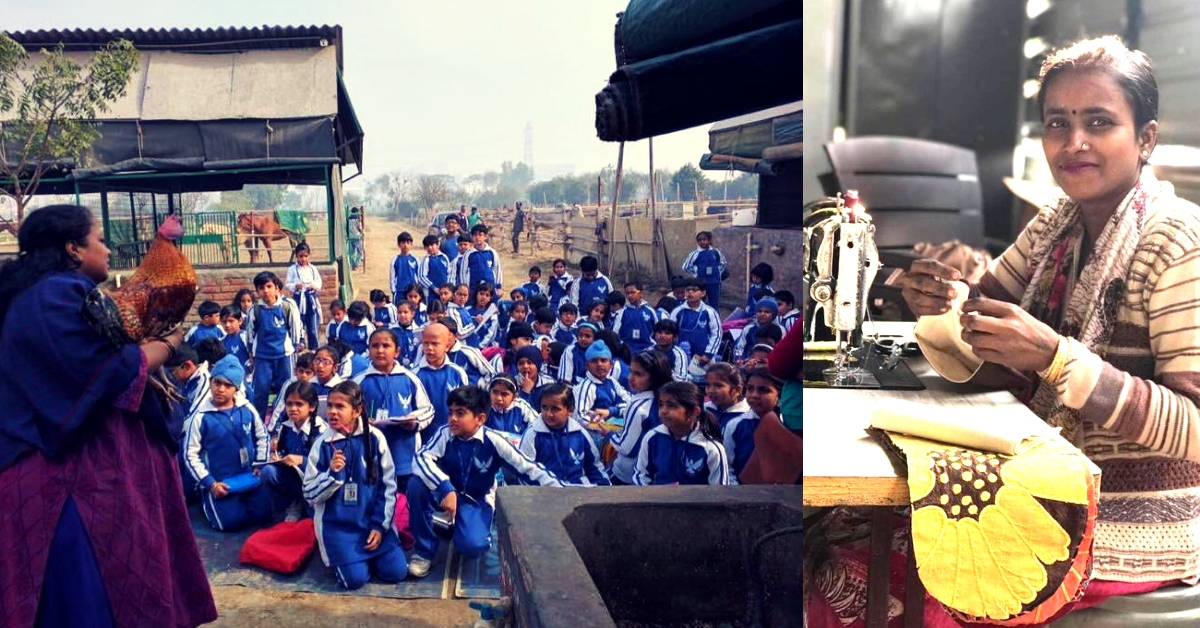 "Instead of seeking jobs outside, these women can earn their living with our special sessions on skill development like tailoring clothes, making lifestyle products like quilts, bags and herb pillows, sustainable alternatives like newspaper bags, bin liners, straws, and pencils. They are also trained in natural farming under the project 'Beejom Samudaay'," says Aparna.
They also teach the women numeracy and alphabets to help them in the business. Besides, gynecologists and other medical experts are summoned to train them on menstrual and maternal health, family planning and pediatric care.
The farm, which has year-round harvests, holds a special mandi every Saturday. This is open to all organic farmers, especially small and marginal farmers who grow their food organically but do not find a market to sell their produce.
"For instance, when a small farmer takes his organic mooli (radish) to an urban market, the general public's instinct is to go for a more white, bright, bigger version of the vegetable, which was grown using urea, as against the organically grown mooli which is misshapen and smaller. The farmer feels defeated and is pushed to switch to chemical farming in the absence of a market. He cannot experiment with his earnings. And so, the idea of our mandi is to give farmers like these the platform to sell their clean food. We do not charge them a penny. And it is an absolute delight to see urbanites interact with these farmers, know the story behind their food and see how it is grown. It helps increase respect for the food grower too," says Aparna.
---
You May Also Like: K'taka Woman Quits Job To Turn Seed Guardian, Grows 200 Native Veggies in 2 Acres!
---
A group of passionate farmer chefs also prepare food from across India for large groups of visitors who like the taste of real India in a home-style setting.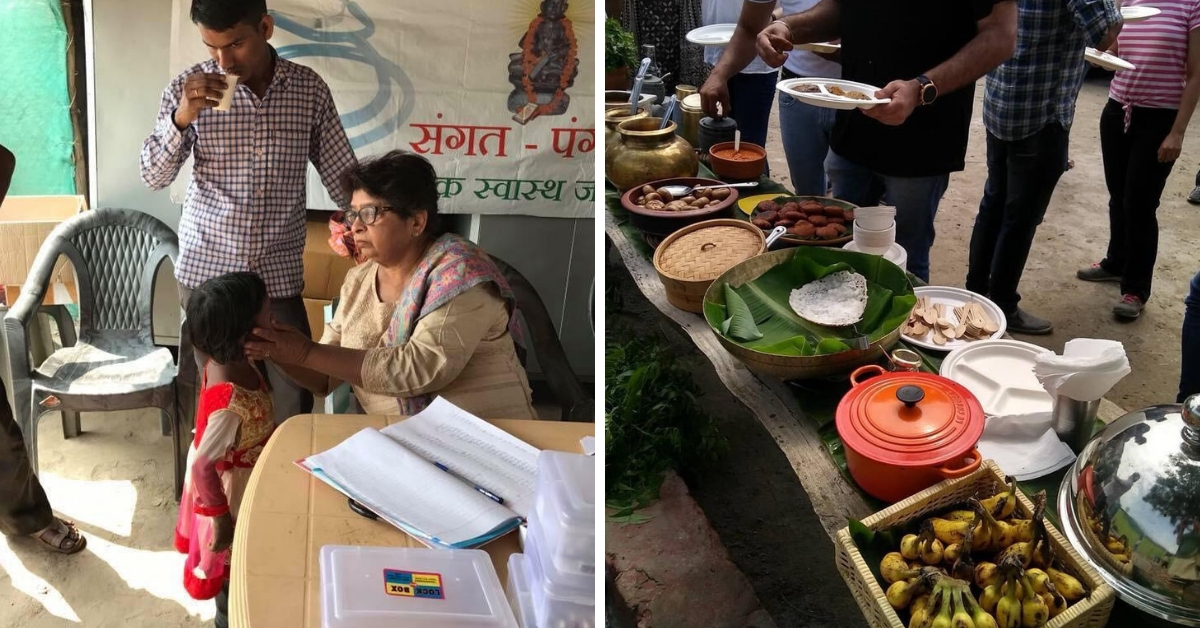 "The most special aspect of our kitchen is that the people who make the food can tell its story, thus staying true to our tagline of khet se pet tak. (from the field to your stomach)."
Besides, children from cities are also allowed to interact with the animals on the farm at the Compassion Workshops held frequently.
Beejom has a special learning programme for groups of school kids and adults for experiential learning. Some activities include animal interactions, shramdaan (donation of labour), dung pot and log-making, seed ball making, along with teaching the use of chakki (flour mill) and silbatta (grindstone).
These visits are usually timed from 9 am-12 pm or 3 pm-6 pm through the week except on Saturdays, when slots are more flexible.
Apart from selling their produce at melas, they also have a zero-packaging kirana dukaan.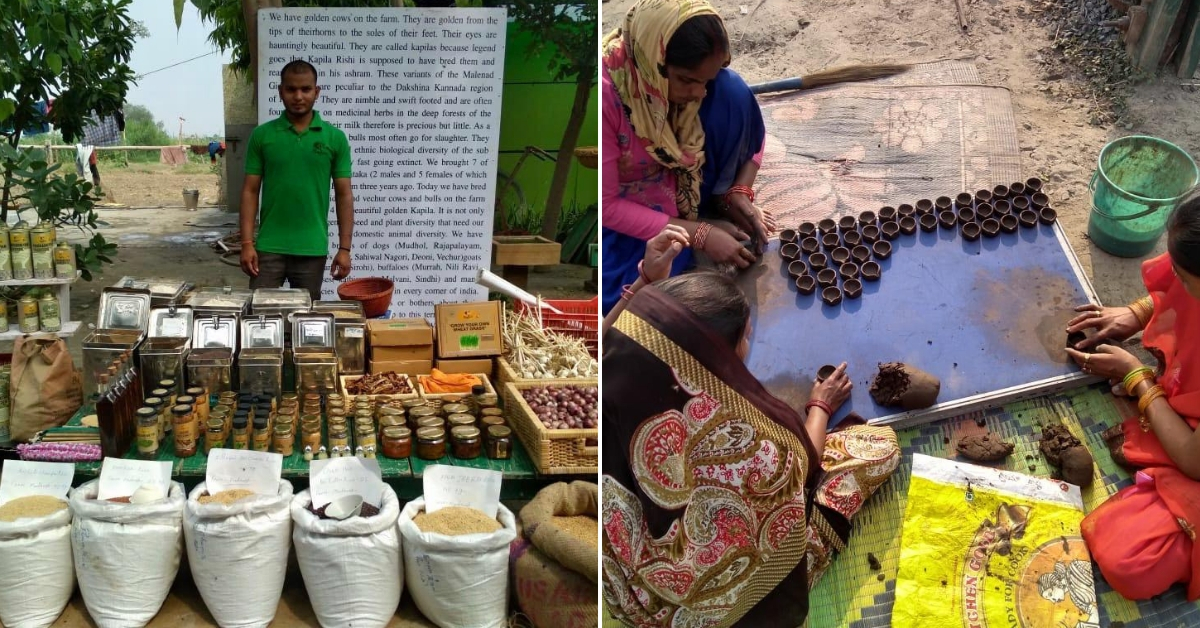 This eco-friendly store in Noida's Sector 51 stores all its grains in steel dabbas and also sells alternative products like steel straws and sugarcane crockery.
Following the tagline, Beejom believes in adding value to most crops they produce.
"At Beejom, we add value to our produce by processing it into organic products. While mangoes from our orchard are used to make pickles, aam papad, amchur powder; moringa is used to make moringa powder; and sugarcane is turned into jaggery; while celery and mint are used to make salts. We also have curry leaf powder and neem powder. It is an irony that while our farmers know how to grow most crops under the sun, they are not entrepreneurs. This is a skill they need to adopt."
Their products are tested, and the produce is sold in Noida to reduce carbon footprints. Aparna adds how they are now experimenting with growing cotton and indigo, and hope to produce cloth one day.
She bid adieu with a message for aspiring organic farmers. "Farming is people-oriented. It isn't a job or a career, but a journey. Even if you cannot take it up on a large scale, start small, from your apartment or colony. There are several options like teaching composting in your community, and growing food on your terrace or community space. Don't hesitate to share your knowledge. It is only when we all join hands, that we can spark a revolution and ride a wave of change."
If this story inspired you, write to Aparna and her team on jaivik@beejom.com. For any queries, contact 8510042768. Check out their website and Facebook page.
(Edited by Shruti Singhal)
Like this story? Or have something to share?
Write to us: contact@thebetterindia.com
Connect with us on Facebook and Twitter.
We bring stories straight from the heart of India, to inspire millions and create a wave of impact. Our positive movement is growing bigger everyday, and we would love for you to join it.
Please contribute whatever you can, every little penny helps our team in bringing you more stories that support dreams and spread hope.