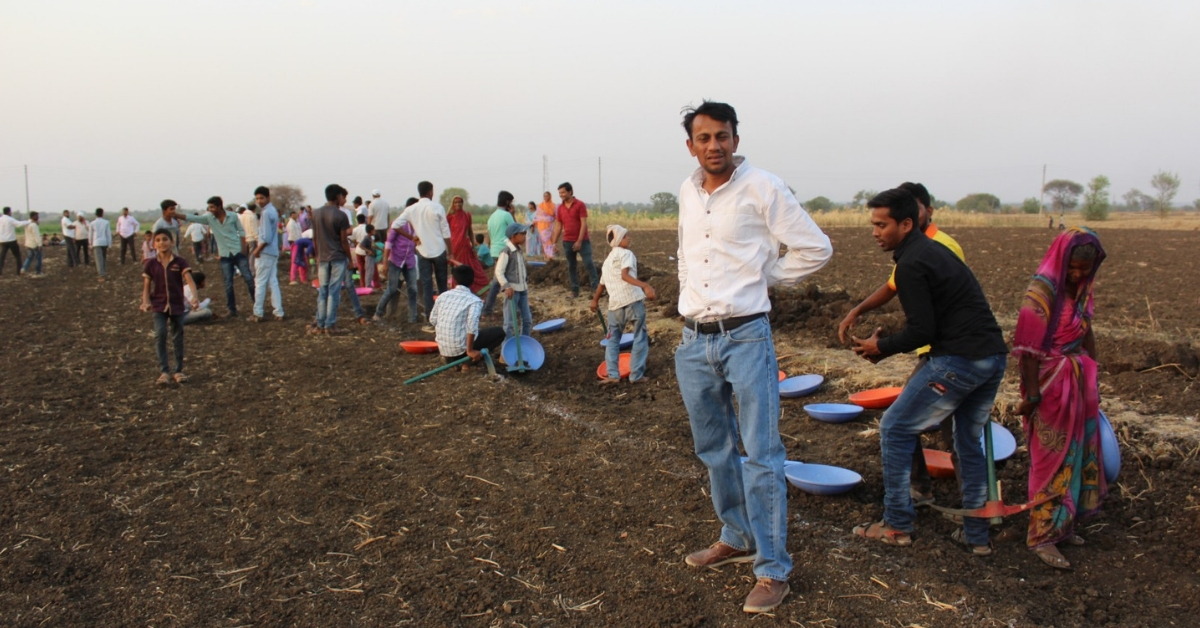 He may be a resident of California's Santa Clara with a lucrative annual package as the Director of Engineering for Yahoo USA, but Halgara remain close to his heart for a very important reason.
Six kilometres away from the Maharashtra-Karnataka border lies the tiny village of Halgara in Latur district. This is the village that US-based engineer Datta Patil calls home.
He may be a resident of California's Santa Clara with a lucrative annual package as the Director of Engineering for Yahoo USA, but Halgara remain close to his heart for a very important reason.
Why?
Because it was due to this young man that the drought-hit village embarked on the path of becoming jalyukt or drought-free in the last three years.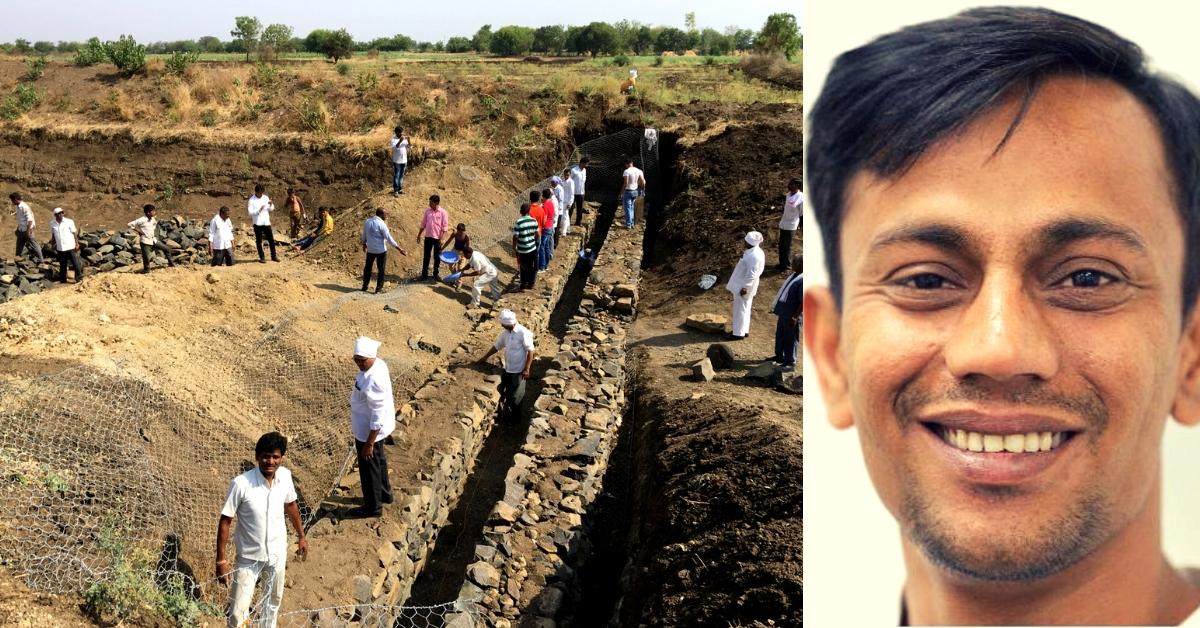 Sounds straight like the plot of award-winning film Swades, right?
Much like Shah Rukh Khan's character Mohan Bhargava in the award-winning film, Datta spent the better part of the last three years recharging the groundwater level and putting Halgara on the map as a model village.
The Better India got in touch the engineer to document his extraordinary journey.
Humble Beginnings
Datta was the first of three children of two marginal farmers in Halgara, who, apart from toiling in their own two-acre field, worked extra hours in other fields to put food on the table.
But even with the little they had, Datta and his siblings never complained. They were taught to live in a content manner.
"My mother is a class 4 dropout. She couldn't read or write, but she always ensured that I read good books. She wouldn't let me or my siblings ever skip school to work in the fields. She always emphasised that education was the only tool that could empower us to break away from the cycle of poverty. She wasn't wrong," says Datta.
He had always been a bright student. He studied at the government school in his village and came to the limelight after he topped class 10. He joined the Science stream and secured the third rank in Class 12.
When he applied for a computer engineering seat at NIT Surathkal, he hardly knew about engineering.
He recalls, "I still remember how clueless I was when I sat in front of the computer for the first time and the teacher told us to log in with our ID and password. I never had anyone guide me about these things and the exposure in the village was limited. This, coupled with the fact that I was surrounded by some of the brightest students from cities across the country, and struggled with a regional schooling background and lack of English speaking skills was very taxing."
"But now, when I look back," he continues, "I realise that being surrounded by people better than I helped me challenge myself positively. I worked twice as hard. I did not speak to anyone in my college for a month because I felt insecure and out of place. But one day, when the teacher gave out the results of a test and told the class I had topped, I told myself: 'There is no looking back'."
It was his determination that helped him work for top MNCs like Microsoft and Yahoo. It was five years ago that he moved to the USA.
The incident that triggered his journey into watershed management at Halgara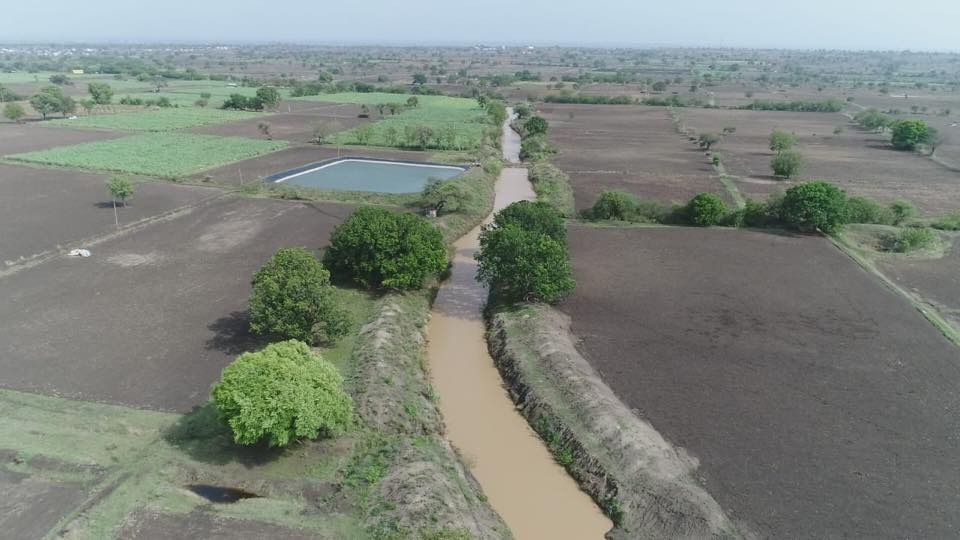 Although he moved to the USA, Datta never forgot his roots. He would make it a point to travel to India once a year, visit his family in Halgara, and take them on pilgrimages.
It was during one such visit in 2016 that he forayed into transforming Halgara.
"When I was in the USA, I would often read about the increasing farmer suicides in India. Although it stirred a reaction within me, the feeling fizzled out because I had no touch with the ground reality in rural Maharashtra. In visited Halagara in 2016 just around the time when Latur saw one of its worst droughts. National newspapers flashed headlines of how Latur had to rely on trains with water tankers even for drinking purposes."
When he first landed, Datta's 15-day plan was set. He would take his family for a pilgrimage to Pandharpur, meet his friends in Bengaluru and return.
Little did he know that the five hour trip to Pandharpur would turn this plan on its head.
"We woke at 5 am that day, boarded the car and packed some breakfast for the way. It was a family tradition to halt on the way near a lush field, sit in the shade and devour our homemade food. But that day, we drove and drove. And for hours, there wasn't a green patch in sight. It felt like we were on a parched desert stretch in Rajasthan. This was nothing like the place I grew up. It was then that the gravity of the drought sunk in. When I enquired, my father lamented the distress of farmers in our village. I just kept quiet for the rest of the trip and retrospected about what I could do."
When he returned to California, he decided to research the annual rainfall of Halgara. Incidentally, California too is classified as a drought-hit region in the USA. So he started drawing parallels.
"California has been affected by drought for five years, but never did I have to order a tanker or face water cuts. We bathe in bathtubs and have numerous green patches around us. In 2016, the annual rainfall in Santa Clara was 400 mm, whereas Halgara received 800 mm of rainfall, which is almost double. Then what was it that we were doing wrong?" Datta wondered.
When he dug deeper, the engineer realised that California's groundwater level was at 70 ft, but Halgara was dug as deep as 800 ft in search of groundwater.
So clearly, the definition of drought, when based upon groundwater levels and the locations, was jarring.
It was also around the same time that Satyameva Jayate and Aamir Khan's Paani Foundation announced its Water Cup contest.
This is an annual competition between different villages for watershed management.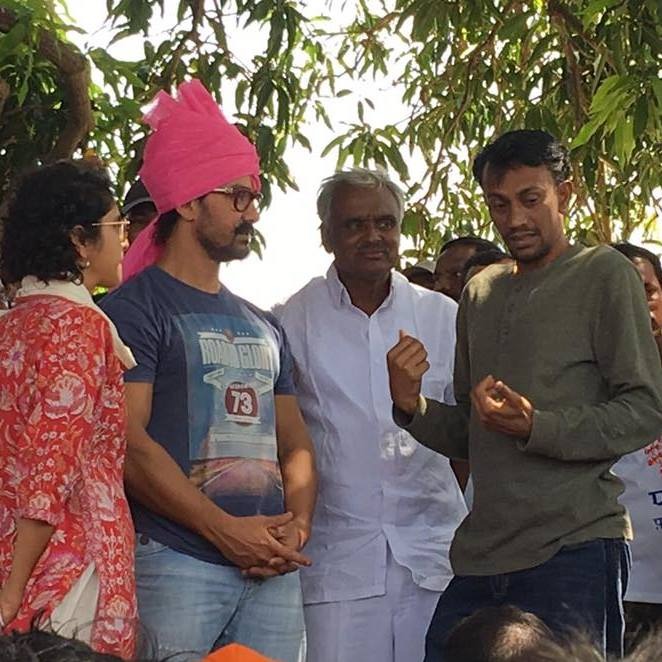 Datta returned to Halgara with his family and spent almost three lakh rupees from his own pocket to start the watershed activities.
His idea was simple. To preserve every drop of rainfall in his village by helping it seep into the ground and recharge the groundwater table, rather than allowing it to run off.
The first step was desilting the 20 km canals in Halgara. It was only when the silt covering the riverbeds was cleared, that the water seeped into the layers of the ground below.
"Even if we manage to ensure that 30 per cent of this water (that runs off from the river beds into the sea) recharges groundwater tables, we can bring over 50 per cent of Indian agricultural land under the secure water zone," informs Datta.
The work was on a large scale and the funds, very low. Around the time, he also hosted a meeting with the villagers. His vision ensured that the villagers not only committed an amount of Rs 5 lakh in the first meeting but also put in two hours of shramdaan (donation of labour) to do the work on the ground.
Datta also created an extensive presentation on the Halgara project and presented it to top authorities at Yahoo USA. Moved by his passion and determination to revive his village, the MNC's Corporate Social Responsibility wing extended help to the tune of over one crore rupees in the next three years. Till date, his personal contribution to the project has been over 22 lakhs.
Apart from desilting canals with his motivated team which consisted of friends, families, and villagers, Datta built 26 check dams.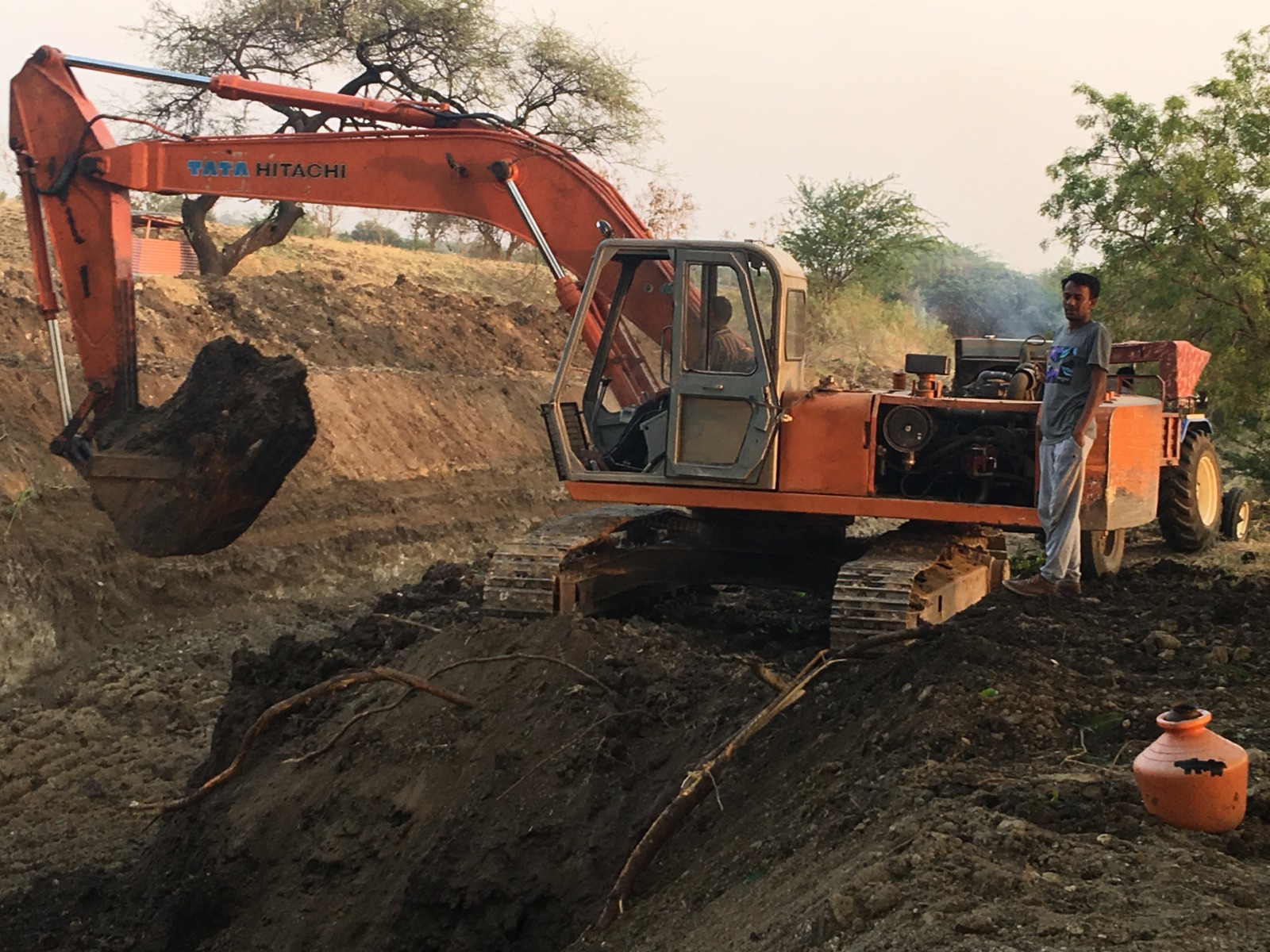 This ensured that the flow of the water in the rivers was slowed, thus giving it more time to seep into the ground. They also used about 1,500 hectares of farmland to create compartment bunds to store water during the monsoons.
The success of the project helped Halagara save over two hundred crore litres of water.
The impact of the project is visible in how the groundwater level of Halgara, which was previously at a depth of 800 ft has now risen to 100 ft.
Moreover, in the last two years, Halgara has been receiving more rainfall too!
From gathering funds at Indian temples abroad to walking into a Marathi Cinema theatre and requesting the owner to allow him to speak to the audience to seek support, Datta did it all for his village. He also connected with youngsters from the village who had migrated elsewhere to extend their help to make the dream of conserving water a reality in Halgara.
Each day, he would keep aside three hours in his schedule, coordinating with experts, seeking technical guidance and documenting the work happening on the ground.
"There were several pessimists who thought I would never be able to do it. It was difficult at the start, but I stuck to my gut. Once I reached out to more people, the support for my vision amplified. Wherever I spoke in India or the USA, whether at a festive gathering or before a film screening, I never returned empty-handed. And I cannot thank any of these well-wishers enough," he smiles.
If you were to look at the satellite images of Halgara before 2016 and after 2018, you'd be stunned at the green cover that now graces it.
---
Read More: This Crucial Innovation Removes Deadly Arsenic From Our Water For Just 60 Paise/Litre
---
Today, many of its hard working farmers are earning 300 times more than ever.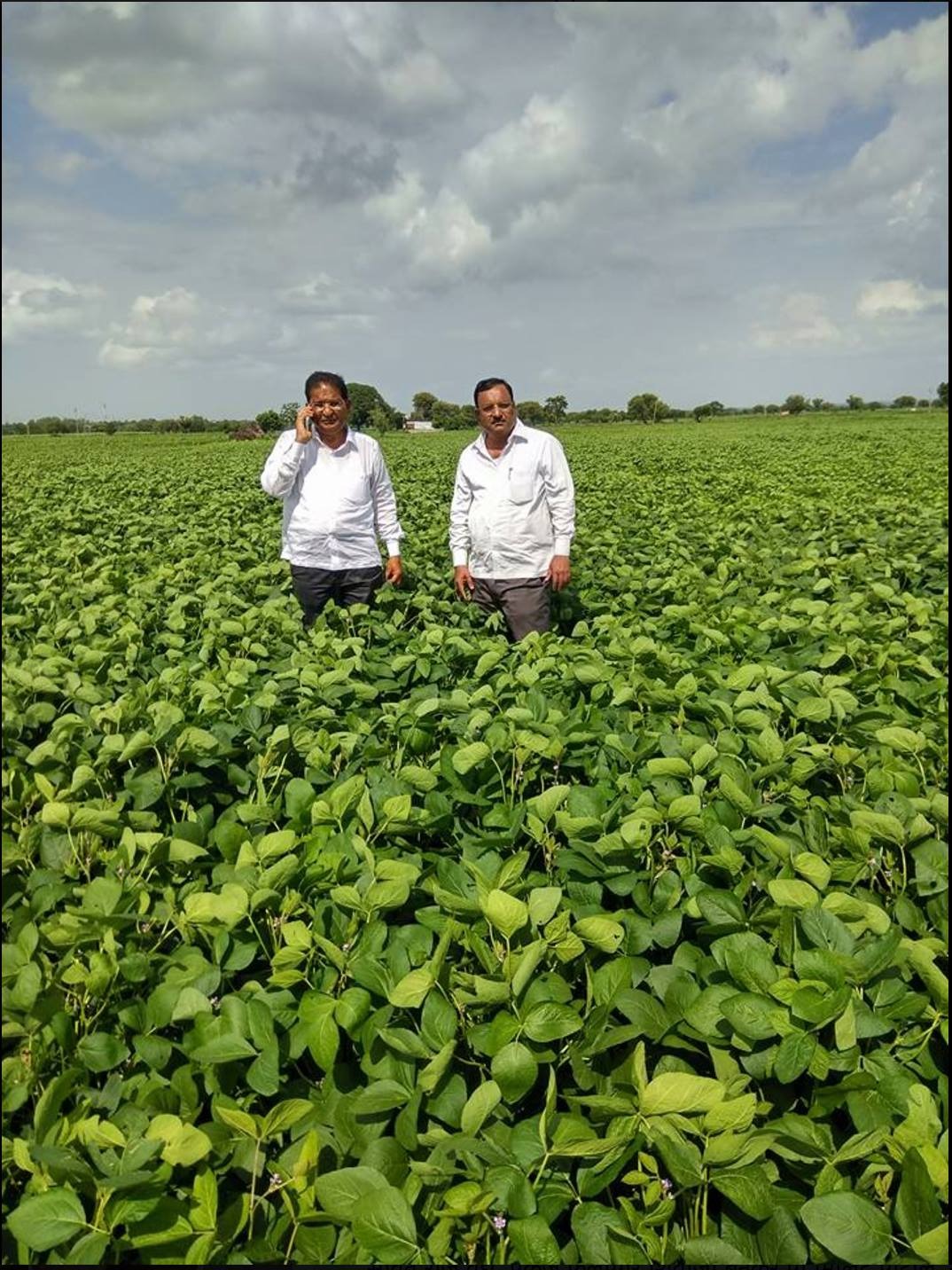 Datta signs off with a message for changemakers, "Bringing positive change is not easy. You will face hurdles that can break your enthusiasm within a month. There will be naysayers and pessimists who will tell you that your effort is a waste. But if you believe in your vision, don't give up. Stick to the fight and be persistent. Once you have your pace set, the support will amplify. But it will all happen in due time."
(Edited by Shruti Singhal)
If this story inspired you, get in touch with Datta Patil on dattap@yahoo.com.
---
---
Like this story? Or have something to share?
Write to us: contact@thebetterindia.com
Connect with us on Facebook and Twitter.
We bring stories straight from the heart of India, to inspire millions and create a wave of impact. Our positive movement is growing bigger everyday, and we would love for you to join it.
Please contribute whatever you can, every little penny helps our team in bringing you more stories that support dreams and spread hope.
Tell Us More