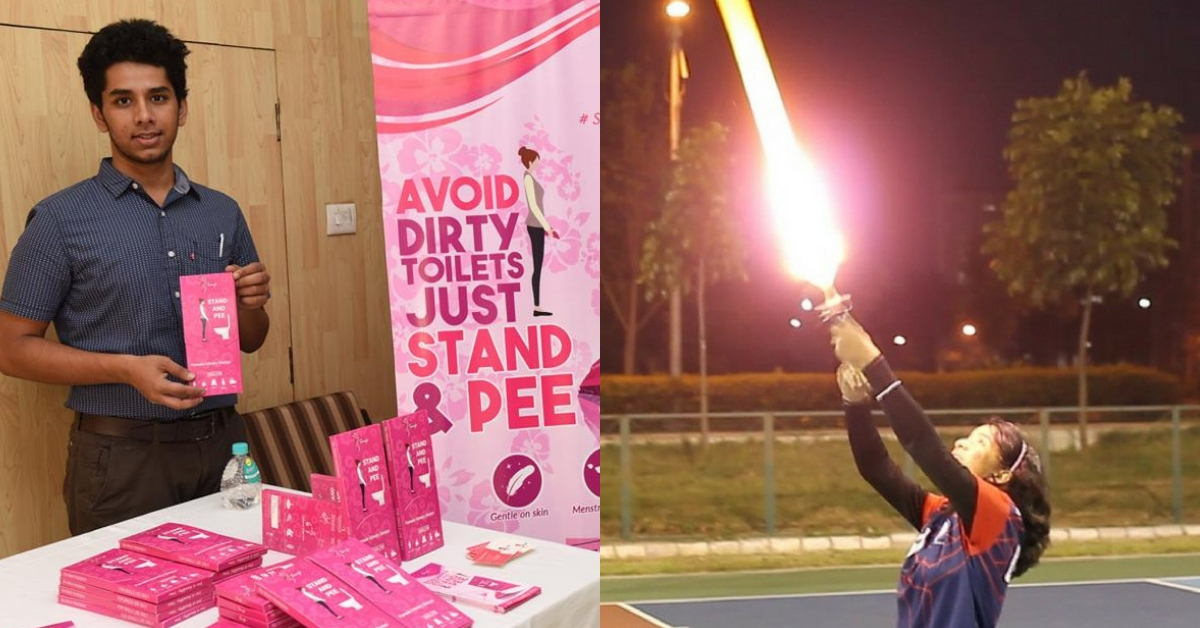 From a Rs 10 device that allows women to avoid UTI by standing and peeing, to the machine that could filter 90,000 litres of water in six months without electricity, here are our top ten picks for 2018's coolest Indian inventions!
2018 saw some of the most mind-boggling innovations that demanded our attention and also hoped to solve some very important problems that our country and people grapple with.
From a Rs 10 device that allows women to avoid UTI by standing and peeing, to the machine that could filter 90,000 litres of water in six months without electricity, here are our top ten picks for 2018's coolest Indian inventions!
1. Attention, Ladies! This Rs 10 'Pee' Device Will Help You Use Public Toilets Safely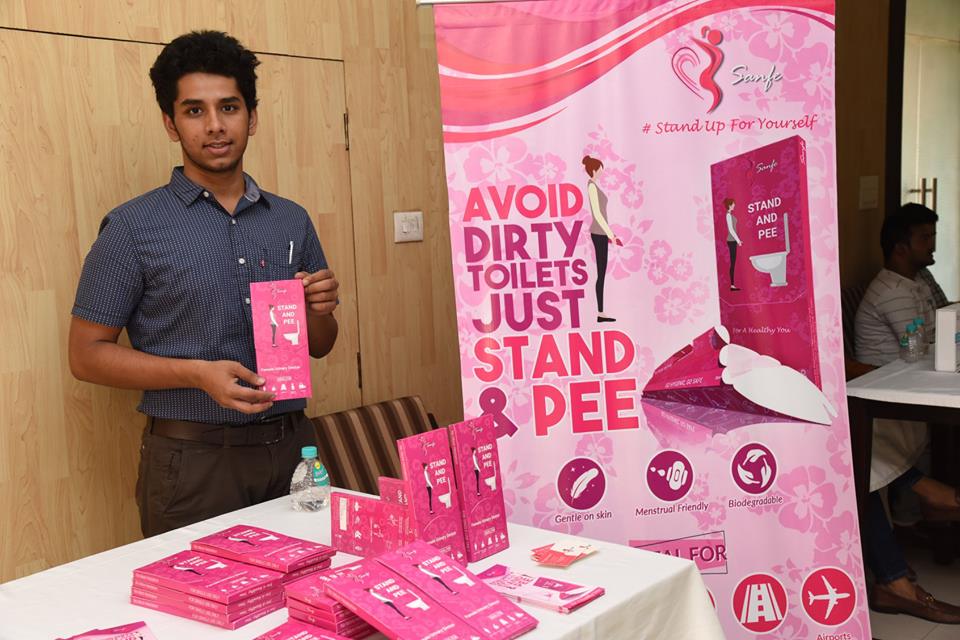 Harry Sehrawat and Archit Agarwal—third-year students of textile engineering at IIT-D visited many public loos only to find most of them unhygienic and unfit for use.
This, they realised, was also a leading cause for Urinary Tract Infection (UTI) in women. And so, the duo developed Sanfe, a low-cost device that fully eliminates body contact with toilet seats for women, so that they can stand and pee!
Made from biodegradable paper, menstruation-friendly, with a one-time use, Sanfe is being sold at a meagre price of Rs 10! It is compact, can be carried in a purse and comfortable for a one-handed grip.
Read more here.
2. Nashik Teen's Life-Saving Innovation Can Prevent Human Stampedes
In 2013, when Nilay watched the news, 39 people died in a stampede during the Nashik Kumbh Mela.
During KumbhaThon, an event organised in 2014 to develop ideas and innovations that could help Nashik during the mega event, Nilay wanted to work towards addressing the problem of crowd flow and human safety.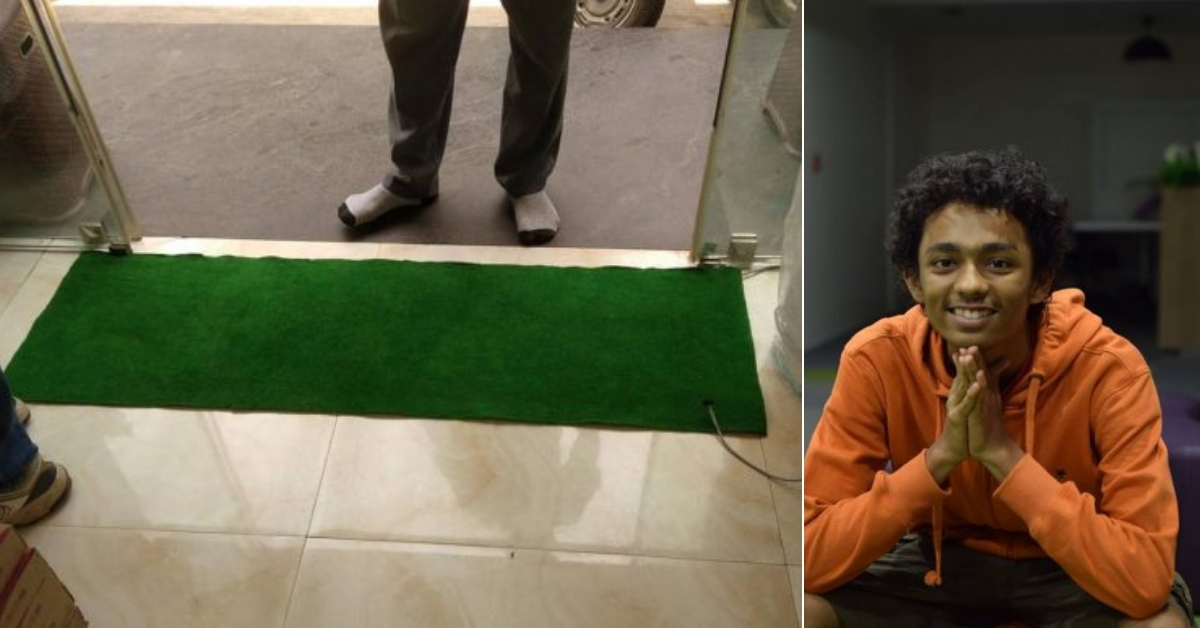 Alongside a team, he used advanced analytics to collect data—the number of people, the location and the rate of people/min—to understand how stampedes could be predicted ahead of time.
Putting them together with aluminium foil and cardboard, they created a prototype of a pressure-sensitive mat that could count footfalls.
With this data available from multiple points, he claimed that it would be easy to create a heat map that could predict if a particular pattern of the moving crowd would eventually lead to a dangerous density and accordingly, alert the authorities to prevent stampedes.
Read more here.
3. Mumbai Kids Build Unique Machine That Turns Banana Leaf Into Food Packaging!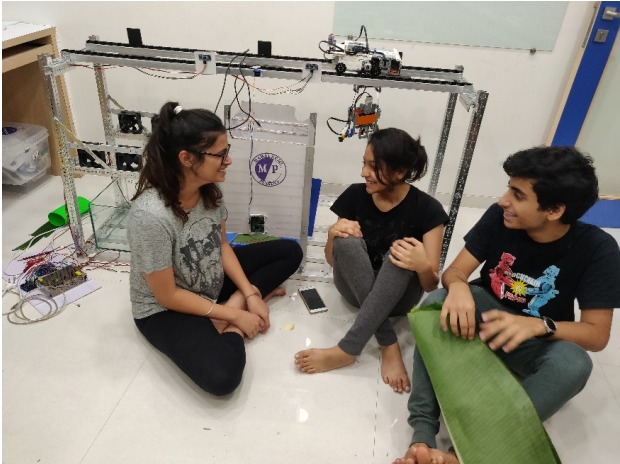 Three teenagers from Mumbai's On My Own Technology (OMOTEC) Institute are using locally-available and financially viable banana leaves for packaging!
Christened EverGreen, they built a prototype which could secure food hygiene while also ensuring additional income for farmers.
"During our research, we figured how banana leaf packaging could be a good source of additional income to farmers. In most cases, farmers dispose of the banana plantation after it bears fruit only once a year. Shockingly, 106 million tonnes of banana leaves are wasted each year. So the method could be a great way to give this food waste a new lease of life, while also avoiding health and environmental hazards," says Shreya Agrawal.
How is it cost-efficient?
One metre of banana leaf costs about Rs 5, while plastic and aluminium foil cost anywhere between Rs 40 to Rs 60.
Read more here.
4.The Engineering Student's Low-Cost Innovation Can Save Your Life In A Car Crash!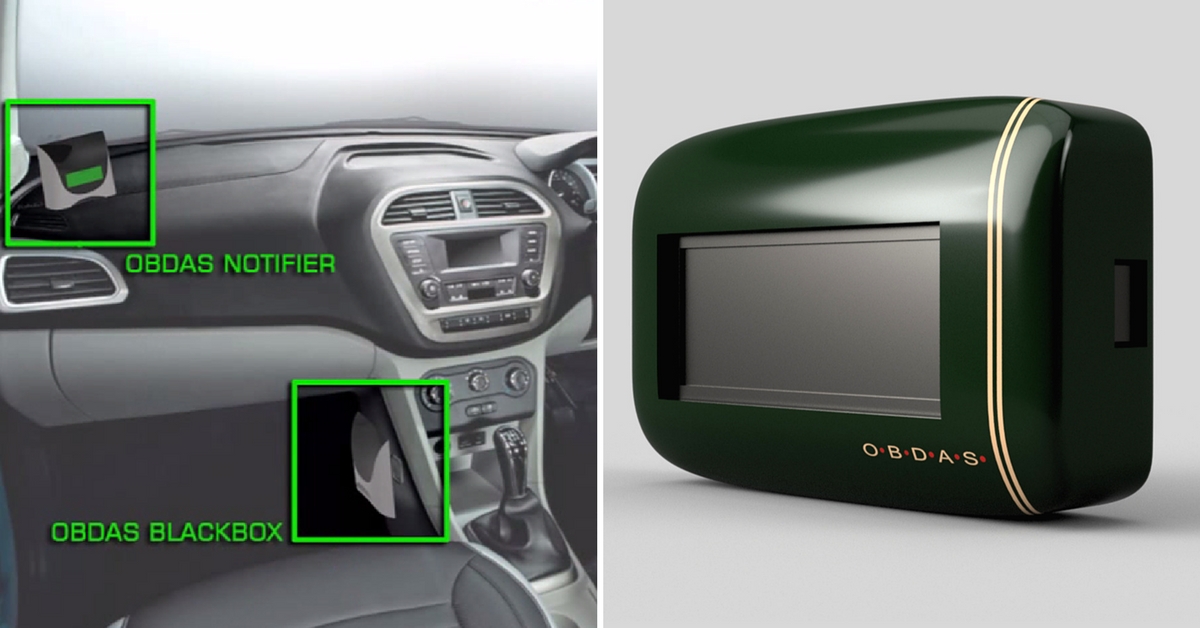 Archit Agarwal, an engineering student of UPES, has developed an award-winning technology called 'On-Board Diagnostic Data Analysis System—OBDAS'.
It is a plug-in technology that uses data interpretation and diagnostics of a vehicle through an onboard diagnostic system, which will allow automobile and auto insurance companies to track the real-time data of your car.
This data will then be communicated to reliable sources for varying purposes–from tracking the performance of your car to providing you with on-time car maintenance. It also has an in-built anti-theft and surveillance functionality.
Most importantly, in case of an accident, the OBDAS system will send the location of the car to emergency services, thus preventing deaths.
Read more here.
5. Green Plates from Paddy Stubble: IIT-D Innovation Fights Pollution While Making Farmers Richer!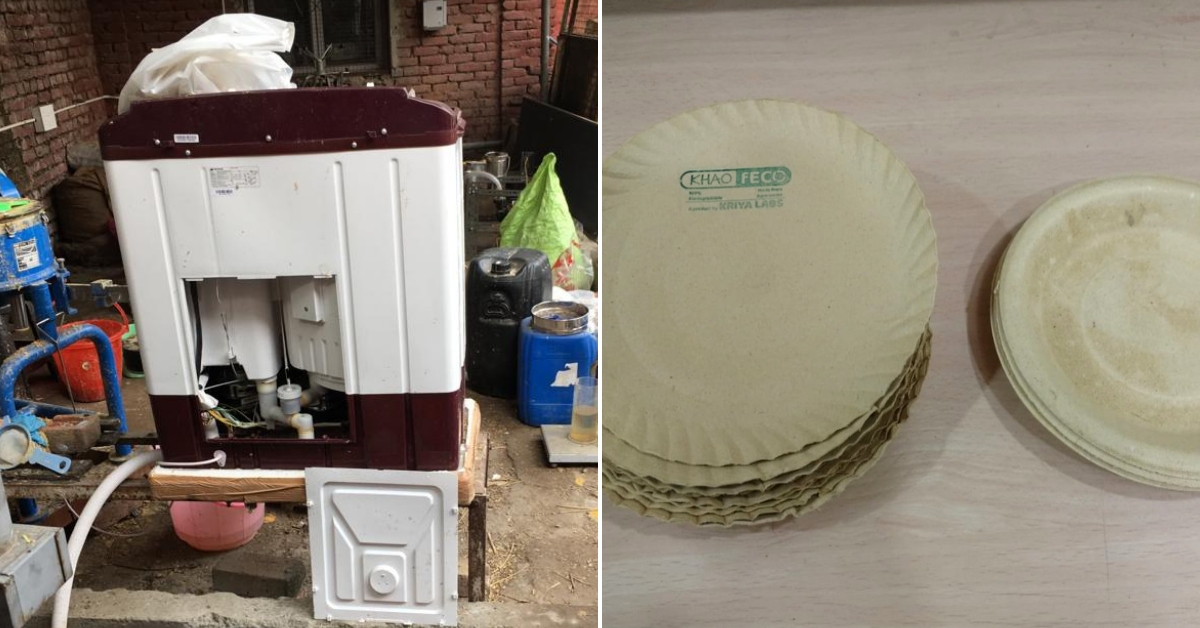 Do you know what causes most farmers to burn crop stubble, specifically paddy straw?
The absence of its market.
While other agricultural residues like wheat straw and bagasse have uses, paddy straw remains unexplored as an industrial raw material or even cattle feed. And so, to avoid the additional financial burden of collection, transportation and storage, farmers choose to burn it.
But a team in IIT-Delhi has developed a sustainable solution to avoid stubble-burning while also helping them earn profits.
They have developed a process which converts paddy straw (agro-residue in general) into different grades of pulp, which can later be used as raw material for various end-applications like making paper, biodegradable tableware, fabric, bioethanol etc.
In light of the recent plastic ban in several cities, the demand of compostable tableware has increased exponentially. The team aims at encouraging farmers to collect and transport their agro-residue to local entrepreneurs, who will then turn the straw into pulp and sell it off to businesses that make biodegradable products from them.
Even if the cost of collection, transportation etc. is around Rs 2,500/acre, the sale of the straw will at least earn them Rs 5,000/acre. This is equivalent to 100% profit.
The team has named the disposable tableware from this pulp, KhaofECO. Made from agro-waste, they decompose easily and cause no damage to the environment.
Read more here.
6. 23-YO Indian Scientist's Brilliant Innovation Can Eliminate the Need for Braille!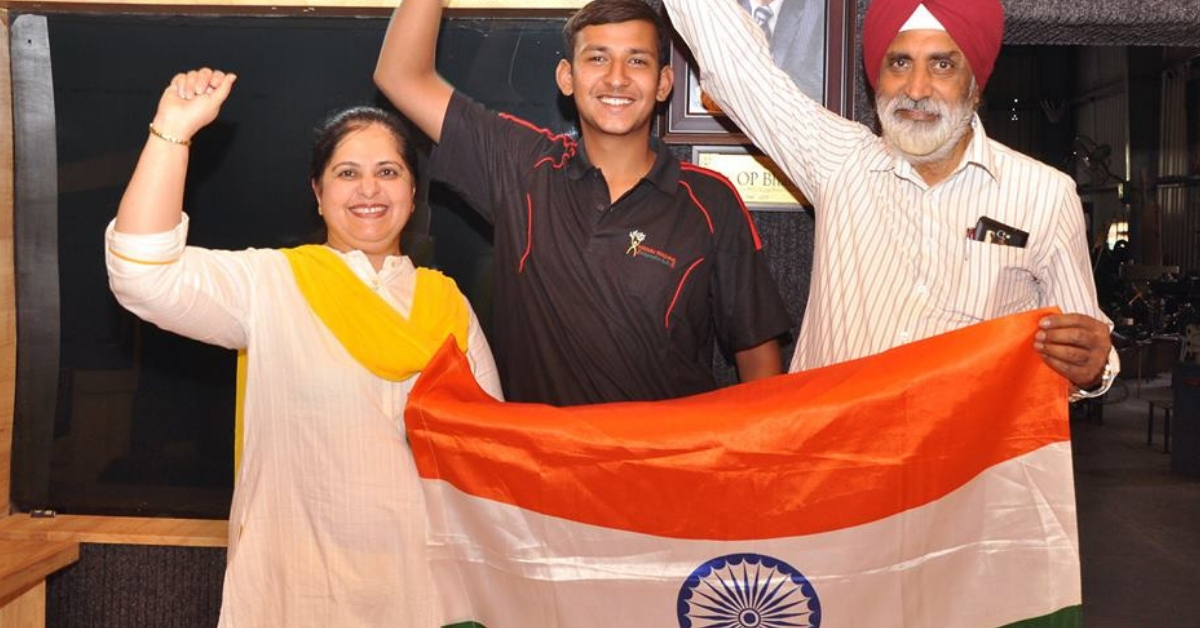 Roopam is only 23, but the young lad has innovated what is dubbed 'the world's first intelligent wearable virtual assistant' that can spell hope for visually-impaired who cannot understand braille.
It combines the power of vision intelligence and the Internet of Things in the form of a wearable.
The idea behind Roopam's startup Manovue, therefore, is to make the world accessible for the visually impaired by simply letting them point a finger towards any printed or digital texts before the text is read out loud to them.
Explaining the process in simple words, he says, "Manovue basically functions as a wearable glove and integrated mobile phone app, which enables the user to read any printed text by moving his/her finger over the text."
And so, the system eliminates the need for braille to decipher a printed text and instead uses artificial intelligence to help the visually impaired read.
Read more here.
7. The Scientist Behind Smoke-Free, Debris-Less & Low-Cost Firecrackers!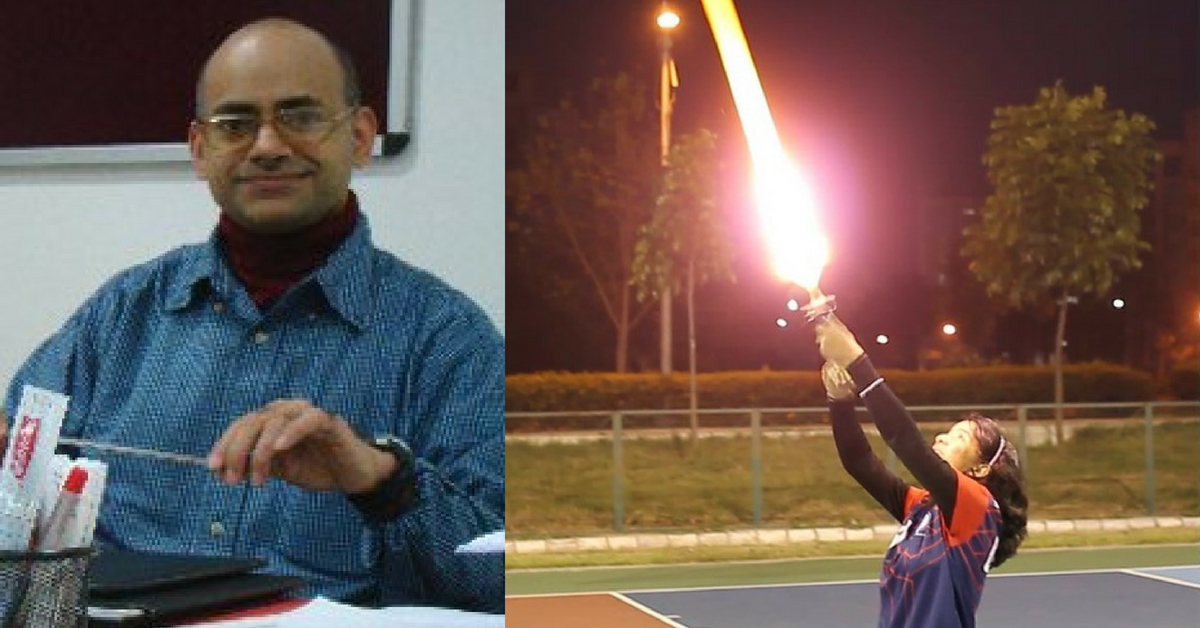 'How do you burn crackers and also ensure they don't hurt the environment?
Well, Dr Samrat Ghosh, an Assistant Professor at the Department of Chemical Sciences, Indian Institute of Science Education & Research (IISERM) in Mohali, has the answer.
The man is developing 'green' firecrackers that are safer, smoke-free and most importantly, reusable!
These firecrackers can be used under any weather conditions and are equally safe for use by kids and adults. Moreover, they are made using recycled plastic bottles!
Explaining the mechanism, Dr Samrat says, "I have filled combustible material in the disposable bottle. This material is ignited with a source, like a spark. The launcher ignites the material which burns and generates pressure, pushing the bottle upwards, like a rocket."
He calls it one of the safest methods of bursting crackers, based on the pilot that he conducted. "In the community I have tested this, even four-year-old kids feel comfortable operating this. Additionally, the combustive recipe in the device is very benign and not at all harmful for the user and the environment."
With no smoke, the sound level of the device can be adjusted to suit your needs. It also ensures that no debris is formed. "Instead of smelling like gunpowder, you can smell like lavender at the end of the day," Dr Samrat states.
Read more here.
---
You May Also Like: The 10 Extraordinary Stories of Everyday Indians That Inspired Us All in 2018
---
8. This Crucial Innovation Removes Deadly Arsenic From Our Water For Just 60 Paise/Litre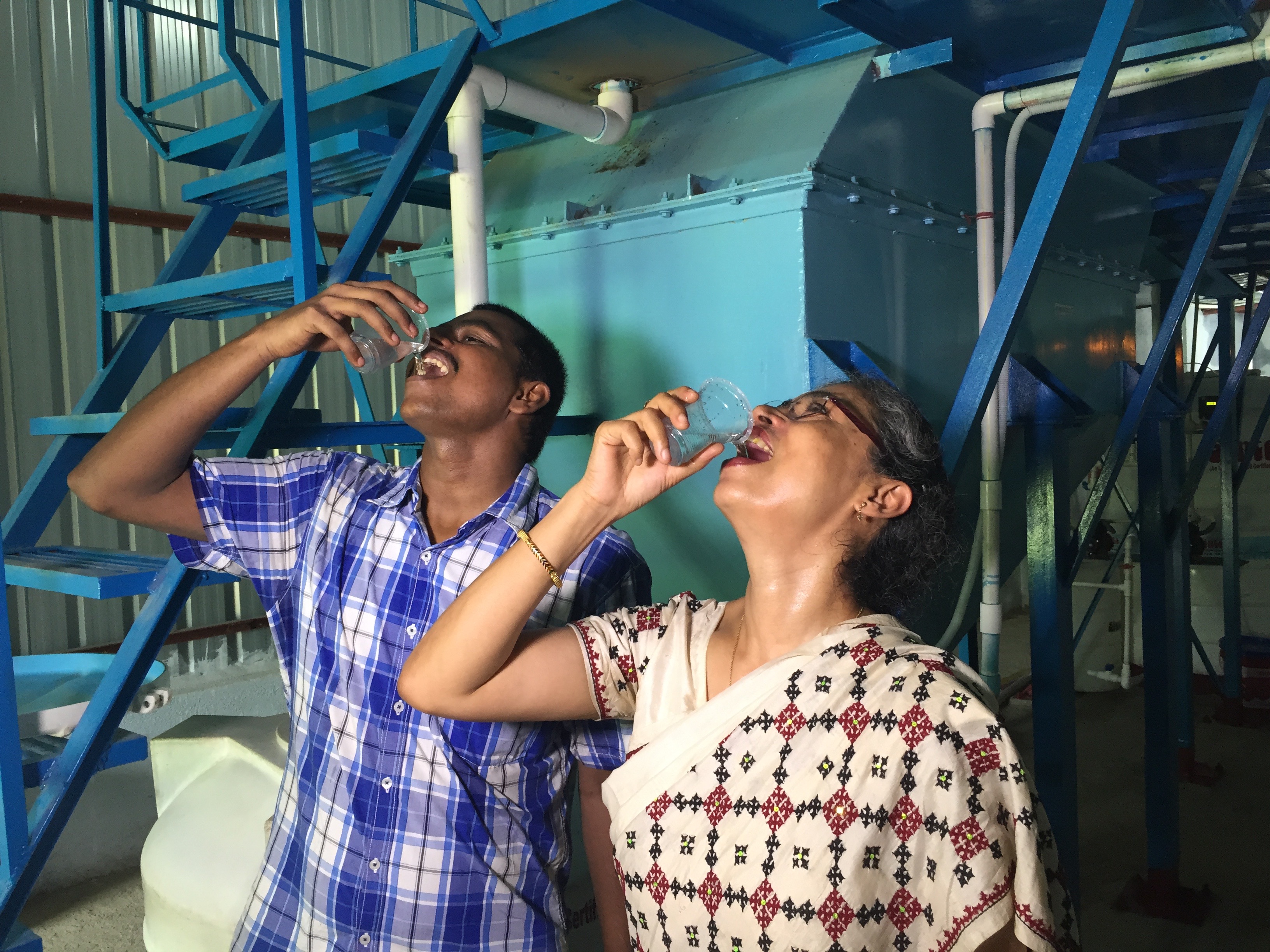 A team of top researchers from the University of California, Berkeley, led by the famous Dr Ashok Gadgil and Global Change Programme of Jadavpur University, led by Prof Joyashree Roy, have set up an efficient and cost-effective system called Electrochemical Arsenic Remediation (ECAR) for removing arsenic contamination from drinking water.
These researchers have been operating an ECAR-based water treatment plant from a government school at Dhapdhapi village in the South 24 Parganas district of West Bengal, to deliver safe and arsenic-free drinking water to locals at affordable costs.
"ECAR uses steel electrodes immersed in the water to be treated, and a low-voltage power supply connected to them. During water treatment, rust is created. The rust oxidises and captures arsenic, coagulates, settles, and is filtered out."
The plant uses post-treatment filtering and UV treatment to provide additional layers of protection to ensure the product-water is fit and pleasant for drinking. The arsenic-bearing sludge from the plant is also managed safely to ensure that the arsenic does not re-enter the environment.
Apart from undergoing multiple long-term design tests across different locations, the water from the plant is also regularly under the microscope at nationally accredited water-testing laboratories.
Read more here.
9. Farmer Son's Low-Cost, Zero-Electricity Purifier Cleans 500 Litres of Water Daily!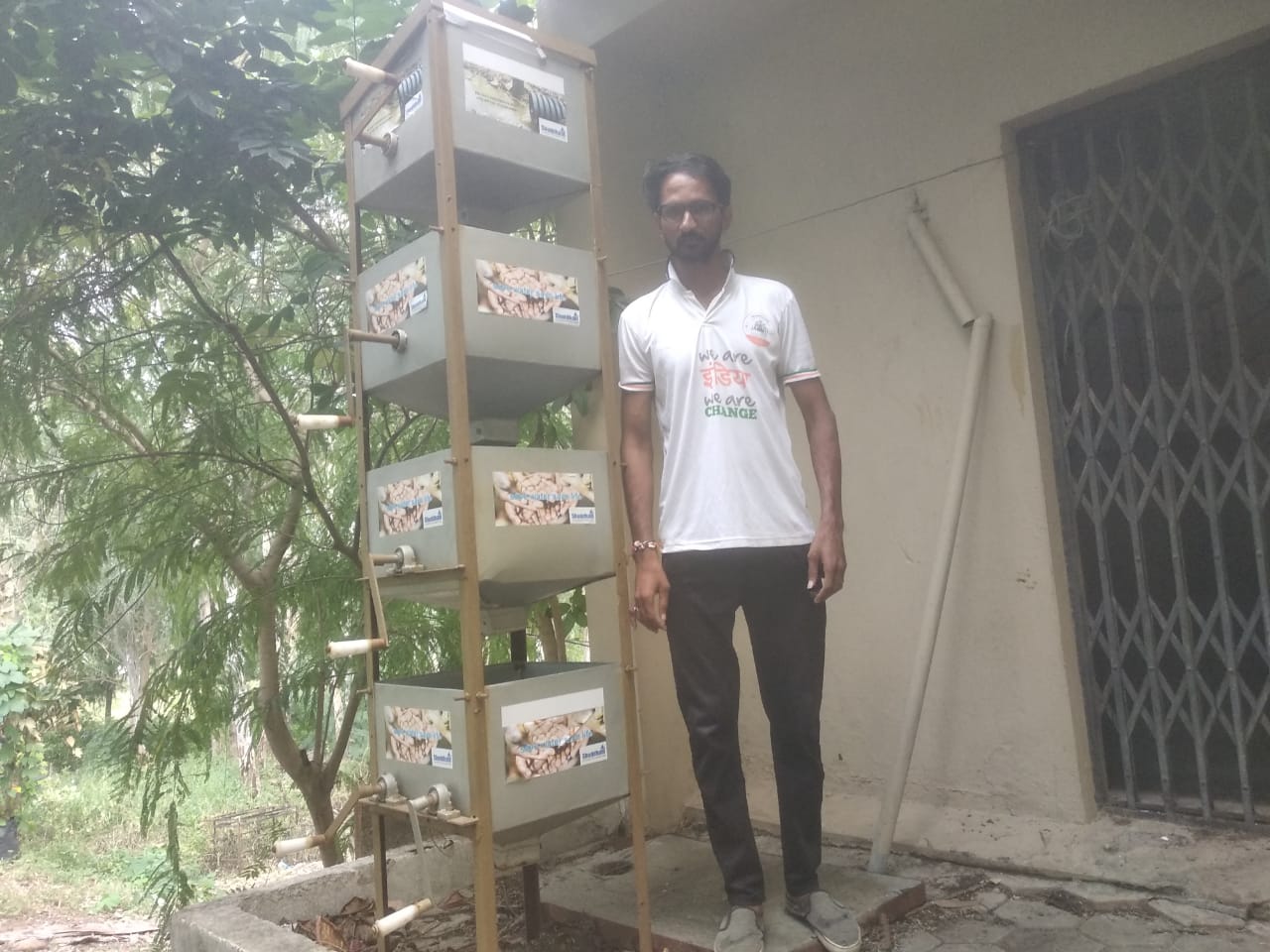 A trip to interior Madhya Pradesh in 2013 pushed Jitendra to come to terms with the rattling water scarcity in rural India. He was shaken as he watched locals sitting on a cot and bathing with a small container. The water that cleansed the dirt off their bodies was collected in another vessel and reused for other household purposes like washing clothes, watering plants etc.
It was at the time that this son of a marginal farmer decided to find a solution. The answer to which was his innovation–'Shuddham'. A low-cost water filter, it can filter 90,000 litres of water in six months and uses no electricity!
'Shuddham' works on the principle of gravity, where it repurposes water used in washrooms, by making it undergo a series of filtration procedures and then releases the recycled water from the machine's lower-most segment.
"The water is cleaned within a few minutes through granular sieving, which is followed by active carbon ultrafiltration. The machine is also equipped with an anti-choke mechanism, which ensures no blockages in the flow of the water and that dirty granules do not mix with the clean, purified water." This water can be used for secondary purposes, not cooking or drinking.
Built at the cost of Rs 7,000, the maintenance of the machine is as low as Rs 500-700, which is only required once a year, to replace the granules in the machine.
Read more here.
(Edited by Shruti Singhal)
Like this story? Or have something to share?
Write to us: contact@thebetterindia.com
Connect with us on Facebook and Twitter.
We bring stories straight from the heart of India, to inspire millions and create a wave of impact. Our positive movement is growing bigger everyday, and we would love for you to join it.
Please contribute whatever you can, every little penny helps our team in bringing you more stories that support dreams and spread hope.