Dilip Kumar, a 24 year old man, was shocked to know that only 12 percent of women in India use sanitary napkins. He did his research and started Sukhibhava, a non-profit social enterprise that caters to the menstrual needs of urban poor women. From distributing low cost napkins to organizing information sessions, here's how Sukhibhava is leading this ignored section of the community to a healthier future. 
Like any other family, Dilip Kumar's family too wanted him to pursue higher studies and become an engineer. He completed his Bachelors in Business Administration and got a Master's degree from Cambridge, UK.
Everything was going as per plan. And then his life took a 180 degree turn when he chose to sell sanitary napkins to the urban poor over a high paying job. Sounds unusual? Yes, inspiring stories are often unusual and leave a great impact. Kumar's story is one of those.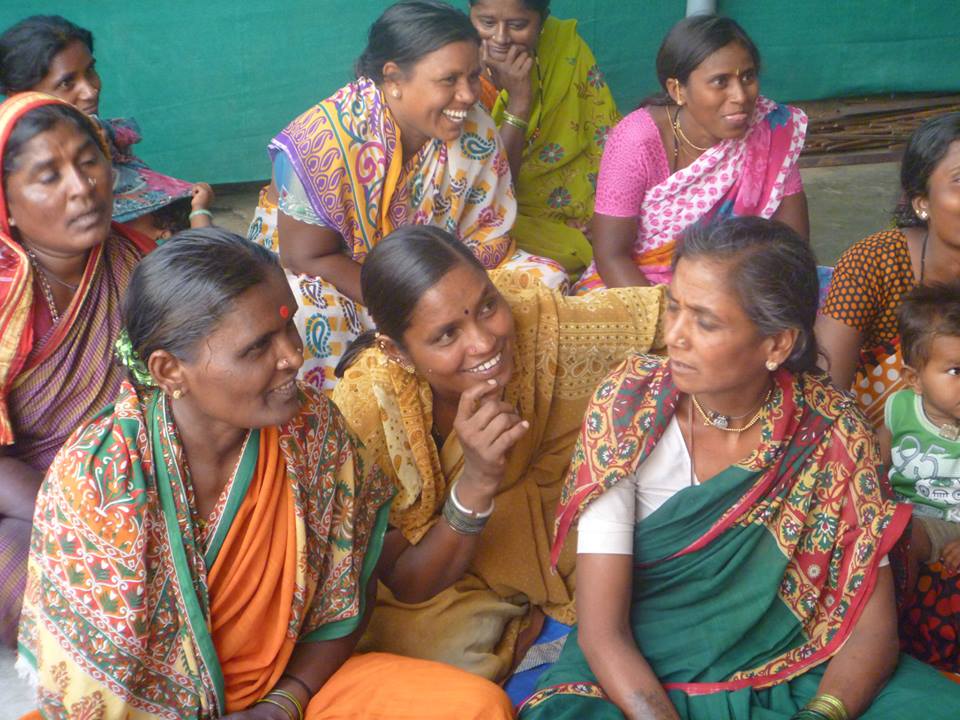 At a time when talking about menstrual hygiene is still a taboo, this young man has started an organization Sukhibhava, a not-for-profit social enterprise based in Bengaluru that caters to the menstrual needs of poor women in Indian cities.
"Most of the initiatives and products either focus on rural women or on the high income segment, and this section of the community, which is equally important, is often ignored. That is why I decided to focus on this community," says Kumar.
The poor state of menstrual hygiene in the country is not unknown. Women have been using scrap cloth from old saris or towels in place of pads from hundreds of years. Some women, who cannot afford sanitary napkins, use locally available materials such as sand, ash, rice husk, plastic and paper.
This is not only unhygienic but also hazardous to their health. Sukhibhava, through its various initiatives is ensuring a healthier future for women in India.
Sukhibhava organizes various education sessions, spreads awareness and provides affordable menstrual hygiene products to urban poor women who previously did not have access due to economic or awareness factors.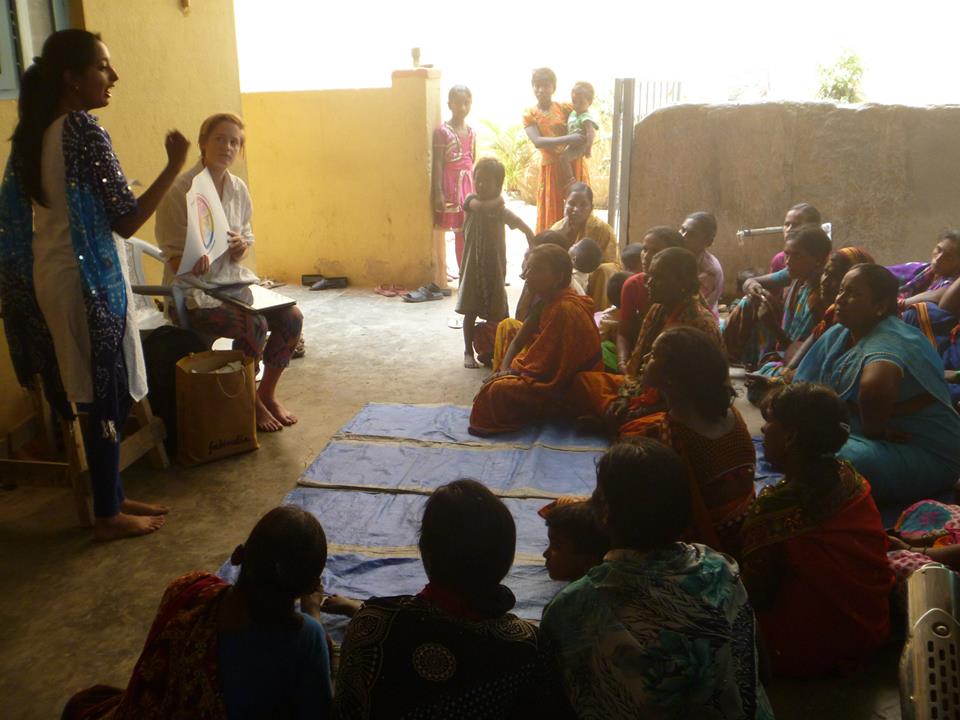 The start
After finishing his masters in Social Welfare and Social Policy at Cambridge University, Kumar came back to India and worked with a bunch of Australian students on a solar project, Pollinate Energy, which focused on installing solar lamps in urban slums.
One day, an Australian fellow asked him about the condition of menstrual hygiene in India. "And, I didn't have an answer to that. I didn't know anything about it!" says Kumar.
"I researched and found out that only 12 percent of the women in the country use hygienic menstrual products. I was shocked, and when I went on the field, I saw that the situation was even worse," he continues.
Kumar then started Sukhibhava in 2013 to meet the menstrual needs of urban poor women. Being a young guy and talking about a topic like menstruation was not easy but it pulled a lot of attention.
"The ladies would giggle and wouldn't be comfortable in talking about it. I had to ask the female volunteers to explain our initiatives to them," Kumar says.
Being judged by the people was yet another challenge he had to overcome initially. "Even my family wasn't very supportive of what I was doing. Finally they are OK with it now, but still not very happy," he says.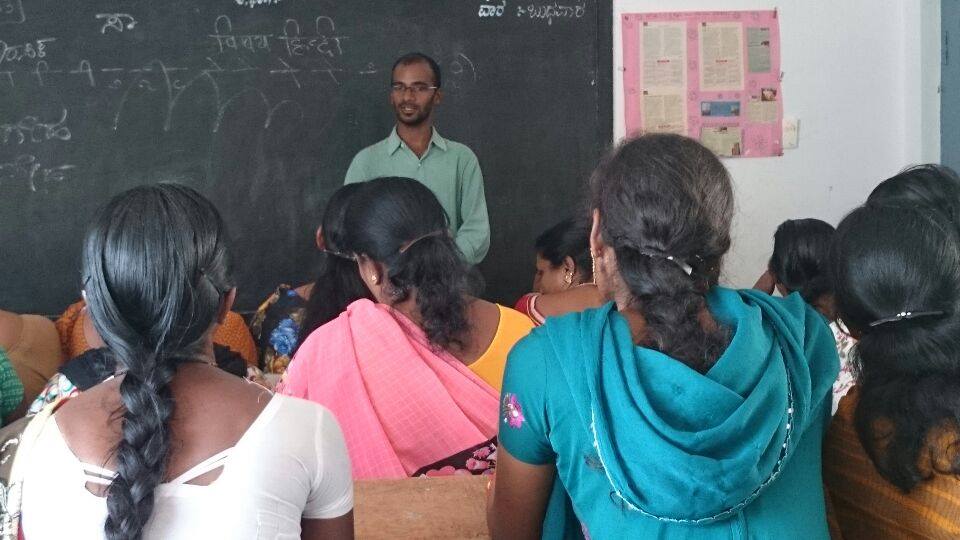 What do they do?
Sukhibhava is a non-profit social enterprise which works on a micro level distribution business model. They are on-ground distributors and reach out to urban poor to spread awareness and provide menstrual hygiene products.
They have partnered with Bella Premier Happy Hygiene Care Pvt Ltd., an international brand dealing in menstrual hygiene products, to provide them with sanitary napkins at subsidized rates.
"We provide a packet of 8 napkins at the rate of Rs. 25 while the similar quality napkins are available at the rate of Rs. 45 per packet in the regular market," Kumar says.
Sukhibhava's team of 12 volunteers and 4 field staff begin a two-week induction process and then a trial period of two months with follow-ups. The first week is focused on spreading awareness while the second week concentrates on education and sales.
An interesting, 20 minutes long animated video, which girls and women would be comfortable watching, is used to impart the necessary information.
"We work with reverse psychology. When women didn't opened up initially, I asked them to take their time, left them in a room to discuss among themselves and then come to me for further discussion. If they are not comfortable talking about it among themselves, how will they open up to me and my team?" asks Kumar.
They are also in touch with various government schools, colleges and microfinance companies to scale their initiatives.
The impact
Still a young organization, Sukhibhava has reached out to around 2,470 urban poor women in Bengaluru so far. Apart from this, they have successfully trained four female micro entrepreneurs and are currently working with 69 Bruhat Bengaluru Mahanagar Palike (BBMP) health care centres along with 12 women Self Help Groups (SHGs).
"The biggest impact that I personally have seen is in the attitude of these women. The lady who wouldn't even keep her head up while talking about this topic now confidently discusses the issue with me and other people. Not only this, she is also selling the napkins in her community," he says.
Also, earlier many factory women would not come to work and stay at home for 4-5 days during their periods. Now, using the pad has given them freedom and they have started going out during "those days" as well.
The future
Sukhibhava soon plans to spread its initiatives to Hyderabad and Chennai. Their goal is to reach out to 1 million women by the end of five years.
"We are also working to get the men involved, because often there is nil participation from men in such situations and initiatives. We want to break the ice and make them comfortable enough to easily talk about the topic. It is important for them to know that this is not a bad thing," Kumar says.
If all goes by the plan, Sukhibhava will soon start distributing contraceptive pills as well to the urban poor.
"There is a lot that we plan to do and we do need support from people. As we just have four field staff, it sometimes becomes difficult to manage everything," he says.
What can YOU do?
In case you want to support Kumar with his initiatives, you can become a volunteer and help him spread the word.
Or you can drop in anytime at their office as there is a lot that needs attention and helping hands.
Like this story? Or have something to share? Write to us: contact@thebetterindia.com, or connect with us on Facebook and Twitter (@thebetterindia)
We at The Better India want to showcase everything that is working in this country. By using the power of constructive journalism, we want to change India – one story at a time. If you read us, like us and want this positive movement to grow, then do consider supporting us via the following buttons.
Please read these FAQs before contributing.