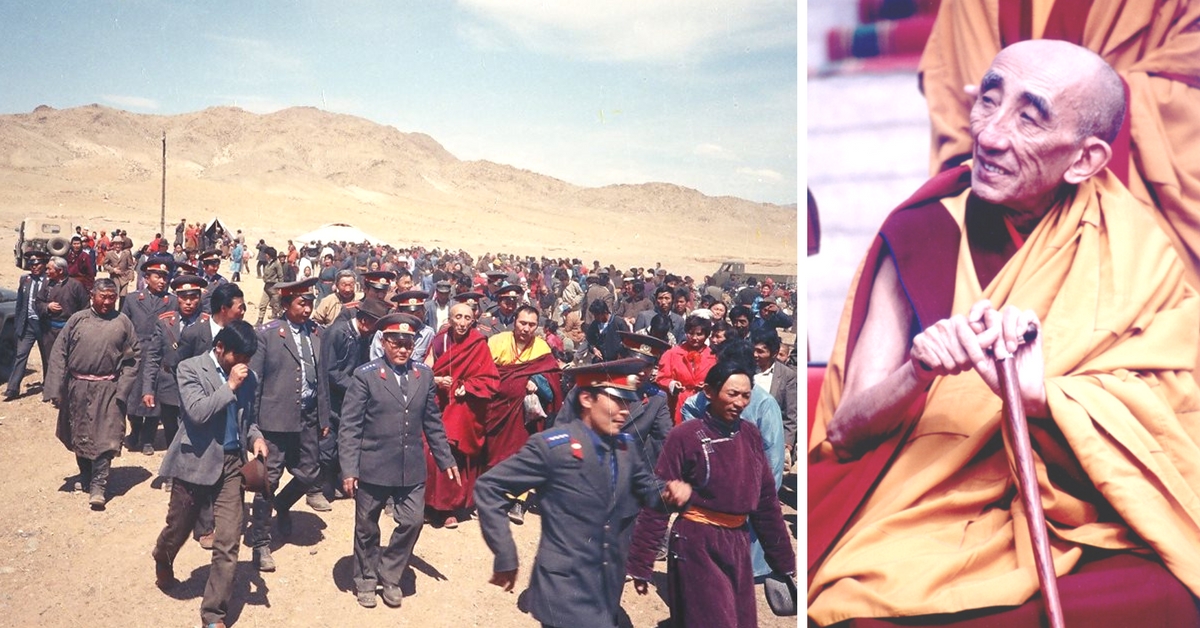 A firm believer in non-violence, the monk had little more than his personality and sacred red threads to ensure peace
Where the great Buddhist religion had either not spread,
Or having spread had undergone decline, in that direction,
Through the gracious intercession of Chenrezig (the Compassionate One),
May this treasure-mine of happiness and well-being illuminate all
-Je Lama Tsongkhapa, 14th century master of Tibetan Buddhism
In the pantheon of great Buddhist masters of the 20th century, few have managed the exceptional task of spreading Buddha Dharma around the world AND establishing diplomatic relations between two proud nations.
The 19th Kushok Bakula Rinpoche from Ladakh was one such master. Rinpoche adorned the role of a Buddhist monk and statesman to such effect that former Prime Minister Manmohan Singh once referred to him as the 'Architect of Modern Ladakh'. You can read more about Rinpoche's contributions to the welfare of Ladakh and consequently India in our brief profile here.
Among a litany of achievements, the one that stands out was his contribution to the revival of Buddhism in Mongolia (a former Soviet satellite state) as an Indian diplomat following the collapse of the Soviet Union. Finding another Indian diplomat with such a track record is hard.
On April 25, External Affairs Minister Sushma Swaraj addressed a function in Ulaanbaatar (the capital city of Mongolia) celebrating the 100th birth anniversary of the 19th Bakula Rinpoche. This was the first visit by an Indian External Affairs Minister to Mongolia in 42 years.
"Venerable Kushok Bakula has left his earthly abode, but he lives in our memories and our thoughts. His teachings will continue to guide us and will continue to guide the generations of Indians and Mongolians to come. He has left an indelible bond of friendship between our two countries. While celebrating his birth centenary, let us rededicate ourselves to the enlightened teachings of Venerable Kushok Bakula and imbibe his philosophy for the betterment of the world and the welfare of humanity," said Sushma Swaraj during her address.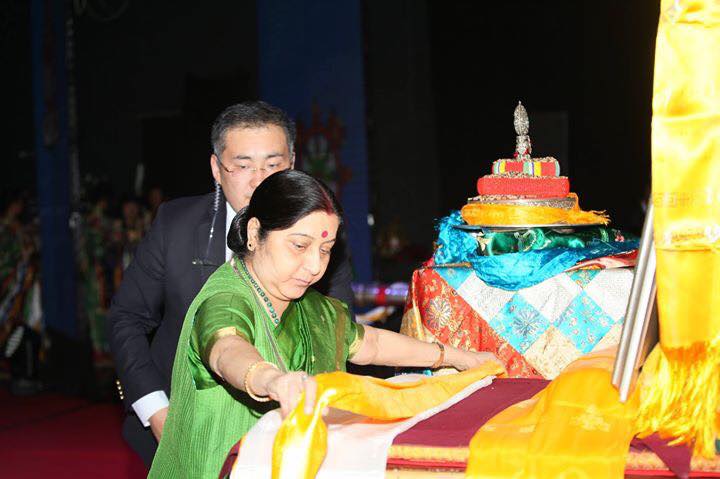 The Pethub Stangey Choskhorling Monastery, that Rinpoche built in the heart of Ulaanbaatar in 1999 is a symbol of that "indelible bond of friendship" between the two nations. It is also symbolic of the deep-rooted spiritual connection he had felt with the people of Mongolia.
Appointed as Indian Ambassador in January 1990 by the then Rajiv Gandhi government, Rinpoche oversaw the peaceful transition of this former Soviet satellite state to democracy. However, his association with Mongolia long precedes his decade-long tenure as Ambassador.
Sowing the seeds for the future
It was during the early 1940s, when Rinpoche, who was studying at the famous Drepung Losaling monastery in Lhasa, first heard about Stalin's 'Great Purge' (1936-38), which was carried out in Mongolia by his comprador Khorloogiin Choibalsan.
During this period of terror, when every potential opposition to the Stalinist regime was either killed or sent to labour camps, Choibalsan shut down over 700 Buddhist monasteries and killed at least 30,000 people, of whom 18,000 were Buddhist monks. Stories about the destruction of ancient Buddhist manuscripts and monks being forced to disrobe and renounce their vows had begun to nurture a long-held desire within Rinpoche to help people in these places.
Also Read: Know When The Dalai Lama First Visited India? It's Probably Not When You Think
Therefore, unlike many Tibetan monks, who went Westwards in the 1970s and 80s, Rinpoche always had his eye on the East, where Buddhism had once flourished, but suffered a rapid decline as a result of the communist rule.
Buddhism first flourished in Mongolia during the reign of Kublai Khan in the 13th century. Until 1921, when Mongolia fell into the hands of communism and became a Soviet satellite state, Buddhism enjoyed a special place in the hearts of Mongols. In fact, by some accounts, Buddhist monks made up nearly a third of the entire male population in Mongolia before the Bolshevik Revolution of 1917.
For unexplained reasons, Stalin softened his position on religion after World War II, and in 1946, the former USSR "enabled the formation of an organisation known as Central Spiritual Board of Buddhists of the USSR (TsDUB). Through this, it funded the revival of Buddhist temples in the Republic of Kalmykia and Buryatia," writes Shridhar Prabhu for Swarajya.
To the uninitiated, the Russian provinces of Kalmykia and Buryatia have long historical ties with Tibetan Buddhism.
Having said that, Buddhist monks and monasteries were kept under the watchful eye of the infamous Soviet secret service, the KGB. This is important to understand this because similar efforts were underway in Mongolia, and despite restrictions, Rinpoche found a way to make his mark.
In 1969, when Rinpoche was a Member of Parliament, he led efforts to establish an organisation called the Asian Buddhist Conference for Peace (ABCP) with its headquarters in Ulaanbaatar.
"The organisation had the tacit support of both the Soviet authorities in Moscow and the Mongolian communist government. As the first Buddhist NGO in inner Asia, ABCP facilitated cooperation among Buddhist communities struggling under communism, and crucially brought them into dialogue with Buddhists from other Asian countries, including Tibetan Buddhists living in India," writes Sonam Wangchuk, in his official biography of Bakula Rinpoche.
Sonam Wangchuk had served as Rinpoche's personal secretary for nearly three decades.
Despite the erstwhile Soviet Union's desire to use the ABCP as a propaganda tool (projection of a 'soft face' and harbinger of 'world peace' in contrast to the 'war mongering' West), the senior Buddhist monks at the helm of this organization saw this as a real opportunity to revive Buddhism.
"Many restrictions remained in place. Monks could only be enrolled after the approval of government agencies and the activities of the monasteries were closely monitored. However, even these symbolic gestures were helpful, since they re-established a crucial close link with past heritage and allowed people to keep in touch with their faith," writes Sonam Wangchuk.
It was probably Rinpoche's pioneering role in ABCP, which inspired Rajiv Gandhi's decision to appoint him as Indian Ambassador to Mongolia in 1990. Among other things, Rinpoche had worked to get permission for a visit by the Dalai Lama to Mongolia in 1979.
Some could even say that the appointment was destined to happen. As per a popular Mongolian legend, in the 19th century, a monk whose name remains unknown, predicted that Buddhism in Mongolia would come under assault by 'inimical forces'.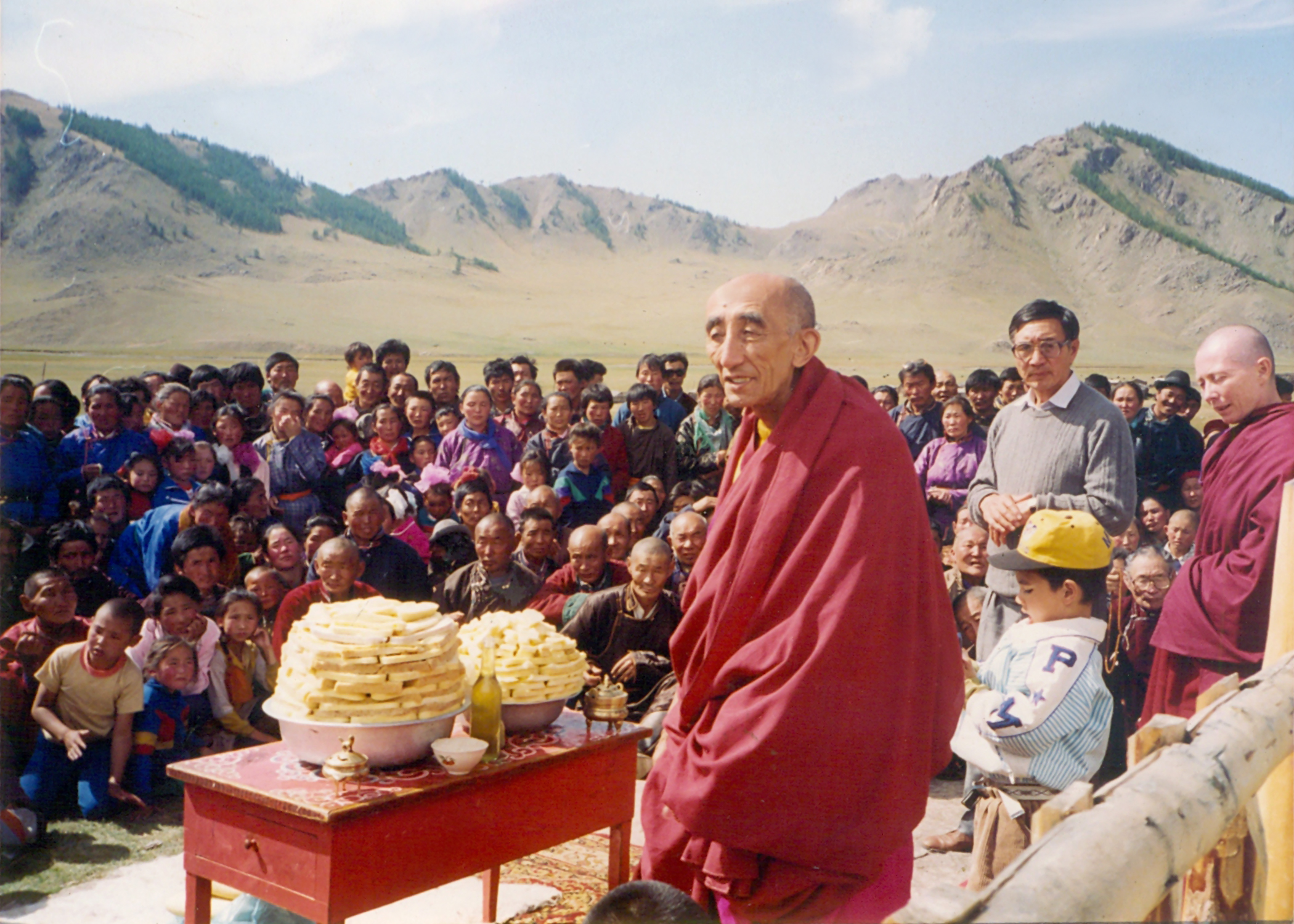 "He further prophesized that sometime after the destruction of Buddhism in the region, Arhat Bakula (one of the 16 direct disciples of Buddha) will come to Mongolia and revitalize the Mongolian Buddhist tradition. He further foretold that after Buddhism among Mongols receives 'a crushing blow at the hands of the red barbarians in the early twentieth century,' the Mongolian Buddhist heritage will be restored to its former glory," writes Professor Vesna A Wallace, an eminent professor of Mongolian Buddhism from the University of California in her book "Bakula Arhat's Journey to the North: The Life and Work of the 19th Kushok Bakula Rinpoche in Russia and Mongolia."
Transition to democracy
When Rinpoche first arrived in Mongolia, it was a period of great instability. The fall of the Soviet Union just months before had stopped the stream of financial aid from the USSR. This sudden withdrawal of funding had a crippling effect on the economy. The transition from a centrally planned economy to one based on private enterprise was an adjustment that Mongolia, like many newly independent nations carved out of the Soviet Union, struggled against. Inflation was high, and many thronged to the cities in search of jobs, even though there were only a few.
With the fall of the Soviet Union also came the clamour for democracy. "Unlike in other socialist countries, transition in Mongolia from communism was peaceful. Rinpoche was an integral part of this great transformation, and he played an active role in these changes through his advice, assistance and participation. If not Bakula Rinpoche, who else could have guided the people through these changes," said former Mongolian Prime Minister N Enkhbayar.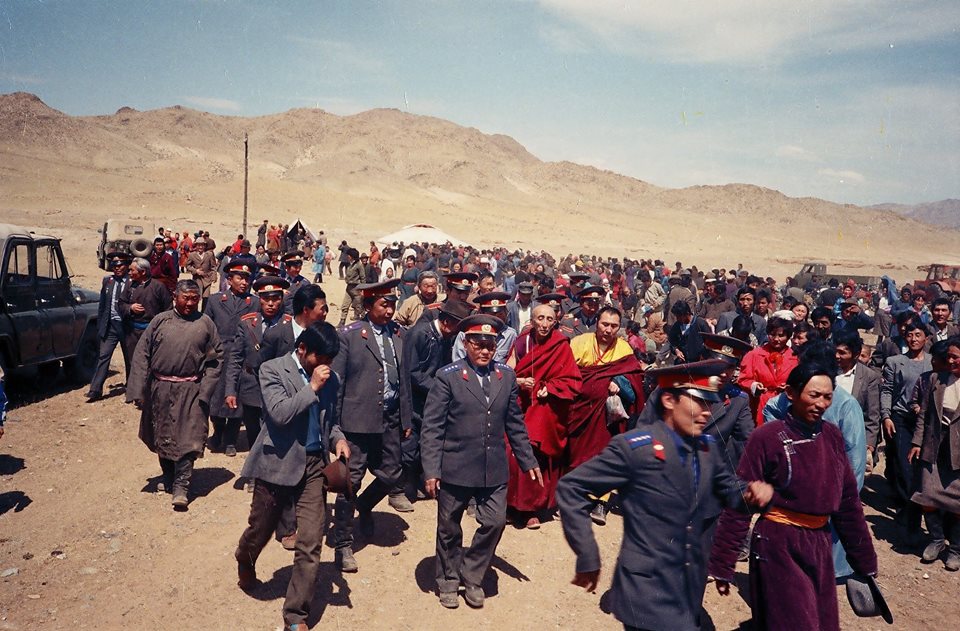 When the conflict between the then communist government and pro-democracy protestors was at its peak, Rinpoche met with the latter's leadership. During the meeting, he offered a zangya (a sacred red thread) to each member of the pro-democracy leadership. This red thread marked by a knot is something Buddhist spiritual masters offer as a symbol of protection for their followers. He got the leadership to vow that they would not resort to violence – even if they endured serious provocation.
This call for non-violence, allied by a cooperative government, is what ensured Mongolia's peaceful transition to democracy with Rinpoche at the heart of it. Unlike other missions, the Indian Embassy in Ulaanbaatar during Rinpoche's tenure hosted not just diplomats and locals seeking Indian visas, but a long line of devotees from the Mongolian countryside seeking his teachings and blessings on a near-daily basis.
He is still fondly remembered as 'Elchin Bagsh' (Ambassador-Teacher) by the people.
Also Read: Want to Make Your Leh Visit Special? Here's The Story You Need to Know
Construction of the monastery in UB
Over the course of many visits to the Mongolian countryside as Ambassador, Rinpoche understood that there existed a lot of confusion and ignorance about Buddhism and its practices. Although the democratic government of Mongolia opened up many old monasteries, it was evident that they weren't well equipped enough to offer quality education for Buddhist monks.
"In order to rebuild the Sangha, or the community of monks, Rinpoche decided to build a new monastery of Pethub in Ulaanbaatar which could serve as a model for others. Rinpoche hoped that the two Pethub monasteries—one in Ladakh and the other in Mongolia—would forge a close bond and support each other's dharma activities in future," Sonam Wangchuk writes in his book.
'Pethub' means model/example in Tibetan.
After acquiring the necessary permissions, Rinpoche chose a piece of land in Ulaanbaatar's Chinglite District. On September 28, 1991, HH The Dalai Lama blessed the site and construction was initially entrusted to the Mongolian Army Construction company—a public sector enterprise.
However, construction work had to be put on hold due to sky-rocketing inflation. Rinpoche had invested nearly all his personal resources into the project. When construction resumed, it was given to a private entity. In the meantime, Rinpoche rented out a portion of the Natsigdorj City Library in Ulaanbaatar for the school. With a jar of holy water from the Ganga brought for the inauguration by Dr Karan Singh, former Maharaja of J&K, the school was opened on September 9, 1992.
Rinpoche enlisted a whole host of erudite Buddhist masters from Tibet and Ladakh for the task of teaching a steady stream of novice monks and nuns. Some of these masters even took the trouble of learning Mongolian to communicate with the locals.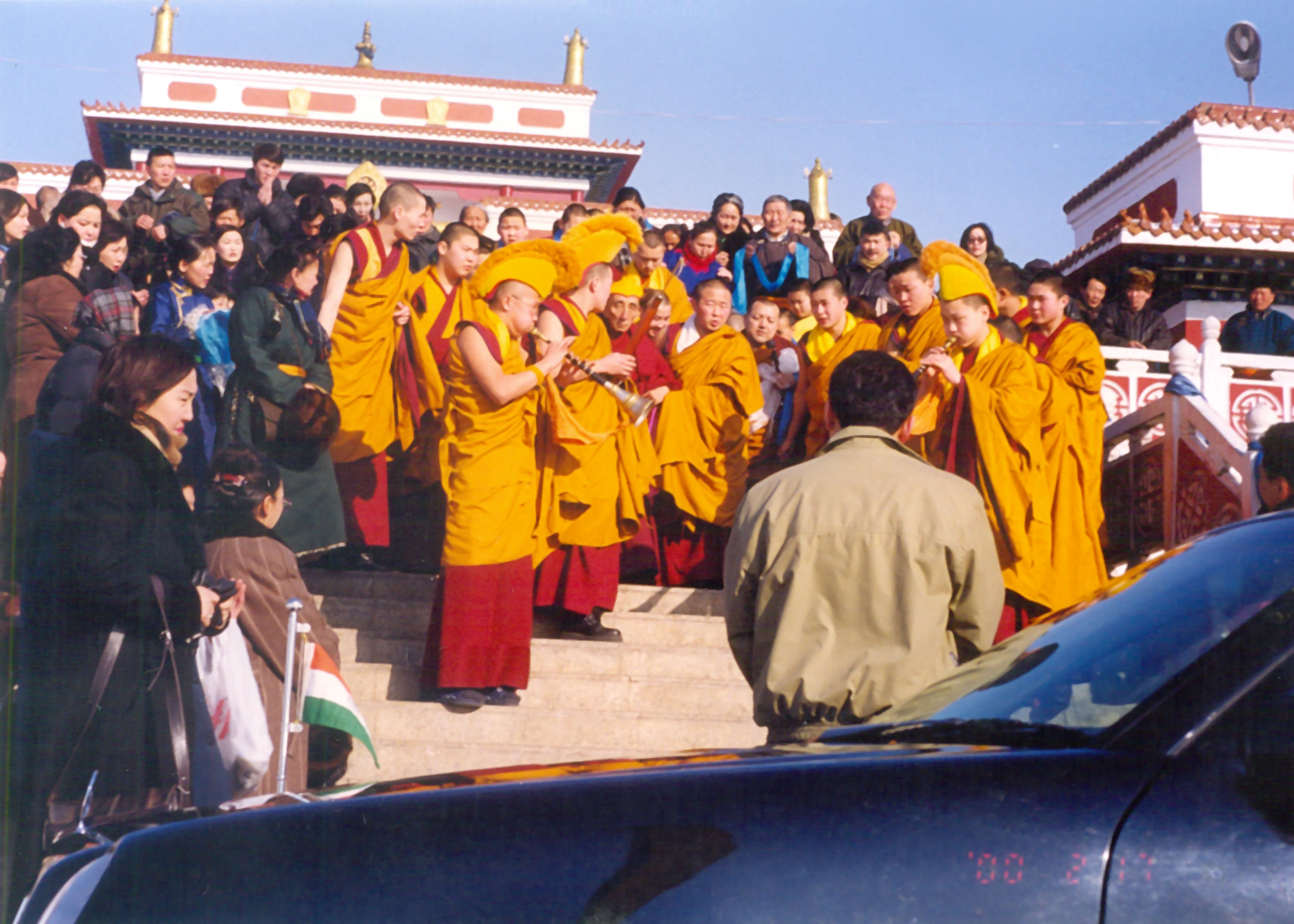 Rinpoche would himself spend three hours in the day teaching student-monks with a strict emphasis on Vinaya (the code of ethics that all Buddhist monks have to follow).
Monks and nuns who excelled in these classes were sent to Buddhist centres of learning in India for further education.
The Pethub Stangey Choskorling monastery in Ulaanbaatar was finally inaugurated on August 26, 1999 with the then Vice-President Krishan Kant in attendance as the chief guest. Besides the Mongolian government, a lot of support for this endeavour came from the MOA International, one of the early global pioneers of organic farming from Japan.
The monastery today stands as an enduring symbol of Indo-Mongolian relations.
Also Read: How Ladakh Holds The Key For Safer Pilgrimage to Kailash-Mansarovar
His efforts to spread Buddha Dharma extended to supporting translations of Buddhist teachings in the modern Mongolian language, opening a nunnery and sending novices to study in India and Nepal, opening the Mongolian Buddhist Cultural Centre, and most famously bringing the Lord Buddha's holy relics to Mongolia. Beyond the revival of Buddhism, Rinpoche also facilitated other initiatives to strengthen Indo-Mongolian cooperation along financial and technological lines as well.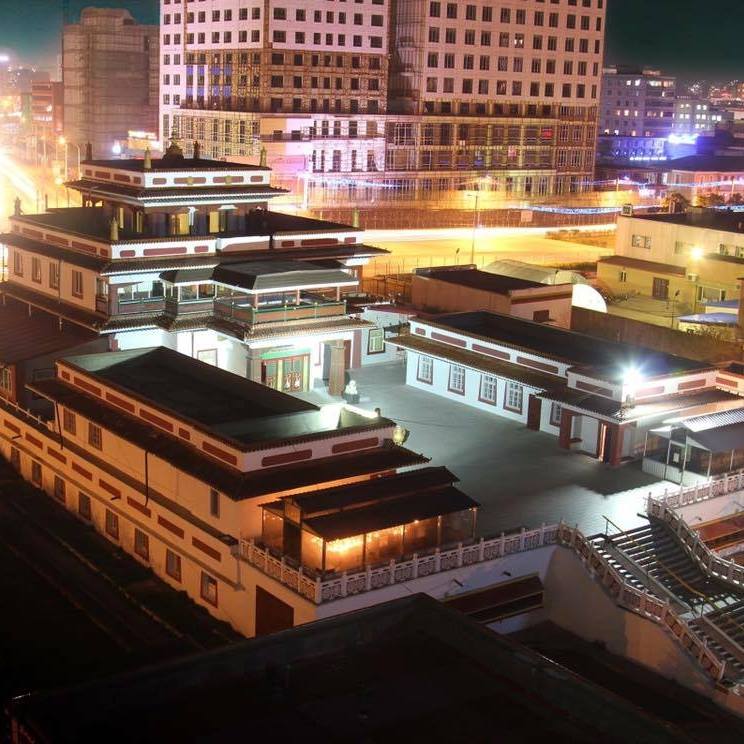 In 2001, a year after Rinpoche demitted office, he was conferred with the Polar Star award, Mongolia's second-highest civilian award, for his efforts to revive Buddhism in Mongolia and strengthen Indo-Mongolian ties.
While Indians may have forgotten his contributions, Mongolia fondly remembers its 'Elchin Bagsh'.
(Edited By Vinayak Hegde)
Like this story? Or have something to share? Write to us: contact@thebetterindia.com, or connect with us on Facebook and Twitter.
NEW: Click here to get positive news on WhatsApp!
We bring stories straight from the heart of India, to inspire millions and create a wave of impact. Our positive movement is growing bigger everyday, and we would love for you to join it.
Please contribute whatever you can, every little penny helps our team in bringing you more stories that support dreams and spread hope.