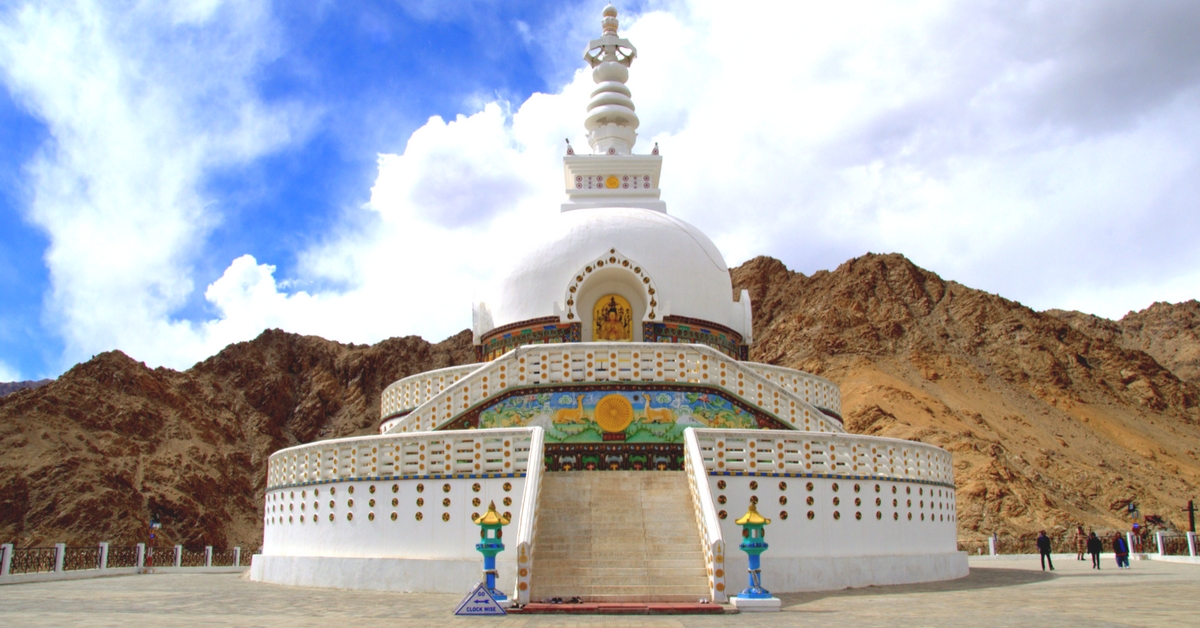 "Now, why would a local boy talk about a structure that nearly every tourist to Leh has seen? What's unique about it?" #MyCityMyLove
Let me start with a disclaimer. Although my entire family hails from Leh, I've never had the good fortune to growing up or living in this sleepy town for an extended period of time. I visit Leh, perched high between the magnificent Himalayan and Karakoram mountain ranges, once every year during the summer months. As my parents would often tell me, it's imperative that I connect with my roots. Although I understood the spirit of what they were trying to impart, I never really felt a serious urge to engage in that endeavour.
All that changed in the summer of 2017, when I extended my stay in Leh beyond the standard two-weeks to one-month period. Spending more than two months in the town without the supervision of my parents allowed me to explore the town of which I knew very little. Without a vehicle at my disposal, the only option I had was to walk with my own two feet.
Go to any travel portal or the hundreds of blogs on the internet, and there is little about Leh that people haven't already written about. With ancient monasteries in its vicinity, the Leh Palace, the old town (where one can immerse in its rich history as a major transit point on the erstwhile Silk Route) and a plethora of other interesting structures, besides great cafes and eateries, there is a lot Leh has to offer to the stream of tourists that flow in every year. Any information one needs is available online. There are many interesting blogs, travel portals, documentaries and full-length feature articles detailing more or less everything the town has to offer.
One of the remarkable things about Leh is that the view from practically any vantage point is stunning in its own right. That's the innate beauty of Leh. However, it's the view from the Shanti Stupa, a white-domed Buddhist structure on a small hilltop in the Changspa area of Leh, which offers the most breathtaking view of the town.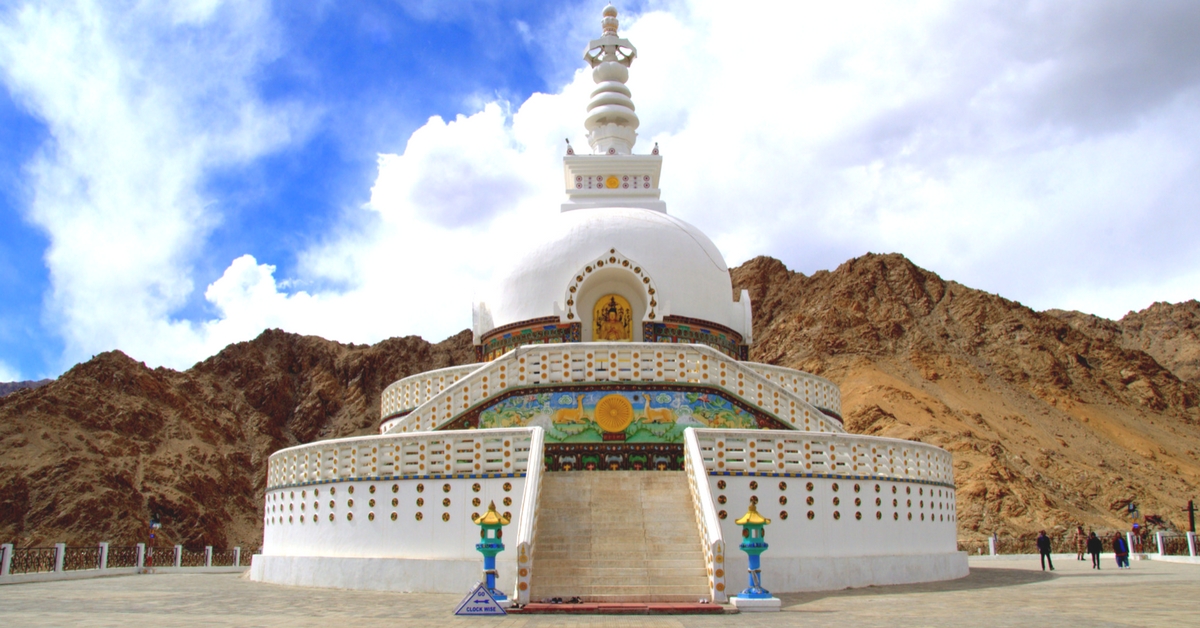 Perched at an altitude of over 4,200 metres, the Shanti Stupa is approximately 3 km from my house, and a flight of nearly 500 steps takes me to the structure.
Now, why would a local boy talk about a structure that nearly every tourist to Leh has seen? What's unique about it? Is it just the stunning panoramic view of Leh that the stupa offers?
Anyone who understands the story behind how this unique stupa came up, the personalities behind it, and why they chose Leh as the site for this unique monument will know what I'm getting at here.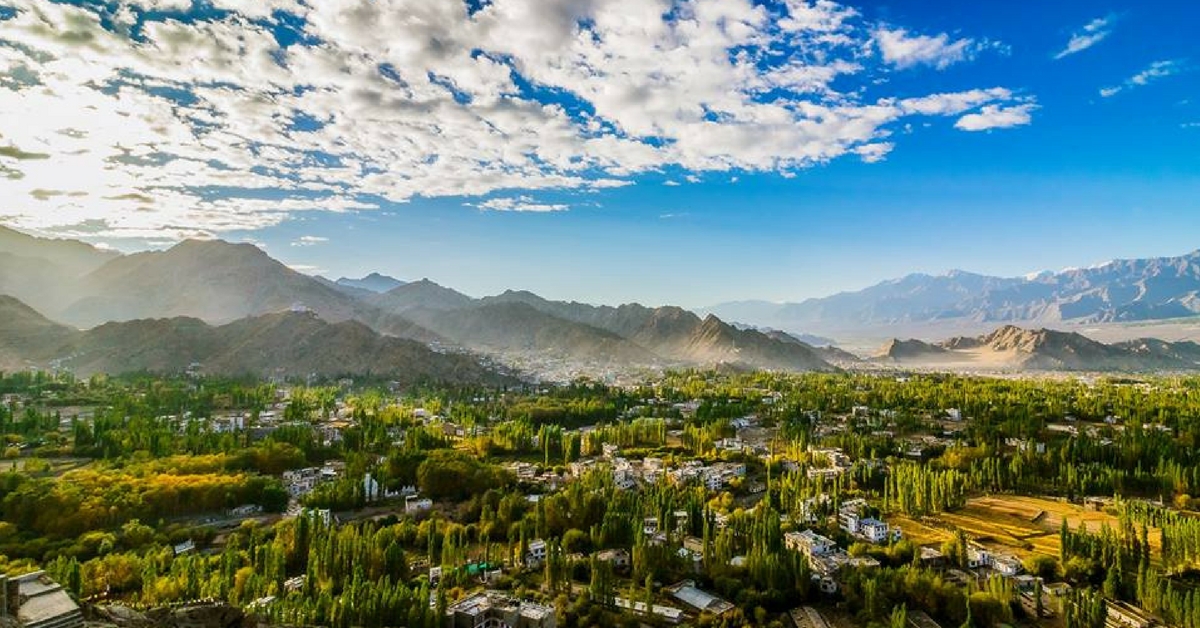 The idea of constructing a Shanti Stupa came from the 19th Kushok Bakula Rinpoche, a revered Buddhist monk who was also a unique statesman representing both the people of Ladakh and India during his remarkable life.
The inspiration for the construction of this stupa, however, came from his association with the Buddhist community in Japan, and particularly, Venerable Nichidatsu Fujii Guruji, a Japanese Buddhist monk, and founder of the Nipponzan-Myōhōji order of Buddhism, whose supporters range from the acclaimed American author James W Douglass to Mahatma Gandhi.
Rinpoche visited Japan for the first time in 1971 to attend the annual ceremony marking the atrocities of Hiroshima and Nagasaki, and participate in a conference against nuclear weapons.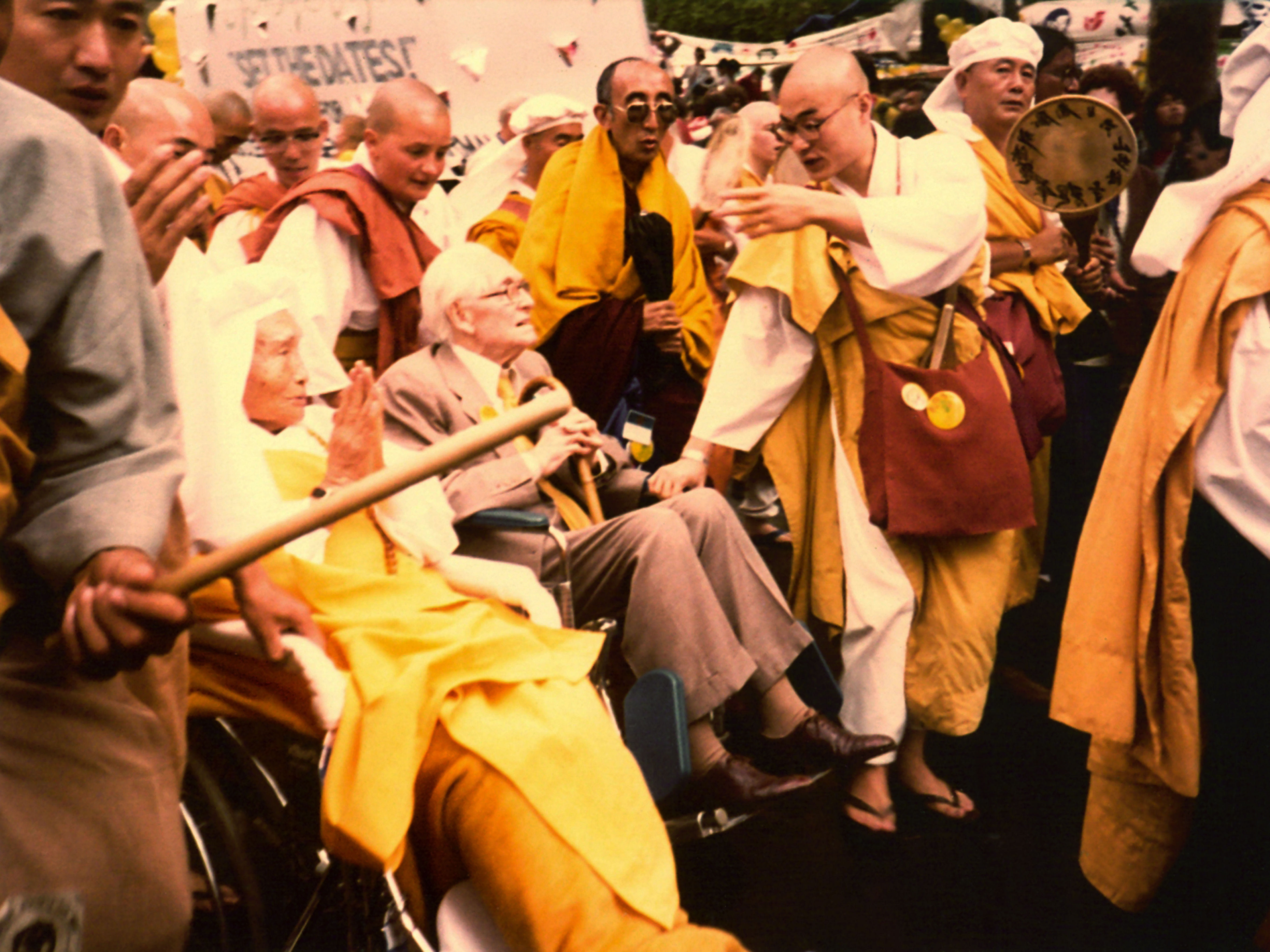 During the ceremony and at the conference, Rinpoche was privy to the horrors that atomic bombs unleashed on the people, and some of the visuals and stories on display had a profound impact on him. Rinpoche was an active member of global peace movements against nuclear weapons, protests against the arms race during the Cold War, founded the Asian Buddhist Conference for Peace and in fact denounced the Vietnam War in Parliament.
During his visit to Japan, however, he developed close ties with many Japanese monks, but especially Venerable Nichidatsu Fujii, who is best known for constructing Peace Pagodas in many locations around the world as shrines to world peace following the horrors of World War II.
In 1933 Fujii Guruji had visited India, where he met Mahatma Gandhi at his ashram at Wardha, Maharashtra, and joined in with his non-violent struggle against British colonial rule. It was after his meeting with Fujii Guruji that Gandhi began incorporating the famous Lotus Sutra (Nam Myōhō Renge Kyō) into his roster of daily prayers. In fact, it was Gandhi who gave him the honorific of 'Guruji' (respected teacher/master) says Sonam Wangchuk in his book 'Kushok Bakula Rinpoche: The Architect of Modern Ladakh'.
The Buddhist order he founded called Nipponzan-Myōhōji has built over 100 Peace Pagodas around the world, including a few towns and cities in India—Darjeeling, Rajgir, Vaishali, Wardha, Dhauligiri and Leh.
Rinpoche wanted to build one in Leh, considering how the town and the larger region of Ladakh is a highly militarised border area surrounded by two hostile neighbors—China and Pakistan. Rinpoche thought that the symbolic power of having a Shanti Stupa perched above a town immersed in the Buddhist ethos of non-violence would inspire hope for a more peaceful world.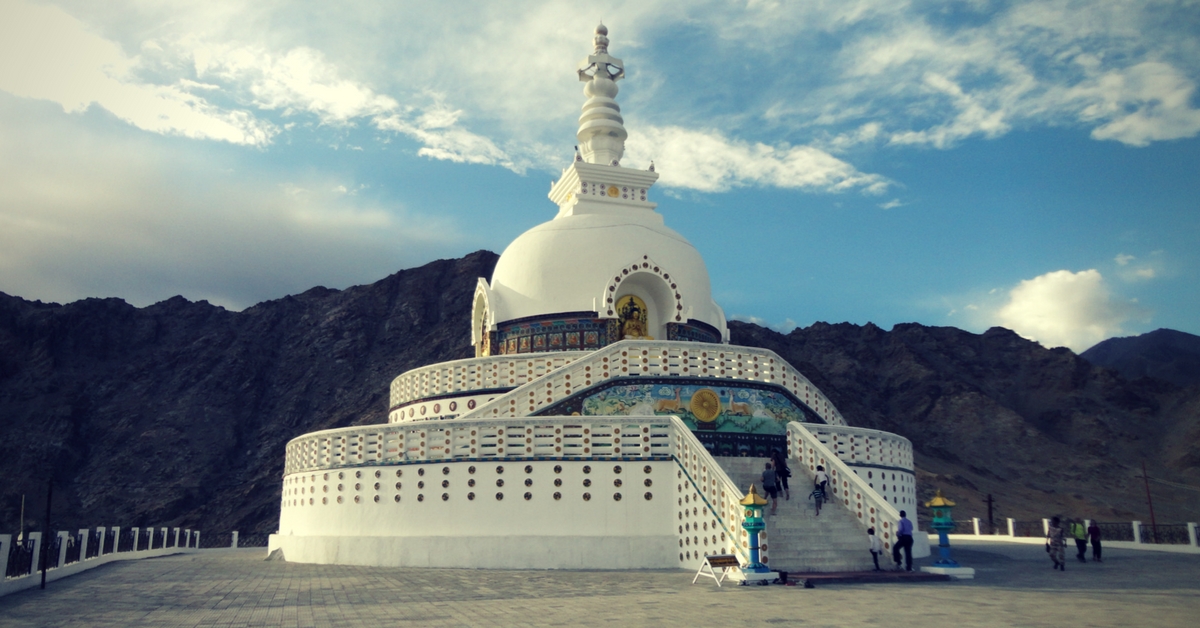 Rinpoche subsequently requested Venerable Fujii Guruji to build one Stupa in Leh. With assurances of logistical support from Rinpoche and convinced of the symbolic value of this Stupa, Guruji took up the offer. On behalf of the Nipponzan-Myōhōji, Fujii Guruji appointed Bhikshu Gyomyo Nakamura to oversee the project. After deliberations with Rinpoche's people, it was decided that a small hilltop in the Changspa area, which offered a panoramic view of Leh would offer the best site for this Stupa.
Construction work was first overseen by a committee of local civil society organisations. This committee was later registered as a society. Everyone from school children, government employees and Japanese volunteers to soldiers stationed at the nearby army camp volunteered to bring with them construction tools and food. Further financial and logistical assistance came from the district administration and State government, but the bulk of the funding came from Nipponzan Myohoji and their global network of sponsors and disciples.
Read also: Here Is a Remarkable Indian You May Not Have Heard Of!
For those unaware, the road leading up to Shanti Stupa was sanctioned by former Prime Minister Indira Gandhi in 1984, who acceded to a request made by Bakula Rinpoche. The construction of this road made it much easier to transport construction material.
In 1985, HH the 14th Dalai Lama offered his blessings to the Stupa and the adjoining temple, and finally, in 1991 it was open to the public.
Despite many invitations to Fujii Guruji to visit the site, his advanced age and failing health came in the way. He passed away at the ripe age of 100 in 1985. It's indeed tragic that he was unable to witness a structure that he had helped envision and build.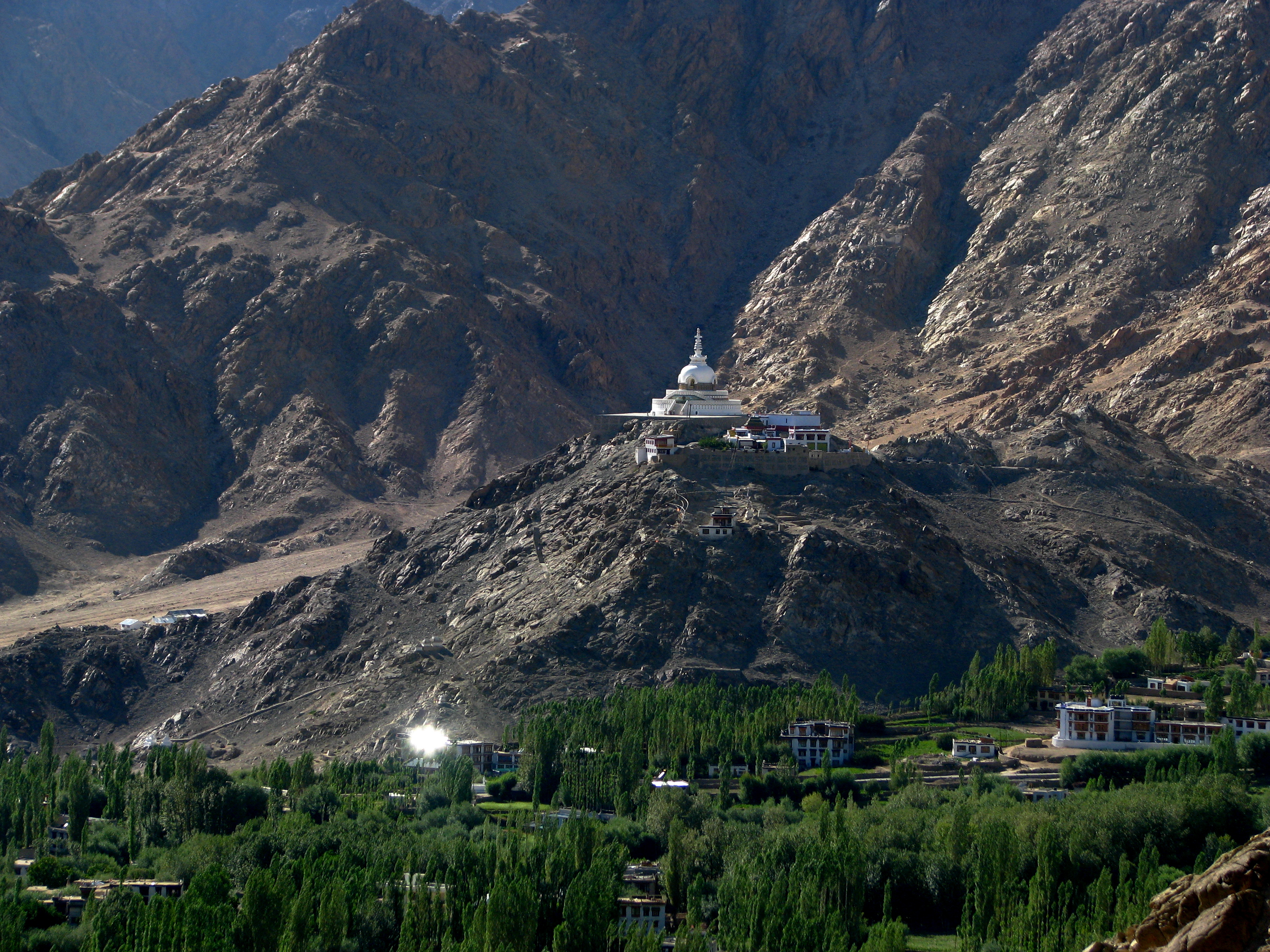 Despite all its past troubles, this structure stands as a reminder about the enduring spirit and ethos of peace that governs not just Leh, but all of Ladakh, irrespective of one's religious, political or philosophical inclinations. It is a global endeavour brought forth by the labour of peace-loving people, steeped within a particularly unique local context.
Read also: Perks of Being a Puneri: Why Pune Will Always Be Home, No Matter Where I Go!
Today, the majestic Stupa overlooks Leh with the holy relics of the Buddha enshrined in it. Remember this story, the next time you visit the Shanti Stupa and take in that breathtaking view.
This February, Show Some Love For Your City!
We love our city, and we bet you love yours too. And since cities are meant to be experienced and not just seen, this Valentine's Day, The Better India is celebrating the unique experiences — places, food and activities — that define 14 Indian cities!
So VOTE for your favourite city, SHARE what you love about it and TELL us your ideas for making it even better!
Like this story? Or have something to share? Write to us: contact@thebetterindia.com, or connect with us on Facebook and Twitter.
NEW: Click here to get positive news on WhatsApp!
We bring stories straight from the heart of India, to inspire millions and create a wave of impact. Our positive movement is growing bigger everyday, and we would love for you to join it.
Please contribute whatever you can, every little penny helps our team in bringing you more stories that support dreams and spread hope.