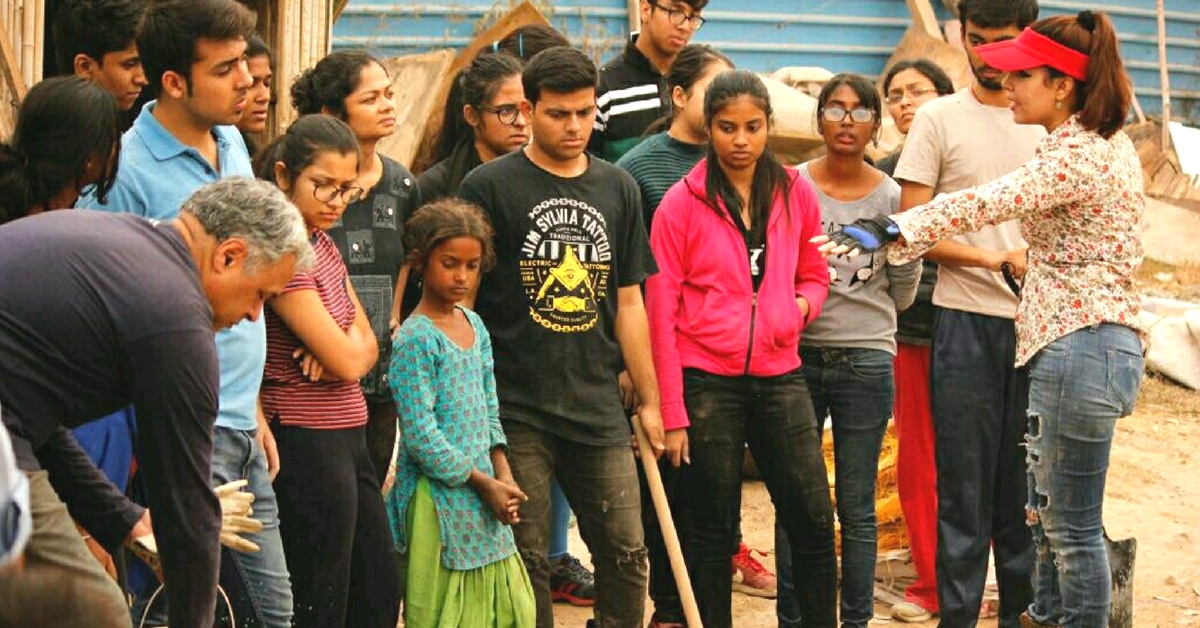 The school was built by NGO Lakshyam and Geeli Mitti. What makes it so special is that it was built using neither bricks, nor cement!
New Delhi. Vasant Kunj. Sindhi Basti (slum). November 2017. The children who ran about excitedly were neither fully clothed nor fed. It was a day that was neither too sunny nor too windy. A school was all set to be built.
But the material used would neither be bricks nor cement.
And the slum dwellers, the children and their families certainly didn't know whether that was a good thing or not. A house without bricks?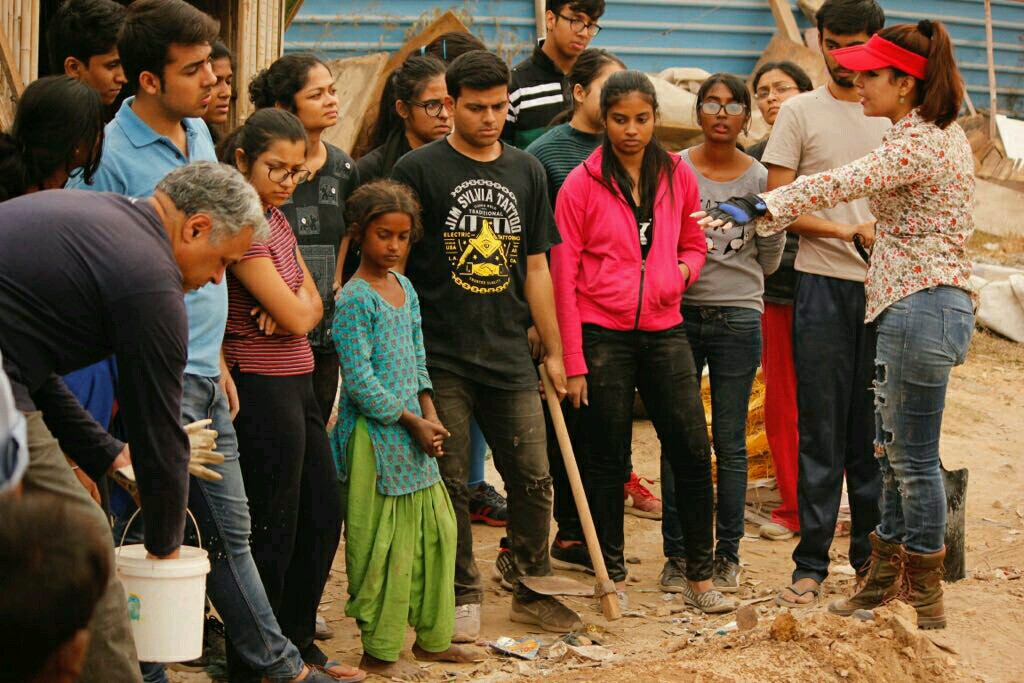 For this was going to be the very first Earthbag technique based superadobe mud school in Delhi. A school built with limited natural resources without any adverse effects or carbon footprints to harm the environment. Not only was this going to be a 'health-conscious building' but a strong and sturdy one at that.
The motivational journey of NGO Lakshyam and Geeli Mitti is one that brings the best of education and environmental sustainability under one bamboo roof. Literally!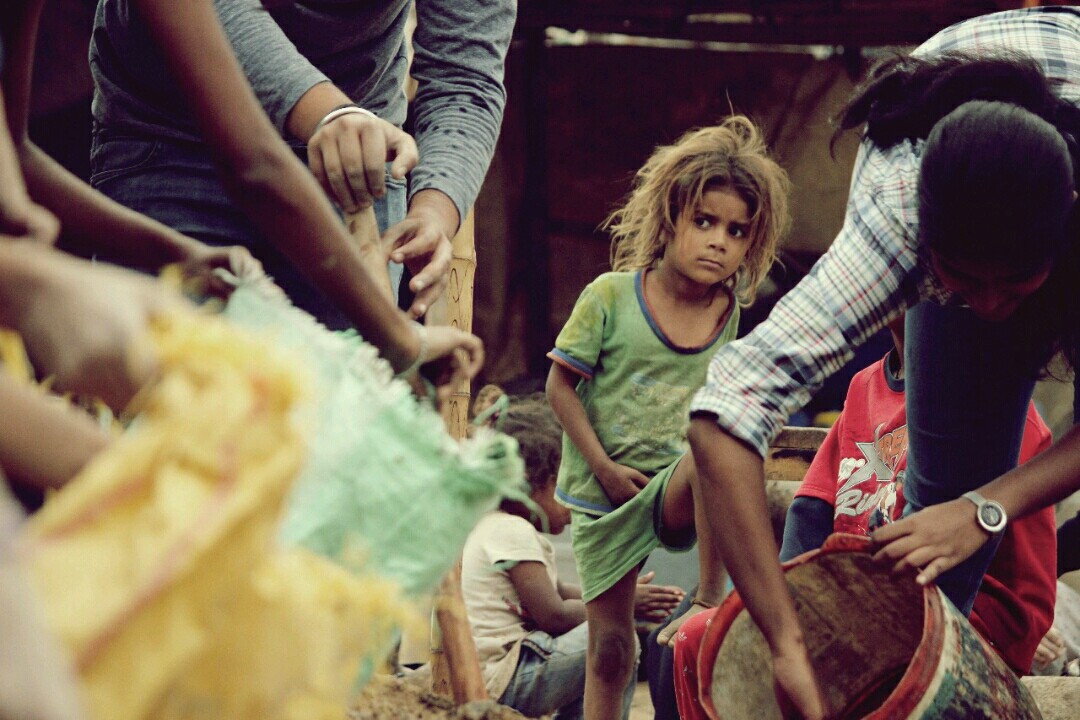 Volunteers learnt about natural building, as they built the school – stone by stone and bag by bag.
Established in 2004, the Lakshyam NGO works towards the upliftment of children and women of at-risk communities through education and employment. Operating in 11 states of India with 13 centres, the Lakshyam Centre at JJ Basti, Vasant Kunj, where the school was recently built, offers holistic education to children encompassing textual knowledge and personality development.
Starting a school here was fraught with challenges. And one of the problems faced was having a concrete and sturdy roof overhead. Nevertheless, that didn't interfere with Lakshyam's plans to spread education at the slum devoid of resources and motivation to study.
Says Rashi Anand, the Founder of Lakshyam NGO, "We started by teaching the children under the tree. After that, we purchased a waterproof tent and set it up there. The authorities would come and question our actions and even charge a bribe. During the rains, rats would chew up the tent. So we faced hurdles like these. There was also a teacher whom we had to let go because there was no space to teach."
Thus, the lack of infrastructure coupled with water issues (the slum dwellers would have to walk for 5-6 km on a daily basis to bring heavy buckets of water) interrupted the smooth flow of education.
Unknown to them, their problems were soon to be resolved in the form of an environment initiative called Geeli Mitti, founded by Shagun Singh. And one of the core specialities of Geeli Mitti was natural house building techniques.
---
You may also like: Can India's Slums Turn Into Silicon Valley? This Brother-Sister Duo Thinks So!
---
Following a chance meeting and a visit to Shagun's eco-community near Nainital, Shagun and Rashi decided to join hands to build an environmentally sustainable school in the basti.
And strong enough to endure natural calamities.
Shagun recalls, " I went to meet Rashi and saw this bamboo structure. It was the middle of summer, and I suggested why don't we just build out of mud here. It would be very comfortable in the summers and winters, neither would it become too hot nor too cold. And it would become a reference model for more structures to be built later on, by themselves. And since it would be built in the capital it might inspire other people too. It would be a low-cost housing model."
And thus the foundation stone of an environmentally sustainable building was set.
Shagun believed in the efficient use of natural resources, like mud, over common alternatives like cement. She says, "In the earthbag technique, the advantage is that 95 percent of the soil can be used as it is, without any alteration. That can't happen with any other building style. "
Earthbag buildings are basically bags filled with earthen materials are stacked to make a building. This building system was invented by Iranian-American architect Nader Khalili in the 1960s, as a sustainable and low-cost housing solution. One of the best parts of building an earthbag house is that you do not need volumes of architectural knowledge. With a bit of exposure to the technique, limited resources and lots of energy, and even a novice is geared up to build an earthbag house!
Here is a quick pictorial journey of how the school was built:
1) The foundation was dug. In case you live in a frosty area, the foundation line should be dug below the frost line)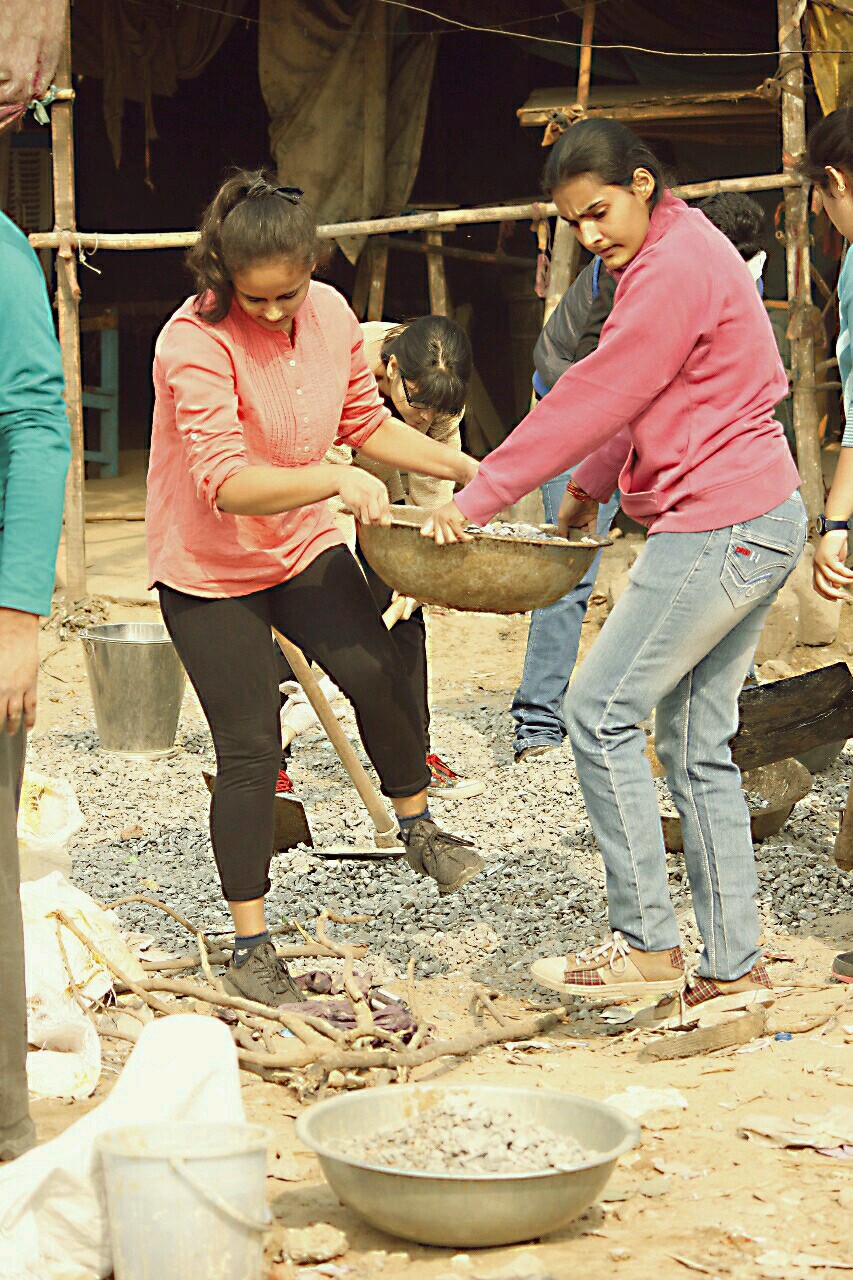 2) The foundation was filled with plain stones, which, unlike cement, prevent water/moisture from travelling up and damaging the walls.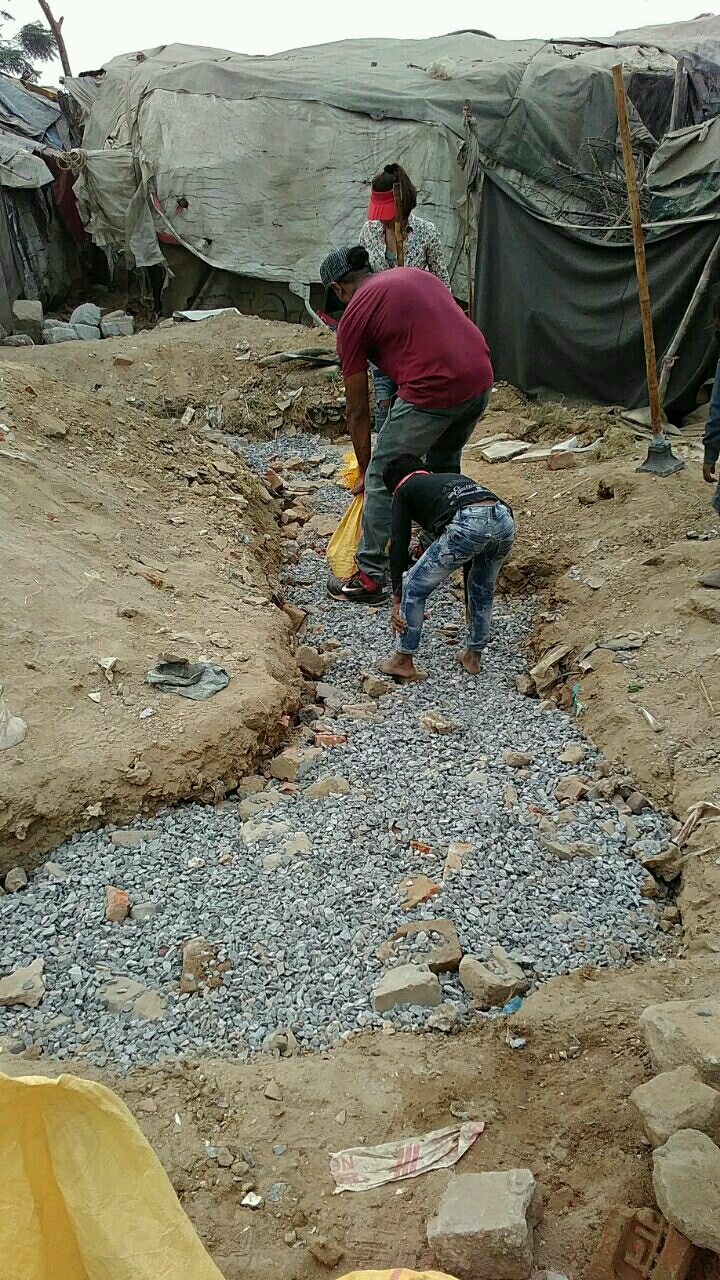 3) The foundation was filled with dry rock, which, unlike cement, does not soak water, but helps draining it out instead.
4) A plinth or a stem wall was set up over the ground with only stones and mud from the site. Nothing extra, like clay or sand, was mixed in it.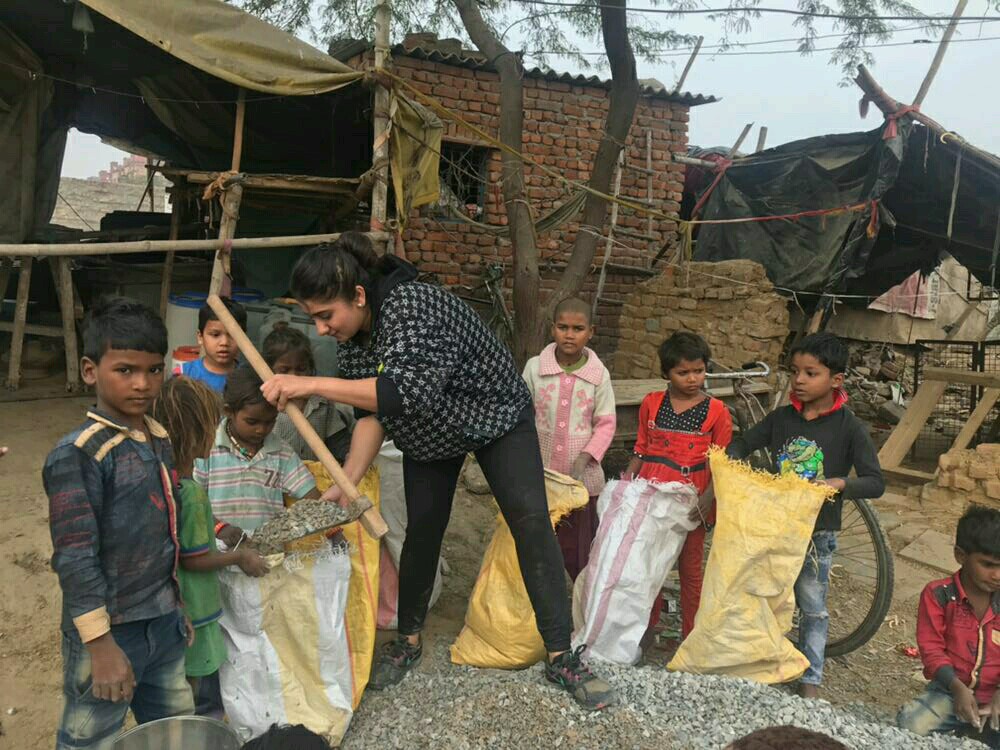 5) The first layer of superadobe (polypropylene) bags with gravel were arranged. Lots of these were collected from old construction sites and junkyards.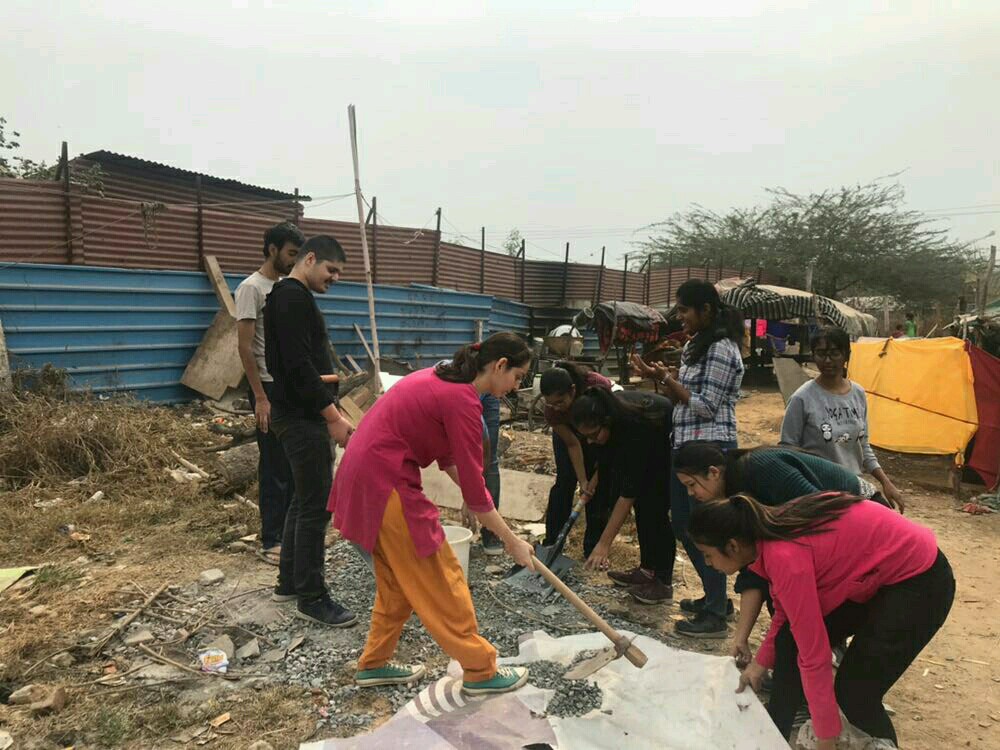 6) Then layers of bags with mud-stuffed bags were placed over them. The mouths of the bags weren't covered as each bag seals the previous one.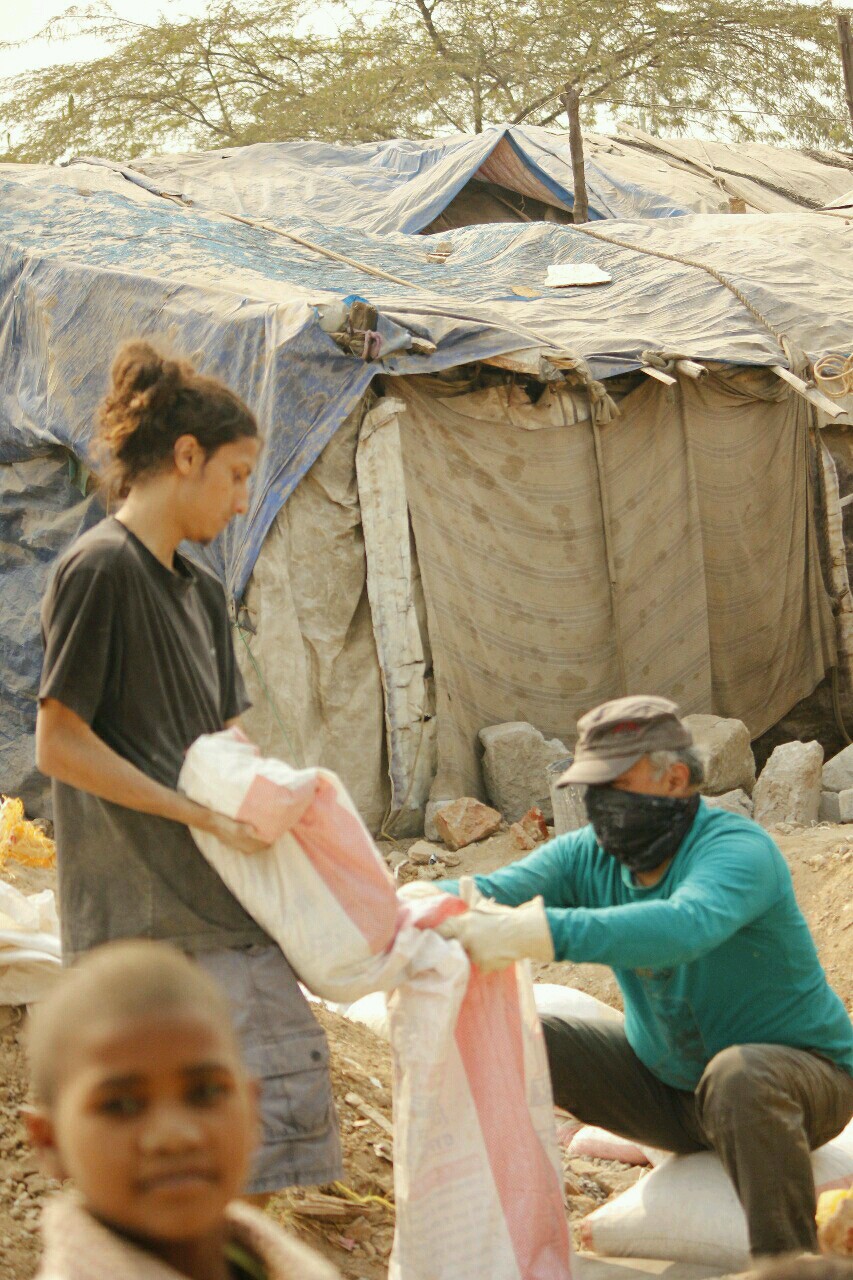 7) The bags were tamped or made even. When the bags were tamped, it made them strong and harder than a rock. These bags couldn't be punched or moved whatsoever.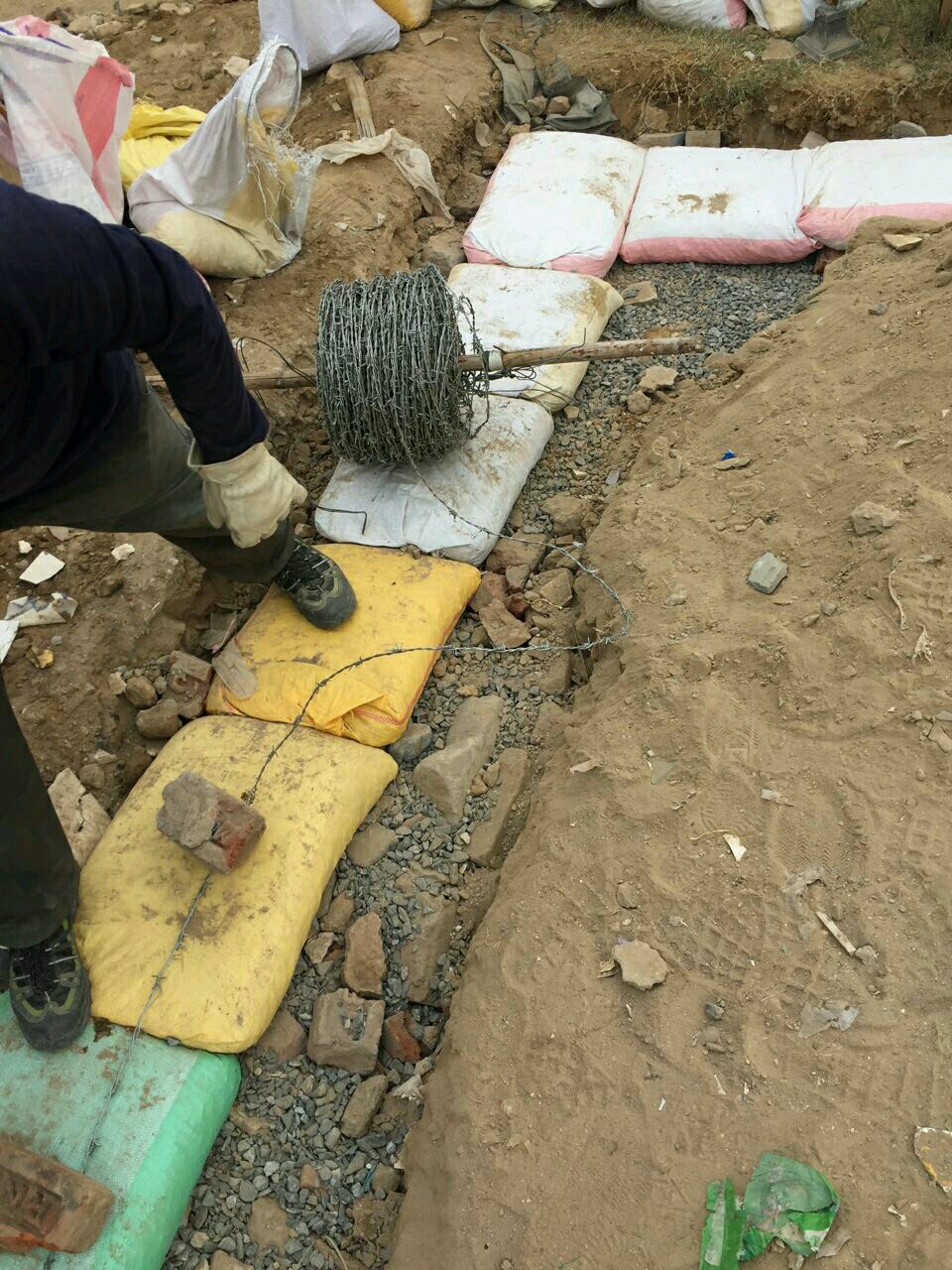 8) After every earthbag layer was laid, two rows of barbed wire were fixed over them for tensile strength.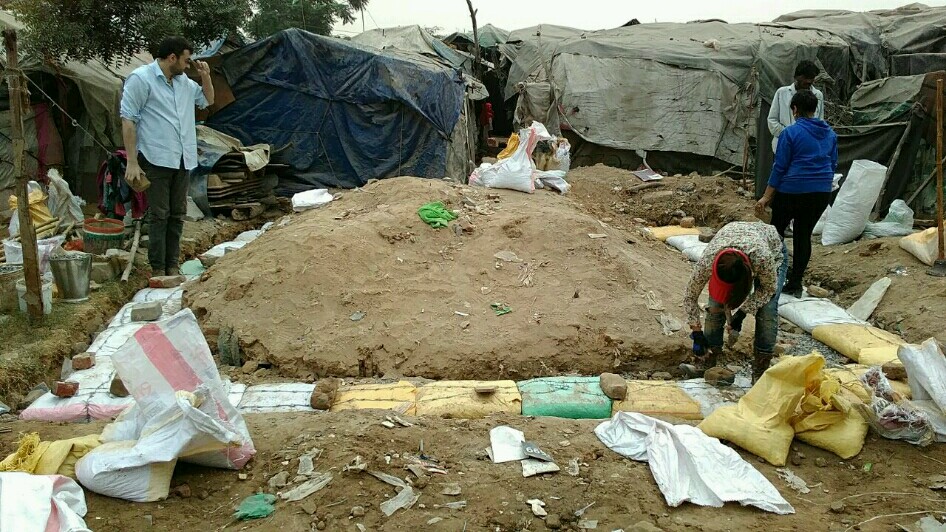 9) As the process continued and the layers of bags kept going up the wall, strip anchor or small rubber wiring pieces were placed in the positions where wire points or doors and windows, etc would be fixed.
10) A ply frame for a door was put up.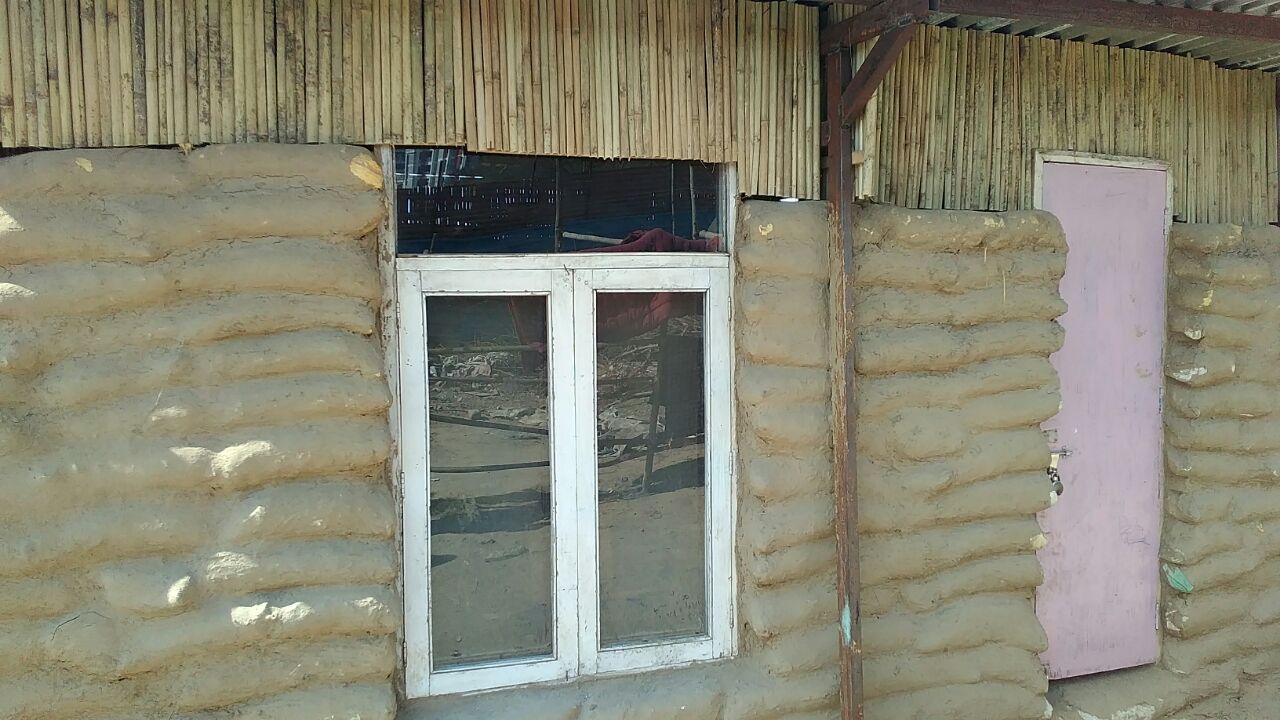 11) A donated cupboard served both as a store for children's stationery in the classroom as well as a part of the wall.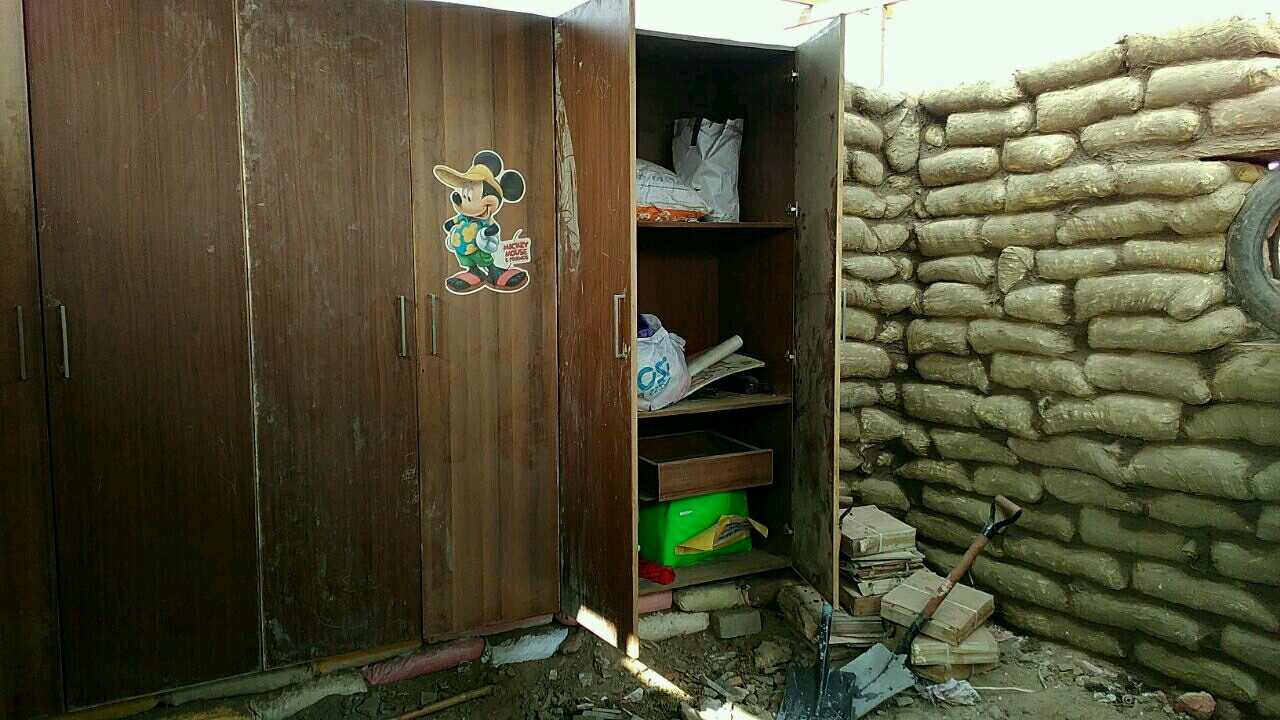 12) And these were the window tyres!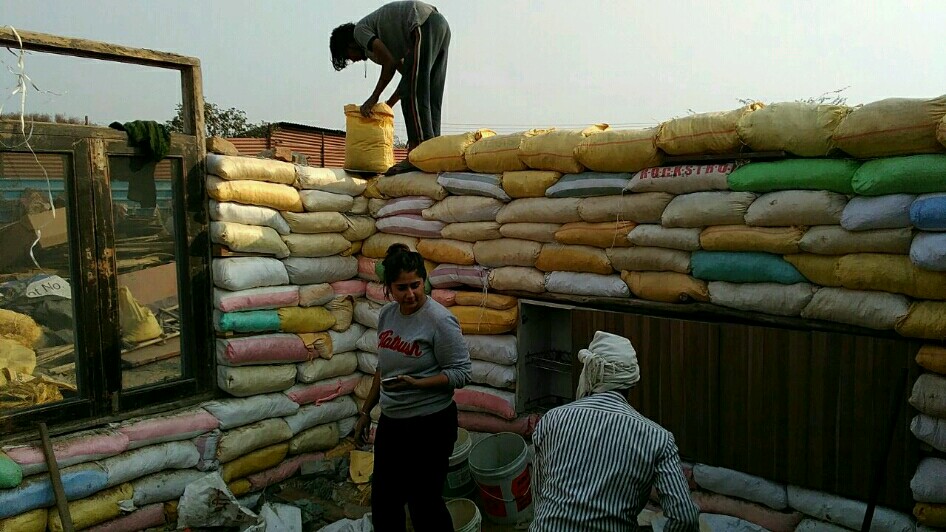 13) The semi-finished structure was plastered with cow dung and clay soil.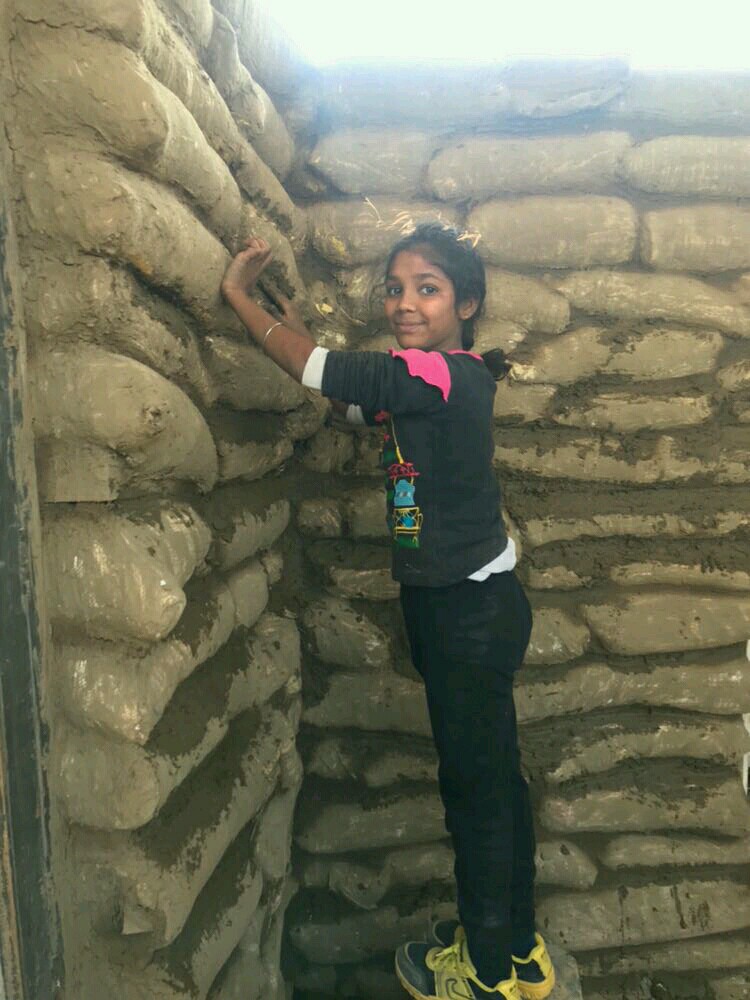 14) An iron roof with bamboo jaali and cardboard insulation from the heat was built and the door was painted pink.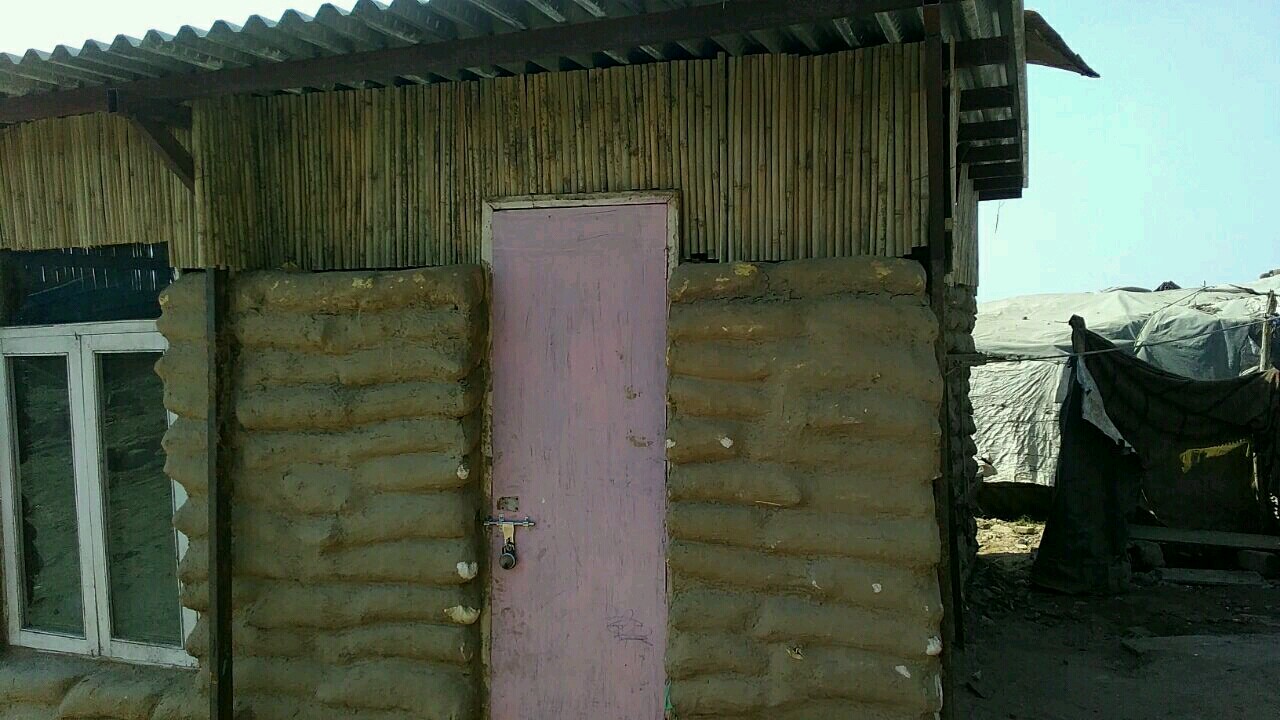 15) The flooring was completed!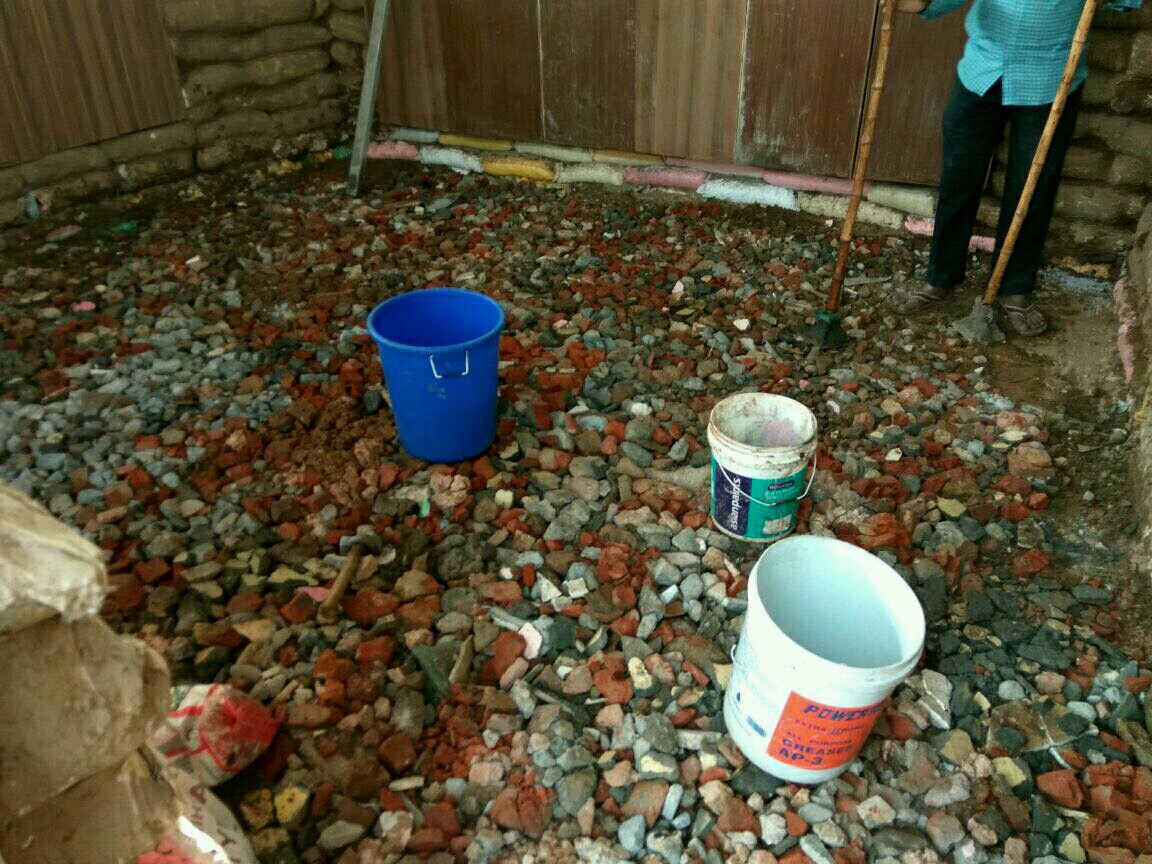 Shagun, who lead this entire building project, is not only an active propagator and user of different natural building techniques but also has a learning centre at her Geeli Mitti Farms eco-community where all the different techniques are taught.
The school itself has four to five different concepts interwoven including the earthbag structure, stone foundation, mud plastering, thatching and more.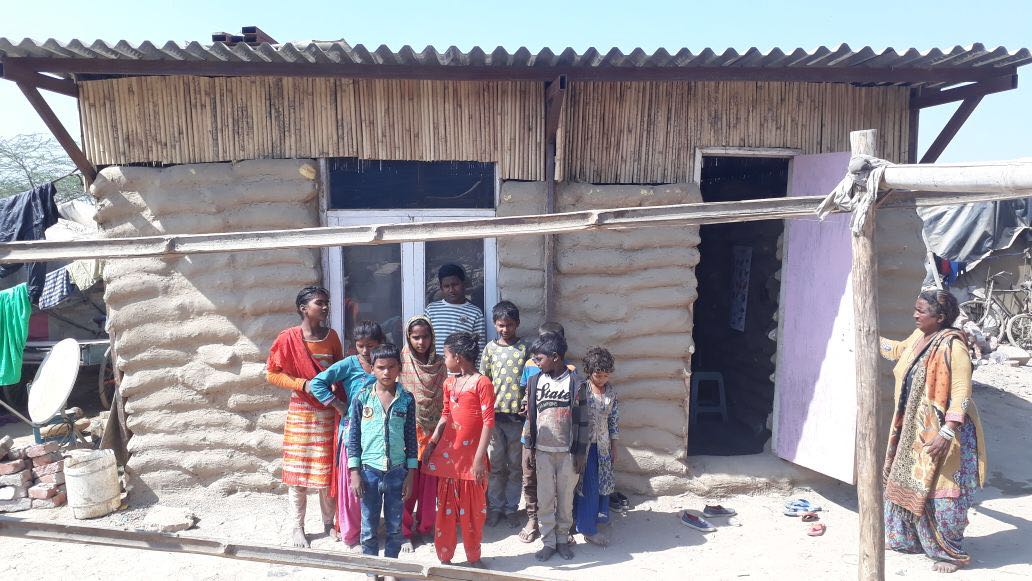 "Cement is not evil. Evil is the over-use of anything. It is because its use has become so over-commercialised that it has lost its balance and it has become destructive. I do promote the use of cement in small quantities in certain places. The problem is now we don't know anything apart from cement. All structures, all buildings are just fully made of cement." Shagun says.
"Why do you need cement and so much of expensive building material? Give me one advantage that they have over mud. Not strength, not energy efficiency, not prevention against natural calamities, nothing!"
Rashi recalls, "The slum dwellers gave a mixed response. They wonder if such a building would collapse, then what would happen. Many would sit on the fringes and see what all was being done. They had lots of queries. For example, they would ask us why we don't build a brick house if we had the money. A builder from Vasant Kunj also came to observe the whole process, to see how can one build something like this. For the children too, it's a new thing for all of them. They are also enjoying doing all the mitti ka kaam."
As the children in the basti gear up for their classes in this new earth haven that they helped create, Shagun continues to build and create more houses from the scratch with the help of the bounties of nature.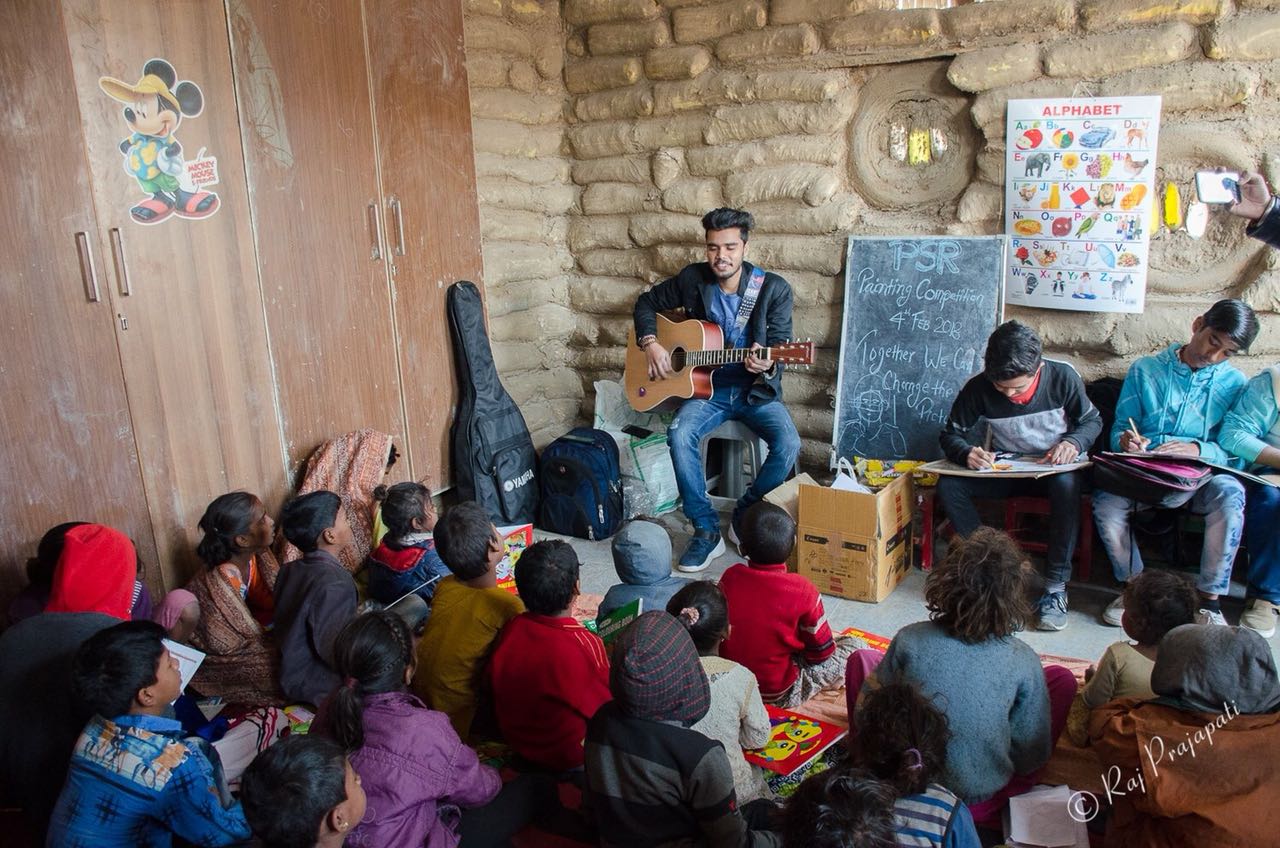 To find out more about the different farming and/or natural building techniques, workshops, raising livestock, sustainable ways of living or to simply return to your roots and pay a visit to the scenic farms and indulge in hands-on learning and community service, you could check out their website – www. geelimitti.in or write to Shagun at geelimittiindia@gmail.com.
---
You may also like: TBI Blogs: 7 Simple Ways You Can Help Educate Slum Children in India
---
To champion the cause of education and livelihood for underprivileged children and women and explore how you could pitch in towards Lakshyam's endeavours such as their Toy Library, you could visit their website, www.lakshyam.co.in or get in touch with Raashi at 09540790002.
(Written by Ipsita Sarkar)
Like this story? Or have something to share?
Write to us: contact@thebetterindia.com
Connect with us on Facebook and Twitter.
NEW: Click here to get positive news on WhatsApp!
We bring stories straight from the heart of India, to inspire millions and create a wave of impact. Our positive movement is growing bigger everyday, and we would love for you to join it.
Please contribute whatever you can, every little penny helps our team in bringing you more stories that support dreams and spread hope.