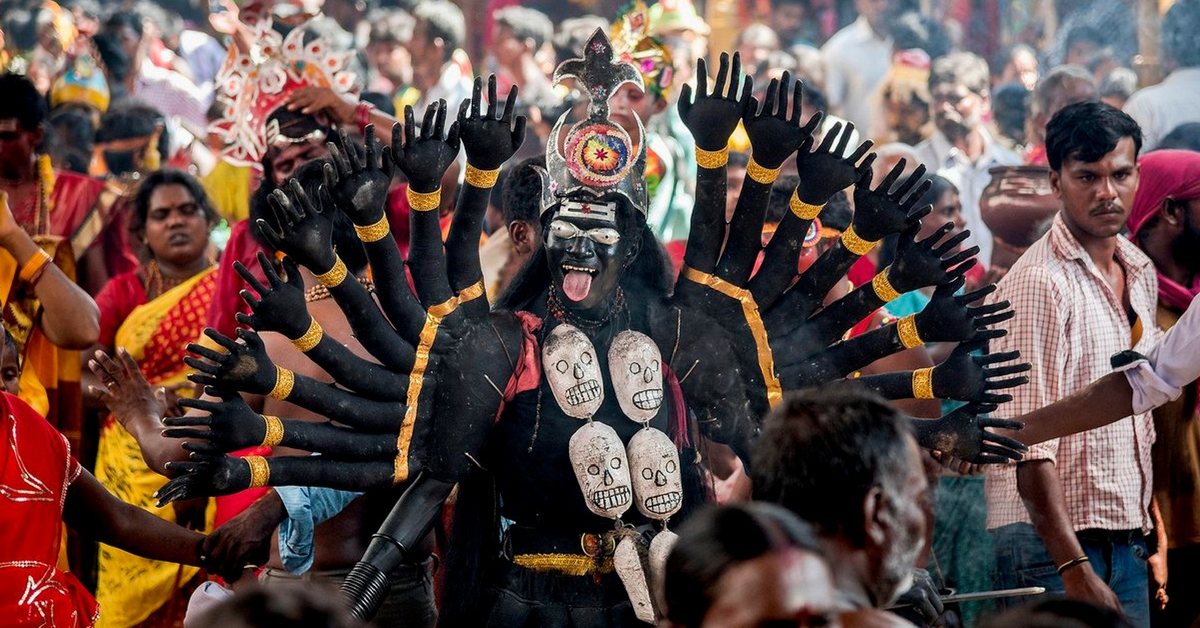 From fasting and feasting to fireworks, Dussehra is celebrated in different ways in different parts of India even as central essence of the festival - the triumph of good over evil - remains the same.
Call it what you will: a fondness for tradition, an excuse to be part of a communal experience or simply nostalgia. But most Indians love festivals. From decorations and dances to fireworks and food, we delight in every aspect of festivals.
And as far as festivals are concerned, Dussehra brings all these aspects together in the grandest of manners.
Eagerly awaited across the country, Dussehra embodies the concept of unity in diversity. From fasting and feasting to fireworks, it is celebrated in different ways in different parts of India even as the central essence of the festival – the triumph of good over evil – remains the same.
So if you are looking for a diverse Dussehra experience, here are 12 places in India that celebrate this festival in an exceptional way. From Kolkata to Kulasekarapattinam, mountain heights to sunny skies, these places definitely do Dussehra better than the rest!
1. Kolkata Durga Pujo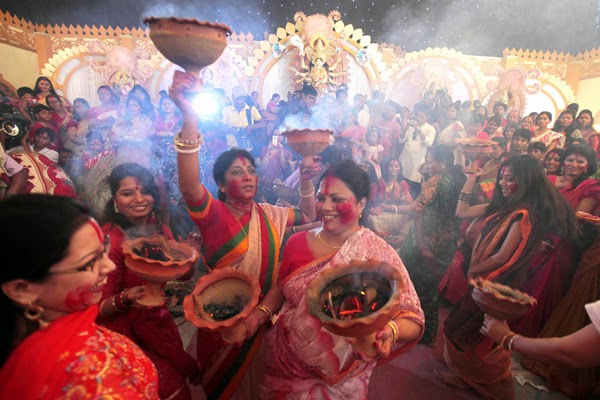 The biggest festival of West Bengal, Durga Puja (or Pujo, as Bengalis say) literally transforms Kolkata into the city of joy. From hopping between elaborate pandals (each has a unique theme and tells its own story) and indulging in delectable bhogs to doing the dhunuchi dance to the fervent beats of the dhaak, Durga Puja in Kolkata is a once-in-a-lifetime experience.
However, while Kolkata's public Durga Pujas tend to hog all the attention, a little-known yet unique experience can be found at the traditional 'Bonedi Bari' pujas held in the city's time-worn palatial mansions (like Sovabazar Raj Bari and Rani Rashmoni Bari).
2. Mysore Dasara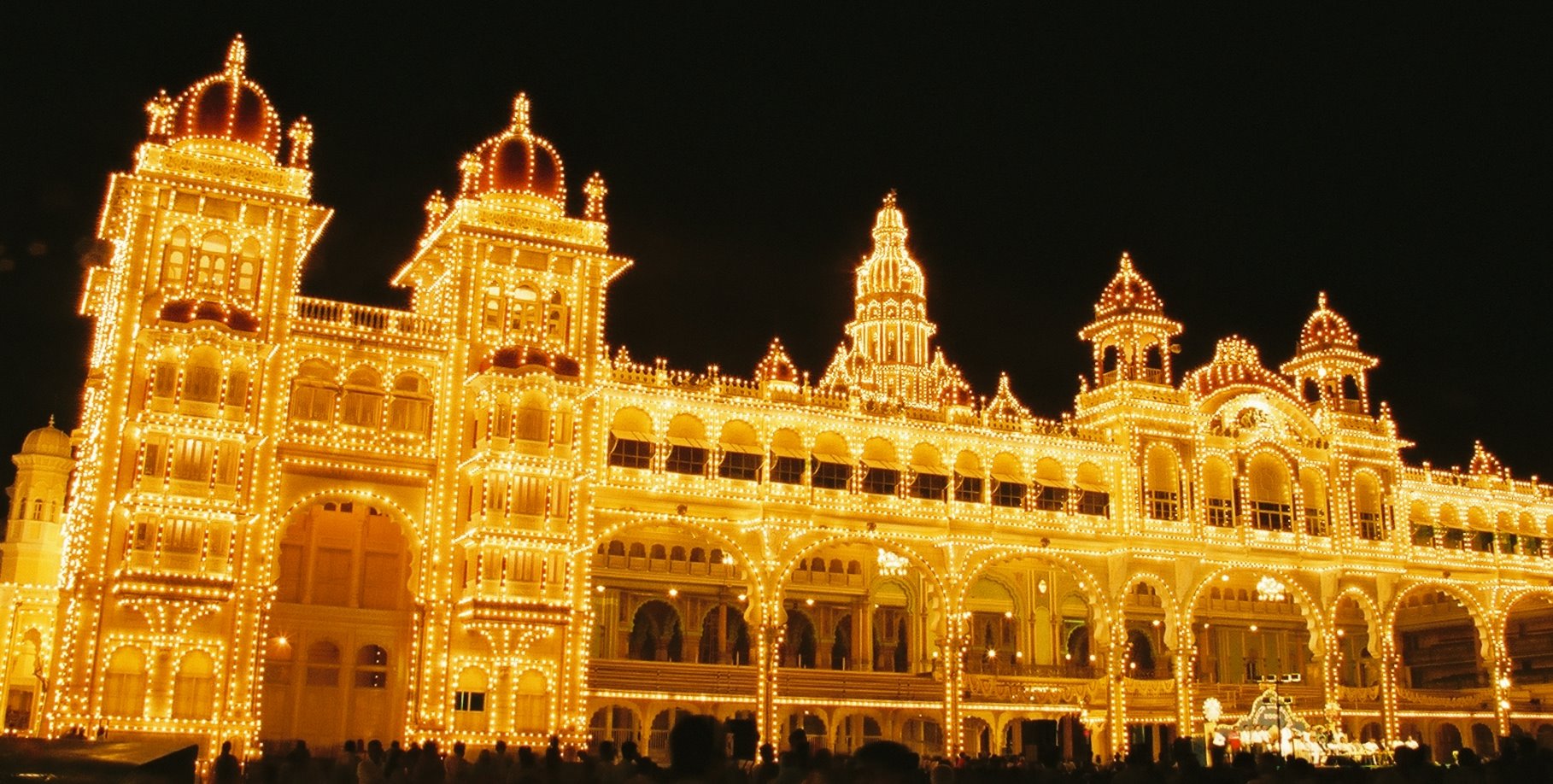 According to local folklore, Mysuru Dasara is celebrated with much pomp and grandeur to commemorate the event from which the city is believed to have got its name — the slaying of demon Mahisasura by Goddess Chamundeshwari (another name of Durga).
As the deity is revered as a warrior goddess, the celebrations include military parades, athletic competitions and cultural performances.
Other highlights of the event are the special Durbar at the spectacularly lit Mysuru palace (attended by members of the royal family, officials and the masses) and the majestic Dasara procession known as the Jumbo Savari.
3. Kullu Dussehra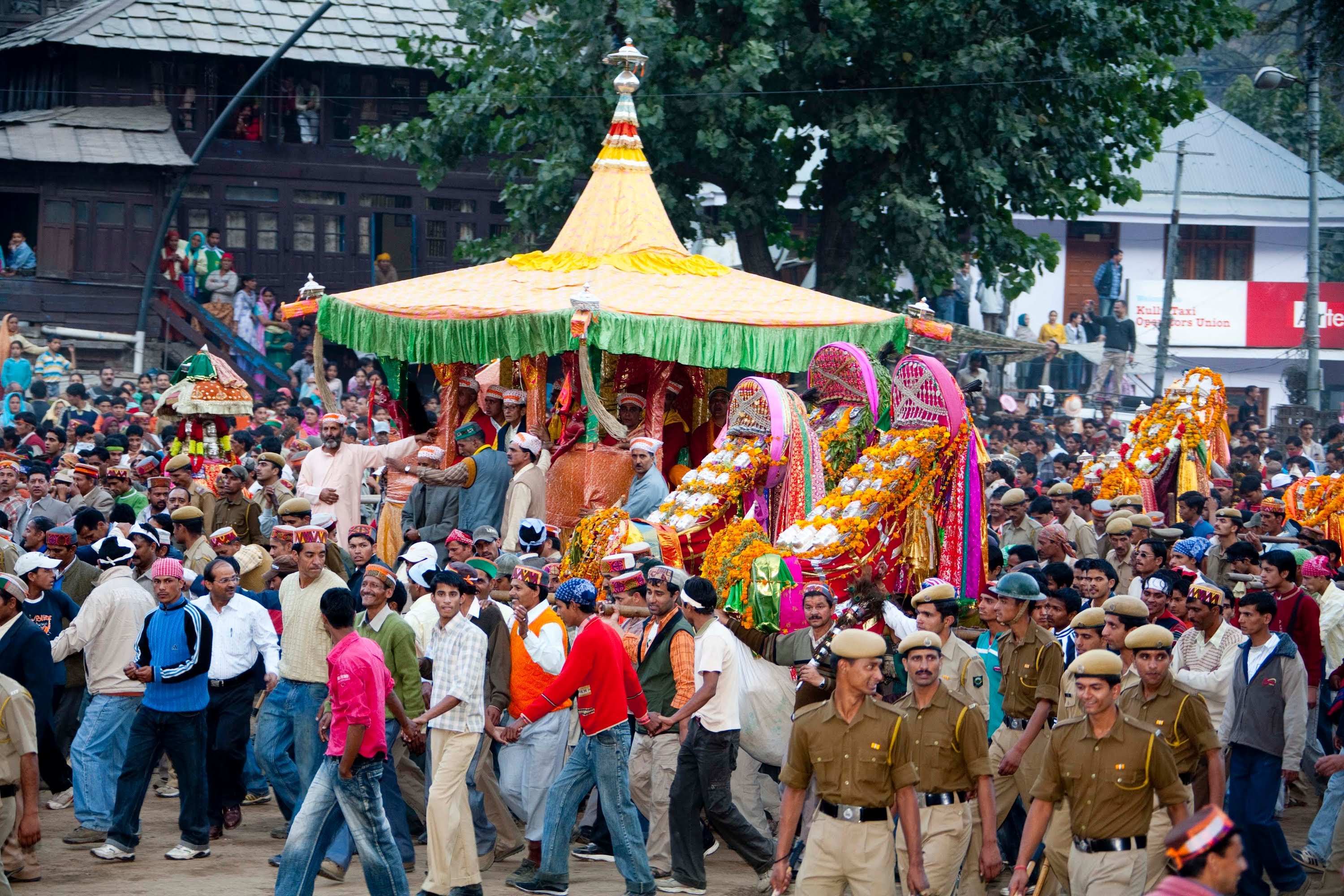 At the centuries-old Kullu Dussehra, spiritual fervour and ancient beliefs mingle harmoniously with the beats of dhadaks, the sonorous calls of Narsingha trumpets and the crisp Himalayan air.
Over 200 local deities and demigods from neighbouring villages are brought to participate in Lord Raghunath's rath yatra (a palanquin-chariot procession) to Dhalpur Maidan.
Started by Raja Jagat Singh (the erstwhile ruler of the Kullu valley) in 1637, the Kullu Dussehra is the only festival in India where such a large number of deities are assembled at one place. What also makes this festival unique is that unlike other places, the celebrations begin on Vijayadashami, the day when the Dussehra festivities end in the rest of the country.
Interestingly, instead of burning effigies of Ravan, the festival concludes its celebration with the Lankadahan ceremony or the burning of the Lanka (symbolised by dry leaves, grass and twigs) on the banks of river Beas.
4. Hyderabad's Bathukamma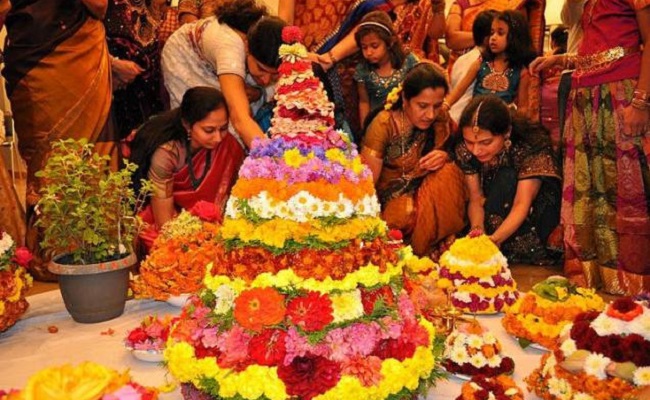 A beautiful floral festival dedicated to the Goddess Gauri, Bathukamma literally translates to 'Mother Goddess, come alive' in English. Celebrated across Telangana and in parts of Andhra Pradesh, the festival starts with the worship of Lord Ganesha followed by women dancing around a flower arrangement (that is made by placing seven concentric circles of wood on top of each other to resemble a temple gopuram).
Coinciding with Navratri, Bathukamma starts on the day of Mahalaya Amavasya and culminates on on Ashwayuja Ashtami (also known as Durgashtami). It is then followed by Boddemma, a 7-day festival that marks the ending of varsha ritu (monsoon) and the advent of sharad ritu (autumn). Interestingly, each day of Bathukamma is named after the type of food (naivedyam) that is offered to the deity on that particular day.
5. Bastar Dussehra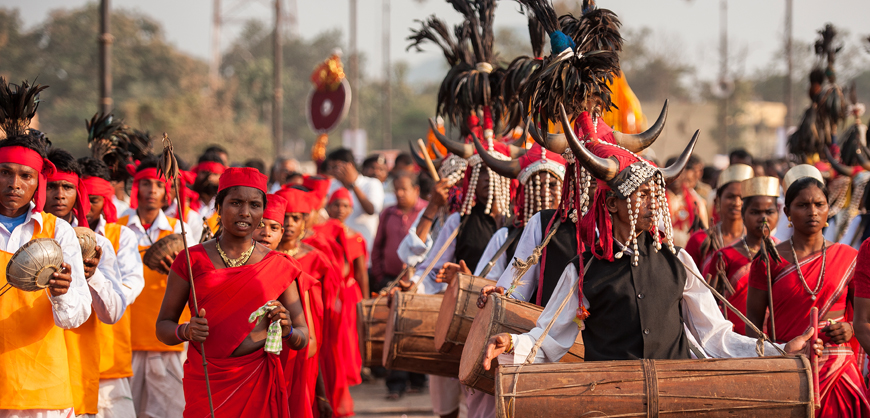 A unique 75-day festival celebrated in the tribal heartland of Chhattisgarh, and the Bastar Dussehra is all about nature, spirituality and Devi Danteshwari (the presiding deity of Bastar). This tradition is believed to have been started by 13th century Bastar King Purushottam Dev in Bade Dongar the erstwhile capital of the Kakatiyas that lies near the present day city of Jagdalpur.
Unique rituals at this age-old tribal festival includes pata jatra (worship of wood), deri gadhai (posting of the pillars, kalash staphna (urn installation), kachan gaadi (throne installation for Devi Kachan), nisha jatra (nocturnal festival), muria durbar (conference of tribal chieftains) and on the last day, ohadi (farewell to deities).
6. Chennai's Bommai Kolu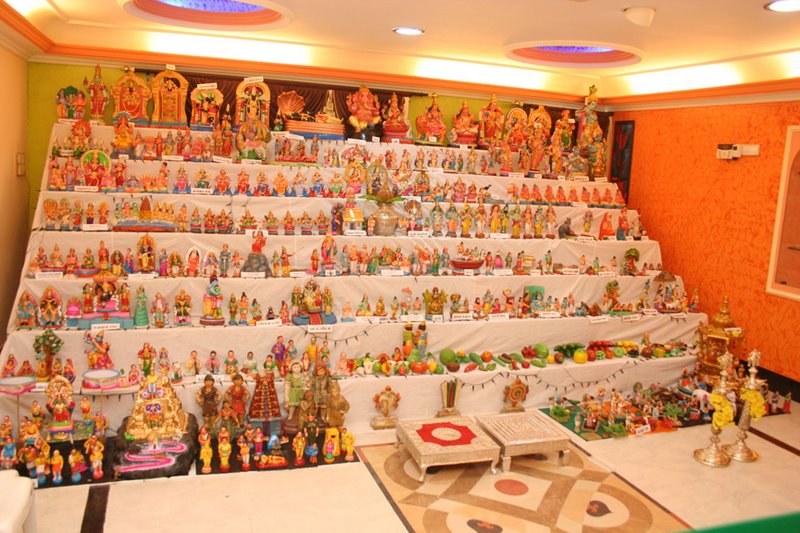 Come Dussehra, and the streets of Chennai get decked up with kolus (simple tier-wise arrangement of idols of gods and goddesses on wooden padis). While the brightly-coloured tableaux usually represent the assembly of Goddess Durga during her battle with the demon Mahishasura, it also has displays with other themes such as episodes from Ramayana and Mahabharata.
Often abstract concepts add to the layers of stories on the tableaux. From local wedding rituals and folk songs to contemporary heroes (such as Olympic medal winners), over the years, the all-encompassing tradition of Bommai Kolu has transformed into an annual exhibition of creativity and innovation.
Similar versions of this unusual festival are also celebrated with great enthusiasm in the neighbouring states of Karnataka (Bombe Habba) and Andhra Pradesh (Bommala Koluvu).
7. Varanasi Ram Lila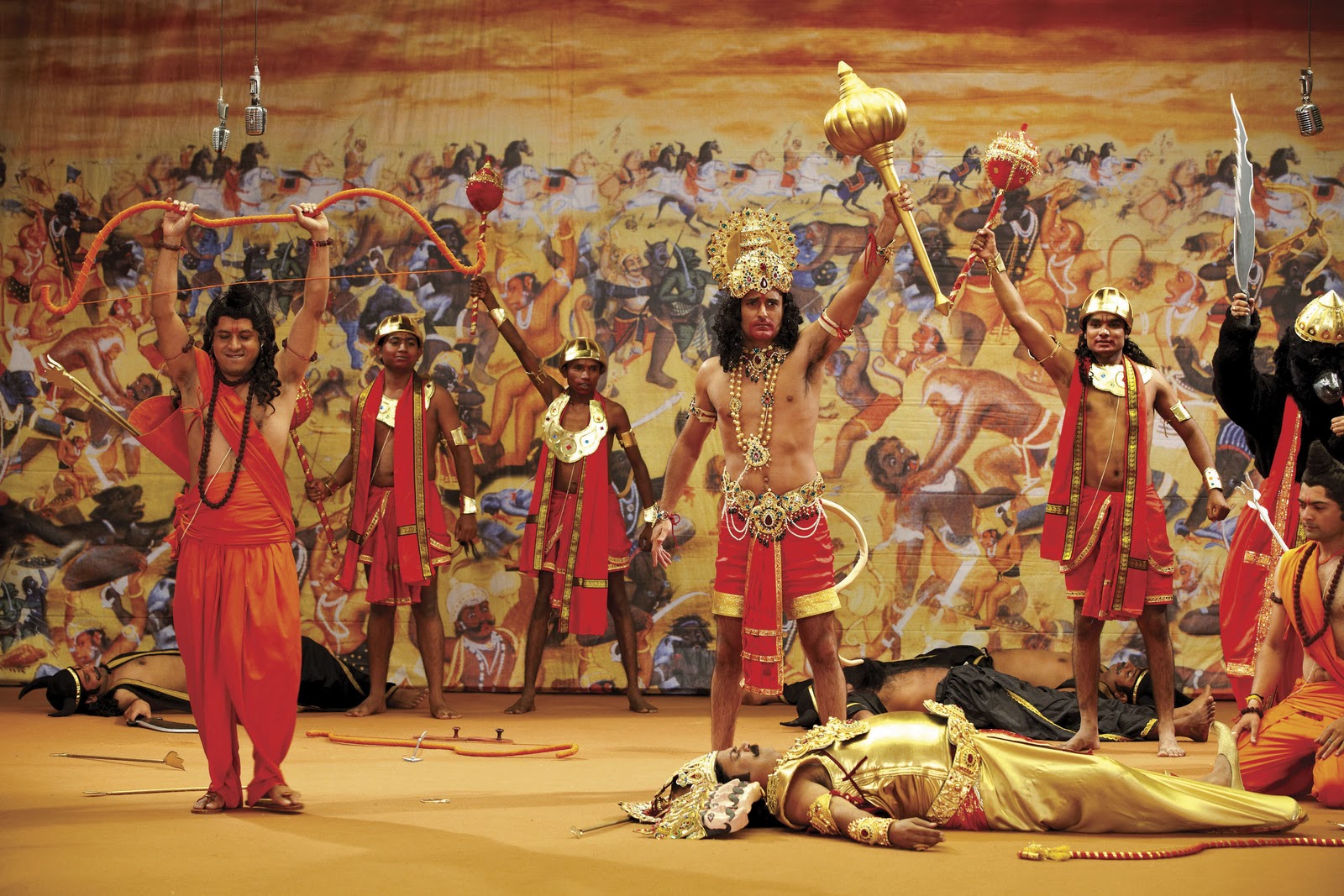 One of the oldest continuously inhabited cities in the world, Varanasi is famous for its Ram Lila that has been performed beside the Ramnagar Fort since the early 1800s (it was started by the then Maharaja of Benaras, Udit Narayan Singh).
The entire area around the fort is transformed into a stage with permanent structures being built to represent the main locations of the story like Ayodhya, Lanka, Ashok Vatika etc.
As the actors (aided by music, masks and huge papier-mache figures) move from location to location while performing the epic saga, the audience moves along with them. Incredibly, the performance hardly uses mikes and loudspeakers, even when viewers number in the thousands!
8. Madikeri Dasara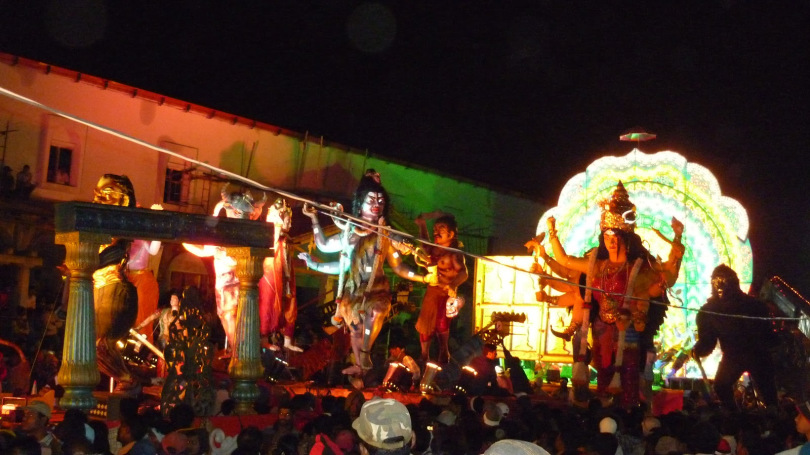 A colourful, carnival-like festival celebrated amidst the serene hills of Coorg (Kodagu), Madikeri's Dasara has a long and fascinating history that dates back to the reign of Haaleri Kings. There are four temples dedicated to Goddess Mariamma (after whom the celebration is also called Mariamma festival), each having its own unique Karaga (a ritualistic folk dance dedicated to Draupadi) that is performed during the festival.
There is nothing like jiving all night to foot-thumping music in the cool mountain air, with frequent breaks to sample spicy gobi manchurian, pandi curry and of course Coorgi coffee.
However, the main amusement is the boisterous parade of 10 elaborately done up floats on which mechanical figures of gods, goddesses, demons and goblins enact dramas based on ancient plot lines.
9. Ahmedabad's Navratri Mahotsav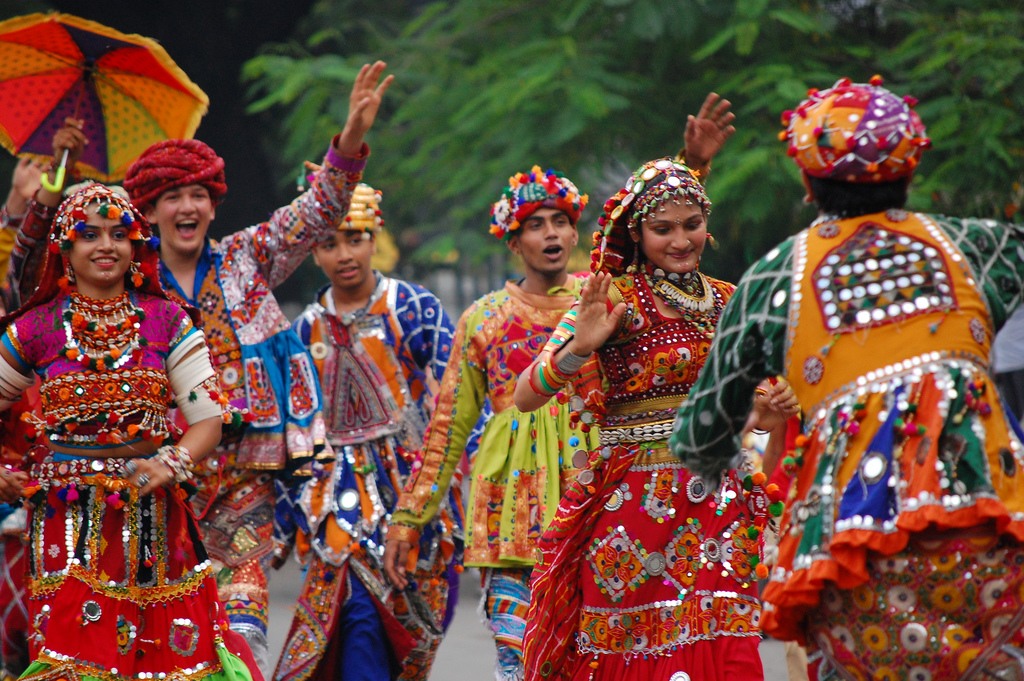 A much-awaited annual event in Gujarat's calendar, Navratri Mahotsav in Ahmedabad (or Amdavad) is celebrated with dazzling gaiety and fervour.
Nine nights of bustling midnight buffets, energetic garba dances and vibrantly coloured chaniya cholis, kediyus and kafni pajamas twirling to the beat of the dhol, this festive extravaganza is sure to leave a lasting impression on visitors.
Another reason to swing by Ahmedabad for Navratri is the iconic Gujarati aarti dance performed in honour of the mother goddess; Thousands of people dancing in circles around intricate arrangements of earthen lamps to commemorate the triumph of good over evil is a stunning sight to behold.
10. Delhi's Ram Lila
Delhi dons a bright, festive avatar during Dussehra with hundreds of special stages set up across the city for Ram Lila musicals enacted by theatre actors. The most popular place to view the same is at Ramlila Maidan, the aptly named fairground in Old Delhi.
It is believed that this particular Ram Lila musical was started by Mughal Emperor Bahadur Shah Zafar nearly 170 years ago.
If that is not interesting enough, the mela-like atmosphere that engulfs the capital during Dusshera sure is. Kanjak Puja (with their delicious puri-halwa-channa offerings), Navratri specials in restaurants and setting fire to the sky-high effigies of Ravana, Meghnath and Kumbhakarana on the last day are other things that people look forward to.
11. Kulasekarapattinam Dasara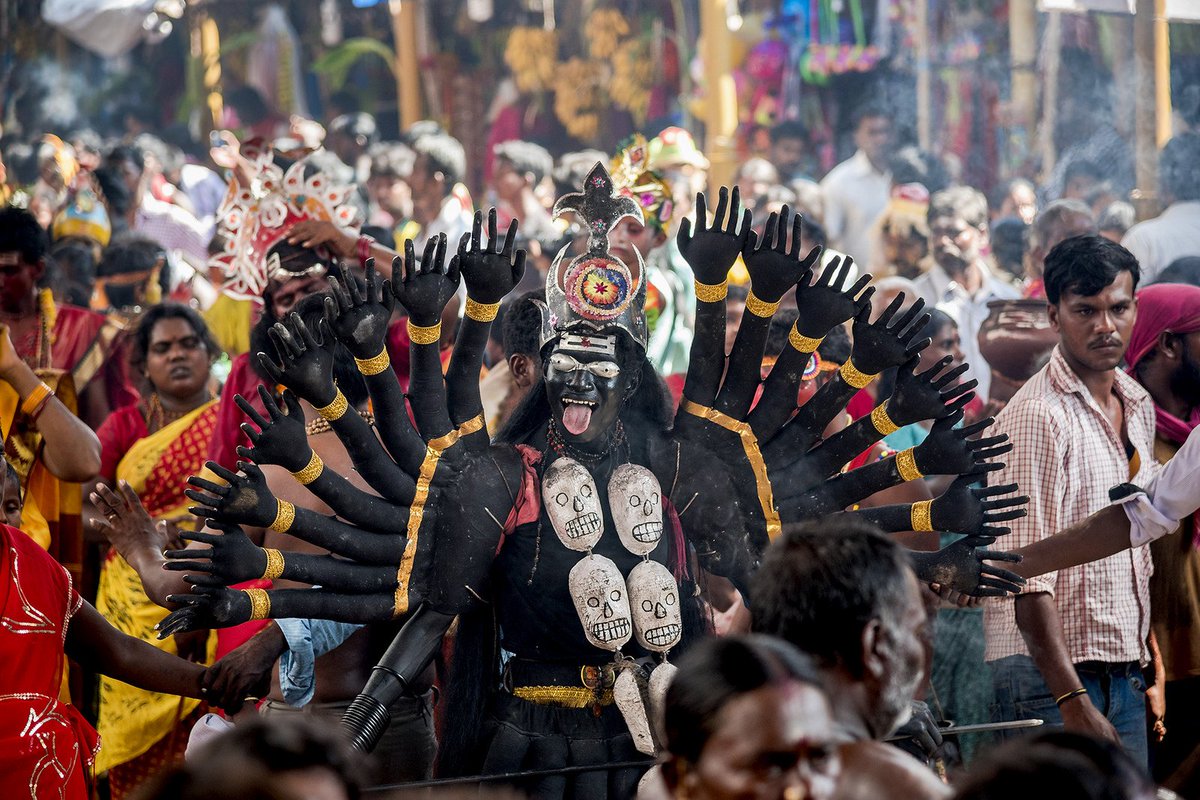 A rather nondescript coastal town in Tamil Nadu, Kulasekharapattinam comes alive during its 10-day Dussehra festival (also called Kulasai festival). Revolving around the Mutharamman Temple (an important pilgrimage spot in the region), the annual celebration is a melting pot of music, dance, drama and an astounding repertoire of colourful costumes.
Another unusual aspect of this festival is a trance dance in which pilgrims in fancy costumes sway to the pulsating beats of thara thappattam (with fire bearing clay pots in their hands) for hours on end and far into the night.
12. Kota Dussehra
Kota celebrates Dussehra with a fun-filled mela (fair) that includes cultural performances, costume plays, spectacular displays of fireworks and a plethora of stalls serving delicious festive food. The tradition of organizing a Dussehra fair (which runs for 25 days) is believed to have started in the reign of Maharaj Durjanshal Singh Hada in 1723 AD.
On Vijayadashami, massive effigies of Ravan, Meghnath and Kumbhakarna are set aflame to commemorate Ram's victory over the demon king of Lanka. This is followed by a series of kavi sammelans, mushairas and moustache competitions!
---
Also Read: Brilliant! Hundreds create Longest Ever Alpona in Kolkata for Mahalaya!
---
Like this story? Or have something to share? Write to us: contact@thebetterindia.com, or connect with us on Facebook and Twitter.
NEW: Click here to get positive news on WhatsApp!
We bring stories straight from the heart of India, to inspire millions and create a wave of impact. Our positive movement is growing bigger everyday, and we would love for you to join it.
Please contribute whatever you can, every little penny helps our team in bringing you more stories that support dreams and spread hope.