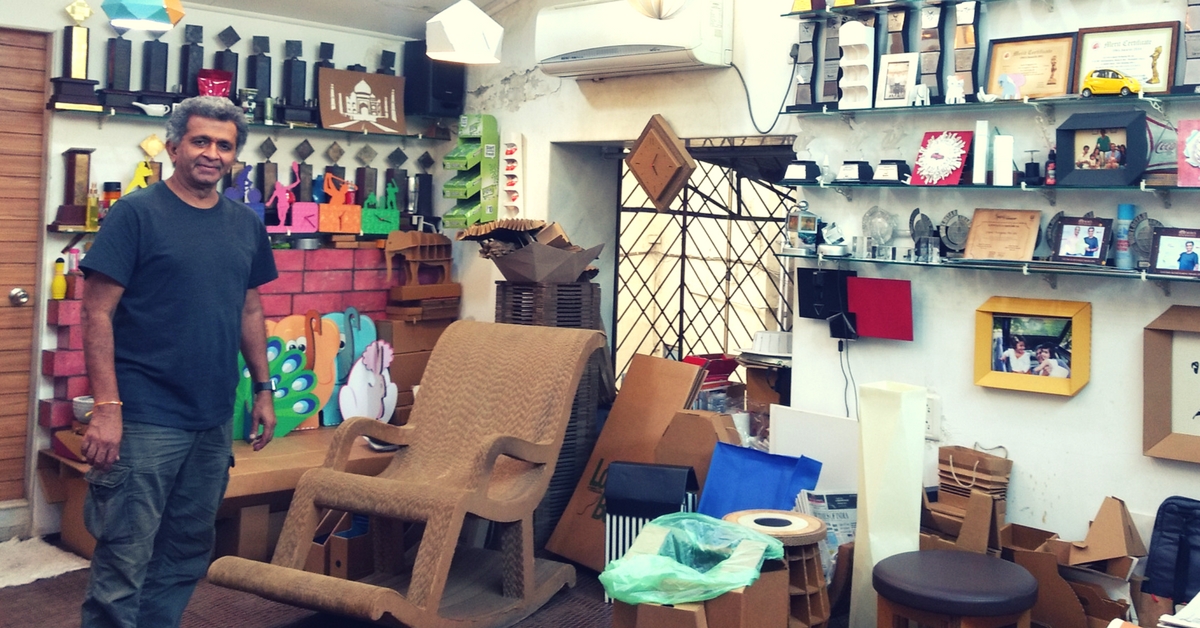 Mumbai-based Haresh Mehta's Paper Shaper, a corrugated cardboard manufacturing firm, is helping people do so by offering an alternate sustainable solution to wooden, metal and plastic furniture.
Imagine living a sustainable and eco-friendly life right from, quite literally, the cradle to the coffin. Difficult, right? But what if one lifestyle change made it possible?
Mumbai-based Haresh Mehta's Paper Shaper, a corrugated cardboard manufacturing firm, is helping people do so by offering an alternate sustainable solution to wooden, metal and plastic furniture.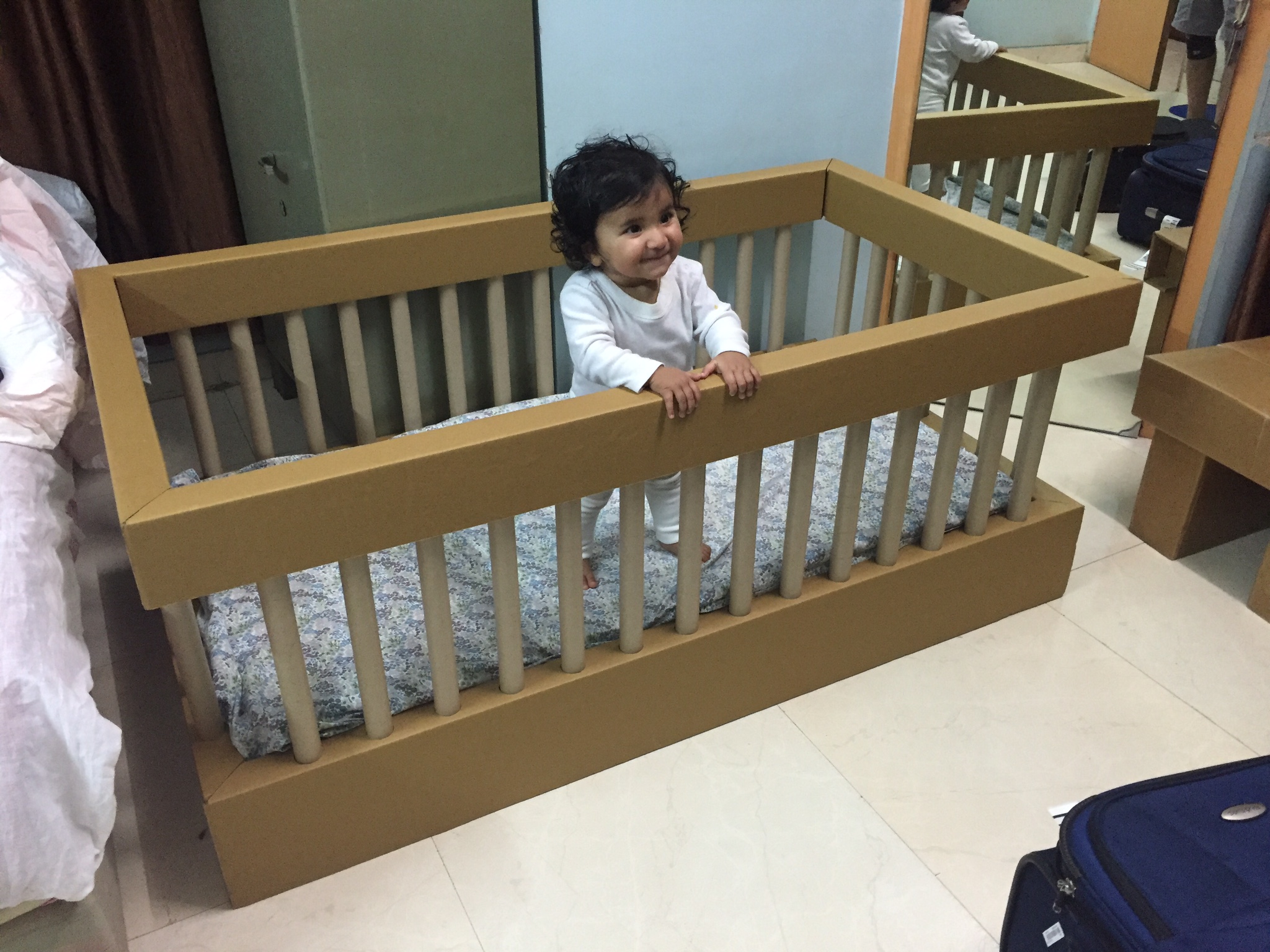 From cradles to a coffins, and everything in between, this innovative bootstrap company is making durable, lightweight, recyclable and eco-friendly corrugated cardboard furniture with a shelf life of up to seven years!
When you enter the Paper Shaper officer, it is hard to miss how water is served in a cardboard tray, while you wait on a cardboard sofa watching employees type busily at their, you guessed it, cardboard desks.
What kind of cardboard is tough enough to handle the weight of almost three humans and not break?
Paper Shaper's 'corrugated cardboard' is used to make shipping boxes. It differs from regular cardboard because it contains a corrugated sheet in between two flat liners. It is light , but strong, and can withstand the heavy objects, and sustain the wear and tear of transportation. Simply put, it's a variation of the sturdy cardboard box used to package electronic equipment.
The beginning
Paper Shaper was officially launched online in May this year, but was conceived 30 years ago when a young Haresh would sit in a corner of his father's packaging factory, cutting, twisting and assembling cardboard pieces to create innovative products. While 'Jayna Packaging,' the family-run business, shut over 15 years ago the building continues to house Paper Shaper.
A designer from a Gujarati business family, Haresh, now 64, was deemed a failure by his kin. His family's disapproval peaked when he dropped out of his inter-science course at SIES college, and decided to pursue his passion for origami.
However, Haresh was not one to be dictated by other people's plans for him. He decided to commit and make Paper Shaper a reality, with no support from the family.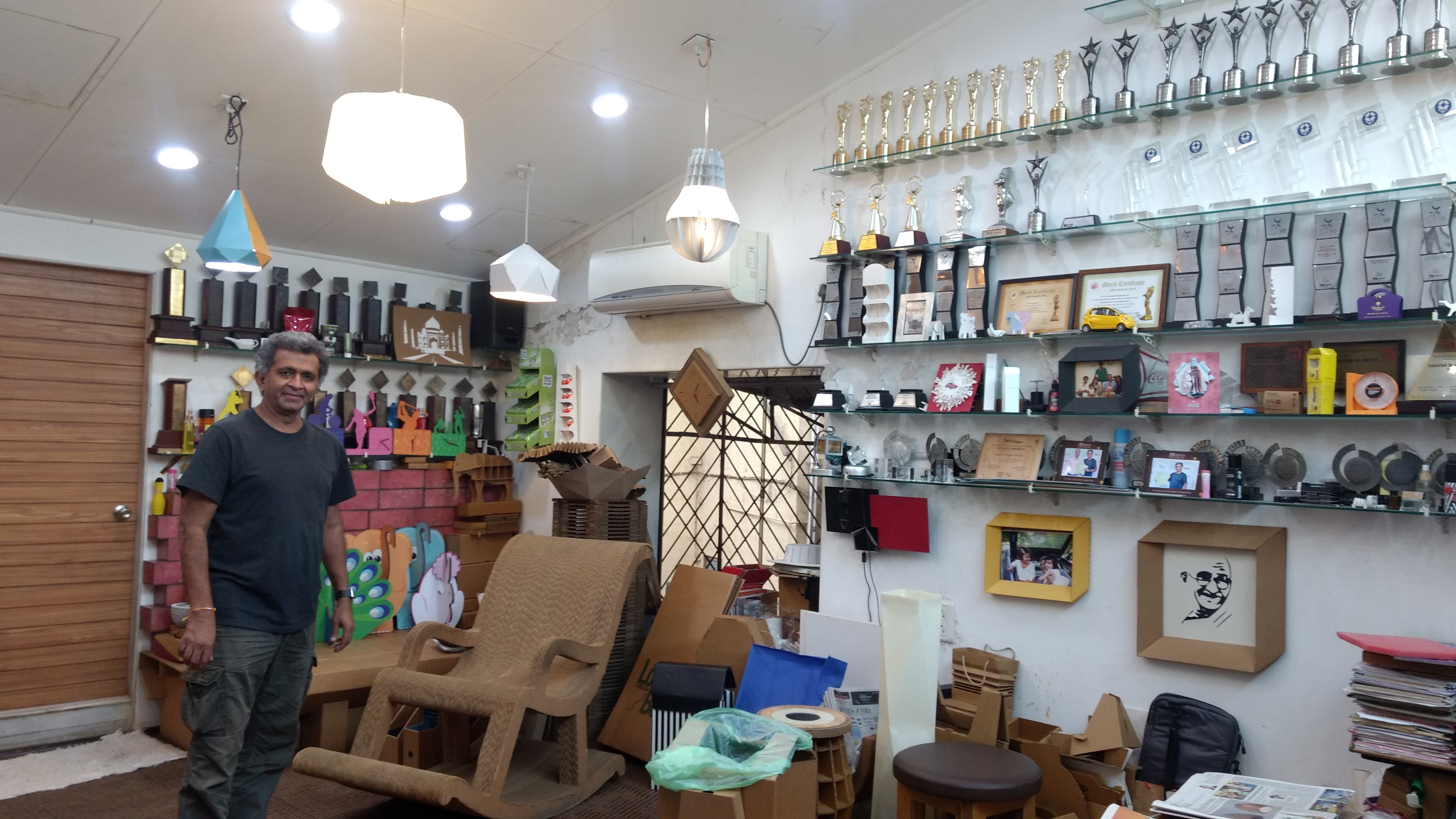 "The resistance from my immediate family, instead of breaking me, made me stronger. My childhood spelt rebellion. If somebody pulled me down, I would get back up."
Today, Haresh's family is his pillar of support, especially his kids, "My mother supports me. Even though my father is no more, he saw my initiative flourish while he was on his deathbed, and appreciated it. He was a simple man, who didn't visualize these things. He apologised for not having supported me early. But it's all in the past now."
---
Read more: How Tribals Are Making Eco-Friendly & Cheap Furniture Using Weed That Otherwise Destroys Forests
---
Furniture & Accessories.
The range of cardboard marvels include cradles, chairs, tables, stools, single beds, sofa sets, wardrobes (with wooden frames), storage boxes, organisers, laptop bags, folders, magazine, book & CD racks, coffee bases, dustbins, rocking chairs, table lamps, decorative trophies and the list goes on. The product price ranges between Rs 1000 to 12,000 and can be delivered across the globe
In addition to adults, miniature coffins for pets also exist, to help them leave the world in a dignified and eco-friendly way as these boxes decompose faster than wooden ones.
Paper Shaper's assemble yourself' furniture can be dismantled and stored to stop wasting space, and also recycled every five years.
From baby pods, which are designer nests toddlers can play in with their toys to activity desks, there's a growing demand for Haresh's range of children's furniture online.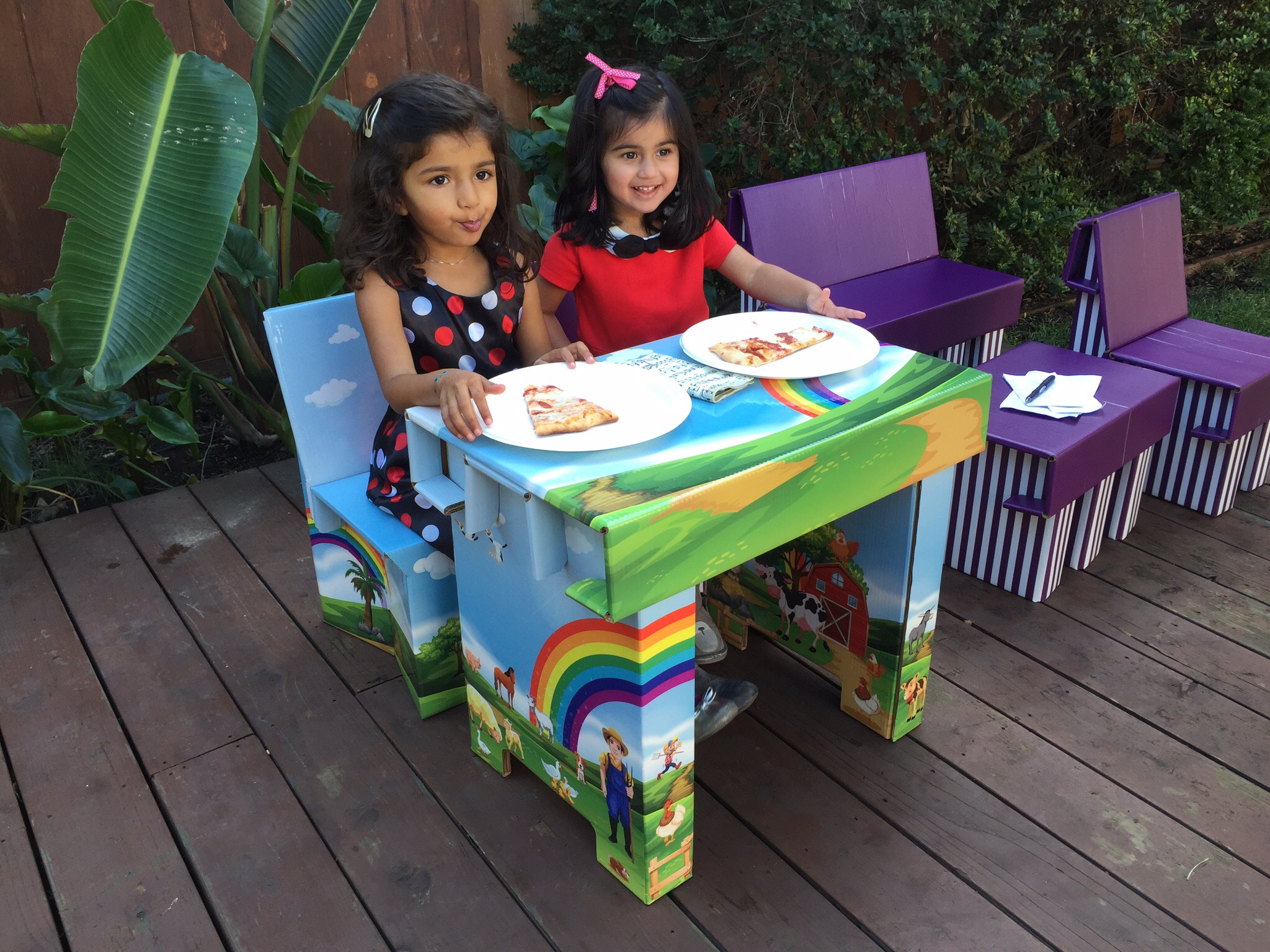 It is free of sharp edges and simple enough to assemble on their own, living up to the phrase of being truly kid-friendly.
As early as 2010, Haresh celebrated his son's 'green wedding,' by replacing traditional velvet couches on stage with cardboard furniture. In addition, over 100 chairs, tables and decorative lamps were made of cardboard too.
"I built, dismantled & stored it all in the factory godown. The guests at the wedding were so impressed, they bought all of the furniture from the factory in less than 3 days after the wedding. Some continue to use it till date."
As part of exhibitions around India, Haresh built a life-size Trojan horse which could handle the weight of 10 people, over 600 kilos. His rocking chair at Mumbai's Kala Ghoda Festival built in 2010, survived over 30,000 people sitting in turns and still rocks in his cabin. His packaging designs have earned him big brands like Camlin, Hindustan Unilever Ltd, P&G, Philips, Bajaj, Raymond, Gini & Jony etc. He is aiming to now expand to other markets outside Mumbai.
Loo-Box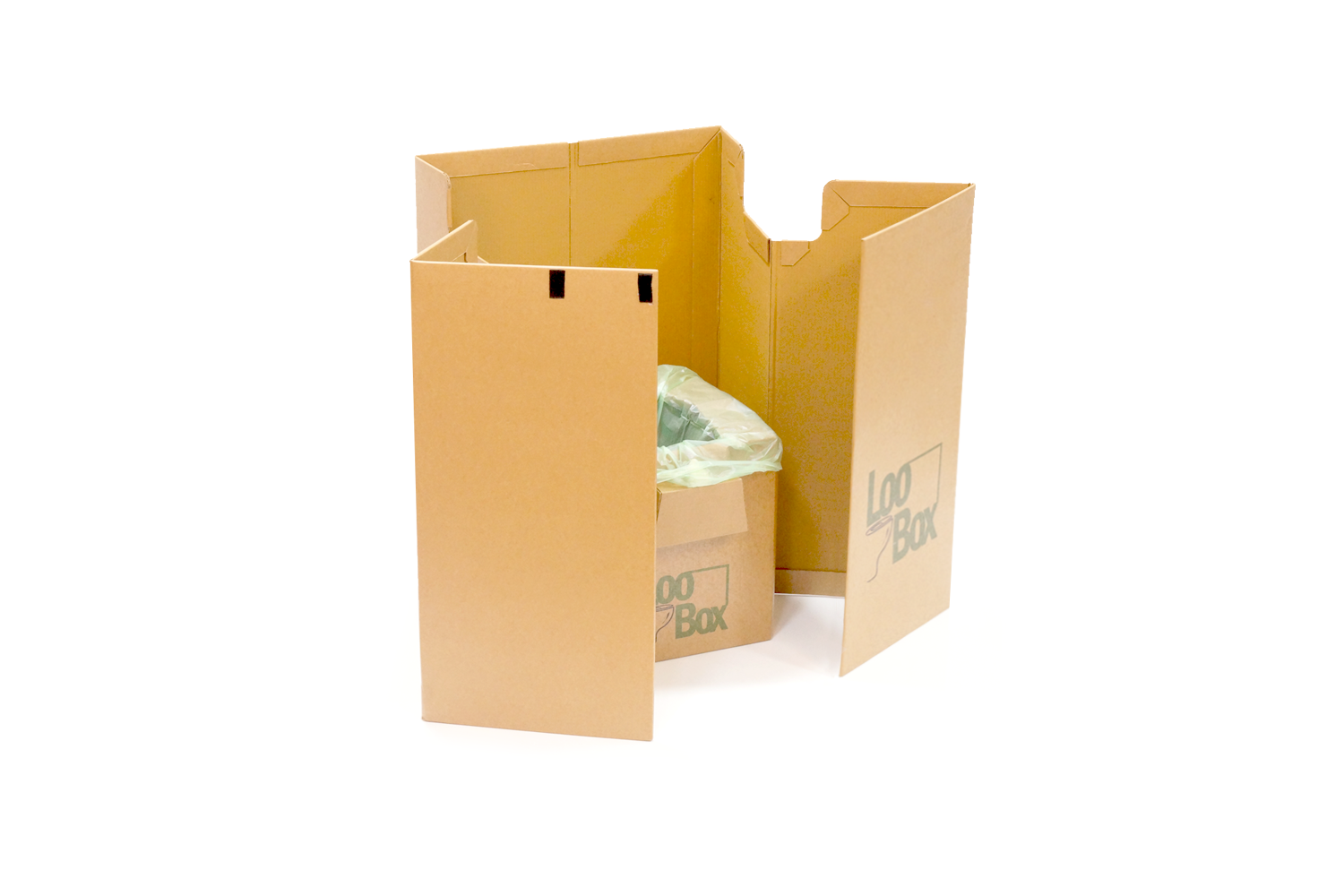 His latest pet project to launch next month tackles the grave issue of sanitation in the country. He would listen to stories by women travelling to Leh Ladakh & the horror of open defecation holding bedsheets to cover themselves. To help them refrain from using unhygienic public toilets, he invented the portable loo-box.
Easy to use, it can be set up and dismantled in less than 10 seconds. To help the user maintain their privacy, an adjustable cover is available around the loo-box with a magazine and mobile holder on its inner wall. The loo box loaded with towels, uses bio-compostable bags to be used and disposed after use.
"It's a handy & safe alternative for women travellers. It can be effectively used by caregivers of sick & elderly people at home, instead of using bedpans or adult diapers."
---
You may also like: This Architect Is Helping Rural Kids Study Better, With a Piece of Furniture!
---
Challenges
A series of transformation pictures from 2011 to 2012 graces Haresh's desk. The 64-year-old today bears no resemblance to the lymphoma patient in the pictures. A cancer-survivor, Haresh believes a positive attitude can overcome the biggest difficulties in life. Despite intense chemotherapy sessions, he would never miss a day at the factory.
"Chemo is a bit painful," he jokes. "But sometimes it's all in your head. If you let your passion dictate your thoughts, the pain seems bearable."
He truly believes the the art and craft of origami has been unappreciated for the longest time.
"Cardboard & paper have not been explored or exposed. When one says cardboard, the first picture that comes to head are flimsy boxes at kirana shops, and when you challenge them saying you can make durable furniture of out it, people take it with a pinch of salt. We are breaking the perception slowly. But there's still a long way to go"
He signs off with a message to the millennials saying, "Don't run after money; it will follow. Just pursue your passion. With your persistence, patience and hard work, nothing can stop you."
Connect to Paper Shaper here.
Address: Jayant House, Bail Bazar,
Kurla – Andheri Road, Kurla (West),
Mumbai 400 070.
Phone: 91 22 2514 4038,
Fax: 91 22 2514 0194,
Email: jaynapkg@gmail.com
Like this story? Or have something to share?
Write to us: contact@thebetterindia.com
Connect with us on Facebook and Twitter.
NEW: Click here to get positive news on WhatsApp!