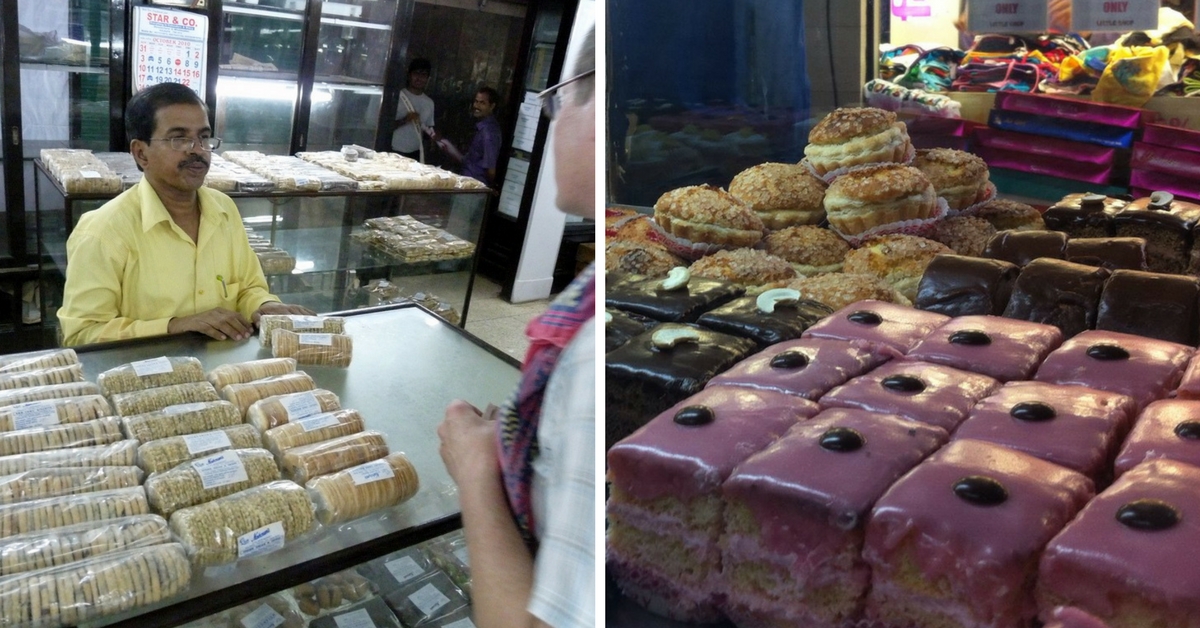 Founded in 1902 by a Baghdadi Jew, Nahoum and Sons is one of the many iconic destinations that makes Kolkata a foodie's paradise.
The Bengali obsession with mishti, meaning sweets, is well-known. In fact, a Bengali without a sweet tooth is greeted by the community with disbelief and sometimes even horror.
In Bengal, desserts are integral to the way of life. Every Kolkata neighbourhood has its own sweet stores and recipes for pithe and payesh are passed down generations like heirlooms. Here, sweets don't mark the end of a meal — the true-blue Bengali will have sweets at any hour, from breakfast to midnight snacks.
Along with their favourite mishti, Kolkata residents also have a soft spot for the old-school treats of Nahoum's, a 115-year-old Jewish bakery in New Market.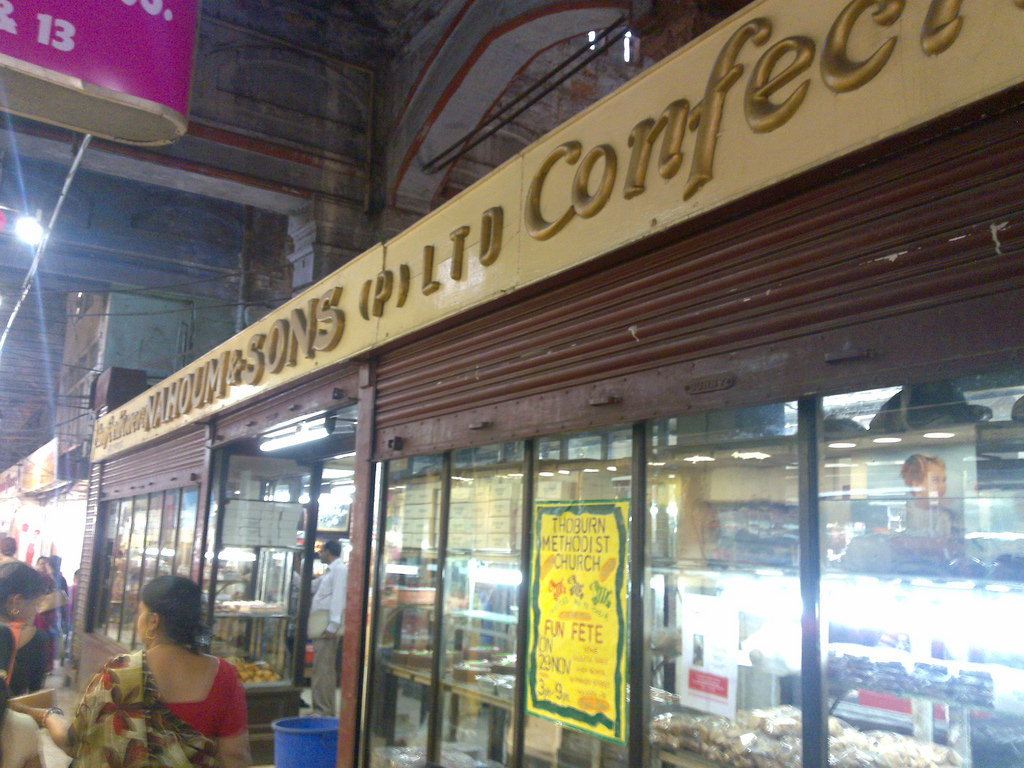 Image source: Flickr
The capital of West Bengal isn't just home to traditional Bengali sweets. Kolkata houses a variety of sweets, founded by the immigrant communities that have lived here for hundreds of years. While the iconic Flury's has undergone a makeover in recent years and also opened branches around the city, newer names like Kookie Jar or the Parisian-style Mrs Magpie have become new favourites among locals.
In the midst of a swiftly-changing food business, Nahoum's has, quite literally, stood the test of time. Take for instance, the simple fact that over the years the bakery has made no major changes to its layout or decor. They continue to use the wooden cash till that has been in the shop for close to a century and have only started accepting card payments recently.
---
You might also like: The Fascinating History of Rasgulla and the 'Sweet' Battle Over Its Origin
---
The bakery was founded by Nahoum Israel Mordecai, a Baghdadi Jew, in the year 1902. Though today the Jewish community in Kolkata has dwindled to double digits, the city was once the home of around 4,000-6,000 Jews during the first half of the 20th century. Israel began his bakery business with a door-to-door model, and his sweet treats captured the attention of the colonial rulers.
It wasn't until 1916 however, that the eponymous store — Nahoum and Sons, the actual name — was established in the New Market area. Till date, the store runs from the same location, and even its teakwood furniture, old-fashioned glass displays and flooring haven't changed from their classic versions. Nor has the food on offer –not much, really.
While many eateries thrive on innovation and reinventing traditional recipes at Nahoum's heritage sells like hot cakes.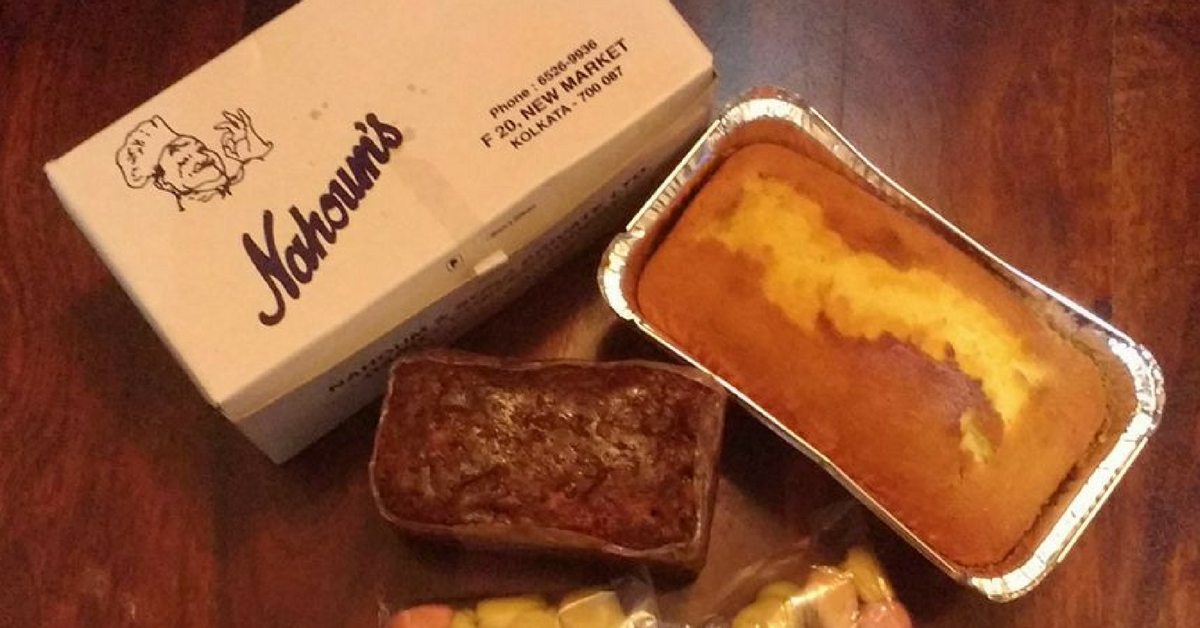 Image source: Facebook
Whether it is the bakery's iconic fruit cakes or their tarts and macaroons, classic recipes remain favourites among Nahoum's fans. According to Anamitraa, food reviewer and founder of The Gut Filling, a visit to the bakery has been an essential tradition for local residents during special occasions and even regular visits to New Market.
"I have been going to Nahoum's since my childhood," she says. "Before the malls took over, a visit to New Market was essential for Bengalis around Durga Puja and the Chaitra Sale preceding Poila Boishak (Bengali New Year). Visits to New Market meant heading to Nahoum for the plum cake and fruit cake. And when I go there, I always have the chicken puff."
The menu isn't always accurate, as one might quickly discover. Anwesha Ghosh, a research scholar who counts the store's Black Forest cake as her favourite, can testify to that. "Their cheesecake is actually a creme puff," she says. "I've known that to be cheesecake until I actually encountered the real thing much later in my life."
In spite of dubious names and old-fashioned recipes, Nahoum's has never lacked for takers. Originally patronised by the colonial rulers, a local legend says that Geoffrey Fisher, the Archbishop of Canterbury, once declared the baker's fruit cake to the best he had ever tasted.
Since its inception, the bakery has been a family-based business and prides itself on retaining their employees for decades.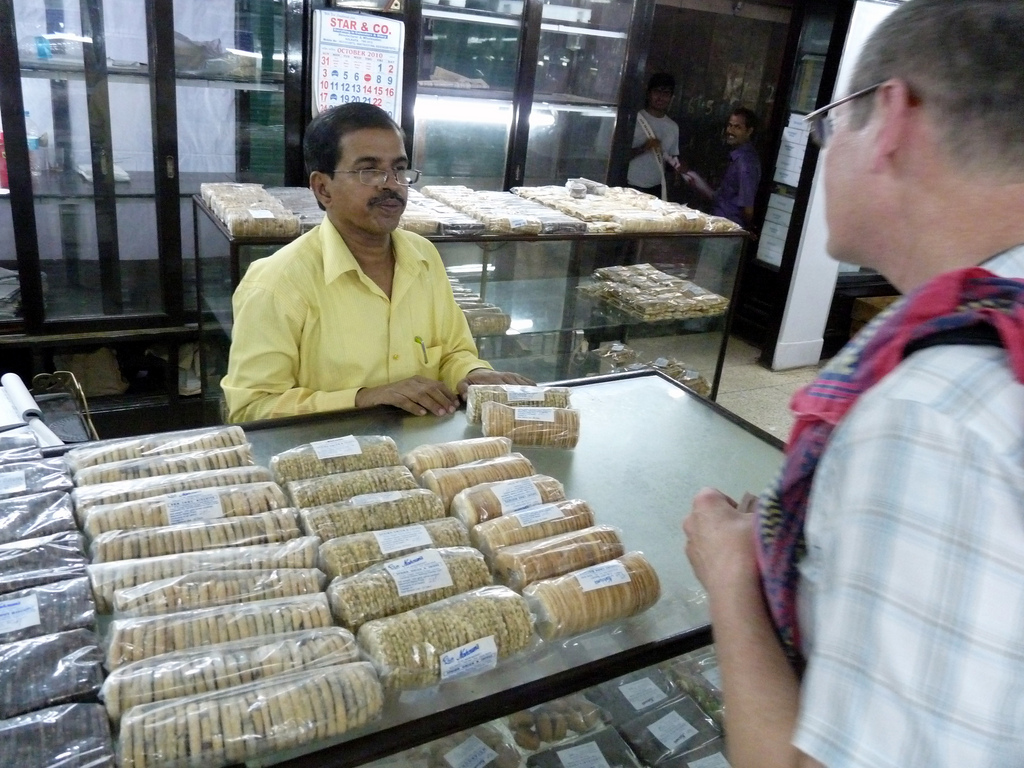 Image source: Flickr
In 2013, when David Nahoum, the well-loved,third-generation owner of the store passed away, loyalists wondered if the store would finally shut its doors. Hearteningly, the bakery has continued to operate thanks to other members of the Nahoum family (David had no children) and the dedicated staff.
The emergence of malls and new eateries around the city has seen dropping footfalls at the store over the years. Anamitraa says, "To be frank, we don't go to Nahoum's as frequently, but it still retains its heritage appeal." The store's consistency is one of its hallmarks and as any local resident will tell you, the cakes and puffs have truly retained their original taste.
---
You might also like: How a Tour Operator by Day Used Her Family Recipes to Start an Organic Food Business by Night
---
Head to New Market today, and the store is filled with colourful displays of cakes, rumballs and decadent cream-filled cakes. But the real crowd gathers during winter, when people line up in front of the store, on the days before Christmas, to get their fill of Yuletide treats.
In a city that flourishes in the fine line between the old and new, it is not surprising that Kolkatans of all ages continue to love Nahoum's, driven simply by the sweet taste of nostalgia.
Like this story? Or have something to share? Write to us: contact@thebetterindia.com, or connect with us on Facebook and Twitter.
NEW: Click here to get positive news on WhatsApp!