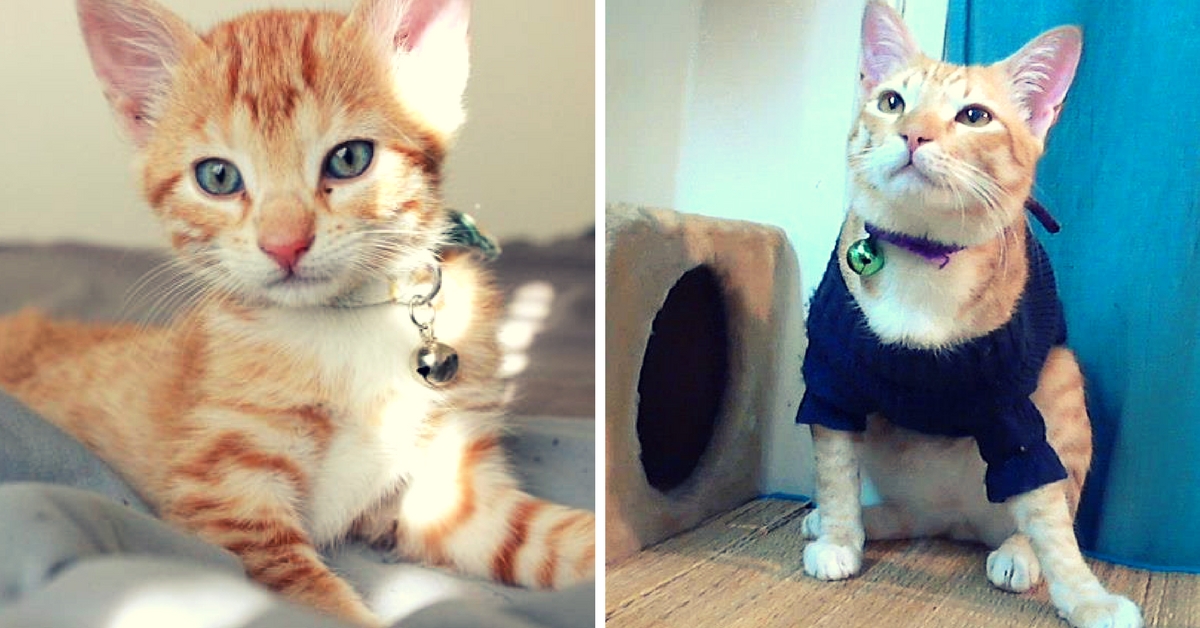 Animals come into our lives for many reasons and despite their small size, take up the most room in our hearts. And the pawprints they leave on our soul last for a lifetime.
"Until one has loved an animal, a part of one's soul remains unawakened."- Anatole France.
Sometimes the smallest of unexpected changes can have a huge impact on our lives.  When I answered the phone that night, I had just woken up from a troubled sleep. My elder sister had passed away earlier that year and her death had brought home how little control we humans really have over our lives. Ever since, I had been forgetful, disorganized and perennially anxious.
"You busy?", my best friend asked worriedly. I thought he'd called to tell me about a new book he wanted me to read – in the past few months, books had become my sole source of solace. Instead, it turned out to be a real-life adventure in which I would claim the leading role.
Knowing about my love for felines, he had contacted CUPA a few days back to ask if there was any cat in need of adoption. They had just got back with information about a hungry little kitten who had been found trembling next to the front door of a volunteer's apartment.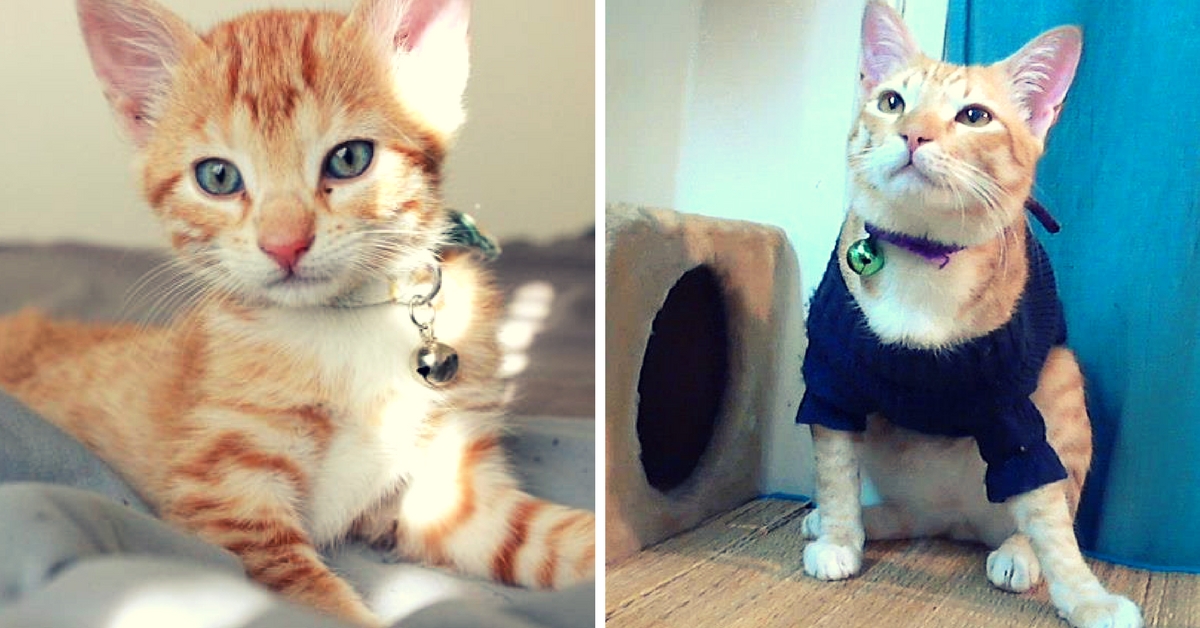 Someone in the locality had moved away and left the little ginger cat behind in the streets to fend for herself. The volunteer had brought the starving kitty into her apartment to feed him but she already had three cats and could only offer emergency shelter. The sooner the abandoned kitty could go elsewhere, the better.
We agreed to go see her the next day, though I was still uncertain about bringing him home. Having grown up with a multitude of pets, I knew that adopting an animal came with its share of responsibilities and I wasn't sure if I was up to the challenge.
With great trepidation and excitement, we visited the volunteer's home the next day. I can't remember the exact date, mostly because I did not take note of it.
What I do remember with great clarity and affection is the moment this little ginger cat came barrelling into my grieving heart.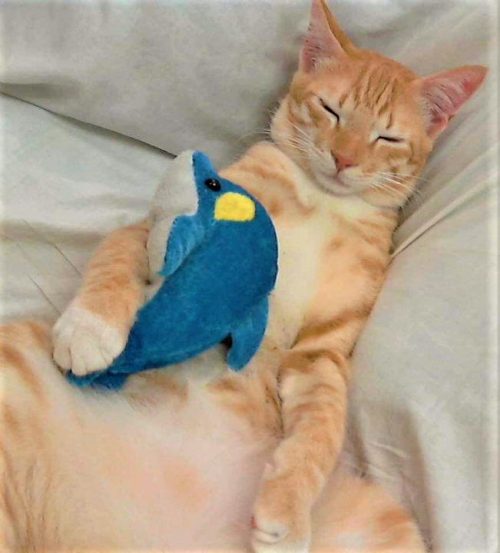 Falling in love with a cat is no different than falling in love with a person. Sometimes, it's love at first sight. That's what happened for me when I first saw Bubble: an adorable, brown pipsqueak of a kitten with wide trusting eyes and ridiculously long whiskers. He jumped straight onto my lap, snuggled into the curve of my neck and started purring. And that's it. I fell in love. Instantly.
My best friend, who had been a "dog person" all his life, too was charmed by the little fellow. Suffice it to say, I ended up bringing him home with me.
No one is ever ready to adopt an animal. Animals, like humans, all have different personalities. Adopting an animal means you take on their previous baggage as much as they take on yours. When I first adopted Bubble, I thought I was giving an animal a better life. Little did I know, he was doing the same for me.
After living in a tiny corner on the streets, Bubble was initially a little overwhelmed by having access to an entire house, and spent most of that first weekend near or under my bed. After that, he relaxed a little and started exploring his new environment.
---
This Valentine's Day, The Better India & The Care Shelter have partnered together to bring an animal rescue van to Bangalore. If you #LovePawsitivity, support this campaign.
Unable to view the above button? Click here
---
My first step was coaxing him to eat – after weeks on the street, he was severely undernourished. I posted morsels of kitten food into his mouth every four hours and kept his basket by my bed so I could monitor him day and night. Bubble began to rally and, as he grew, so did his attachment to me.
A tiny scrap of ginger and white fur, Bubble had a sweet, unassuming, almost self-effacing nature. In time, he grew into a beautiful cat, but that is not what I valued most about him. I loved him for his gentle energy and solid presence that created a quiet, peaceful space in my home, both physically and figuratively. After getting him, my life was consumed with wondering what he was doing, and thinking, "I better get home before he's alone too long." He helped my grieving heart heal.
While Bubble was a gentle cat, to say that he was a curious character is a huge understatement.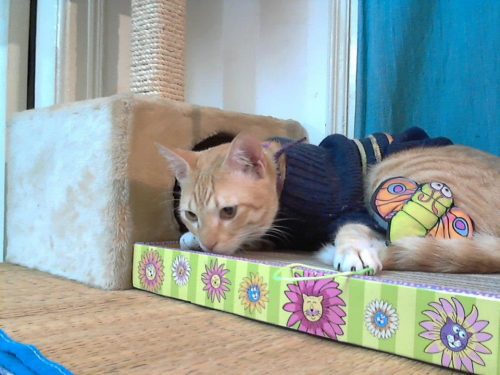 I simply couldn't achieve anything at home without his being involved. I could be making a cup of tea and he would meow in a circle whilst staring up at the mug until I could show him that it wasn't something he actually wanted.
The meowing in a circle routine would happen every single time I had something in my hand that might be food. If the thing in my hand was discovered to be ACTUAL food, the meowing would reach louder and more desperate tones. I ended up creating a plethora of silly endearments for Bubble and he answered to them all. He was very accommodating that way!
---
Also Read: TBI Blogs: Here Are 10 Reasons to Make Valentine's Day Special – for a Four-Legged Special Someone!
---
Bubble also loved playing games. When I would get ready to change the sheets on the bed, he would come running from wherever he was, to jump under the sheet and lie there as I tucked in the sheets, covers and blankets. I would then poke at him fondly and say, "Where's my little ball of fur?"
Purring loudly, he would wiggle happily underneath the blanket. Often, he would get so comfortable that he would fall asleep as I exited the room, leaving behind a funny looking lump in the middle of the bed.
Bubble was also a "cuddler." He would sit on my lap on a pillow, purr loudly and stretch his little neck up to be scratched. Sometimes he would even lay his head on my chest completely content with his place in my life. He would magically appear whenever I was lying down for a nap and tuck himself behind my knees.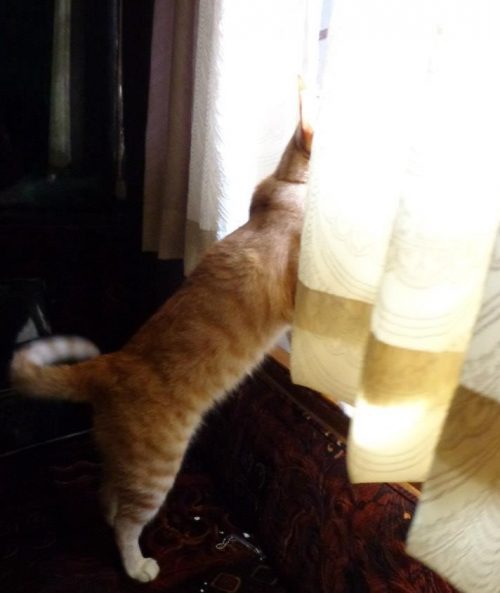 Every night he would purr himself to sleep in my arms and every morning he would head-butt me awake, purring loudly, ready to start the day at some ungodly hour. Waking up late, without feeding him, was not an option. Not falling even more in love with this extremely affectionate animal was very much NOT an option.
People have often told me that I should have adopted a dog, that dogs are more loyal, affectionate and make better pets. I would like to set the record straight. Cats are just as fond of their owners; their feelings are just a tad more nuanced, and their adoration less demonstrative. A cat won't wag its tail when it sees you but it will run up to you, rub its face against your feet and ask to be petted.
I remember this one time when I had left Bubble with a vet as I had to urgently go out of town for a few days. When I returned, he was so happy to see me. The little fellow had hurt himself during the stay and was in immense pain but he couldn't stop purring once he was on my lap. There are countless other times that I can remember when he, in his own way, demonstrated his love for me.
You know how sometimes you come home and you're sad and you don't want to talk about it, but you just want someone to sit there and be with you? Cats are good at that. I love dogs and have fostered them too, but the smallest felines, for me, are the ultimate pets: little works of art with a comic turn, loving, quirky, unforgettably individualistic and best of all – they keep your ego in check. If loving them makes me a crazy cat lady, then I'll wear that label with pride.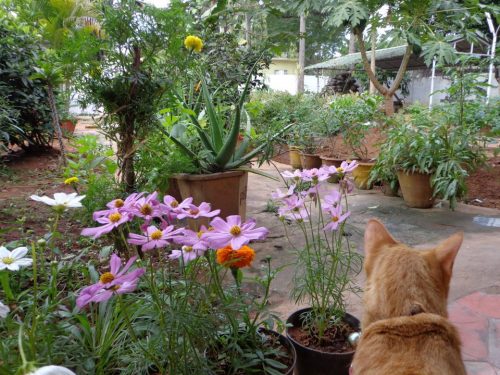 Adopting Bubble was not only the best decision of my life, it also taught me many important life lessons. After losing my sister, my guard was up and I didn't want to risk getting hurt again. Adopting Bubble helped me open my heart again and showed me I could invest love into something that gave it back unconditionally.
I learnt that being responsible for another living being means you have to be dependable and organized in a way you never were before, and that makes your whole life better. Bubble did all of that and more. No, it isn't always easy, but nothing that's worth it in life ever is.
Living with a 2-month-old kitten also taught me a lot of patience. When the garbage was tipped over, my book shredded or the expensive cork coasters chewed up because he was anxious I was gone too long, I couldn't see red or yell at him. I learned to scold and teach without being harsh.
And lastly, I learned never to take one's furry friends for granted. Animals come into our lives for many reasons and despite their small size, take up the most room in our hearts. And the pawprints they leave on our soul last for a lifetime.
---
This Valentine's Day, The Better India & The Care Shelter have partnered together to bring an animal rescue van to Bangalore. If you #LovePawsitivity, support this campaign.
Unable to view the above button? Click here
---
Tell Us More
We bring stories straight from the heart of India, to inspire millions and create a wave of impact. Our positive movement is growing bigger everyday, and we would love for you to join it.
Please contribute whatever you can, every little penny helps our team in bringing you more stories that support dreams and spread hope.