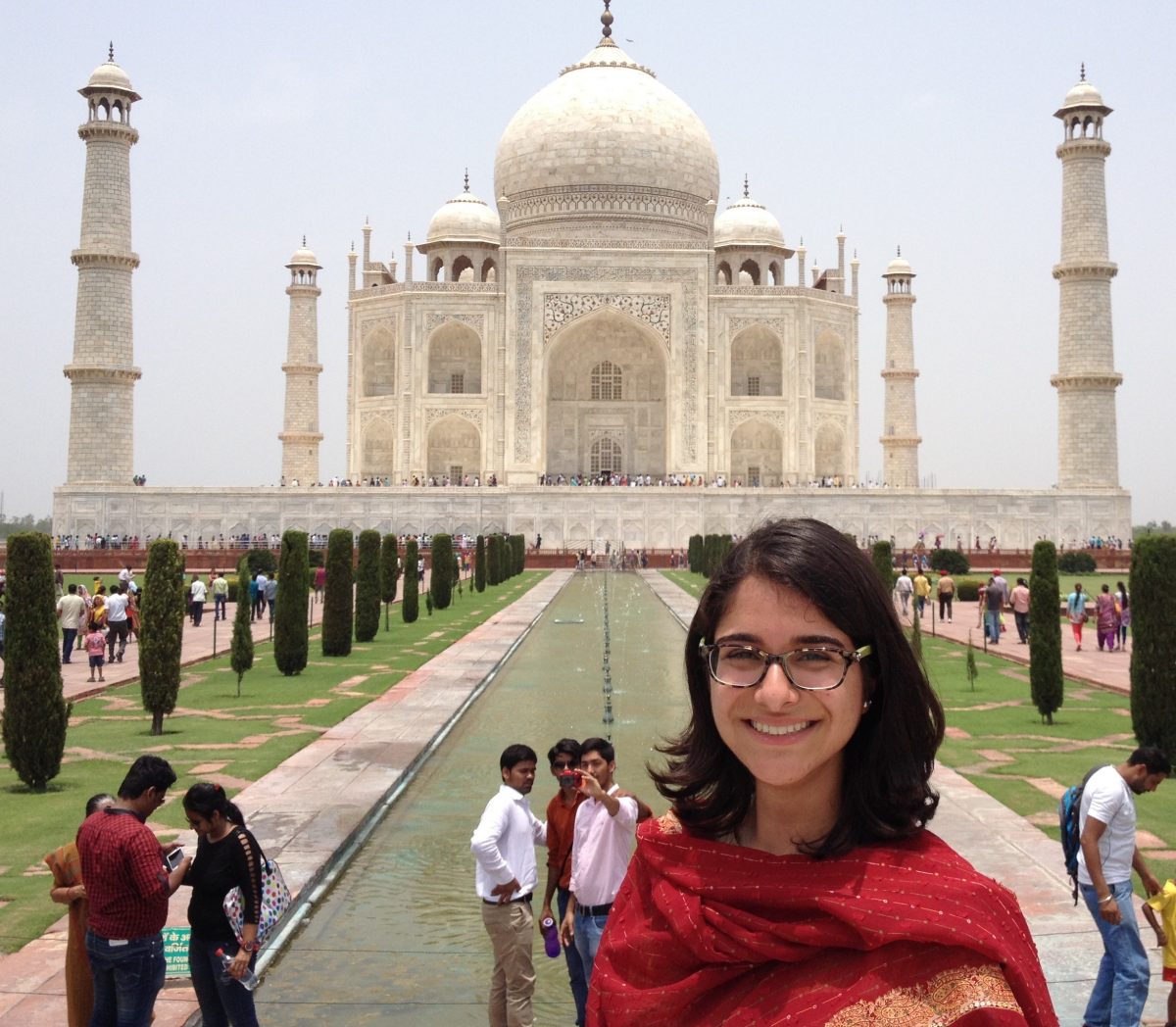 Avan Antia navigates the crocodile ecosystem with the "Croc Bank" as a part of the William J. Clinton Fellowship for Service.
Avan Antia navigates the crocodile ecosystem with the "Croc Bank" as a part of the William J. Clinton Fellowship for Service.
I often find it difficult to look up while walking on uneven terrain. I have to intently survey the ground before each step, searching for potholes, puddles, or anything that might cause a fall. As a rather clumsy person, I know that if I don't look out, I'll take a tumble. Yet, as a compromise for avoiding potential pain, I miss out on what is going on around me. As I watch where I'm stepping, I don't notice the rosy sunrise reflecting in the pond, or the bright red butterflies engaging in their swift and elegant dance. But once I've walked down the same road a few times, I begin to anticipate the kinks in the path without actively looking for them. I am able to look up while I walk, without worrying about falling down.
This is what I realized while on my second "early-morning snake walk" in the fields across from my workplace. The first snake walk had been along the same path. I remembered where the gnarly vines would creep across the narrow pathway, at just the right position to catch someone's foot. I recalled which bushes actually concealed thorns underneath their innocent leaves, ready to snatch onto clothes or skin. The second time I went on a snake walk, I was able to look around me and enjoy the beauty of the open field, rather than looking down at the ground.
Gosh, it was so incredibly beautiful.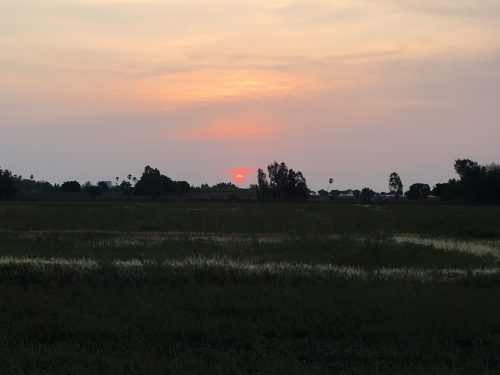 This idea – that it is difficult to enjoy the scenery while going down an unfamiliar and uneven path – is relevant to what my life is as an AIF Clinton Fellow. I am working at the Madras Crocodile Bank Trust and Center for Herpetology (MCBT) in Tamil Nadu, India. Something so different from college, and from anything I've ever done before. Unexplored terrain. I don't know where the potholes lie, but I know there will be potholes. However this time, instead of cautiously looking for them and trying not to trip, I am going to trust that I will be able to get up after any fall. With a sure step, I plan on moving forward without constantly looking down to check myself.
Because I don't want to the miss the view.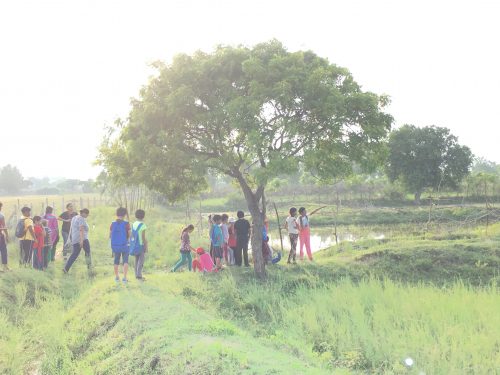 I'd like to start by formally introducing you to the fantastic organization that I am working with, as well as the project that I am pursuing.
The "Croc Bank," as it is lovingly called, was founded 40 years ago by two fantastic humans—Zai, whom I have the pleasure of working with, and Rom, whom I have had the pleasure of meeting. Around the 1970s, crocodile hunting and trade was rampant in India and as a result, populations of various species were dwindling. In 1976, the Croc Bank was established to serve as a genetic bank of threatened reptile species and to conduct captive breeding projects of three specific Indian crocodile species—the marsh crocodile or "mugger", the saltwater crocodile or "salty", and the gharial. After breeding, these crocs were released into the wild, in order to repopulate their native habitats.
Today, however, due to threatened habitats, crocs are no longer released into the wild, but rather kept safely at the Croc Bank.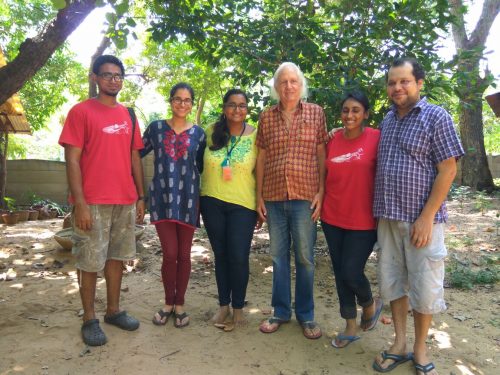 Throughout the years, the Croc Bank has served as a center for conservation, captive breeding, scientific research, education, and discovery. Currently, there are over 2,000 reptiles within these 8.8 acres of lush and diverse greenery. There are 17 species of crocodilians (crocodiles, alligators, caimans, and gharials) in addition to various chelonians (turtles, tortoises, and terrapins), komodo dragons, iguanas, monitors, and snakes.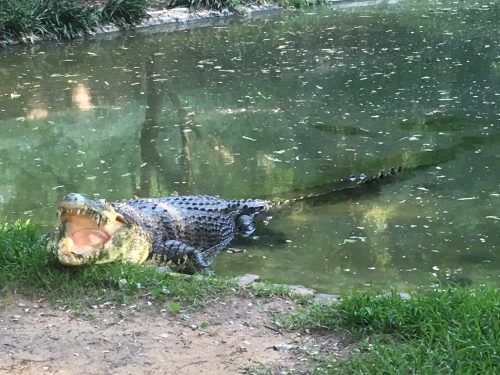 Importantly though, the Croc Bank is not just a typical zoo. Though it does serve as a collection of captive animals for public education, much of the Croc Bank's work is done in the field. There are two permanent field stations in the Agumbe Rainforest and the Andaman and Nicobar Islands, and various other projects around India. Research at the Croc Bank has produced about 300 publications. These include studies on reptile biology and behavior, veterinary science, capture techniques, and much more. The Croc Bank also has a co-op with the Irula tribe, who are known for their expert snake-catching ability, to conduct snake venom extractions. This venom is then sent to laboratories to produce antivenom used for snakebite treatment in India.
So what exactly am I doing here? Wresting crocodiles? Charming snakes?
Unfortunately (or fortunately), no. I'm actually working to formulate a solid waste management strategy for the Croc Bank. With over 2,000 reptiles, the Croc Bank rakes up loads (literally) of feces, in addition to leaf litter, and other organic waste. This is all deposited into a behemoth of a compost pile and left to decompose over time. What is produced after many months is a beautiful, earthy compost, rich in nitrogen and phosphorous.
In addition, an average of 22,300 visitors pass through the park per month. Hence, it accumulates a lot of non-biodegradable waste, especially plastic bottles. The Croc Bank currently segregates and stores this, but needs a way to dispose of it in a "green" manner.
On a larger scale, waste management is a problem with which India has constantly struggled. In urban India alone, the total municipal solid waste generated is about 188,500 tons per day! Compounding that fact, trash collection systems inefficient, so many people dump trash on the streets or in open spaces. In the end, we leave over 91 % of the trash we collect in a landfill. That is only the tip of the iceberg.
Luckily, there are various waste management options, such as "waste to energy," composting, and biogas production. We will explore all these possibilities for the most practical and eco-friendly waste management plan at the Croc Bank! In addition, we will educate the younger generation on the importance of "being green" by visiting schools in the area.
Thus, I will work here at the crossroads between science, environmental conservation, waste management, and education.
Find out more about the Croc Bank and how you can contribute to the project on the website.
Like this story? Or have something to share? Write to us: contact@thebetterindia.com, or connect with us on Facebook and Twitter.
NEW: Click here to get positive news on WhatsApp!
We bring stories straight from the heart of India, to inspire millions and create a wave of impact. Our positive movement is growing bigger everyday, and we would love for you to join it.
Please contribute whatever you can, every little penny helps our team in bringing you more stories that support dreams and spread hope.
Tell Us More