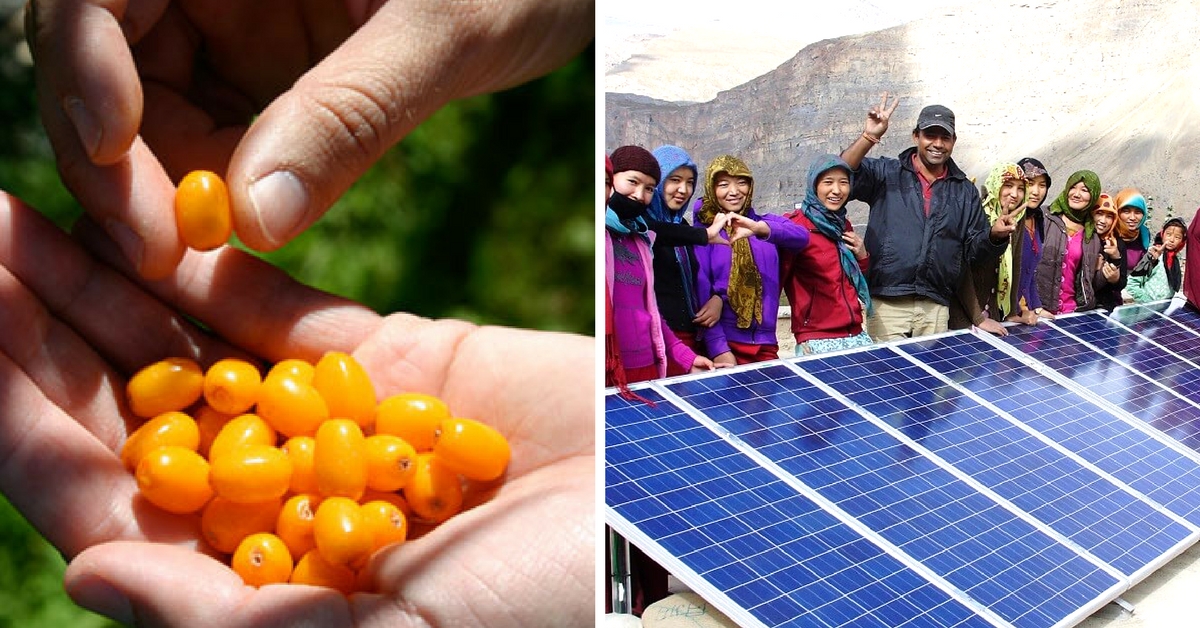 Over two decades ago Himachal Pradesh discovered the potential of a little known deciduous plant called seabuckthorn. Today, the cultivation of plant is laying the foundation for sustainable development in the state's high-altitude cold deserts.
More than two decades after Himachal Pradesh discovered the potential of a little known deciduous plant called seabuckthorn, the state's high-altitude cold deserts have found new economic and environmental gains in the plant. Today, much of the developmental activities in this region have their roots in seabuckthorn cultivation.
Here's the story of how seabuckthorn is bringing about a much-needed economic transformation in the rugged valleys of Lahaul and Spiti.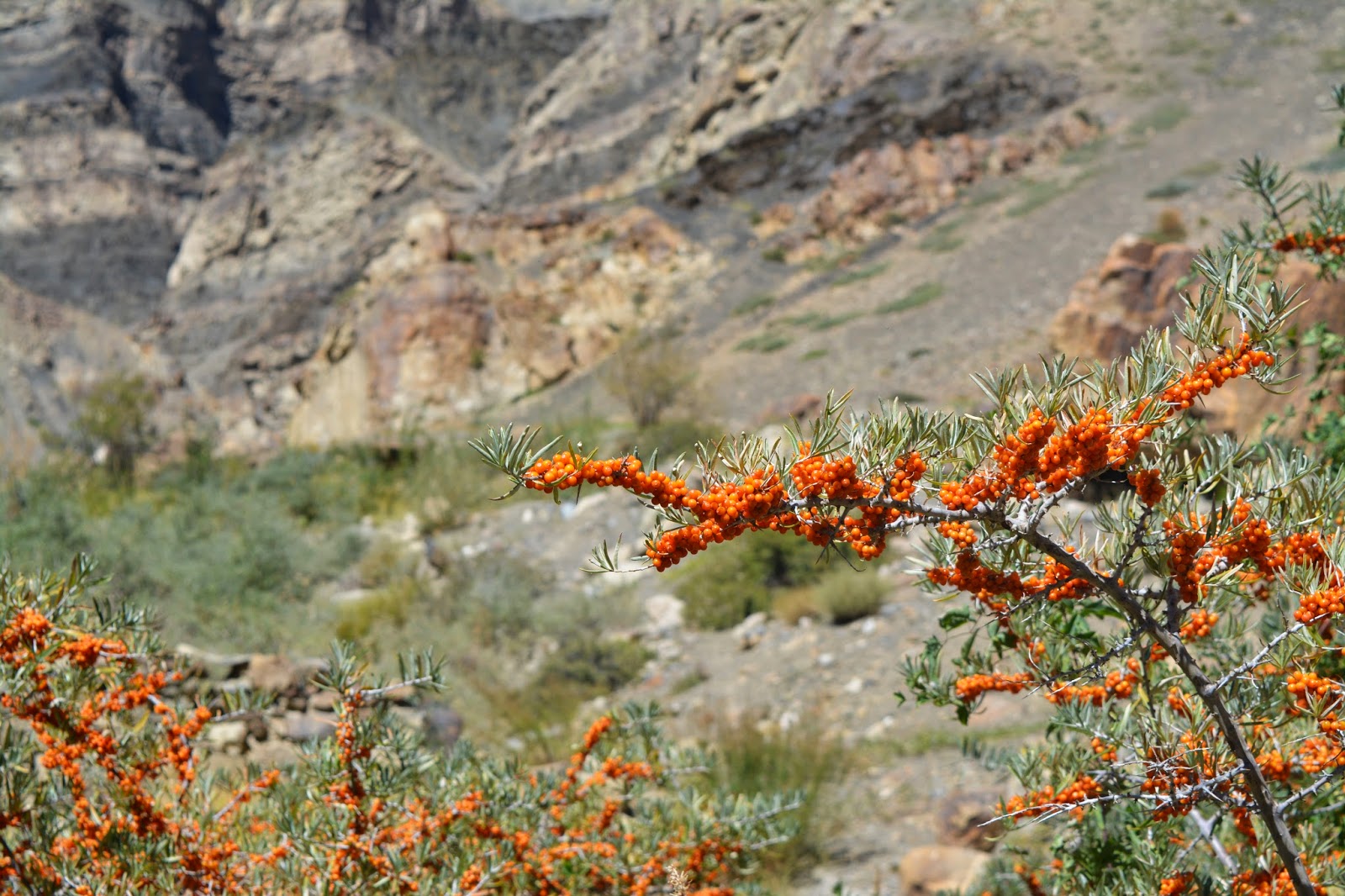 Long considered a humble shrub of the Himalayas, every part of the Seabuckthorn plant – fruit, leaf, twig, root and thorn – has been traditionally used for medicine, nutritional supplements, firewood and building fences. Hardy, drought-resistant and tolerant to extreme temperatures from – 43º C to + 40º C, the plant has an extensive root system which can fix atmospheric nitrogen, making it ideal for controlling soil erosion and preventing desertification.
---
Also Read: Back to the Future: These 13 Ancient Grains of the World May Hold the Key to Food Security
---
The Seabuckthorn berry, also called the "Wonder berry", "Leh berry" and "Ladakh gold", is among the most nutritious of fruits. Concentration of pro-vitamins A, B2 and C, flavonoids and Omega oils in the berries is much higher than other fruits and vegetables. Thus, the berries are a storehouse of essential nutrients in the region where availability of other vitamin-rich fruits are limited.
Seabuckthorn berries (locally known as 'Drilbu' and 'Chharma' in Himachal) also have the unique characteristic of remaining intact on the shrub throughout the winter months despite of the subzero temperature. As such, many bird species feed on the berries at times other sources of food are limited in the region. The leaves, on the other hand, serve as protein rich fodder for cold desert animals like sheep, goat, donkey, cattle, double humped camel etc.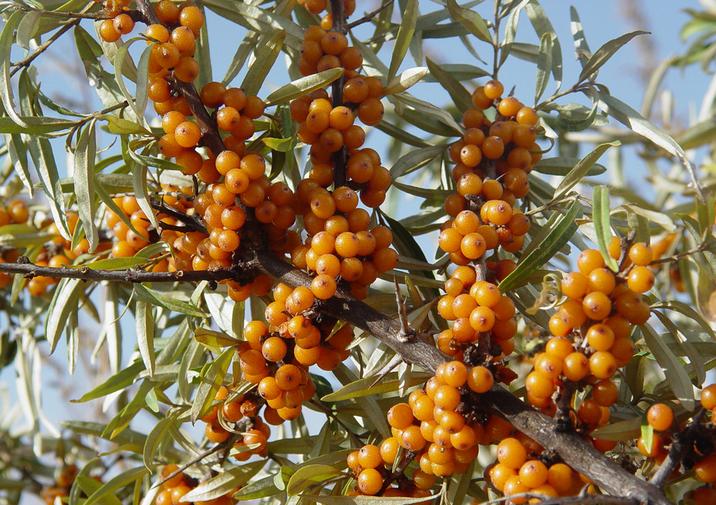 The locals of these mountainous regions have utilised the wondrous nutritive properties of this super fruit for centuries and continue to do so till date. Dried berry peels are shredded into the rejuvenating tsirku tea while the oil made from them is known to have skin benefits.
Seabuckthorn has also been used in traditional 'Amchi' system of medicine for centuries in Ladakh. The medicinal value of seabuckthorn was recorded as early as the 8th century in the Tibetan medicinal text, rGyud Bzi. Modern research has supported the medicinal properties of seabuckthorn. Interestingly, it is believed that the legendary Genghis Khan used it to improve the memory, stamina, strength, fitness and disease-fighting abilities of his army!
In 2010, the Ministry of Environment and Forests (MoEF)and the Defence Research and Development Organisation (DRDO) launched a major national initiative for seabuckthorn cultivation in five districts that came under the high-altitude, cold desert ecosystems.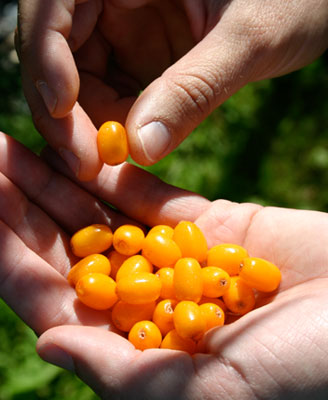 Cut off from the rest of the world for almost six months due to heavy snowfall, the villagers of Spiti – living in some of the highest points in Asia – had few options for sustainable livelihood and hardly any regular income for many years. All this changed after they discovered the nutritional and medicinal value of seabuckthorn, a wild berry rich in vitamins, minerals and fatty acids, which could be marketed as a magic recipe for good health.
Under the project, the Territorial Army and women's self-help groups were roped in for the project to help secure community livelihoods while ensuring conservation of the fragile high-altitude ecosystems. Training in techniques pulping, product design and packaging was imparted to local youth and farmers with the help of Defence Institute of High Altitude Research (DIHAR).
Defence Institute of High Altitude Research (DRDO) also developed the technology for preparing beverage from its highly acidic fruit (this was because the seabuckthorn berry juice doesn't freeze in the sub-zero temperatures of Siachen or Drass-Kargil areas). The patented technology was then transferred to self help groups, NGOs and local entrepreneurs.
This was followed by the development and commercialization of several other products such as herbal teas, antioxidant supplement, seapricot (seabuckthorn and apricot) beverage, jam, jelly, seabuckthorn oil soft gel capsules, UV protective oil, bakery products, animal feed etc.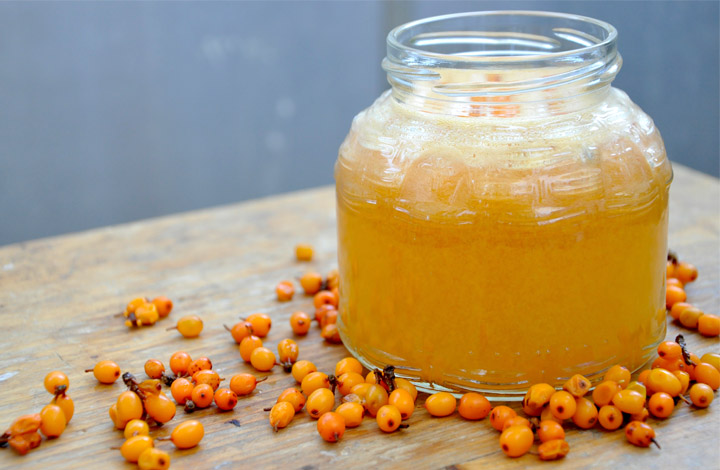 Government initiatives aren't the only ones bringing about change in this region. Having grown up in Dehradun, Ishita Khanna believed that she had a connection with hills and wanted to put her masters in social work (from Tata Institute of Social Science) to practical use. She founded Ecosphere, a community effort in Lahaul and Spiti that brought people from diverse fields together to create sustainable livelihoods for the locals.
Under her guidance, many families of Spiti began cultivating and processing seabuckthorn, selling it under the organic brand named called 'Tsering' (which is now available across India). Other than seabuckthorn products, local cereals, vegetables and pulses were also processed into value-added products that were linked to markets through the right channels.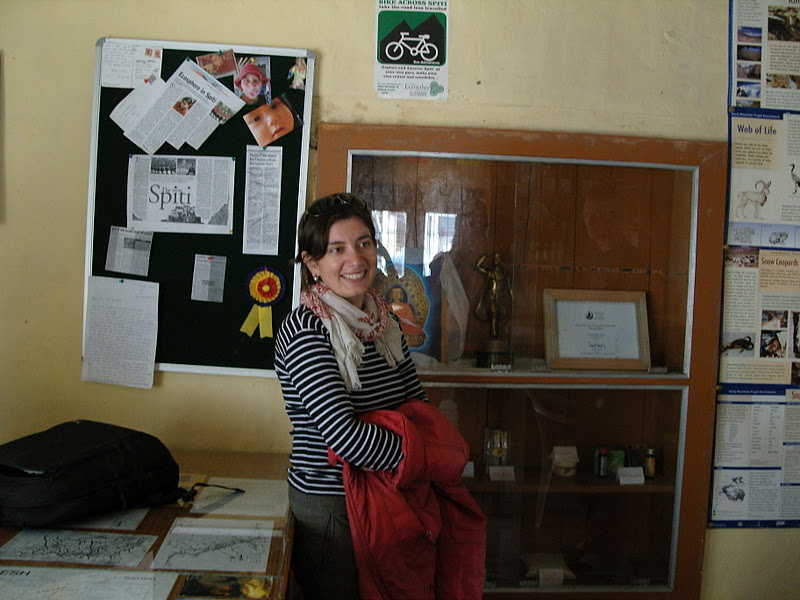 Ecosphere is also keenly involved in reviving some of the traditional crafts of the region that have almost died out or are slowly disappearing. Spiti is home to some really unique handicrafts such as thangkas (paintings on silken canvas), choksays (wooden carved tables), mane stones (carving on stones), zama (Mud craft), lingzay (traditional shawls) and a whole variety of wool based handicrafts.
With the aim of sustainable development of the entire region, Ecosphere also works to reduce human-wildlife conflict, set up solar houses, restore heritage buildings and promote responsible eco-travel in the valley. It has taken remarkable initiatives to 'reduce, recycle and reuse' products. To cut down the usage of bottled water, the tourists are provided with a water filter at the home stays. The waste materials like crushed mineral water bottles are being used in insulating solar passive homes in Spiti and waste tetra packs are recycled to make tissue paper.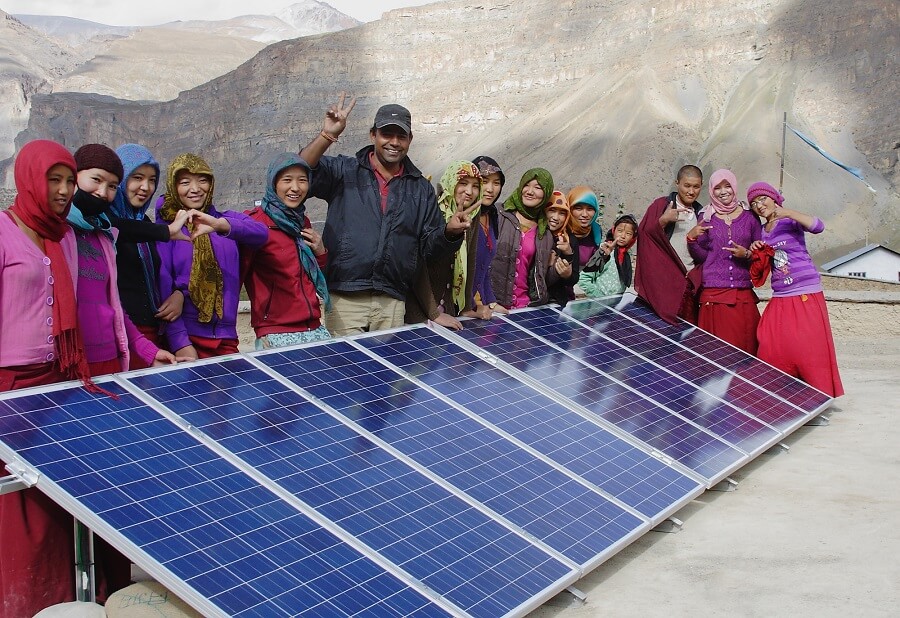 Since procuring vegetables from town which was 8-10 hours drive was one of the biggest problems for villagers, Ecosphere set up 100 green houses for the villagers where they could actively grow vegetables for the community. Another initiative was to stop the conventional practice of burning firewood to stay warm during winters, which had a detrimental effect on the environment. This has resulted in a drastic reduction in the usage of wood, which in turn reduced black carbon emissions.
Today, Ecosphere continues to work towards economic empowerment of the locals with the sale of organic products, conservation of the environment and introduction of several environment-friendly products like solar lights, geysers, etc. Importantly, all the profits of these ventures are ploughed back into supporting the local communities through environment-friendly measures.
Conservation happens best when the livelihoods of local communities are directly linked to it. This can be seen in how the cultivation of seabuckthorn forms the bedrock of self-reliant development in Lahaul and Spiti. With climate change mitigation becoming the need of the hour, the "Wonder berry" can play an integral role in ensuring a sustainable future for India's cold deserts.
To know more about Spiti Ecosphere and the wonderful work they do, visit their website at http://www.spitiecosphere.com/. You can also connect with them on Facebook.
---
You May Like: Over 5000 Organic Farmers Are Reviving Traditional Crop Varieties. Thanks to One Organization.
---
We bring stories straight from the heart of India, to inspire millions and create a wave of impact. Our positive movement is growing bigger everyday, and we would love for you to join it.
Please contribute whatever you can, every little penny helps our team in bringing you more stories that support dreams and spread hope.