Listen to the many folk tales, and see for yourself the myriad hues, besides the mounds of golden yellow turmeric, that mark the tribal town of Jejuri. Famed for its temple that promises marital bliss to the newly-wedded, and a fort that has played host to Shivaji, Jejuri is an enchanting place – full of myths, paradoxes and spell-binding tribal traditions. 
Rajani, the Goddess of Night, had the complexion of night. She always wondered what she would look like if she had the complexion of the golden sun. Mustering courage to ask for the impossible, she climbed up to Mount Kailas. Prostrating at Shiva's feet, she told him, 'Lord, I am an unfortunate soul who's forever dark. Could you bless me with a golden hue?' Shiva was in a jovial and generous mood. Instantly he blessed her and said, 'Your dream will come true. Go and lie down on top of Mount Skanda. After a while, you will disappear into the womb of Mother Earth and be reborn as the plant of turmeric that will have the complexion of molten sun. You will become the symbol of purity and auspiciousness. And when I descend on Earth as Khandoba, my favourite offering will be the powder of turmeric!'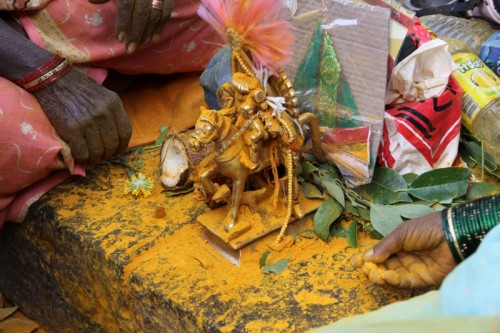 As you walk up the hillock of Jejuri, you will find yellow clouds of turmeric wafting in the air, and softly landing on the 200 stone steps that lead you to Khandoba, the lord of the tribals.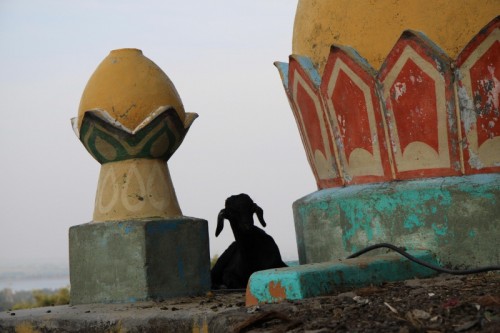 Jejuri is situated 50 kilometres to the south-east of Pune, towards a town called Phaltan. You travel towards Sholapur, and when you reach Hadapsar, you turn right. Then you ascend Divey Ghat to reach Saswad, and then the temple town of Jejuri. Jejuri is the abode of the lord of the oldest tribes in Maharashtra, the Dhangars. They are an upright and valiant community of shepherds, and they are deeply attached to Khandoba as he had married Ganai, the daughter of a shepherd.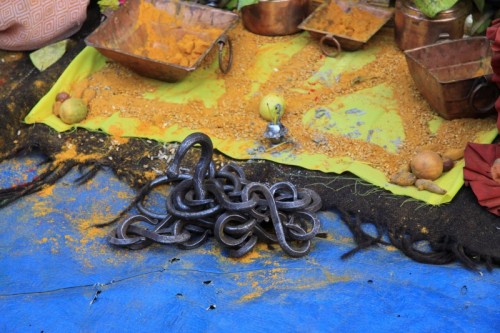 There's a paradox about Khandoba. He has two wives: One is a goddess and the other is a shepherd's daughter. In spite of this blatant bigamy, couples throng here soon after marriage, seeking a long and happy married life! And incidentally Jejuri is the only temple where a couple has to make the offering to the deity together, standing next to each other.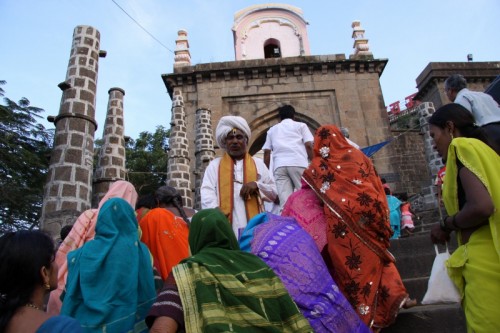 One of the main visual attractions of Jejuri is the deepmaala, or the garland of lights. There are two of them; tall, vertical columns carved in black stone. When lit up all at once on a moonless night, the shimmering flood of light created by these stone garlands is enough to rival the molten gold of turmeric that forever adorns the steps of Jejuri.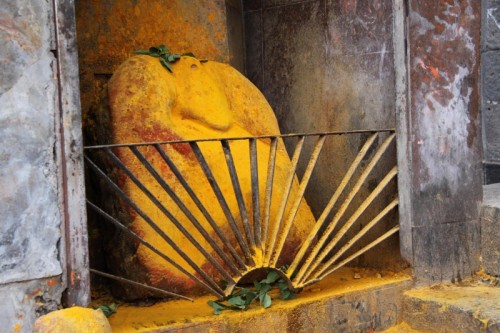 There are ritual songs sung by traditional families, on request, for the fertility of newly married couples. Armed with an ektaara, and blessed with a rustic voice, they sing without inhibition; praying for the marital bliss of couples.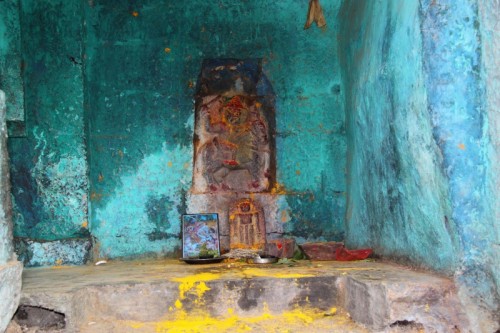 But Khandoba, despite his demeanour of an easily appeased lord, is actually an angry incarnation of Lord Shiva, who descended on Earth to slay two demons, Mani and Malla.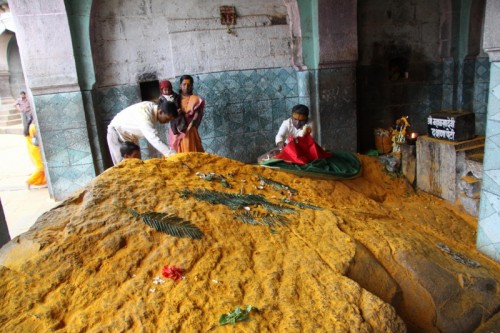 Khandoba has an interesting martial symbol. It's called Divti. It's shaped like a dagger, but doubles up as a lamp. When it's lit up, it looks like a flaming dagger; a symbol of light that slays darkness.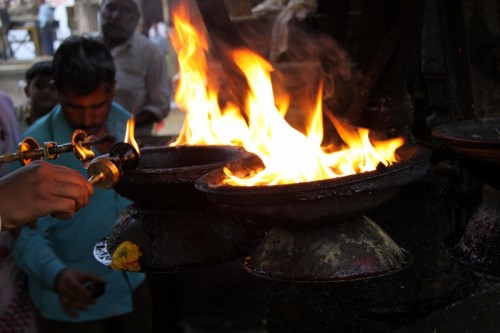 Interestingly, Jejuri is now a temple; but once upon a time it was a fort. A historic one at that because it's here that Shivaji met his father Shahaji, after a long gap of 14 years, and discussed guerilla strategies to ward off the Mughals.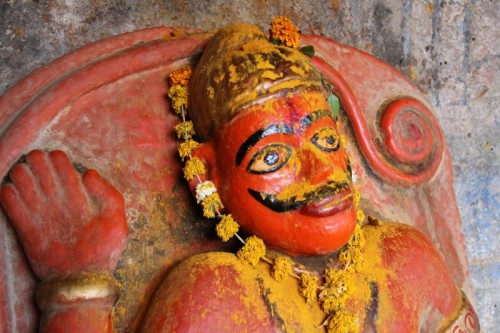 The temple that you see now is the new temple. The old one that inspired Arun Kolatkar to write the Commonwealth-Poetry-Prize-Winning 'Jejuri' is situated atop a hill three kilometres away. Describing the dilapidated condition of this temple like only he could, Arun wrote:
'That's no doorstep.
It's a pillar on its side.
Yes.
That's what it is.'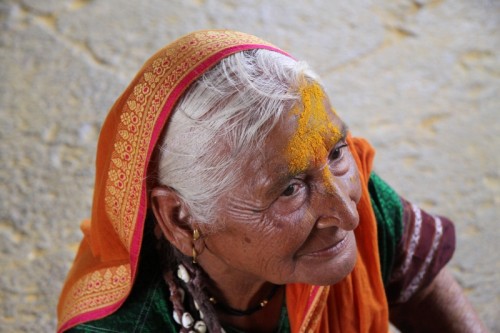 There's a fascinating story about how the old temple moved to the new location. Many, many years ago, you had to undertake an arduous climb to reach the old temple. One of Khandoba's devotees had been doing that daily, for over 50 years. One day, he realized that his mind is willing but his body couldn't take it anymore. So he bid goodbye to Khandoba, saying that it was his last visit to the temple. The lord was touched by the words of his ardent devotee, and he told him: 'Since you can't come to see me, I will come with you and live in your house. But on one condition; you shouldn't turn back to look at me when I'm following you. If you do, I will stop right there'. The old man's joy knew no bounds, and he readily agreed. And the lord started following him. The old man thought to himself: 'The lord has asked me not to look at him, but I can always keep an ear open for the lord's footfalls'. But after a while, the footfalls stopped. Fearing that the lord had lost his way, he turned back. The lord froze into stone then and there, and a new temple was built around that idol!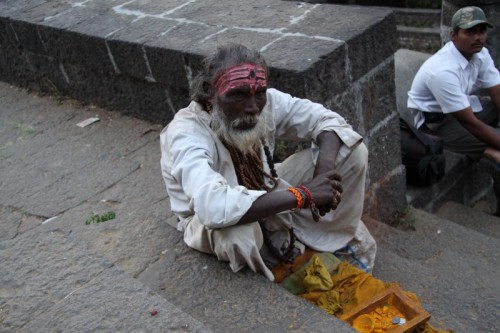 Looking down from the temple you see Kaara River, in which Khandoba descends to take a cool dip on the moonless night of Somavati Amaavasya.
On that day, the joy of the devotees is a little more than ever; they sprinkle a little more of the turmeric powder than ever; and the steps of Jejuri become a little more golden than ever.
All Photographs by Gangadharan Menon
After 28 years in advertising as a writer and creative director, Gangadharan Menon quit the profession to take up his first and second love: teaching and travel. He has over 90 published articles that recount the joy of travelling in this amazing country. A member of Bombay Natural History Society, he is an avid wildlife photographer too. Currently he is working on his first collection of travel writings titled Evergreen Leaves. He can be contacted on wildganges[at]gmail.com
We at The Better India want to showcase everything that is working in this country. By using the power of constructive journalism, we want to change India – one story at a time. If you read us, like us and want this positive movement to grow, then do consider supporting us via the following buttons.
Please read these FAQs before contributing.