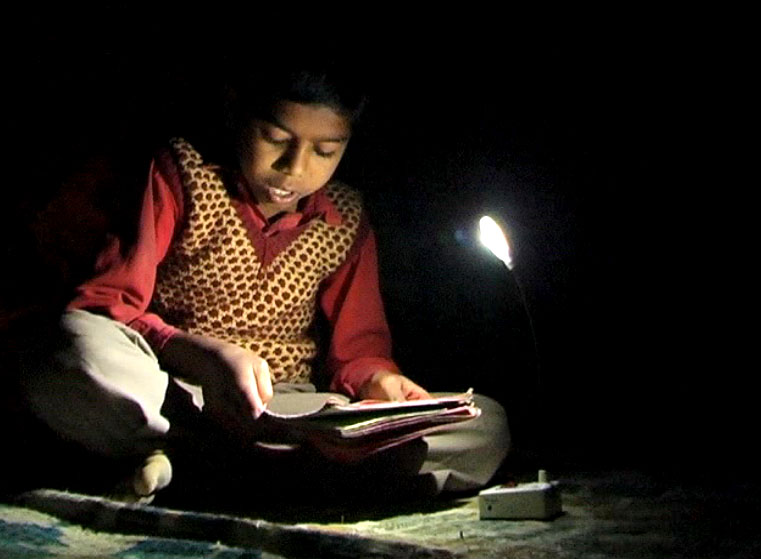 One of the main obstacles in the path of students in India is the absence of reliable sources of illumination. Electricity is non-existent or at best patchy in most parts of rural India, and other sources of light like the humble kerosene lamps pose health hazards, are ineffective, expensive and unreliable. Read how one organization is dispelling the gloom with a viable alternative.
One of the main obstacles in the path of students in India is the absence of reliable sources of illumination. Electricity is non-existent or at best patchy in most parts of rural India, and other sources of light like the humble kerosene lamps pose health hazards, are ineffective, expensive and unreliable. Read how one organization is dispelling the gloom with a viable alternative.
The kerosene lamp is lit as the sun sets. The rising of the narrow flame, as the wick is turned on, is a signal of sorts. It's a signal for the children that it's time to study under its scanty light. It is a slim ray of hope to defy darkness, in an ardent attempt to pursue education. The shadows cast by the lamp are way larger than their real objects themselves, just as the problem posed by the kerosene lamps loom larger and more menacing than the seemingly innocuous puffs of smoke and soot particles emitted out of the lamps.
Education for all is one of the foremost requirements of our country today. So when a factor like lack of electricity in the remote corners of our country acts as a hindrance towards studying, something must be done. In December 2011, nearly one third of India's rural population lacked electricity, a loss compensated by burning fossil fuels (kerosene lamps included) to give light. For children in rural areas, the evening time is probably that 'rush hour' to study at home, considering the morning and afternoon time is devoted to school, work and household chores. And if this peak study time is deprived of electricity, isn't that bright dream of seeing Future Generation India educated being dimmed already?
The current alternatives:
The kerosene lamps cause more harm than good. What seems as a solution simply gives rise to a series of other problems. Most students with the will to study, due to lack of proper lighting or frequent power cuts, have to succumb to studying under street lights or under the dim lighting of the kerosene lamps, post sunset. While, it is worth marveling at the determination of students who sweat out as they study in scanty lighting, it's hard to neglect that it comes at several costs.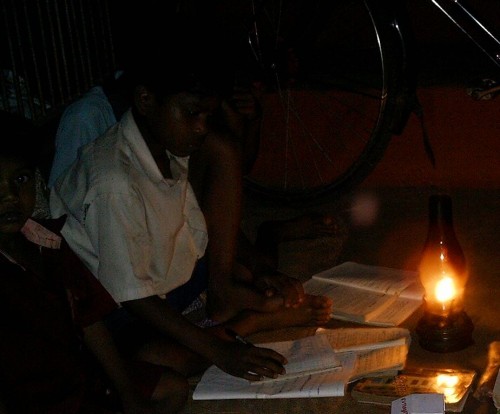 Kerosene lamps emit carbon monoxide that is harmful for the health and environment – according to the World Bank, breathing kerosene fumes is equivalent to smoking two packets of cigarettes a day! Besides, even the light emitted by them isn't sufficient, does not spread evenly and can be damaging for eyesight. Cost wise, every household in India spends Rs 900 annually on kerosene, the amount being subsidized by the Government. Kerosene lamps are not only dangerous to operate, but have also been known to cause fire accidents and burn injuries to children due to kerosene spillovers and explosions on a regular basis in rural areas. The lamps are dirty, while the smoke emanating from these lamps can cause serious respiratory problems. Kerosene or other fuels used for lighting are even costly and sometimes difficult to procure.
Kerosene also has an environmental spillover, as the increased consumption of oil can cost dearly to our country in terms of non-availability in the near future. The lack of proper light often led to loss of interest in studies among the children. The result was that many students either dropped out or were irregular or under- performing in their studies.
Alternatives must be and are being explored under such circumstances, yielding successful results.
The Beginning of OCOL:
The issue of inadequate lighting and its side effects in the field of education caught the attention of Dr Ranganayakulu Bodavala (Dr Ranga), a Harvard alumnus. Prior to this, since 2002, Dr Ranga had been actively working in the field of Rural Development and assisting rural communities in Andhra Pradesh, Orissa and Maharashtra through introduction of people-friendly interventions. Dr Ranga, who holds a PhD in Health Information Systems, used advanced and innovative technologies in Home Lighting, ICT, Health, and Education through Volunteers for Rural Health, Education, and Information Technology (www.THRIVE.in), an NGO which he founded, to help the rural communities where he worked. Says Dr Ranga
I was deeply moved by the issues faced by the people due to lack of electricity and basic lighting for domestic needs and thereon focused on the development of solar, LED Lighting, and other viable renewable energy solutions to meet the challenges.
However, it wasn't an easy job to meet these challenges. The resolve was there and so were the means, now came the time to put them into action which was all set to be another daunting task.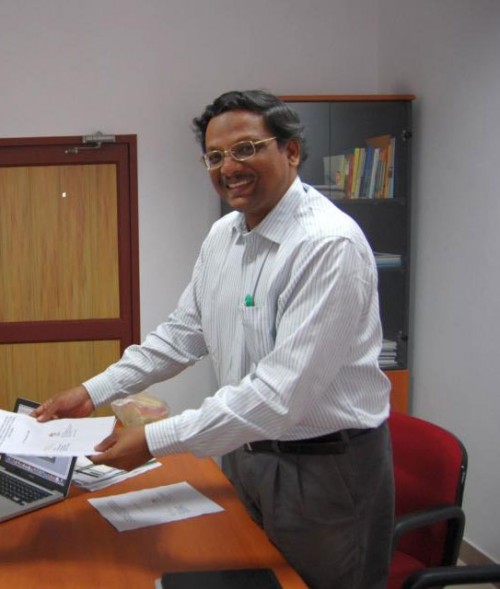 The need for a reliable partner for large scale supply of equipment coupled with the lack of proper manufacturing support, encouraged him to form Thrive Energy Technologies in 2007. Interestingly, Thrive Energy Technologies is now a leading manufacturer of solar LED lighting and Solar Photo-voltaic solutions aimed at helping rural communities with household and institutional needs. Explains Dr. Ranga:
One of the innovative solutions was to address the problem of students facing difficulty while studying in either the light of street lights, or under dim, polluting and dangerous oil based or kerosene lanterns, by providing them with highly efficient, solar chargeable, LED Study Lights which are much cleaner, brighter, and safer to use.
He was aware that plenty of investment, funding and social support would be required for his dream to take wings. He decided to launch a large-scale social initiative with the support of like-minded and highly-motivated individuals who would promote the concept and spread awareness. Thus OneChildOneLight (OCOL) was born in April 2009.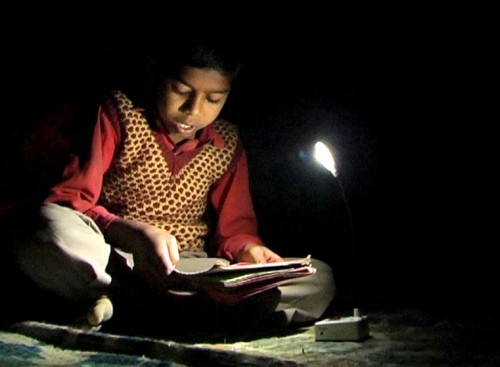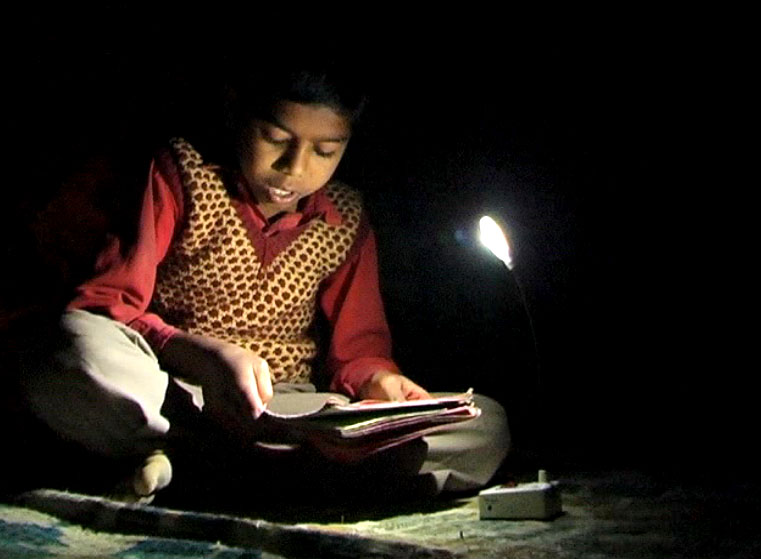 The organization, One Child One Light, is lighting up a new possibility in these adverse conditions and making the most while the sun shines, literally! It has come up with solar-chargeable LED lights that are much more luminous and long lasting and can spark off a healthy spirit of enthusiasm for studying in children! The mission of this endeavour was to support every underprivileged child's right to education by giving a safe, clean and low-cost study light. The programme simultaneously aimed to eradicate the use of kerosene for lighting.
Since its inception in 2009, it took nearly a year for OCOL to gain momentum. One of the early implementations of OCOL was on 28th March 2010, where 50 children from Pillapalem Village School in Tirupati were provided Study Lights by Thrive Energy Technologies. The students who were preparing for their annual examinations used the re-chargeable, eco-friendly LED study lights when the power went out at 8:30pm on the occasion of Earth Hour to address climate change. That same year in April, children from Gowlidoddi Residential School, located on the outskirts of Hyderabad, were provided LED Study Lights. The children were quite elated on receiving the lamps and put them to use immediately.
On asking him about the impact of the OCOL program, Dr. Ranga said:
Due to the intervention of the OCOL programme, most of the students who received the lamps were quite relieved and excited to have their own lights which they could care for and charge them on their own, free of cost, using the solar panels. In many children it has caused renewed interest in studies as they are able to study even at night and catch up on lost time. They are now attending school regularly.
Why LED?
LED was the leading hero that emerged throughout the OCOL initiative. LED is a type of semiconductor diode which is known for its efficiency and durability. There were several reasons why LED was chosen for this mission. For a watt of electricity consumed, an LED could produce more luminosity (Lumens) brightness than any known CFL (which was the nearest competitor) or Tube-light. The LED batteries did not drain out quickly unlike when used with CFLs or other lights and as a result the battery charged well and lasted longer, giving about 1 Lakh light hours as compared to CFLs which gave only about maximum 20,000 light hours. Also, as opposed to a measly 3 lumens luminosity yielded by kerosene lamps, the OCOL light emits an impressive 150 lumens luminosity. It also comes with a guarantee of 3 years.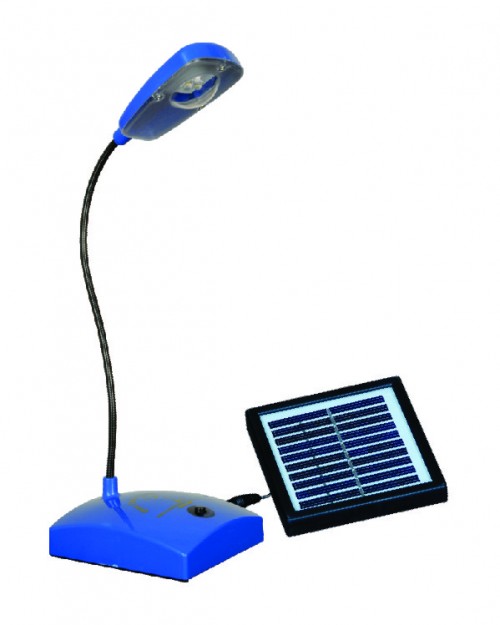 Apart from these economical and output factors, LED lights also withstood the health test. Further, unlike CFLs, LEDs did not contain mercury and other gases which were known to be polluting and dangerous. LEDs are a lot cooler than their counterparts, offering a pleasant and clean light. The LEDs were much smaller in size and provided greater scope for innovation in design. They are also safe to use, as the lights are enveloped in plastic casing that are sturdy and heat resistant.
It's also interesting to know, that there is not one, but several ways of charging the OCOL light! The OCOL lights can be easily charged at home with the help of a Nokia charger. With 3 hours of charging, it can be used at a stretch of 10 hours. In case of a power cut, Thrive Energy's solar panel (manufactured in Germany) can be used for charging the study light. Alternatively, the lights can be charged in the day time, by the bulk charging systems, set up in the schools by Thrive Energy Technology.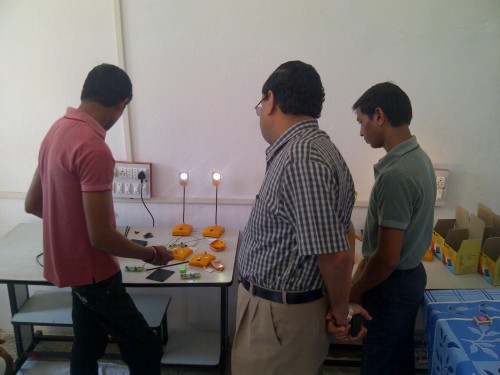 With all the positives in favour of the LED lightings, the OCOL team is constantly striving to further improve upon certain existing shortcomings as well. These include steps taken by them to make the lights even more affordable, reduction in failure rate, improving charging systems, comfortable sighting and increase in safety.
Supporters and partners:
OCOL has been supported in its ventures by several individuals as well as corporate houses, who have sponsored LED Study lights for the children through philanthropic or CSR initiatives. In fact, International Paper, a globally renowned corporate house even launched an initiative to provide LED study lights to the children of the Zila Parishad high schools in 6 districts of Andhra Pradesh. Other NGOs serving as donors of the LED lights include regional Grameen Banks in Uttar Pradesh, ARTIC NGO, Leprosy Mission Trust in Andhra Pradesh, Chanura Micro Finance Institution in Manipur, Manikgarh Cement in Maharastra and Rotary Club of Mumbai North end. Overseas organizations such as ZARA Solar Ltd., Mwanza, Tanzania and Williamson Tea's Tinderet Tea Estate, Kenya are some of the several sponsors from across the shores.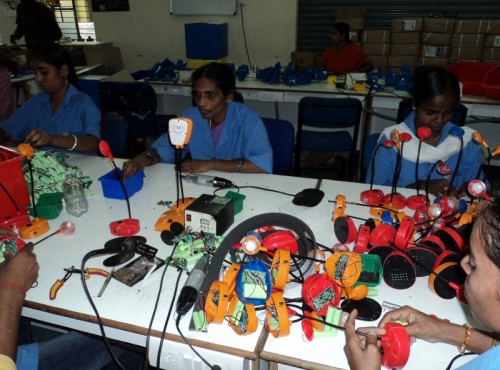 And that's not it! Many corporate bodies, such as Sonata Software and Dr Reddy's Labs in Hyderabad do it as a team by encouraging their employees to contribute towards the OCOL initiative and collectively provide LED study lights to the underprivileged children from schools. OCOL has been fortunate to receive noteworthy contributions from these sources.
OCOL has also partnered with NGOs, particularly those that work towards the upliftment of children and education. One such NGO that the OCOL has recently partnered with is Education Park, an organization which aims to provide education and facilities in rural areas of Madhya Pradesh which are at par with city level schools. Education Park is headed by Prof. Chetan Singh Solanki, from IIT Mumbai, who aims to provide OCOL LED Study Lights to at least 1 Lakh children from Bhikagaon in MP at highly subsidized rates.
OCOL has joined hands with IIT Mumbai to bring into effect an ambitious project where nearly 1 million children would benefit from the programme. It would involve setting up of Assembly centers and technology transfer and training to rural entrepreneurs for better and faster dissemination.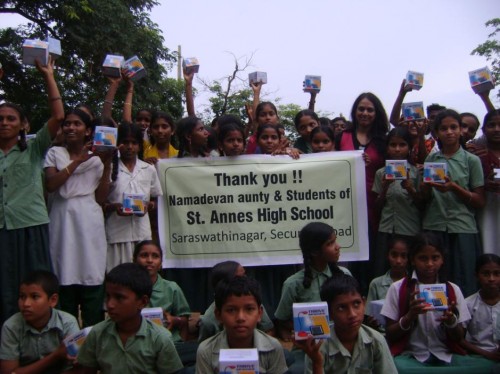 It's not only all about the business ventures and ambitious projects that OCOL has chalked out. Emotions have played a vital role investment too. To be able to contribute LED lights, you need not have to be a rich entrepreneur or belong to a large corporate house. A heart and will is all you need to be a sponsor. OCOL has approached students from schools in urban areas to celebrate their birthdays and festive occasions, by contributing solar LED study lamps through OCOL to help their rural counterparts. Said Dr Ranga:
Some of the most touching experiences came in the form of contributions towards the programme, not from the major companies or high net worth individuals, but from students of some of the smallest schools catering to underprivileged children who collected notable amounts of money for the benefit of children who are even more underprivileged than them.
Some of the contributing schools include Shivappa School in Hyderabad and St Gabriel's School, St Ann's School and Satya Sai Vihar in Secunderabad. The amount raised from these schools was distributed to the social welfare hostels in Secunderabad and in Govt school in Anumalaveedu, Ongole district.
Challenges Faced:
The conquest made is a brave one but it isn't bereft of troubles. Prime among them is the lack of awareness about the LED lights and the OCOL initiative. In their efforts to spread awareness, sometimes there is no response during summer vacations when the schools are shut. Lack of understanding on the ill-effects of kerosene and environmental hazards posed also present a serious obstacle to the OCOL initiative.
While OCOL followed up on schools, they realized much to their shock that some children were unknowingly being made to part with their lights by being offered money or some other form of exchange. To combat this problem, a strategy was implemented. Recalls Dr Ranga:
We made a conscious decision to henceforth provide the study lights under heavily subsidized rates with the help of donors, rather than give them out for free. This creates a sense of ownership of the lights and the children take good care of them and the solar panel chargers. There have been no issues with such an approach.
Currently the Cost of the LED Study Light is Rs.499/-. When subsidy is applied, the beneficiaries shell out Rs.200/- and the donors will chip in Rs.200/- and Rs.100/- discount is provided by the manufacturer – Thrive Solar Energy Private Limited (Formerly Thrive Energy Technologies Pvt. Ltd.).
Impact:
The OCOL initiative has a current reach of a whopping 4,30,000 children and targets to reach out to 12 crore children. Initially, the programme was partially funded by Thrive Energy Technologies and partly from Dr. Ranganayakulu's own pockets. Now, the programme has been able to reach out to several organizations, institutions, NGOs, and Individuals who sponsor the study lights for the children. Many microfinance companies are now coming forward to participate.
Apart from children from the economically weaker sections of the society, children from rescue homes and orphanages have also been provided the Study Lights. Many individuals have purchased lights for gifting.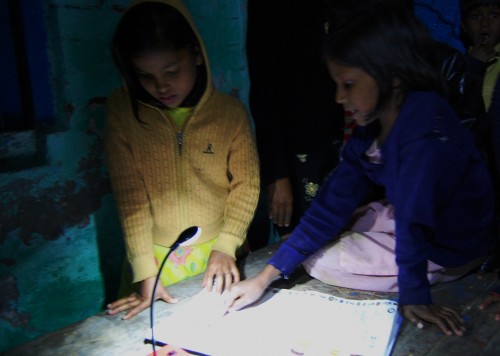 Some of the beneficiaries of the OCOL lights include underprivileged school children in Uttar Pradesh, Andhra Pradesh, West Bengal, Karnataka, Kerala, Gujarat and Odisha and also overseas in Kenya and Tanzania, as well as to women self-help groups and their children in Uttar Pradesh, Andhra Pradesh, Manipur and even to the miners in oil exploration areas of Northern part of Kenya and Eithopia.
Future Plans:
The OCOL aims to increase the number of lights available as well as spread greater awareness regarding this initiative through increased number of school and college visits, partnerships, supporting CSR initiatives of corporate houses, social networking through its website, Facebook page and forming a steady and reliable team of promoters.
The OCOL lights are thus doing their bit towards realizing the dream of an educated future generation – by fostering concentration while studying, reducing global warming, improving health standards and enabling some of the poorest strata of society to afford lighting.
Ipsita Sarkar is a freelance writer.
Tell Us More
We bring stories straight from the heart of India, to inspire millions and create a wave of impact. Our positive movement is growing bigger everyday, and we would love for you to join it.
Please contribute whatever you can, every little penny helps our team in bringing you more stories that support dreams and spread hope.