TBI writer Anusha Subramanian is currently in Uttarakhand, participating in the relief operations and assisting the locals in rebuilding their lives. She reports from the scene of the devastating floods on the current situation in the affected areas, on the aid provided by the administration, and the stupendous work being carried out by trekkers, mountaineers, Indo-Tibetan Border Police (ITBP), army personnel and NGOs.
As you leave the main market of uttarkashi it is evidently silent. You can hardly find people – it seems more like a ghost town – which is so different from what I have experienced in the past when I was here to do my basic mountaineering course in 2009. The recent floods in Uttarakhand have left most people stunned and angry. Beyond the pilgrimage spots, the tragedy has a lot of ramifications for locals, the most important being loss of livelihood.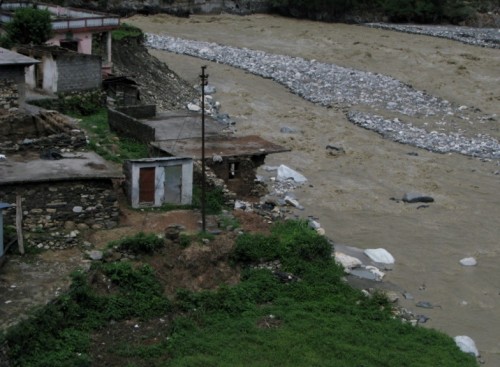 A couple of my mountaineering friends from Uttarakhnd and I have embarked on providing relief operations to remote villages of Uttarkashi where as yet no kind of relief has reached. We accompanied the staff from Sri Bhuvaneshwari Mahila Ashram (SBMA) and Tata Relief Trust to assess the situation in some remote villages in the upper reaches of Maneri. These villages have lost their homes and livelihood – their agricultural land.
A Rapid assessment by SBMA shows that Uttarkashi has 120 villages which have been completely affected. There are no roads for their connectivity to mainland, no electricity and above all, no ration to even cook food. This is the third monsoon disaster since 2010 in this region. After the first two disasters, the government had identified 250 villages in this region as being in the danger zone but still did not take any action in terms of relocating them or anything else.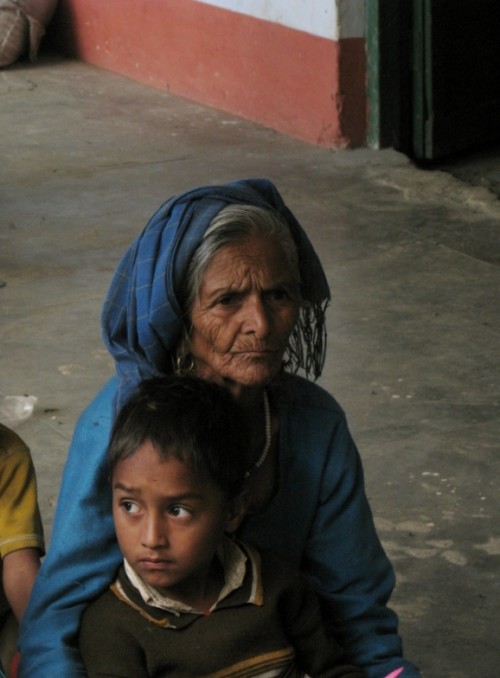 Currently, Bachendri Pal, an Everester who hails from Uttarakhand and is the head of Tata Adeventure Foundation, is overlooking the relief operations undertaken by Tata Relief Trust. The trust has tied up with SBMA and adopted six villages – New Didsari, Didsari, Pilang, Jadaou, Bayana and Shyaba. In all there are are a total of approximately 400 families who will be provided relief.
We trekked up to New Didsari along with Pal, Prem Latha Agarwal, two other mountaineers Yash and Guneet (who were just back from their Mt Thelu expedition two days ago after walking for about 60 kms in 2 and a half days rescuing tourists and pilgrims on their way – carrying their bags apart from their own 30 kg or more backpacks; and the staff of SBMA and Tata Relief Trust.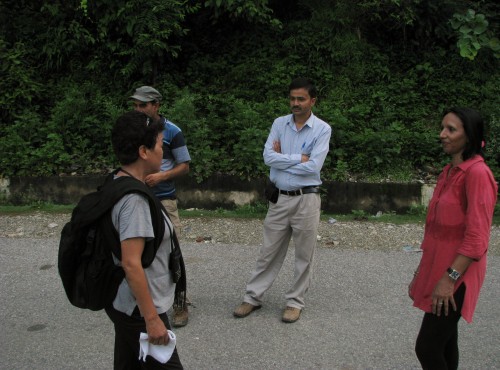 New Didsari is in a pathetic situation. There are in all 55 families in this village, and of these, 20 have lost their homes. And many others have lost their cultivated land. Didsari is very remote. The access bridge on Bhagirathi river to their village has broken down. In the absence of help from the administration, the villagers themselves have rebuilt an access path to their village. The other villages like Bhayana, Shyaba, Pilang and Jadao are even farther. The only way to get to these villagers is by trekking treacherous mountainous routes. Pilang is still facing problems with the mountain landslides. Currently access to this village has become extremely difficult.
In all there are about 400 families across these six villages who are in a helpless situation having lost everything and with no relief in sight. They have managed to get a few packets of biscuits in the name of food. Children here are not used to eating biscuits but, in the absence of solid food, have been feasting on them, and most kids in New Didsari that we visited had stomach issues such as pain, diarrhea and fever. No medical aid has reached these villages yet.
The villagers are sad, disappointed and angry. "We have lost everything," says Rajeshree Surendra, from New Didsari whose husband is in ITBP, posted in Leh. Tata Relief along with SBMA will be providing tents, rations such as rice, dal, tea, salt, sugar, candles, matches, oil, blankets and medicines. Villagers are asking for very basic materials.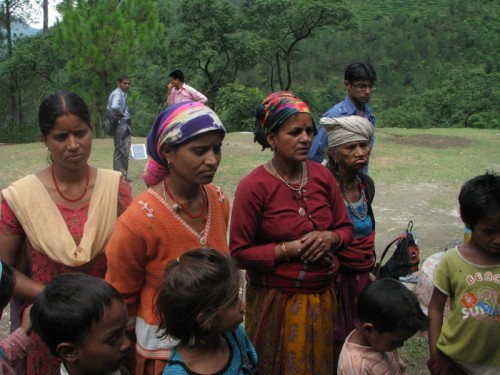 The worst dilemma for the villages and for NGOs working on relief operations is how does the relief material reach these villages. The only way it can be done is by air dropping. Permission is being sought from the administration to allot helicopters immediately to air drop relief materials in these villages. Villagers who I spoke to have lost hope in the government and administration and are not even expecting anything from them. Their hopes are hinging on people like Bachendri Pal and NGOs. They feel that at least they will get some relief from them.
Overall scenario in Uttarkashi is devastating, and how! Thousands of buildings and homes, bridges and roads have been destroyed in the tragedy. The roads have caved in every 25 mts, and in the parts of roads that remain, one can see visible cracks.
Another aspect of the human tragedy is that the floods have destroyed not just the farmlands but also the irrigation system in the mountains, including the network of canals and irrigation channels. This has compounded the loss for the villagers. Potato, which is their mainstay agricultural cash crop, is supposed to be harvested over the next one month and villagers have lost this source of income as well.
The incessant rains that hit the state over three days from June 14, leading to flash floods and cloudbursts, have led to hundreds of deaths and hundreds others are missing. Armed forces , Air Force and ITBP are still on duty trying to locate people and rescue the ones stranded. In the last two days, with the weather blessing Uttarakhand with clear skies, rescue operations have been good. Sorties have been flying to and fro non-stop.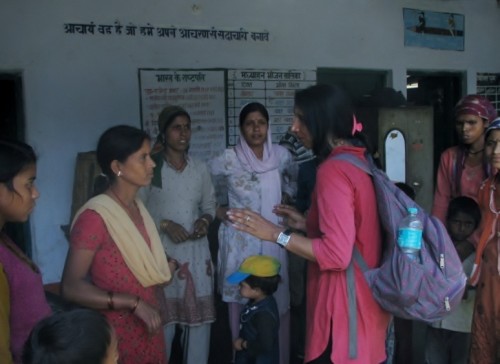 A brief chat with the Uttarkashi DM revealed that the administration has divided Uttarkashi into 11 sectors – each having about 15 villages. 40 people have been deployed for each of these sectors, and they will be accompanied by ITBP personnel in choppers to be dropped at certain points, from they will trek up to reach out to the villagers and give them relief materials such as dry ration, candles, diesel, oil etc. Total loss of Uttarkashi district alone due to the floods has been estimated at Rs 3000 crore.
Uttarakhand being an adventure and mountaineering paradise, it is the adventure and mountaineering community along with NGOs that are trying and getting to these villages on foot and providing relief materials to the villagers. It is the dedicated and selfless effort of this community that is holding up hope for the villagers despite their dire circumstances.
All photograhs courtesy: Anusha Subramanian
Anusha Subramanian started her journalism career 17 years ago as a general news reporter with Mid-Day. She has worked in the past with The Observer of Business & Politics, now defunct, Business Standard, Hindustan Times and Business Today from where she recently quit as its Associate Editor. She bagged the British Chevening Scholarship in 2012 for the South Asia Journalism programme. In the same year she also bagged the Press Club's National Award for Excellence in journalism for her investigation into how environment clearances are given out for projects. She has been interviewed by CNN's South Asia bureau and BBC Radio 4, London as a media expert talking about the Indian M&E sector. Anusha is a trained mountaineer and when she is not writing she is climbing mountains. Currently she is in Uttarakhand, helping in the relief work.