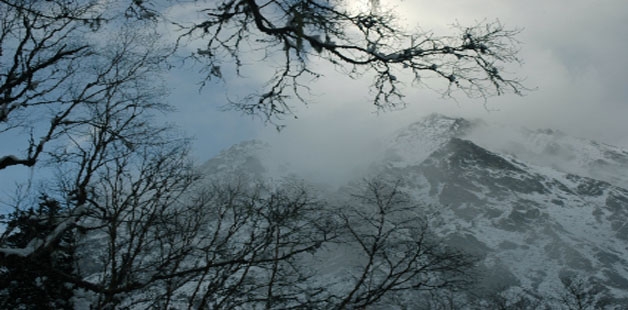 Yoginder Sikand was just settling in for some peace and quiet in a tiny hamlet of the deliriously scenic Spiti ecosphere, when he was hit by the recent snowstorm. Faced with the possibility of being stuck without food and warmth for weeks, he decided that he would try to get to a bigger town and seek help. But how was he to find his way, being completely foreign to those parts and terrains? Much to his wonder, a helping hand was always around!
Yoginder Sikand was just settling in for some peace and quiet in a tiny hamlet of the deliriously scenic Spiti ecosphere, when he was hit by the recent snowstorm. Faced with the possibility of being stuck without food and warmth for weeks, he decided that he would try to get to a bigger town and seek help. But how was he to find his way, being completely foreign to those parts and terrains? Much to his wonder, a helping hand was always around!
Tabo was just the place I had hoped it would be – small, neat, quiet and unhurried, with wonderful views of towering mountains that pierced through the perfectly cloudless turquoise sky. You couldn't have asked for a cozier place to unwind in Tabo than the little room that I managed to get in Champa Yeshe's house, and at a very affordable charge at that. I decided I would spend a fortnight there, reading and writing and treating myself to a spell of well-deserved isolation, after which I planned to trot around elsewhere in Lahaul and Spiti, high up in the Himalayas in Himachal Pradesh, straddling the Tibetan border.
I had hardly settled down in Tabo – it takes time to get used to breathing at an altitude of almost 3300 metres above sea level – when torrential rains, followed by heavy snowfall, suddenly cut the village off from the rest of the world. Villagers couldn't recall it ever snowing so heavily before in the middle of June, and they attributed it to global warming. In just a couple of hours, the flat-roofed, prayer-flag festooned houses of Tabo were groaning under thick layers of snow. The mountains that ringed the village, which, a day earlier, were stark naked, were suddenly transformed into giant towers of ice. Huge stretches of the road leading to Tabo from Kinnaur in the east, we heard, had been washed away, and it would take weeks, if not months, for the road to be restored. The road leading westwards, to Kaza, the only sizeable township in Spiti, too, was now impassable.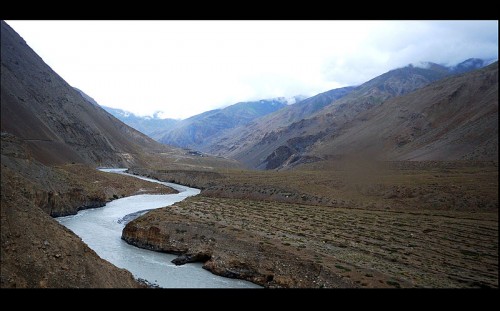 At first, I thought the snow bit was fun: after all, I hadn't seen snow for years. But when the gently-falling flakes turned into something like an angry snowstorm and when I heard from villagers about the massive destruction and loss of life caused by the cloud-burst in neighbouring Kinnaur and Uttaranchal, I began to panic. No one had the faintest idea how long we would be stuck in Tabo. What if food and medical supplies ran out? stranded tourists began to ask. Already, the electricity supply had been snapped all across Spiti, and it was said that it might take weeks for it to be restored. Sitting in my dark, icy-cold room all day, huddled under a mountain of quilts while the snowstorm raged outside, I began to fear the worst.
Two days later, I determined I had to get out of Tabo immediately. At a village just ahead of Tabo, I met Krishan, a government employee who had to get to Kaza the next day for 'election duty work' – elections to the Mandi Parliamentary Constituency, of which Spiti was part, were due to be held in two days' time – and he offered to take me along. From Kaza, he said, I could get a vehicle out of Spiti, and over the 4590 metre-high Kunzam Pass to Manali if the road had opened. We would set off, Krishan explained, early the next morning, well before sun-rise, so as to avoid the rocks that came tumbling down the slippery mountain slopes with the snow-melt when the sun was out. Being hit by even a small pebble rushing down a mountain hundreds of metres high could mean certain death.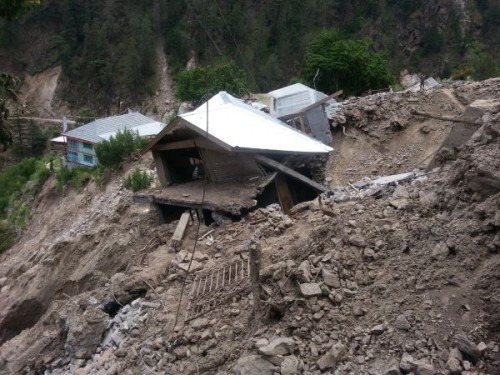 I spent that night in Krishan's home. Krishan's aged mother plied me with a pillar of hot chapattis, plenty of vegetables and several rounds of tea, and chattered about her childhood and about how wonderful things were then. For a while, I forgot about the difficult journey ahead the next morning.
I tossed about in my bed that night, agonizing about what was to come. The road was 'dangerous', Krishan had said, and we would need to walk almost twenty kilometres till we crossed the bad stretch. A millions thoughts were running through my head.
Wasn't escaping on foot sheer madness, I asked myself, especially since I had never walked such a distance before, and that, too, high up in the Himalayas? What if I slipped and fell, down into the valley far below? What if I developed breathing trouble? I was grossly overweight and under-exercised, after all. If almost all the other travelers stuck in Tabo were being 'sensible' by waiting for the road to be cleared or to be rescued, so they hoped, by helicopter, why couldn't I do the same? Would today be my last day?
Who knows, I might well be dead before the day was over, I mused. But, I firmly said to myself, there was no way I was going back to Tabo. Yes, I determined, I was definitely going along with Krishan later that morning.
I climbed out of my bed and fiddled around with my bags. It would be impossible to carry all my possessions. I had to minimize and take with me only the bare essentials—a pair of pants, a couple of T-shirts, my laptop and camera and a few cosmetics, all of which I stuffed into a single bag.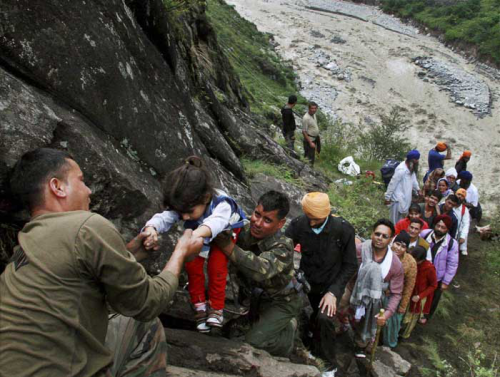 At 4 am, when it was still dark and freezing, Krishan and I set off towards Kaza. The sky had cleared, and the rains had stopped. But I had hardly walked twenty minutes when the straps of my sandals suddenly snapped. They definitely weren't made for rough terrain. I hadn't brought walking shoes with me, expecting the weather in Spiti in mid-June to be summery. For a moment, I was terrified. I looked at the road ahead, strewn with huge jagged-edged boulders and enormous piles of rubble and slush, and my heart sank. I had only my bathroom slippers with me. Ordinarily, I wouldn't have believed that I could walk even a hundred metres in them on that rough road, but at that moment I couldn't afford to think and worry. I pulled out my slippers from my bag and put them on.
Krishan looked worried. "Maybe you should have stayed behind in Tabo," he said. Perhaps he was right, I thought, but just for a second, for now there was no turning back.
I scrambled over the rocks with difficulty. Seeing me struggle, Krishan insisted on carrying my bag. I quickened my pace, rushing ahead as fast as my slippers would carry me. Krishan egged me on to hurry up. "Who knows when a rock can fall from above? It is really very dangerous," he said.
Stretching high up on side of the narrow road were towering peaks, littered with giant boulders that had come sliding down in the storm. On the other side was a sheer fall into the Spiti river, that rushed far below. One wrong move and I could easily slip to instantaneous death. If my slippers gave way, there was possibly no way I could continue to walk, which might well mean being trapped in an avalanche.
I've never, I think, been so focused in all my life as I was that morning. My mind was firmly riveted on the road as I plunged ahead, racing over boulders and hillocks of slippery mud. Not for a single moment did I stop to rest—not even for a breather or a sip of water. I've never known myself to have walked even half a kilometre without a break, but now I rushed along non-stop, unmindful of the stones that cut into the sides of my feet, driven by a grim determination to reach safety. Strangely, I didn't feel at all exhausted or breathless, and nor did I fall even once. It must definitely have been God who took me along that morning—I could never have done it on my own.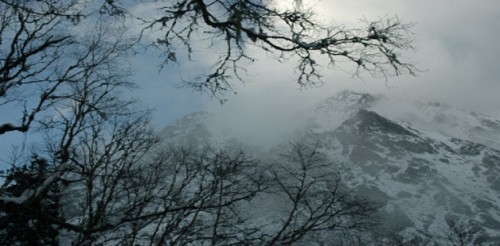 We covered eight kilometres in just under two hours, arriving at Sijling village, where we discovered to our immense relief that the rest of the road to Kaza had been cleared. A friendly villager invited us to his home for tea, butter-smeared parathas and a much-needed rest.
Later that day, Krishan decided to head for Kaza, while I planned to spend the night at the Dhankar monastery, perched high up on a cliff, and then hitch a ride the next day to Kaza and from there by taxi out of Spiti.
I didn't know how to thank Krishan. He had brought me with him, had carried my bag and had hosted me for the night. Were it not for him, I would probably have been still stuck in Tabo. I would never have dared escaping Tabo on foot without him. I offered him some money. "It's for your grandchild. Please buy a dress for her," I said.
"You think this is some sort of business or what?" Krishan replied, visibly hurt. "Whatever little I did for you was because you are a fellow human being."
I gulped in embarrassment and gave him a hearty parting hug.
We bring stories straight from the heart of India, to inspire millions and create a wave of impact. Our positive movement is growing bigger everyday, and we would love for you to join it.
Please contribute whatever you can, every little penny helps our team in bringing you more stories that support dreams and spread hope.
Tell Us More