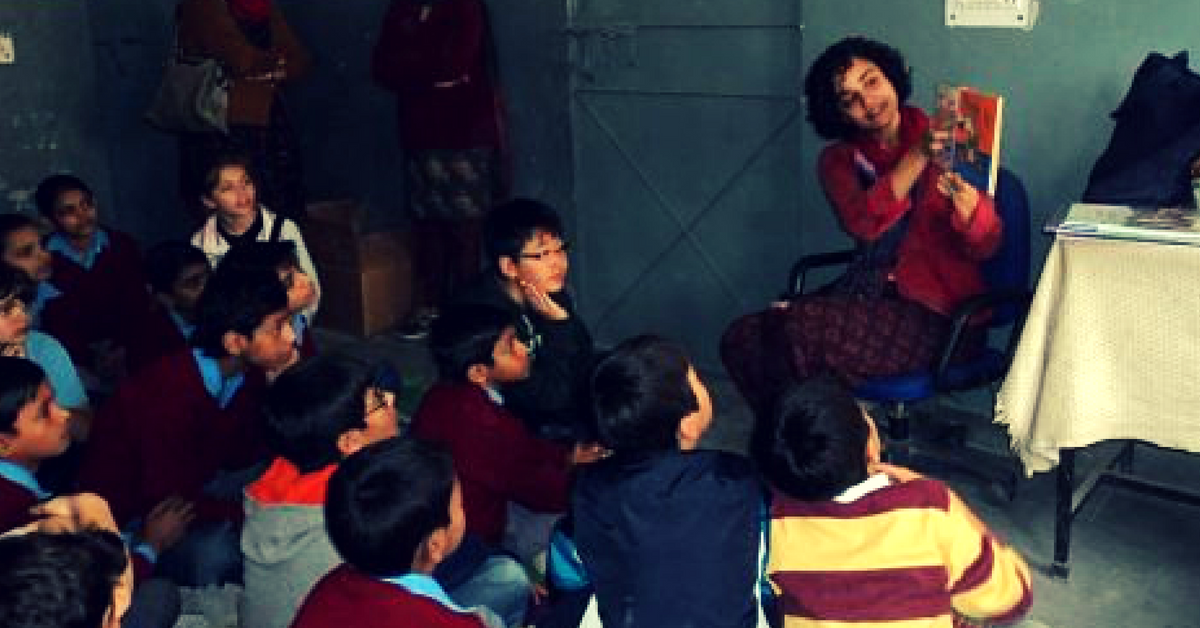 How Delhi-based author Mridula Koshy and her partner, Michael Creighton's efforts to reconnect with the city they once called home, led to the birth of the Deepalaya Community Library, that is now helping hundreds of children become readers and, more importantly, thinkers.
How Delhi-based author Mridula Koshy and her partner, Michael Creighton's efforts to reconnect with the city they once called home, led to the birth of the Deepalaya Community Library, that is now helping hundreds of children become readers and, more importantly, thinkers.
Delhi is home for award-winning author Mridula Koshy. But a twenty-year hiatus from the city meant that she had to rework her sense of it as her home.
"A lot had changed during the time I had been away. And my way of engaging with a city – for example, when I moved to Los Angeles – was by joining organizations that worked for change. I became a union organizer in the States and, in doing so, I found meaning in the anger that I felt about the injustices that I encountered in that society. When I moved to  Delhi, I didn't know where to go to find similar organizations. At that point, I turned to writing as a way to have a conversation with the city," she explains.
A couple of years after they settled in Delhi, her partner, Michael Creighton, started to volunteer at the Ramditti J R Narang Deepalaya School in Sheikh Sarai. Mridula, though initially reluctant, joined him.
"I hadn't worked with children earlier and I wasn't sure what exactly I could do. I started to read out loud to them. In a few months, we began an after-school book reading club. Having gone home, having done their chores, having rested (or not), two dozen children chose to come back to school for these 'read aloud' sessions. We were reading to 12 and 13 year olds, so we were reading picture books that were suited for their age. For example, we read a book about a girl who takes another set of her clothes to her school to lend it to her friend. Later in the story. her mother finds out and scolds her 'She can be your friend ONLY in school.' So it ends with the realization that this is story is not just about a child's unfulfilled desire to share her things with her friend, but also about caste," says Mridula.
"We would read books and then have a conversation about what the children thought the story meant. We were meeting the kids on their thinking level. Most of the kids were at school and they were competent readers. But they did not read books as an act of thinking about the big ideas and the connections between ideas they might make in a book.  Also, it had been drilled into them that every question has one answer that had to be answered a certain way and that it had to be memorized," remembers Mridula.
"We went into the reading program with the idea that we would ask the children to think, with the idea that if there was a question, there would be as many answers as there were children in the classroom."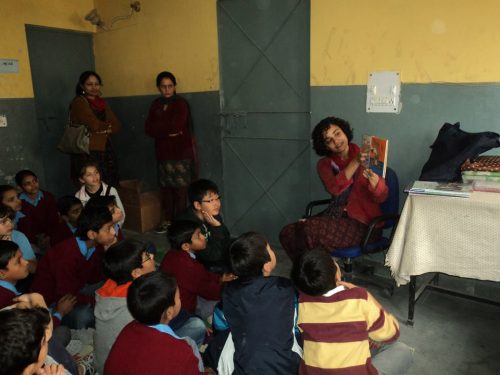 Photo credit: Deeplaya Community Library
Soon they started a library. Deepalaya didn't have much space. Yet, the administration squeezed in a few things, and before long, there was a small room filled with books. Help flowed in: books, money, furniture and volunteers. The library ran well for a few years, but about two years ago, the school shut down.
"The library made no sense since there was no school. It shut down too. Hundreds of books started to grow mold. At one point, we took five hundred of these books and donated them. That was painful. I hated it. That's when I went to the head of Deepalaya, Mr T K Mathew, and shared our idea of the community library. He said it was a great idea, but he envisioned it as a larger project, as part of a community movement to create free libraries throughout Delhi. I swear I felt chills when he said that because nobody had used the word 'movement' with me in such a long time," says Mridula.
Today, over 700 children and adults benefit from Deepalaya's Community Library, its reading programmes as well as its other activities that are put together by over a dozen children council members and 3 dozen other adult volunteers.
"We are building an organization that is owned by the people that it serves. We go door-to-door, we find out what they want from the library and what it is that they don't have access to. For example, the teenagers in our community, they didn't have access to information about their changing bodies. We have now partnered with Breakthrough, an NGO that provides workshops through our library for these teenagers," explains Mridula.
"We have a democratic structure in the library with about 600 children and about 80 adults who are actively involved in the library. A dozen of those children are key to the running of the library. The library would not run without them, not only because of their physical labor, but their thinking energy too," says Mridula.
The leadership of the library hopes to get more adult community members involved in the activities, so that at some point, it is completely run by the community.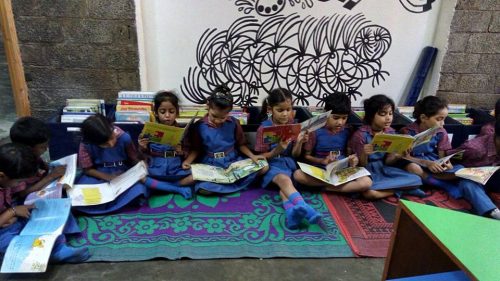 Photo credit: Deepalaya Community Library
A year after the library at Sheik Sarai took off, Deepalaya started another community library in Sanjay Colony in Okhla. They will soon start their third center. Yet, the volunteers involved in the library expansion feel that there is still a long way to go.
"One location a year will not scratch the surface of what needs to be done. I feel there is a lack of will to build libraries, and we need to ask 'why.' I think communities that don't have access to libraries, need to start demanding libraries," they say.
Deepalaya is now helping other like-minded organisations set up similar community libraries: "Right now we have a large number of people approaching us, asking us how they could start and run a library. Our library right now, is not only a library, but is also a laboratory. We are all still learning how to run a library, and we are trying things out. We make mistakes, but we also learn," says Mridula.
"We are hoping to put some of our learnings on an open source platform, to help others in setting up libraries that are low budget, yet engage their community in thinking through reading."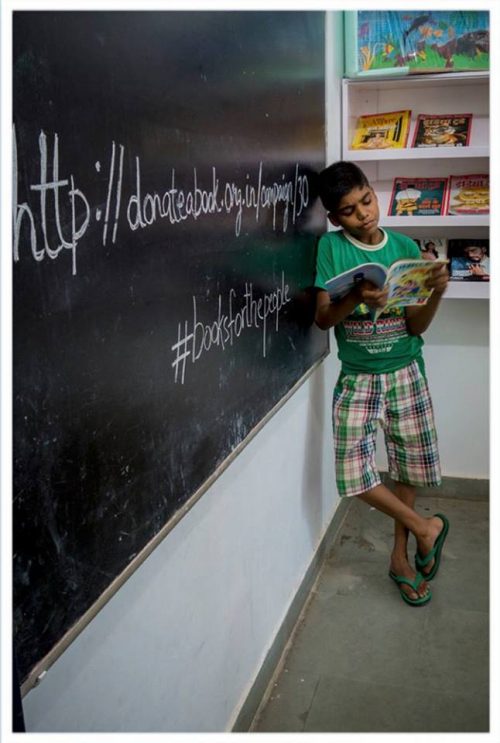 Photo credit: Anamika Nandy Das
Mridula smiles when asked about some of the children who come to the library and the changes she has noticed in them over the years. She talks about one of them.
"There is a little girl, Rosy. She is a very bright child and reads very well. We have many other bright children, who don't read as well as Rosy. It's like her super power. She can read very fast, she can read big words, and she is only about nine years old. I went to her parent's home, and they seemed very proud of her. Then they told me that she was struggling at school and at home. She has difficulty in studying and she has a hard time sitting still.  They said being in the library had made a real difference – she was more motivated than she used to be. They said she was doing better in school too. From what I have seen of her in the past year, she has also become a lot calmer," says Mridula.
"I think she has always known herself as a thinker, but perhaps being a part of a programme that recognizes this aspect of who she is, gives her greater confidence about her right to think. I think that's one of the biggest tenets behind what we do in the library: we recognise our members as thinkers and give them access to books, one of the most powerful tools for thinking available to people."
If you wish to volunteer, contact the Deepalaya Community Library project by clicking here.
About the author: Lakshmi Karunakaran is an arts-based educator and media professional based in Bangalore. She works with Radio Active 90.4 FM as a producer for children based programmes
Like this story? Or have something to share? Write to us: contact@thebetterindia.com, or connect with us on Facebook and Twitter.
NEW: Click here to get positive news on Whatsapp!
We bring stories straight from the heart of India, to inspire millions and create a wave of impact. Our positive movement is growing bigger everyday, and we would love for you to join it.
Please contribute whatever you can, every little penny helps our team in bringing you more stories that support dreams and spread hope.