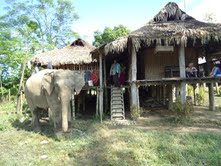 Yoginder Sikand takes you on a daring trip to a remote part of the remote state of Arunachal Pradesh. It is not for the faint-hearted or the luxury-seeker. You will not be observing exotic wildlife or grandiose architecture. But if you are a daring adventurer who can rough it, want to experience a unique sense of oneness with nature and have a deep love for primitive cultures and tribal traditions, you will not find a more perfect place than this!
Yoginder Sikand takes you on a daring trip to a remote part of the remote state of Arunachal Pradesh. It is not for the faint-hearted or the luxury-seeker. You will not be observing exotic wildlife or grandiose architecture. But if you are a daring adventurer who can rough it, want to experience a unique sense of oneness with nature and have a deep love for primitive cultures and tribal traditions, you will not find a more perfect place than this!
It is definitely way off the conventional tourist map. Located in the far eastern corner of Arunachal Pradesh, in the Changlang border, near the trisection of India, Burma and Tibet, Diyun is a large village, the major market-place for dozens of tribal hamlets in the vicinity. That is where I spent two months earlier this year, volunteering as a teacher in a school.
Diyun boasts almost nothing of conventional tourist interest. Till recently, almost the entire area, stretching from near the border with Assam till the towering mountains of the Patkai Bum range of the eastern Himalayas that straddle the Burma border, was under dense forest cover. Only a few tribal families lived in the area, in scattered bamboo huts, engaging in fishing, hunting and jhoom—or shifting cultivation. Then, in the 1960s, the area was completely transformed, when thousands of refugees from the Chakma and Hajong tribes, who lived in what was then East Pakistan and is now Bangladesh, fled religious persecution and were settled here by the government. Today, the vast majority of the inhabitants of the 'Diyun Circle', as it is called, are Chakmas and Hajongs—who are mostly impoverished small cultivators, fisher folk and craftsmen. In addition to them are small pockets of other, more powerful and prosperous tribes, including the Mishmis, Nagas, Mossangs, Singphos and Khamtis.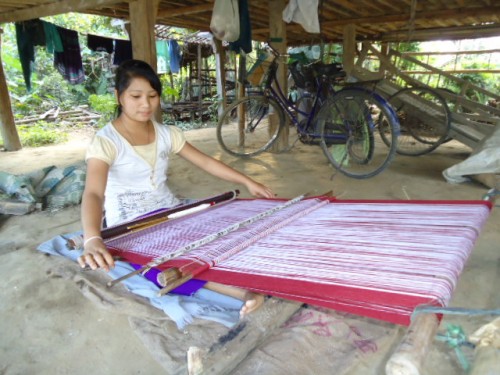 Because the 'Diyun Circle' doesn't have a long history, it does not have any historical monuments that might attract travelers. It did boast, several decades ago, of dense forests, which abounded with wildlife. Today, however, only small patches of forest remain in the plains, and even in the mountains large stretches of forest have been indiscriminately felled to make way for fields. Selling timber is lucrative business for some, while for others it is a means for sheer survival. Rampant deforestation around Diyun (and, indeed, all over Arunachal Pradesh, which once boasted of being one of the most densely-forested states in India) has meant that there are hardly any wild animals left in the area. Some decades ago, elephants, bears, leopards and tigers were common around Diyun, but with their natural habitat destroyed and large-scale poaching it is rare to spot even the state bird of Arunachal Pradesh – the hornbill – in the area. The only wildlife that I got to see were a couple of giant spiders, a bison, snake and the common white stork.
Since there is hardly any wildlife left and no major monuments in the area, it is hardly surprising that few visitors ever pass through Diyun. But for the traveler with an interest in tribal culture, Diyun – and, I suppose, other parts of Arunachal Pradesh, too – is a fascinating place. For the more anthropologically-inclined traveler, for whom travel is not simply about gazing at grand centuries-old palaces and forts but is also a means to witness and understand the living cultures of 'ordinary' folk, some days in and around Diyun is sure to be an immensely rewarding experience—as indeed it was for me.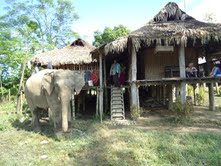 Almost every afternoon, over the two months that I was in Diyun, I would walk or cycle through the neighbouring hamlets to witness a way of life that is fast disappearing in the face of the relentless march of 'modernity'. It was not at all easy traversing through slush-filled pathways or fording streams on foot or finding my way in the jungle, but that was the only way to do it – there are hardly any paved roads in the area and only an occasional bus that connects a few hamlets. Hardly anyone owns a vehicle here and so the only sound one is likely to hear while winding one's way from one hamlet to the next is that of the wind blowing through clumps of bamboos, of birds chirping in the trees, of frogs croaking in the ponds, and of village kids having fun in the fields.
You could spend hours in and around Diyun, as I did, paddling through brooks, watching men smoking pipes made of long shafts of bamboo, women working in the paddy fields and ducks floating in little pools. You could hike to the banks of the enormous Dihing river to see the sun set over the mountains and watch tribal people lay fish traps made of bamboo poles or hunt for insects under the boulders scattered on the river banks. You could observe village youth assemble a hut, with just a couple of bamboos for the frame, straw mats for the walls, wooden poles for the stilts, dried leaves for the roof, and a log of wood with broad slits in the middle for stairs. You could watch old men make delicate cane containers to be used for worship, baskets, cradles and hand-fans. You could witness young women working at their looms, creating exquisite, brightly-hued sarongs and towels. You could join a group of women (it is almost always women, and, particularly, elderly women) walking several miles in search of a stream to fish in, balancing giant bamboo-made fishing baskets on their heads. And not to be missed is the amazing bi-weekly street market, where different tribes, dressed mostly in their traditional brightly-hued costumes, buy and sell local produce – grains and vegetables, hand-woven dresses, and fruits from the jungle which you won't be able to recognize.
Most of the ethnic groups in this area claim to be Buddhists. You could chat with a friendly monk, or simply squat doing nothing – which is what some forms of meditation are all about – in a Buddhist monastery. Almost every village here has a Buddhist temple, and most of these are built in the distinctive Burmese pagoda style. You could even trek into the jungle to spend some time with 'forest monks', who live all alone in whatever is left of the forest, meditating through much of the day and coming down to the villages only in the mornings to beg for food. On every full-moon and new-moon day, villagers flock to the monasteries to listen to discourses by the resident monks. You won't understand a word of it all, of course, but it is an experience not to be missed. You might even be able to attend a Kathin Chivar Dan Puja, when hundreds of women from the Chakma tribe gather in the Buddhist temples to weave robes to offer to the monks.
If you are fortunate, as I was on numerous occasions, you might be invited to people's homes for a meal or a cup of tea, and then you could end up spending hours chatting with your hosts to learn about what life is like for people living in one of the most remote parts of a state which itself is one of the most remote in India. You would learn that the Chakmas and Hajongs, who form the majority in this area and are among the poorest communities in the state, continue to suffer neglect from the authorities, their villages having almost no state-sponsored development schemes. Hardly any of them are employed by the state government. You would learn how 'development' and 'modern education' have come as a mixed blessing for the tribals, bringing material comforts for some, but at the cost of the rapid destruction of local traditions. You would be shocked to learn about the pervasive and deep-rooted problem of drug addiction in the area and about the immensely deleterious impact of television in the area, with Bollywood heroes replacing tribal elders as models for the youth to emulate.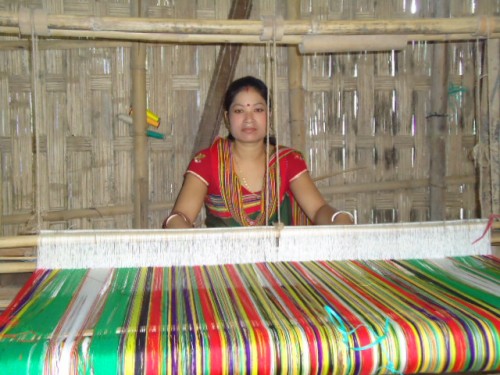 If you feel you've had enough of Diyun, you could consider cycling – as I did – some 20 kilometres to the nearby town of Miao, crossing an enormous river, which comes roaring down the Himalayas. There is no bridge here, and so you will have to walk half the way on foot, in almost knee-deep, emerald-blue water, and then cover the rest of the distance in a country boat. There is not much to see in Miao, but there is a small Tibetan refugee settlement that you might find interesting. The town's other supposed tourist attraction, a little zoo, is in a complete shambles – the assortment of Himalayan bears, porcupines, snakes, slow lorises and monkeys that it boasts of are trapped in miserable little concrete prison – like enclosures that are bereft of any greenery or mud. But the journey to Miao, which takes you through stretches of forest, through Chakma, Naga and Singpho villages, and past several little Buddhist temples, is itself well-worth it.
You might like to make a short trip to the Namdapha National Park, which can be approached by road from Miao. Spread over some 2000 square kilometres, it is the largest protected area in the eastern Himalayas. Its habitat ranges from sub-tropical evergreen forests to alpine meadows and perennial snow-capped peaks, and it still boasts, despite illegal poaching in the vicinity, of considerable wildlife. You could also consider a hurried trip in a truck to the Hindu pilgrimage centre at Parasuram Kund, near the Tibetan border, beyond the town of Wakro, home of the Mishmi tribe. The road passes through lush green fields and then dense forests, interspersed with orange plantations, till it reaches the mighty Brahmaputra, which comes noisily tumbling down the mountains.
As elsewhere in much of Arunachal Pradesh, there are hardly any facilities for tourists in and around Diyun. It isn't safe, too, especially after dark, with reports of extortions and kidnappings. And, then, there is the additional problem of underground groups which are active in the area. But for those with a bit of daring, it promises to be – as it was for me – a richly rewarding learning experience.
Yoginder Sikand is a Bangalore-based freelance writer.
We bring stories straight from the heart of India, to inspire millions and create a wave of impact. Our positive movement is growing bigger everyday, and we would love for you to join it.
Please contribute whatever you can, every little penny helps our team in bringing you more stories that support dreams and spread hope.