The Sahariya tribe of Baran district in Rajasthan is classified as a Particularly Vulnerable Tribe. For years, they were forced to work as bonded agricultural labourers by the landed gentry of the region. The past decade has seen them fighting for their rights, and now with the help of some local NGOs, governmental support and their own unified efforts, they are slowly reaping the benefits of their struggle to be treated as free and equal citizens of this nation. Anumeha Yadav revisits the tribe to report on how they are faring.
For the last two years, Sahariya adivasi families in Baran district on Rajasthan's border with Madhya Pradesh have waged a powerful struggle against generations of slavery to local landlords. Since November 2010, more than 200 Sahariya families have refused to work as 'halis' – bonded agricultural workers – in return for small loans on which landlords charged 40 to 70 percent interest. Last year, The Better India had published an article detailing the freedom struggle of this tribe, and their efforts at re-building their lives. We revisit the tribe a year later in this follow-up report to see how these erstwhile halis are faring with their new-found and hard-fought independence. Last month, 135 Sahariya families in Kishanganj block in Baran district sold the first portion of crop harvested on land they reclaimed from Sikh, Jat, Dhakad landlords.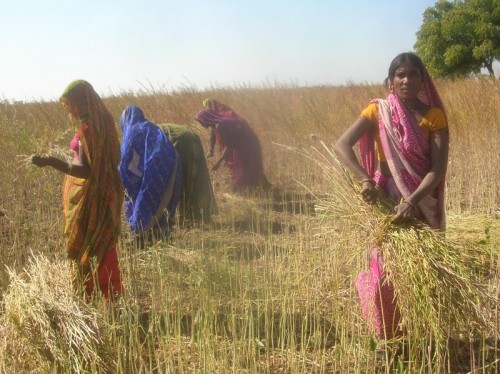 "Last July, the former district Collector B Sarvanan held a public hearing for us to register our claims. The district administration then restored 625 bigha land encroached by landlords in Sunda village to 135 Sahariya families. Initially, there was fear that the landlords will retaliate so women from Sunda, Amroli, Kherla, Lakhimpura and Dabka stayed back near the land two months during the rains. We sowed mustard in 400 bigha, and wheat and coriander in the rest," said Gyarsi Bai Sahariya a community worker with NGO Jagrut Mahila Sangathan (JMS). "The mustard from just 50 bigha fetched us Rs 1.5 lakhs, we may earn upto Rs 20 lakhs from the whole harvest," she added.
Among the most vulnerable families among Baran's Sahariyas have found a crucial support in finding a new means of livelihood in MNREGA (The Mahatma Gandhi National Rural Employment Guarantee Act 2005). Since 2011, hundreds of Sahariya tribals families trapped in bonded debt to rich landlords since decades have found employment under MNREGA.
Sahariyas are categorized as a Particularly Vulnerable Tribe (PTG), i.e., the most marginalized among tribes. The Sahariyas living in Baran came to national attention in 2000-2001 because of several hunger deaths in the community. The death of 47 Sahariyas because of starvation in the drought in 2001 triggered the Public Interest Litigation in the Supreme Court on right to food. Hunger deaths were reported among Sahariyas in 2004 and again in 2009.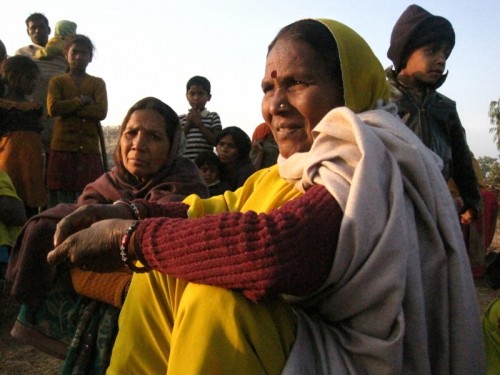 In 2010, the NGO Sankalp and Jagrut Mahila Sangathan (JMS) organized a 'Mazdoor Haq Yatra' in four blocks in Baran with support from the Soochna evum Rozgaar Adhikar Abhiyaan Rajasthan. The yatra went on for 15 days. Following this, a 'mazdoor satyagraha' began in Jaipur on 2 October 2010. At this non-violent protest for minimum wages under MNREGA, the Sahariyas from Baran spoke up about having to work as halis, or bonded labourers, for landlords who had usurped their lands. They narrated how they had had lost their traditional access to tendu leaf, gum, timber as the forest deteriorated and become indebted to Sikh and Jat landowners who charged 40 to 70 percent rates of interest as halis or bonded agricultural labourers on their farms. The Bonded Labour (Abolition) Act 1976 bans hali among 31 forms of bonded debt.
"I borrowed Rs 4000 and worked without wages on Hansraj Dhakarh's farm for six years. I worked from 7 am till after sunset. But he would beat me mercilessly if I missed work even one day," said Om Prakash Sahariya at the Jaipur 'dharna' (non-violent protest). Arjun Sahariya said he remained hali all his life and made both his sons work as halis in Khyawada village after borrowing Rs 15,000. Several Sahariya families lived on upper-caste landlords' farms with restrictions on their movement and in some instances, were dependent on them even for food grains.
Following a protracted struggle by the Sahariyas, in 2011 Rajasthan government waived off their bonded debt and entitled Sahariya families to 200 days of work under MNREGA, twice the national norm. Beginning October 2010, more than 250 Sahariya families have found work under MNREGA here.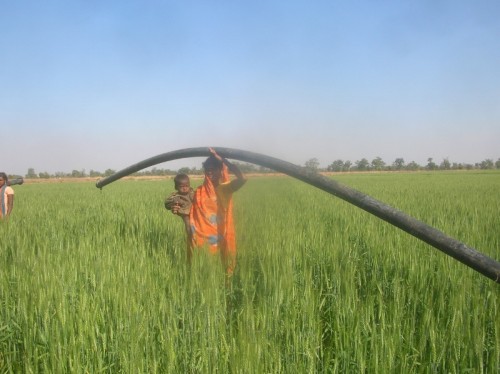 Sahariyas in Sunda village and Eklera village created a 'credit fund' of their own, starting by pooling Rs 100 each from their MNREGA wages. In Sunda village in Kishanganj block, there are three such savings groups of Sahariya women, and four savings group started by Sahariya men. In 2012, forty families in Sunda-Chainpura started building a grain-bank with their labour to pool together the foodgrains they got under the Public Distribution System, so that they do not have to rely on landlords for food.
The Sahariyas in Baran reached a decisive step in their struggle for self determination when the district administration recognized their claims over land seized from them by landlords. In July 2012, administration re-surveyed and gave possession of 625 bighas of land back to 135 Sahariya families. Using two tractors and seeds provided by the Area Development Committee officials, and fertilizers and fuel provided by Jagrut Mahila Sangathan (JMS), a local NGO, 15 Sahariyas families who had farming experience planted mustard over 400 bighas, wheat over 50 bighas, and coriander on 40 bighas, leaving the remaining land fallow. The remaining households continued to work under MNREGA.
Though earlier there were delays and we received MNREGA wages only after three to four months, for the last three months we have been getting their wages within 6-7 weeks and that is a lot of support.
said Kishore Sahariya, 35, who worked as hali on landlord Paramveer Singh's farm in Sunda village since his childhood after his father who was also hali died. Kishore earned no wages and had a bonded debt of Rs 36000 to the landlord but refused to work against debt anymore after he heard about 16 labourers beginning resisting landlords in Eklera village.
Last month, the Sahariya families harvested the mustard planted in 50 bighas and earned over Rs 1,50,000 by selling their crop in the agricultural markets. With support from the District Vigilance Committee and JMS, women from all 150 families plan to now set up a cooperative society. Their brave struggle for their freedom, the work they found under MNREGA and their being able to reclaim their rights over land has enabled these adivasi families, among the poorest in the country, to live and work as equal and free citizens.
Anumeha Yadav is a journalist with The Hindu and Media Fellow, National Foundation for India.
We at The Better India want to showcase everything that is working in this country. By using the power of constructive journalism, we want to change India – one story at a time. If you read us, like us and want this positive movement to grow, then do consider supporting us via the following buttons.
Please read these FAQs before contributing.