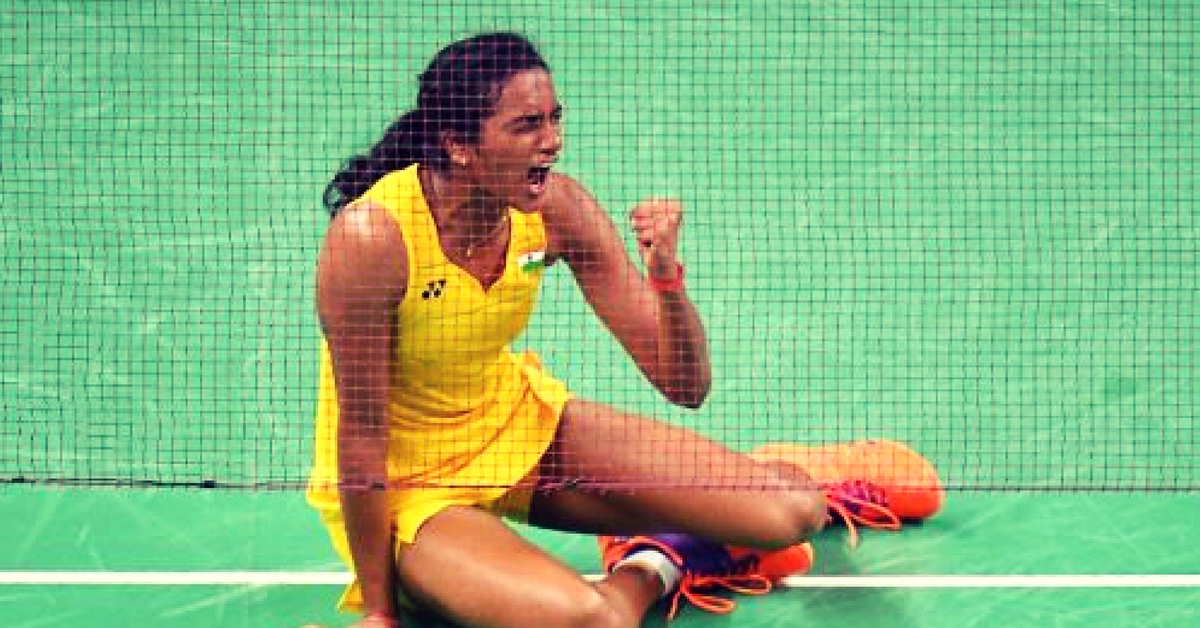 India's hope for a second medal at the Olympics rest on the shoulders of young badminton player PV Sindhu. Here's why she might just come through.
#ChasingTheGold: A series on the lesser known stories of India's sporting stars, presented by The Better India in collaboration with Knappily, the Knowledge App.
India's hope for a second medal at the Olympics rest on the shoulders of young badminton player PV Sindhu. Here's why she might just come through.
Pusarla Venkata Sindhu was still in her teens when she saw Saina bag the bronze at the 2012 Games. A few months later, Sindhu broke into the top 20 rankings after pulling an upset against gold medallist Li Xuerui in the quarter-finals of the China Masters.
Seven Indian badminton players arrived in Rio and Sindhu is the last one standing. Today, the 18th of August, will see Sindhu go up against Japan's Nozomi Okuhara for a place in the final (7:30 PM IST).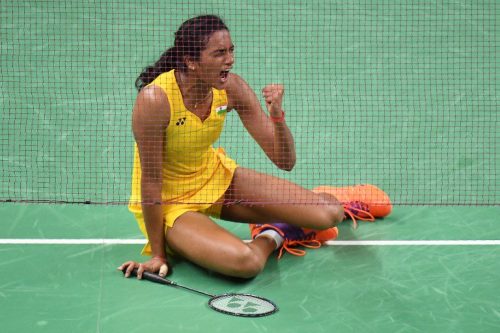 What has Sindhu's journey been like so far?
She might be ranked 10th, but Sindhu has earned the reputation for producing upsets. Not one to be overawed by the stature of her opponents, she has thus far displayed a rich vein of form at Rio.
Sindhu had the full measure of Tai Tzu in the pre-quarters. The Indian made the Taiwanese, considered to be one of the most talented in the circuit, look ordinary.
But she saved her best for Yihan, the 2012 world champion and silver medallist at the London Games. In a tightly-fought contest that lasted for 54 minutes, Sindhu defeated Wang 22-20, 21-19.
Why are Sindhu's victories noteworthy?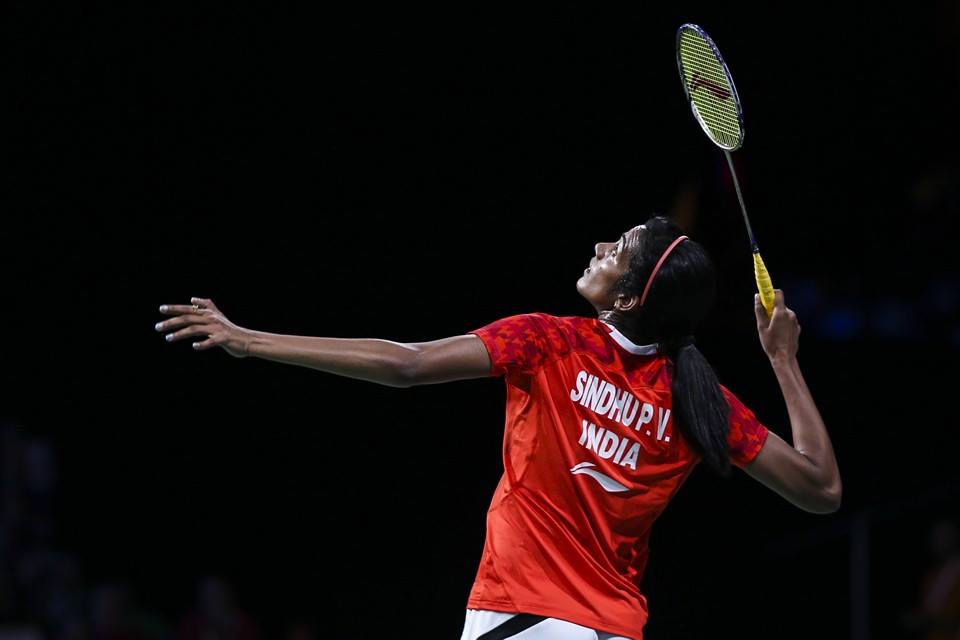 Four years ago, Yihan Wang slayed Saina Nehwal in the semifinal 21-13 and 21-13 to advance to the final. With this win over Yihan, Sindhu has denied China their customary medal.
Sindhu has upset Yihan multiple times in the last couple of years, notably at the World Championship (2014) and the Denmark Open (2015); so this win over Yihan wasn't beyond her reach.
Sindhu has reignited India's medal hopes, which appeared to be dwindling as the country's favourites kept getting knocked-out one after the other for the first 11 days of the competition.
She has now given sport-lovers back home a reason to stay emotionally invested in the Games.
What particularly stood out about Sindhu on Tuesday was her fitness. She wrapped up the first set by securing the last two points after having lost a 45-stroke rally!
When did Sindhu begin her tryst with destiny?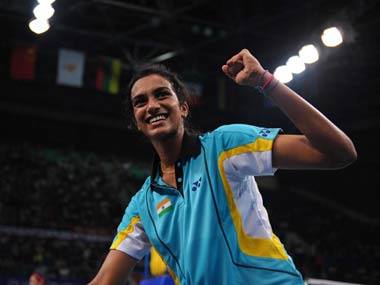 When she was only 12, Sindhu was considered India's best hope for women's badminton. She was one of the success stories of badminton at the sub-junior national level.
As an aspiring shuttler, Sindhu used to travel 56 kilometres every morning to Pullela Gopichand's academy to train for four hours, every day.
Her ability to weather long rallies and fiery smashes are a testament to the hours she has put in on working on her fitness.
Back in 2008, The Hindu wrote, "With an ability to engage her rivals in long rallies before interspersing them with delicate drops to pick crucial points, this potential champion has set the record straight last year by winning both, the singles and doubles titles, in seven major championships. Many such child prodigies lose their way in India in the absence of proper facilities, coaching and support from the family. But, Sindhu found a mentor at a young age, Gopichand, and parents — her father is an Arjuna awardee — who were willing to go to any extent to help her realise her dream."
Where is Sindhu headed?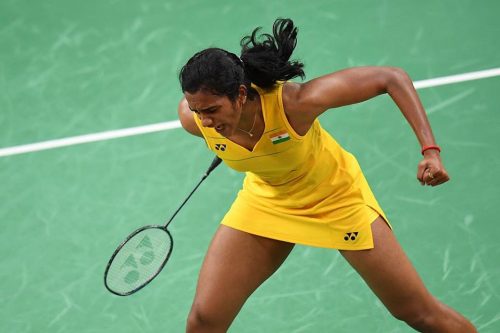 She is one win away from becoming India's second women's badminton player to win an Olympic medal after Saina won bronze in the London Games.
In a way, Sindhu is lucky for she finds herself facing a far less imposing Okuhara, while two-time world champion Carolina Marin from Spain and the defending Olympic champion Li Xuerui from China battle it out in the other semifinal.
Once she gets past Okuhara, she still has to overcome Carolina Marin or Li Xuerui. But Sindhu has beaten them both in the past.
Who is Sindhu up against?
On Thursday, Sindhu has to surpass Japan's Nozomi Okuhara to have a shot at the gold medal.
Okuhara is four places above Sindhu in the world rankings, and has peaked right in time before the Olympics. She has a 21-8 win-loss record this year. She emerged undefeated from the World Super series in December and captured the All-England Open in March.
She won the first three games in straight games. Only a valiant compatriot in Yamaguchi Akane could stretch her to three games.
She has a 3-1 win record against Sindhu in head-to-head, all of which were three games encounters.
How is Sindhu poised?
Her contests against Okuhara have always been closely fought. The only time the Indian overcame the Japanese was at the Asia Youth Under-19 championships by a desperately close margin, at 18-21, 21-17, 22-20.
She has constantly veered from beating the best one day, to be knocked-out in the very next round.
But Sindhu has approached the Olympics with admirable mental strength and maturity. She has been able to tailor her strategies according to the opponents.
This makes her a favourite against Okuhara.
Sindhu wore out Yihan with long rallies and waited to seize an opportunity. On Thursday, she is likely to be more aggressive against Okuhara and keep her rallies short.
Wishing her the very best!
Knappily, short for Knowledge Application Daily, is India's highest-rated digital magazine that analyses news and features in its unique 5W1H framework, helping readers gain a 360-degree view on them. The app is free, and can be downloaded from Play Store or App Store.
Featured image source: Twitter
Like this story? Or have something to share? Write to us: contact@thebetterindia.com, or connect with us onFacebook and Twitter (@thebetterindia).