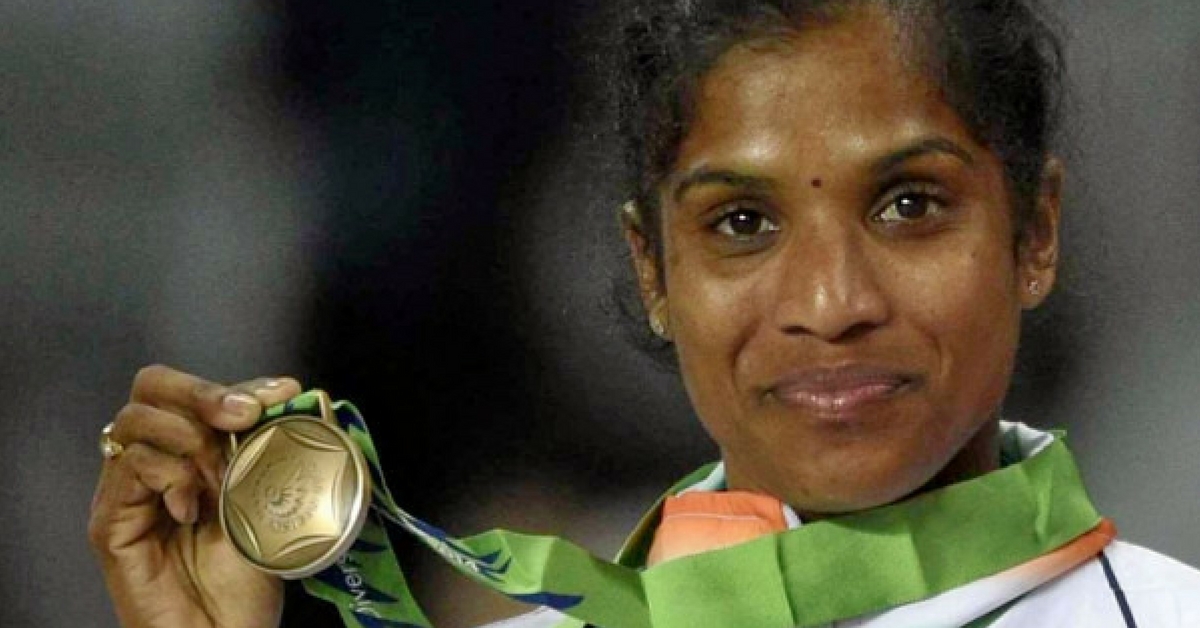 From abject poverty to slumps in her career, OP Jaisha's inspiring journey of overcoming the odds to become India's Marathon Champion.
#ChasingTheGold: A series on the lesser known stories of India's sporting stars, presented by The Better India in collaboration with Knappily, the Knowledge App.
From abject poverty to slumps in her career, OP Jaisha's inspiring journey of overcoming the odds to become India's Marathon Champion.
OP Jaisha, India's Marathon champion, qualified for the Rio Olympics at the age of 33. Over the years, this inspiring runner has overcome abject poverty, injuries, slumps in her career as well as challenging track events. Jaisha fought every obstacle that came her way, to emerge as a promising athlete.
WHAT
What is Jaisha's claim to fame? 
Orchatteri Puthiya Veetil Jaisha has consistently broken her own national records; the latest being last year when she clocked 2:34:43 in the marathon event of the World Championships at Beijing and broke her own record of 2:37:29 achieved earlier that year.
In her first ever full marathon appearance, she broke a 19-year-old record.
She has made her mark in some of the most challenging track events and competes in the 1,500m, 3,000m and 5,000m events. She is a former national record holder in the 3,000m steeplechase event that requires runners to jump over obstacles, including water, during the race.
She is among the few Indian women athlete runners who made and crossed milestones in their second innings.
WHY
Why is her story inspirational?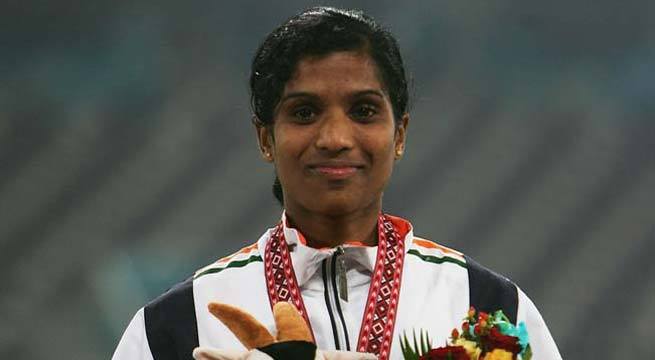 "When you have nothing to fall back on you must grab the opportunity that comes your way and put your heart and soul into athletics. I did just that at Assumption College," Jaisha says. 
Despite the utter penury she faced as a child – unavailability of food forced her to survive on mud several times, rice water was a luxury – she went on to cultivate an interest in running.
As a child, she used to get up at 5 am, milk the cows her mother bought on loan, and then walk a mile to the local milk society to sell the milk and walk back home. Then she would walk another two kilometres to school.
She would run back home during the lunch break to eat, and was lucky if she found anything to eat at all. In the evening, she would once again make the two kilometre return trip to the milk society. This served as Jaisha's high-altitude training while growing up.
Inability to pay her sports college fees was the first hurdle in taking up the path less travelled towards a career with unpredictable returns.
Despite constant doubts about her ability to re-enter the field of athletics, she re-fuelled her determination to run for India once more.
WHEN
 When did Jaisha find her calling? 
As a teenager, Jaisha was adamant about attending a sports-cum-cultural festival 3 km away from her hometown. She pestered her mother about it till finally, tired of refusing her, Jaisha's mother gave in, saying "Do what you want."
This was the only time Jaisha defied her mother's wishes and set off from Thrissilery, the tribal region in north Kerala's Wayanad district. She went to the festival as a spectator but was persuaded to participate in the 800m race by a local coach struggling to fill in last-minute dropouts from his team.
In her first such race, she was barefoot, competed with the national school games champion and, to everyone's amazement, went on to win the first place; achieving an unbelievable 100-metre lead over the national school champion.
She ran home and proudly showed her family the winning certificate. Her victory brought tears of joy to a mother battling depression, a bed-ridden father and three elder sisters.
She decided then that she would run to make and break milestones, and to lift her family out of the miserable poverty that had befallen them.
Her foray into the national level was preceded by a remarkable victory at the 2005 University Games when she was in Assumption College – she bagged the gold in 1,500m, 5,000m and 10,000m distances.
She was selected for the National Camp and went on to win the bronze in the 5,000m event at the 2006 Asian Games.
HOW
How did Jaisha's struggles begin?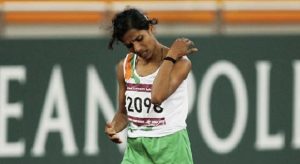 At the age of 21, she had had a great start, and her career as an athlete looked promising, but instead of scaling greater heights her performance took a downward turn. Family commitments took her time and energy, leaving her devoid of the two ingredients essential to every athlete's success.
She used the prize money earned at the Doha Asian Games to arrange her sister's marriages, sold her house to pay off an earlier loan, and to settle medical bills for her father who was still bed-ridden. Her body too, protested strongly with injury and health problems cropping up.
Victories at the national level and a bronze in the 1,500 metres at the Asian Athletics Championships could not offset her below average performance in other crucial events. Her situation was made worse by a stress fracture that killed her London Olympics dream. Her career seemed to come to a standstill at 30 and she found herself wanting to quit.
Following her exclusion from the national camp after an unsatisfactory attempt at the Asian championships in Pune, Jaisha and her husband visited the Sports Authority of India's high altitude training centre in Dharamshala where Jaisha slowly but steadily regained her form and strength over nine months.
WHO
Who has stood by Jaisha through her tough times? 
Jaisha's mother, in the midst of abject poverty, chose to take out a loan by mortgaging a small piece of land beneath their house instead of allowing her young daughters to do menial jobs.
Girish, a local club coach, who recommended her to the management of Assumption College in Changanacherry. This helped her gain admission into a college renowned for the best athletics facilities in Kerala.
Unnikrishnan Menon, the coach at Assumption and Ninamma Thomas, head of the physical education department took Jaisha under their wing – providing moral support and the necessary training kit, including shoes.
Dr Nikolai Snesarev, known for his grilling training sessions and dictatorial methods, pushed Jaisha to achieve her breakthrough at the continental level. He recalled Jaisha on his return in 2014 after she had a slump in form and even got Jaisha to switch to the marathon category; the shift has paid off tremendously.
Gurmeet Singh, former sprinter, coach and Jaisha's husband, recognized his wife's potential and left no stone unturned in ensuring that she realized it herself too. Realizing that she needed full-time training to get back into shape, he quit his job and accompanied her to the Sports Authority of India's high altitude training centre in Dharamshala.
WHERE
 Where is Jaisha headed?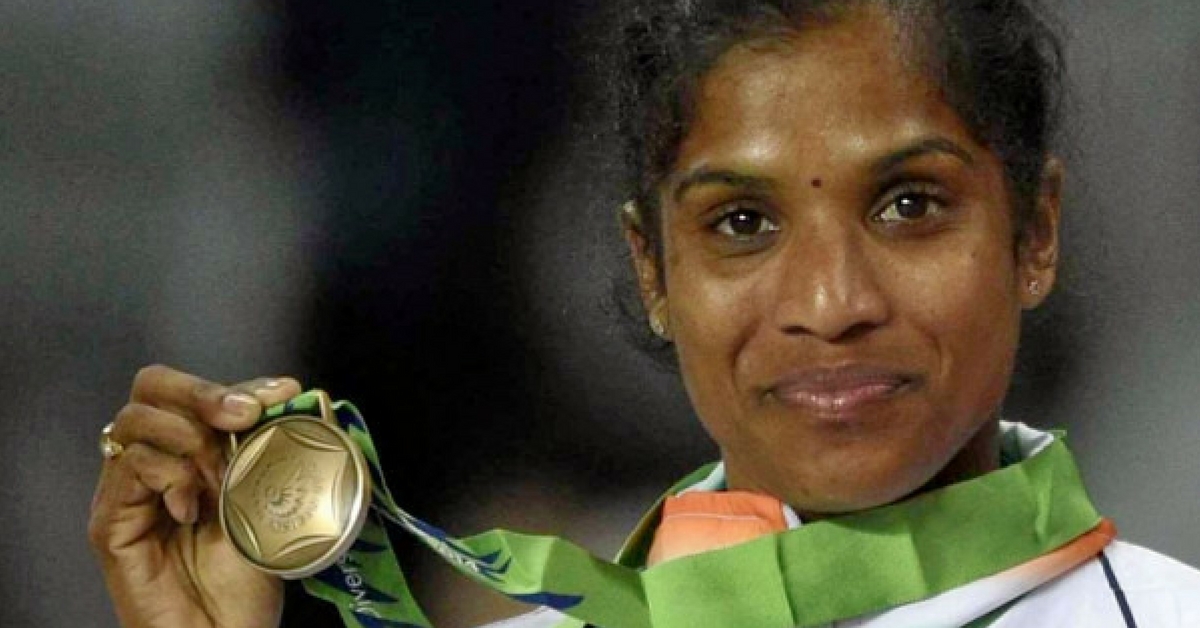 She does not expect to win a medal but has set a more realistic goal of being within the Top 8. However, perseverance despite all odds and a refusal to succumb to defeat, supplemented with the right guidance and support, has got her this far.
If she had a few years to prepare for this clash of the best Marathoners of the world, she could have given herself a fighting chance.
She has been able to rescue her family from poverty, and has repaid the family loans. The fame she brought to her village influenced the Grameen bank to waive off a portion of the loan.
She says, "Today, my family has three square meals; everyday… 365 days of the year." As a bread-winner for her impoverished family, she is already a winner.
We wish her the very best in her pursuit for gold!
Knappily, short for Knowledge Application Daily, is India's highest-rated digital magazine that analyses news and features in its unique 5W1H framework, helping readers gain a 360-degree view on them. The app is free, and can be downloaded from Play Store or App Store.
Like this story? Or have something to share? Write to us: contact@thebetterindia.com, or connect with us on Facebook and Twitter (@thebetterindia).
We bring stories straight from the heart of India, to inspire millions and create a wave of impact. Our positive movement is growing bigger everyday, and we would love for you to join it.
Please contribute whatever you can, every little penny helps our team in bringing you more stories that support dreams and spread hope.