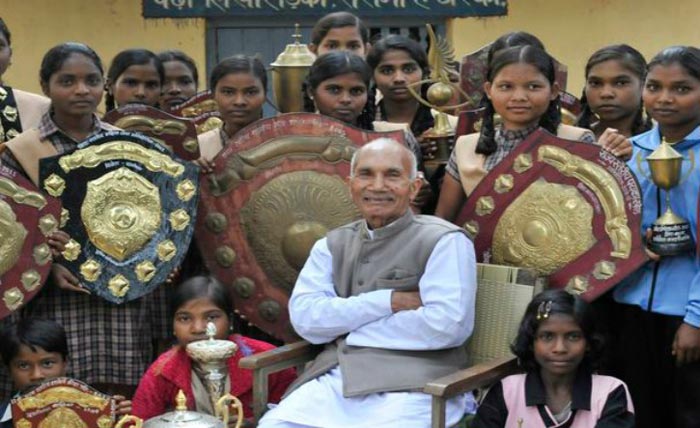 This man has been bringing smiles to the faces of tribals in the conflict-ridden zone of Bastar for almost four decades.
This man has been bringing smiles to the faces of tribals in the conflict-ridden zone of Bastar for almost four decades.
Dharampal Saini came to Bastar in the 1970s with the sole aim of educating and empowering tribal girls in the hinterland of Chhattisgarh.
Today, after almost 40 years of hard work, the 87-year-old, fondly called Tauji by locals, is proud of the transformation he has wrought in Bastar, and rightfully so.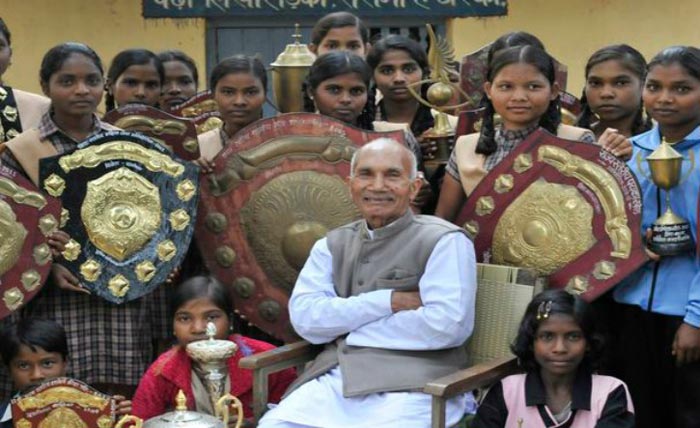 Freedom fighter, a true Gandhian and a disciple of social activist Vinoba Bhave, Dharampal Saini was born in 1930 in the princely state of Dhar, which is now part of Madhya Pradesh. His father was the head of the horticultural department in Dhar. The second of four children, Saini was an ordinary student until his commerce teacher, Vidyasagar Pandey, introduced him to the teachings of Mahatma Gandhi. A little later, Saini came into contact with Bhave and, under his guidance, started working with a number of Gandhian institutions. One of these was Bhil Seva Sangh, an organisation that worked for the Bhil tribe of western Madhya Pradesh.
In the 1960s, Saini read a newspaper report about some girls from the Bastar area that had an impact on him. Apparently, a few angry tribal girls, harassed by hooligans on their way back from a local festival, had hacked the miscreants to death. Saini felt that Bastar's road to development lay in educating its girls and channelising their energy in a positive direction.
Back then, Bastar was essentially a jungle. Civilisation, as we know it, was yet to make its way into this forested hinterland and modern education was a distant dream. Wanting to do something for the tribal girls, Saini approached Bhave for permission to start an ashram dedicated to girls' education. But his mentor refused.
Saini, however, persisted with repeated requests and detailed plans till Bhave finally agreed. But he laid down one condition for his disciple – that he should stay at the ashram for at least 10 years to give it a stable foundation. Saini was then given a handwritten letter of introduction to Chief Minister Shyama Charan Shukla and also his first donation for the ashram, a crumpled five-rupee note.
Dharampal Saini's first task in Bastar was to find a place for his ashram. The then 46-year-old zeroed in on Dimrapal, a village about 11 km from the district headquarters at Jagdalpur.
Bastar's literacy rate was less than 1% at that time, so the education department gave Saini a grant to set up the first school for 80 girls. So difficult was this project that Saini remembers being mocked by the officers that even eight girls would not turn up for school, leave alone 80.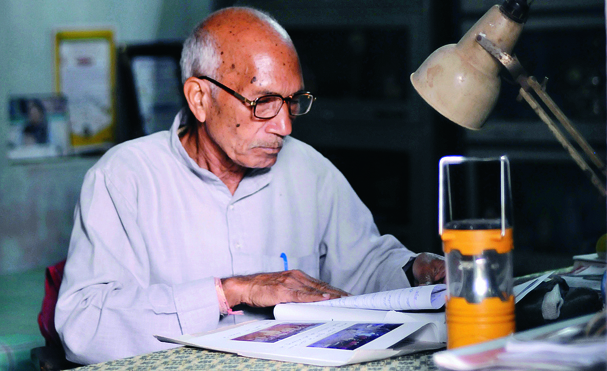 But Saini took up the project as a challenge, starting his first school, the Mata Rukmini Devi Ashram (named after Vinoba Bhave's mother), with two women teachers and two support staff on December 13, 1976. The initial days and months were not easy as Saini struggled with several obstacles. The school was a culture shock for the villagers and most of them were hostile to Saini. He visited each house in the district personally to cajole the parents of the girls to allow them to attend school. After facing ridicule for three months, he was able to persuade four families to send their daughters to school.
To encourage other villagers to overcome their reservations about sending girls to school, Saini also started teaching agricultural practices along with conventional subjects in his school. Once the parents realised their daughters were in safe hands and were learning new skills, the number of students started to increase.
After much effort, the herculean task of getting the girls to school had finally been accomplished.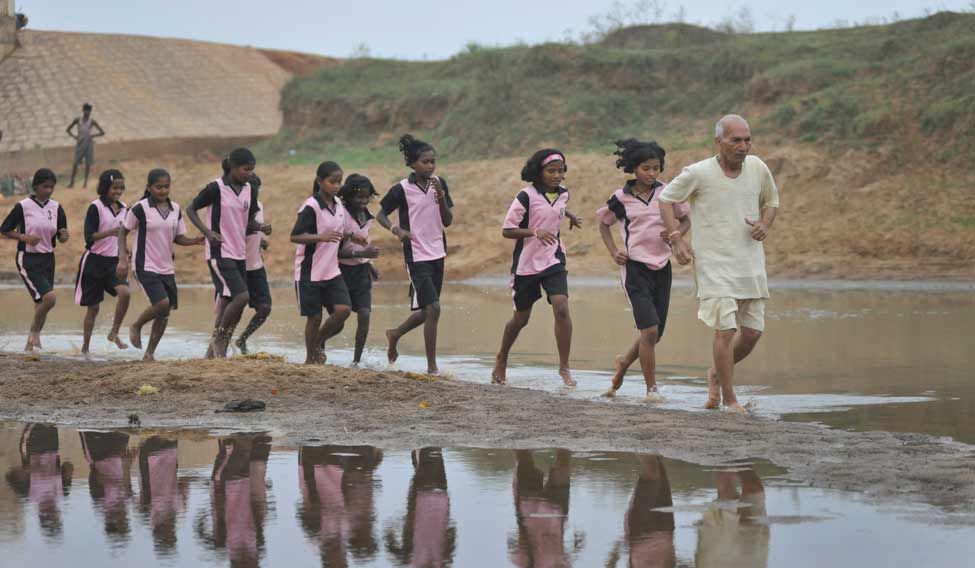 Next, Saini had to face stiff opposition from the Naxals who did not want to see development happen in the area. Undeterred by their threats of violence, however, he opened his next school in Barsur, in an inhospitable and inaccessible Naxal-infested territory. Impressed by his success, the government provided him with land and resources to open more schools, and also helped him take over the running of 30 of its own schools.
---
You May Also Like : Tribal Women to Light Up Remote Indian Villages With 60,000 Self-Manufactured Solar Lanterns
---
With more schools under him, Saini also included boys in his mission to educate and empower the tribals. So committed was he to the cause that he never married, preferring to devote his time to the children under his wings.
Saini did not just emphasise academics in his schools but also focused on physical education. He made sports an important part of the curriculum to channelise the exuberant energy of the children. Speaking with the Times of India, Saini said:
"This issue worried me on how to inculcate the habit of studying and creating a learning atmosphere in school. For this I initiated Yoga and then a district forest officer suggested to me to channelise this energy for sports activity as these tribal girls have immense stamina and by the time they are four years old, they walk kilometres barefoot to forests to collect supplies. So I started teaching them sports and in the year 1985, a 14-year-old girl Mangal Mode won the first national medals for us in discus throw and kabaddi."
Today, Saini runs 37 branches of his school, 21 for girls and 16 for boys, in different villages in the worst Naxalite-hit areas of Bastar. More than 20,000 children have finished matriculation and many of the tribal girls who have completed their education have rejoined his schools as teachers.
For these students, his ashrams are not only shelters from the violence and harsh reality of living in Naxalite dominated regions but also places where they learn to create new lives for themselves.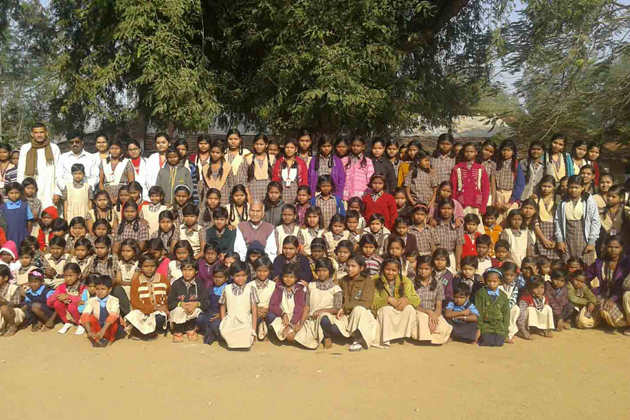 Besides several academic achievers, the Mata Rukmini Devi Ashram schools have produced approximately 150 girls who have participated in sports competitions at the national level. All the girls get a high protein diet (including milk, jaggery, ghee, dry fruits, and green vegetables) and run 10 km every day on different surfaces. Many of them run marathons and participate in archery, football and kabaddi tournaments throughout the year. Their multiple medals adorn the walls of Saini's humble two-room home.
In fact, these girls are so good on the field that there is an unwritten rule in the area that they should not compete in block-level competitions. Because if they do, participants from other schools do not get to win!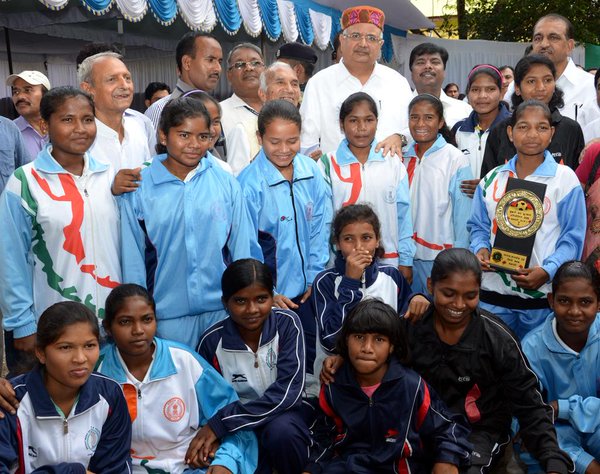 Many girls educated at Saini's ashram schools now work in the Bastar government. Many are part of the non-government workforce as well. It can rightly be said that Saini's students are the foot soldiers of change in the region, something the 87-year old is justifiably proud of.
For his outstanding work, Dharampal Saini was honoured with the Padma Shri in 1991. He can still be spotted personally monitoring and guiding tribal girls as they prepare for various sports competitions on the grounds of the Mata Rukmini Ashram school in Dimrapal. On being asked what keeps him charged and energetic even at this age, the octogenarian bachelor says it is his faith in God, Guru Vinoba ji, and the youth of Bastar.
After spending almost four decades working in the region, Saini still feels his work is not yet over and he wants to do more. His feelings are echoed by the thousands of tribals to whom he gave a new lease of life, rescuing them from the maze of violence that has engulfed the region for decades. They too want their beloved Tauji to stay with them forever.
---
Also Read: This Former IIT Prof Once Taught RBI Governor Raghuram Rajan. Today He's Helping Tribals in MP.
---
Like this story? Have something to share? Email: contact@thebetterindia.com, or join us on Facebook and Twitter (@thebetterindia). To get positive news on WhatsApp, just send 'Start' to 090 2900 3600 via WhatsApp.
Tell Us More
We bring stories straight from the heart of India, to inspire millions and create a wave of impact. Our positive movement is growing bigger everyday, and we would love for you to join it.
Please contribute whatever you can, every little penny helps our team in bringing you more stories that support dreams and spread hope.