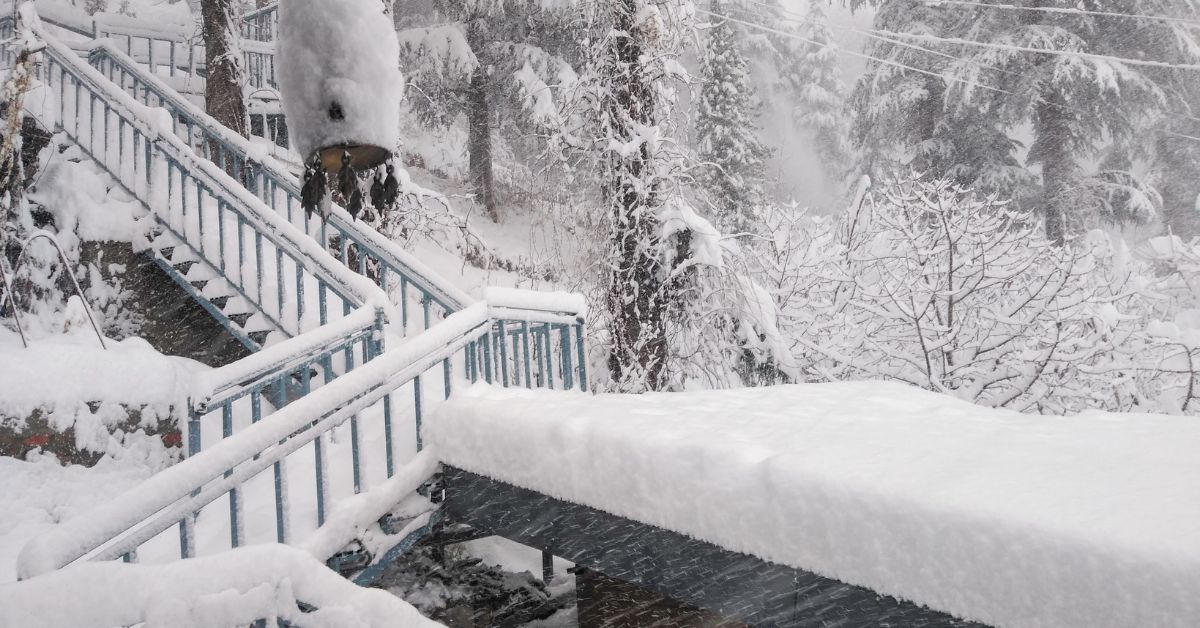 Planning a winter vacation in Himachal Pradesh or Uttarakhand? Check out the 10 best homestays that you can book to enjoy snowfall.
Growing up in one of the hottest states in the country, Uttar Pradesh, where temperatures soar to an unbearable 45 degrees, snow was an enigma for me. I would often watch it captured on television and wonder how it would feel.
My father, who spent most of his young adult life in Mussoorie, would often narrate how magical the experience is. "There is a certain music in the air when the snow starts to fall." Lost in his vivid narration, my mother would pull me out of my wonderland by saying, "Only the most fortunate ones get to witness it."
Well, I must be the 'most fortunate' because, after nearly four to five failed attempts of trying to be at the right hill station at the wrong time or missing it by just a week, I was finally able to witness the beauty of snow.
If you've never experienced the magic of fresh snow or if you've been yearning to revisit that feeling, The Better India has compiled a list of homestays across the country where you can truly immerse yourself in the beauty of snow.
1. Nabokov's Cottage, Jibhi
Located just an 8 km drive away from Jibhi market, this charming cottage is the homestay of your dreams. When you peer out of your room's window, you're greeted by a host of breathtakingly beautiful pine trees and blue skies. The enchanting outdoors become even more swoon-worthy, especially when it starts to snow, most likely in January.
Apart from offering magnificent views, this place provides guests with the opportunity to take a stroll through the nearby forest. With amenities like WiFi, a bonfire, and the best part – the flexibility to bring along your furry friends, this homestay is a haven. Hosted by Daleep, who guides you through walks in the surrounding apple and pear orchards, as well as wheat and maize fields.
Price: Rs 5,999 per night for the cottage
Book your stay here. 
2. Pinewood Sunrise, Kasauli
Another cosy homestay that offers you a sense of peace and quiet is Pinewood Sunrise. There is no wifi or television here but you know what will keep you busy — the enchanting view of Dhauladhar range of the Himalayas and the perfume of pine trees. 
The place has cosy rooms with the host's souvenirs from all around the world. The property also has a beautiful terrace that gives a great view of the Himalayas. There is also a fully-equipped kitchen where you can cook your favourite dishes. Kasauli typically experiences snow in the months of late December and January. 
Price: Rs 12,000 per night
You can book your stay here. 
3. Osla Homestay, Har Ki Dun
Nestled in the tranquil valley of Har Ki Dun, this homestay is a perfect escape from your daily routine. The dwelling is a quintessential pahadi home, constructed primarily from wood. Surrounded by nature, the homestay transforms into a winter wonderland from December to February.
The peak snow season in the valley spans from January to early April. With panoramic views of the snow capped Himalayas and the alpine vegetation, the homestay offers a serene retreat. Accommodating up to four guests in their 2BHK sets, it features a fully-equipped kitchen for your convenience.
Price: Rs 1000 and above for double occupancy
Contact 941090792 to book your stay. 
4. Bayul Homestay, Lachung 
Lachung in Sikkim stands as one of India's lesser-explored snow destinations. Perched at an altitude of 9,600 feet, this picturesque locale dons a snowy blanket from November to February. Amidst this winter wonderland, Bayul Homestay emerges as a top choice for accommodation.
Managed by Pema Wangyal and his wife, Rinchen, the homestay offers not only a cosy retreat but also a taste of local hospitality. Indulge in locally-brewed wine and homemade delicacies while soaking in the majestic views of the snow-capped mountain peaks from their courtyard.
Pricing: Rs 1800 per night and above.
To secure your stay, contact 74774 16331
5. Saroga Woods, Saroga
If you're seeking a genuine Himalayan getaway, consider this sustainable and eco-friendly homestay in Saroga, a quaint village nestled in Himachal Pradesh. This tranquil village is dusted with snow in December and January, offering an ideal setting for a short retreat.
Operated by Anuradha and Kartik Budhraja, the homestay aims to provide guests with an authentic experience. Perched at an altitude of 8,000 feet above sea level, the property boasts a stunning view of the Himalayas on one side and the Satluj River on the other—truly a paradise.
Price: Rs 30,000 and above.
Call them at 9816464404 to book your stay.
6. Taara House, Manali
Picture yourself sipping tea in a dining room with a glass ceiling and expansive windows that unveil majestic views of the Himalayas and the pine forest. Sounds like a dream, doesn't it? Well, staying at Taara House can turn this dream into reality.
Perched on a 6,600ft hilltop in Manali, this chic two-bedroom homestay is crafted from Burma teak, English oak, and pine wood. The accommodation offers the enchanting experience of sky gazing through its glass ceiling, complemented by delightful meals prepared by the in-house cook. During the months of December and January, the place transforms into a snow paradise.
Price: Rs 17,000 and above
Book your stay here. 
7. House of Bahu, Bahu
Situated in the Banjar region of Himachal Pradesh, Bahu is a quaint village that provides a serene and pollution-free environment. Perched atop a hill, the Kathkuni-style cottage offers a panoramic view of the surrounding landscape.
This charming homestay is an ideal choice if you wish to escape the hustle and bustle of the city for a few days. It provides the perfect setting for a tranquil and peaceful snow-cation as the place is pet-friendly, and offers activities like yoga and meditation.
Price: Rs 4000 and above
Book your stay here.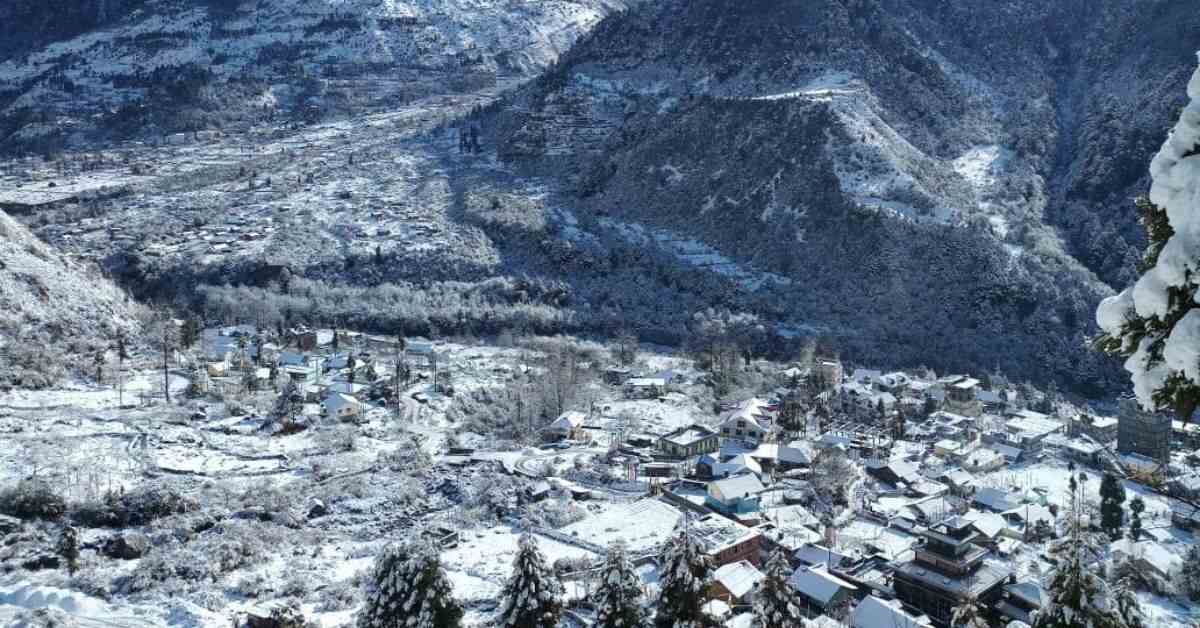 8. The Mirage at Andretta, Dharamshala 
Set against the backdrop of the majestic Dhauladhar range and the Shivalik Hills in Dharamshala, this homestay was established 75 years ago by theatre personality, Norah Richards. The place is adorned with snow.
Featuring three cottages, each with bedrooms adorned with curios, the homestay includes a living area, dining space, a reading room, and a kitchenette. Over the past few years, it has become a favourite among art, theatre, and yoga enthusiasts. During your stay here, you can immerse yourself in the essence of simple living and enjoy the chilling breeze of the city.
Price: Rs 26,000 for the entire cottage.
Book your stay here. 
So, which winter getaway are you planning to book your stay at?
(Edited by Padmashree Pande)
Tell Us More
We bring stories straight from the heart of India, to inspire millions and create a wave of impact. Our positive movement is growing bigger everyday, and we would love for you to join it.
Please contribute whatever you can, every little penny helps our team in bringing you more stories that support dreams and spread hope.