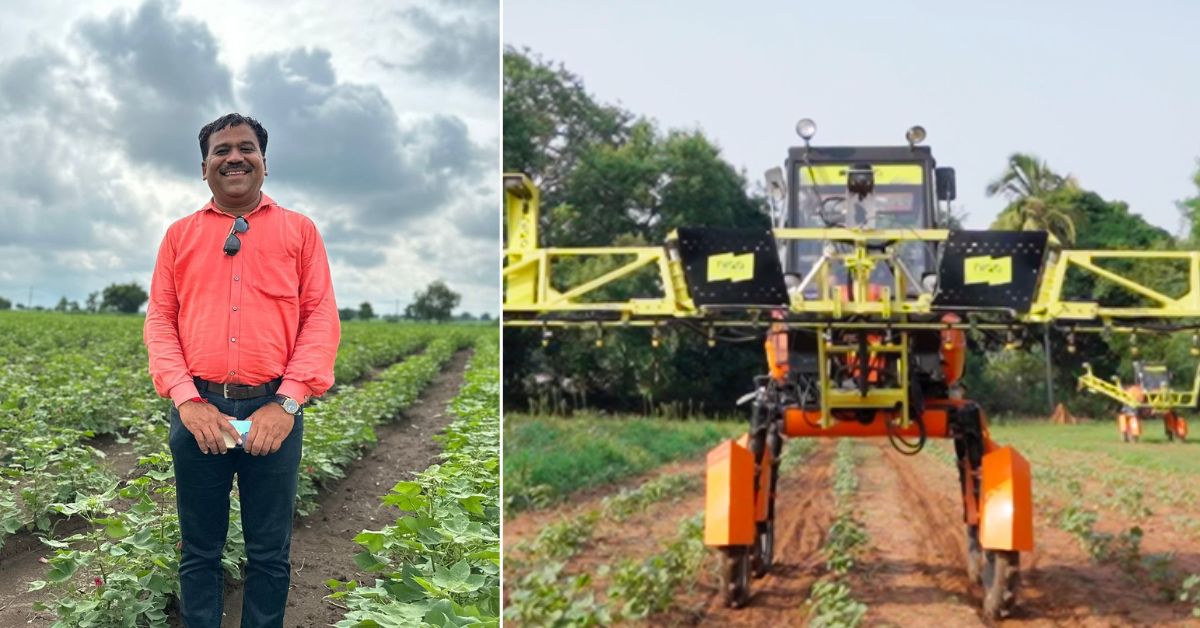 Jaisimha Rao innovated AI-powered spot spray robots which selectively provide cover only to the plants, thereby protecting the soil from excessive chemical damage. So far, more than 500 farmers in Maharashtra and Karnataka have adopted the technology.
Once the labour-intensive sowing of the crops and irrigation, farmers are often seen flocking to their farms with large 20-litre tanks of pesticides on their backs.
This manual exercise of spraying pesticides on the crops is hazardous not only to the farmers' health but also to the soil's as the spray gets everywhere.
In the process, several farmers also bear high labour costs that directly impact the earnings generated from the crop.
To counteract these issues faced in a difficult occupation, a Bengaluru-based startup called Niqo Robotics is using robotics and artificial intelligence to make this efficient and cost-friendly for farmers.
Launched in 2015 by a Bengaluru-based man Jaisimha Rao, the agri-tech startup is on a mission to build accessible and reliable robots for long term and sustainable farming.
In August 2023, the company launched its 'AI-powered spot spray robots' that selectively spray agrochemicals only on the plant, thus limiting chemical pollution of the soil and the farm's ecosystems.
As of now, more than 500 farmers in Maharashtra and Karnataka are using land-based robots to reduce their input and labour costs.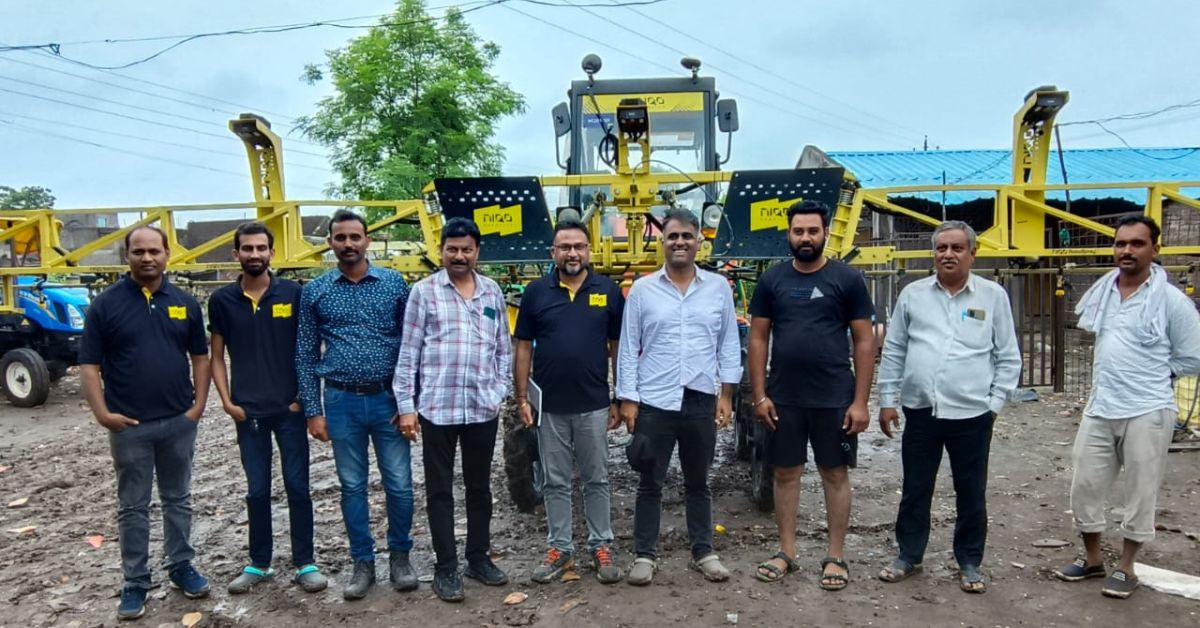 Making precision agriculture a reality
Born in Tamil Nadu and raised in Kuwait in the Middle East, Jaisimha completed his graduation in electrical and computer engineering from Carnegie Mellon University, USA. Thereafter, he joined a company in New York and worked for seven years till 2014.
"I was in my 20s, so it was fun working abroad. But by that time, I realised how my future in the corporate job was going to be and so I wanted to explore entrepreneurship," the 37-year-old tells The Better India.
At the age of 28, he quit his well-paying job in the USA and came back to his family to settle in Karnataka. While his peers suggested he explore fintech entrepreneurship given his experience, he did not want to limit his choices.
It was only when he went to a coffee plantation on the outskirts of Bengaluru that he understood his purpose.
"One day, my father dragged me along to a coffee plantation that he wished to purchase. While conversing with one of the caretakers, I got to know that farmers adopt regular, blanket spraying in which chemicals are unnecessarily seeped into the soil," he says.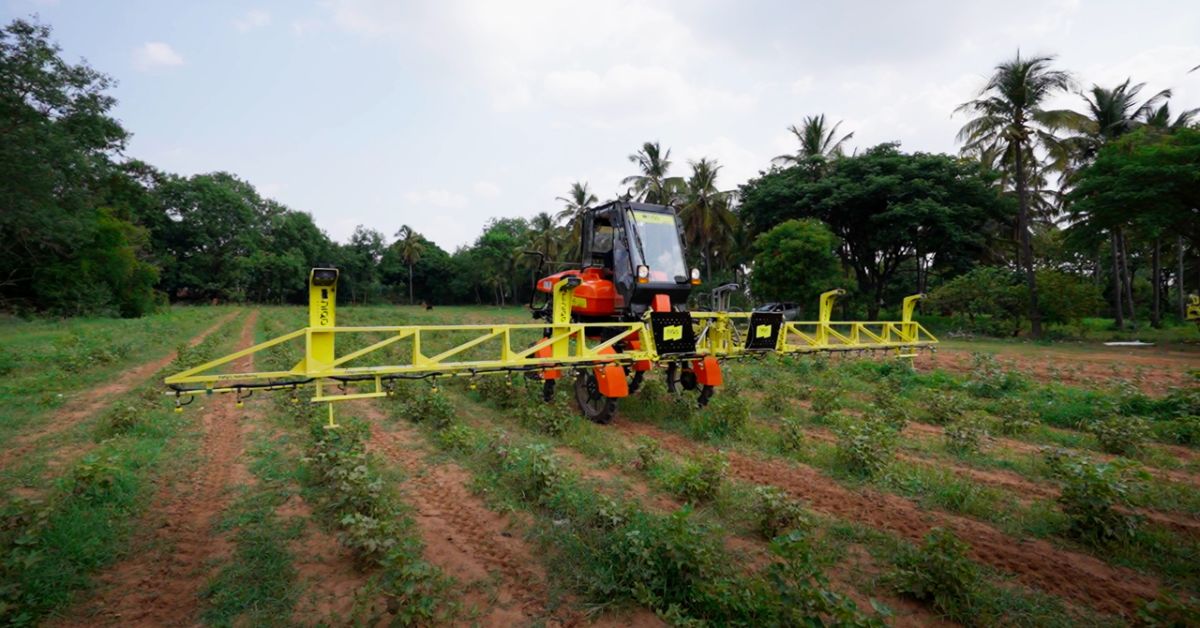 "When I questioned the conventional methods, the caretaker said that this is how they have been doing it for the last 50 years and continue to do so. This came as a surprise to me. I did not get any scientific explanation," he adds.
After some research, he quickly learnt that the food growing practices in India were largely manual, and critical input decisions were made based on traditional wisdom and not scientific data.
"What struck me was how farmers in these plantations and other traditional crops spray on the entire farm without any regulation. In terms of soil health, each part of the farm is different. I wanted to work on an idea to identify particular parts of the farm that need spraying," he adds.
With the advent of cameras and artificial intelligence, Jaisimha wanted to use a method to make precision agriculture a reality. So, in 2015 he started Niqo Robotics equipped with a vision of revolutionising Indian agriculture through innovation.
See, Select, and Spray
For the first four years, working with farmers across the country, Jaisimha used drones to take pictures of different sections of the farms that were infected with pests. He would then provide an analytical report to these farmers.

"While the analytics were helpful for the farmers, unfortunately, they did not find it useful enough to pay for it. For them, it was nice to have a report but it wasn't necessarily a must-have," he says.
Realising what was needed, he further worked on land-based robots that not only allow farmers to analyse activities on the farm but also to take action.
The company launched these AI-based robots last year for trial in the Akola district, Maharashtra, approaching cotton farmers of the region. Last month, they formally launched 50 such robots for use.
Using three steps – see, select, spray – Jaisimha's robotic sprayer uses a special day and night-vision camera to see each plant. It then uses high-speed and in-built computers to identify the plants to spray on the fields. Thereafter, it uses precision nozzles to deliver the right dose of pesticides directly on the plant.
"Our core technology is the camera which is attached to the sprayers. The cameras differentiate between a plant and soil. The camera recognises the location of a plant and signals the nozzles to spray. The nozzle shuts wherever there is soil," he adds.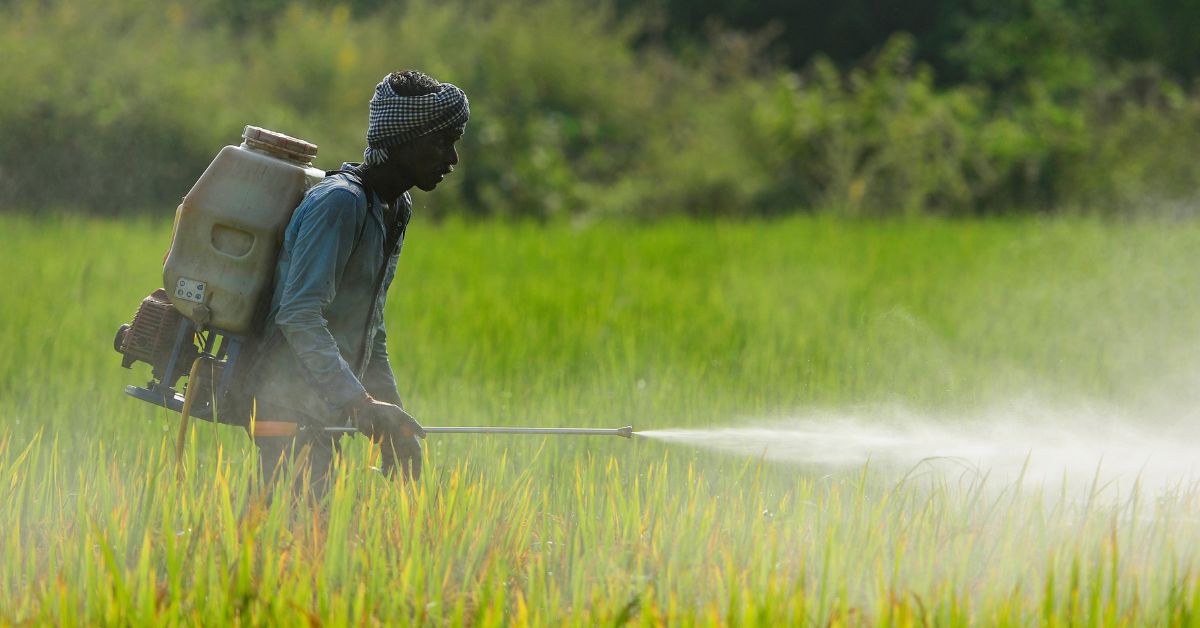 Over blanket spraying pesticides, Jaisimha says, farmers can significantly save up to 60 percent on pesticide costs.
But how did the farmers receive it?
At the village level in the Akola region, the Niqo Robotics team facilitated demos for farmers in June last year.
"We could keep claiming big results but the farmers won't believe it unless they see it. They are used to seeing this exercise being done by machines and tractors," Arha Padman, chief marketing officer, tells The Better India.
Talking about the response of farmers when they first see the robot sprayers, Arha says that it may very well be a magical moment for them. "Initially, they thought that this is a regular machine, but once our 10m long sprayer boom opens, cameras turn on, and the nozzles go on and off, the farmers see its potential."
She adds, "And after the demos are done, interested farmers book the robots for a spraying session." As per the company's working model, farmers lease and book the robots from them for spraying. For this, they are charged Rs 350 per acre.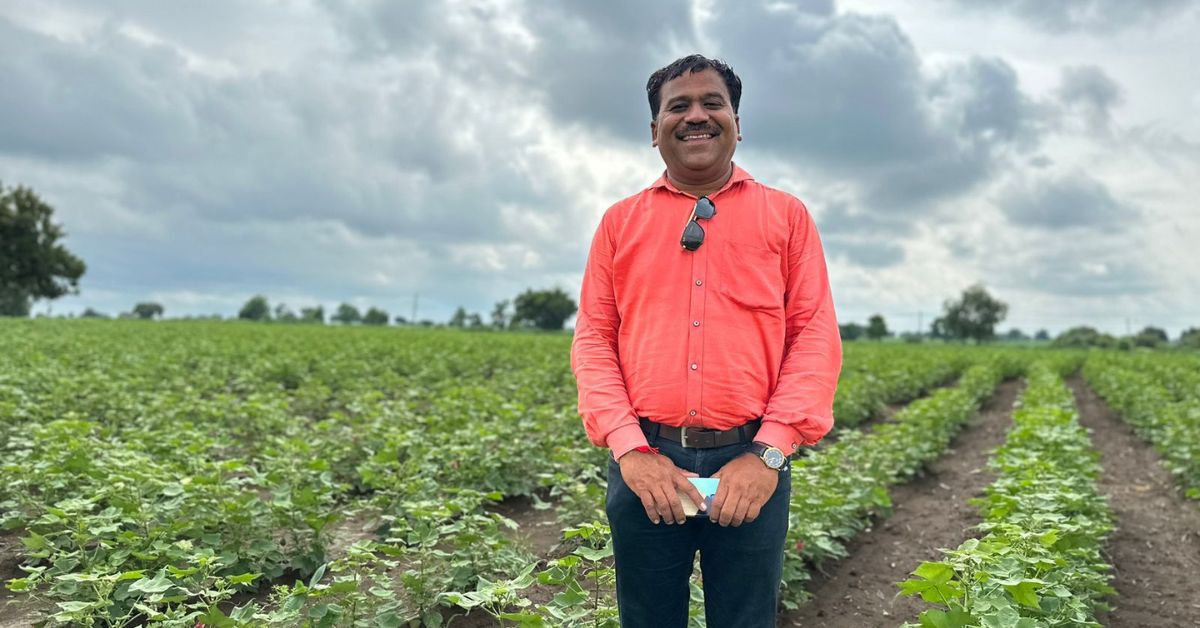 "For example, Yogesh Raut, a farmer who grows cotton and soybean crops, was very sceptical about us initially. But after the demo, he booked the robot for one spraying session. As soon as he saw the results, he booked the next session," she says.
Sharing his experience with The Better India, Yogesh who owns a 30-acre farmland says, "When one of my friends listed the advantages of using these robot sprayers, I could not believe him. It was only after the two sessions on my crops that I realised he was not lying."
He adds, "Usually, we manually spray our crops which costs Rs 1,200 per acre. With these robots, my work is getting done in half the amount and additionally, we are saving on the pesticide costs too."
"Other than this, we are also able to save time. Labourers hired for this task take an entire day to do it. With these robots, we are able to secure the fields within two hours. I am very grateful to the company for thinking about us farmers," adds the 42-year-old farmer.
Like Yogesh, 500 farmers across Karnataka and Maharashtra are using the robot sprayers on rent.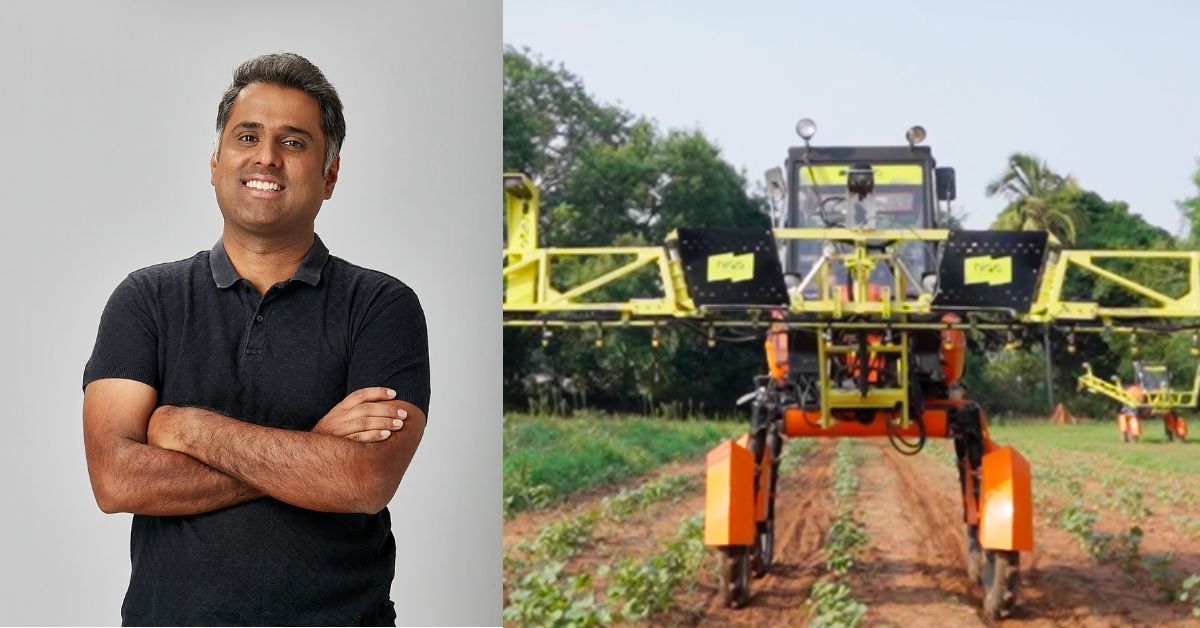 As of now, the technology is designed to spray pesticides on crops like cotton and chillies rather than paddy fields. 
Highlighting the challenges the company faces at the grassroots level, Jaisimha says, "Although farmers are willing to accept the technology, they believe that the more you spray, the higher yield you get. It is a little challenging to make them understand the importance of selective spraying."
This year, the team has sprayed over 1 lakh acres of farmland so far. Jaisimha intends to scale the technology to more regions for the same crops.
Knowing that his technology is helping some of Indian agriculture's most pressing issues like labour shortage and resource efficiency, this entire endeavour has been extremely fulfilling for Jaisimha. He is also glad that he is doing something for his countrymen rather than working abroad.
"We have helped farmers optimise their operations, boost return on investment, and minimise agriculture's environmental footprint through our revolutionary robotics solutions," he adds.
"Our journey has only just begun, and we are dedicated to continuing our work in this sector and beyond, pushing the frontiers of what is possible with robots and automation," he says.
Edited by Padmashree Pande; All photos: Niqo Robotics.
We bring stories straight from the heart of India, to inspire millions and create a wave of impact. Our positive movement is growing bigger everyday, and we would love for you to join it.
Please contribute whatever you can, every little penny helps our team in bringing you more stories that support dreams and spread hope.