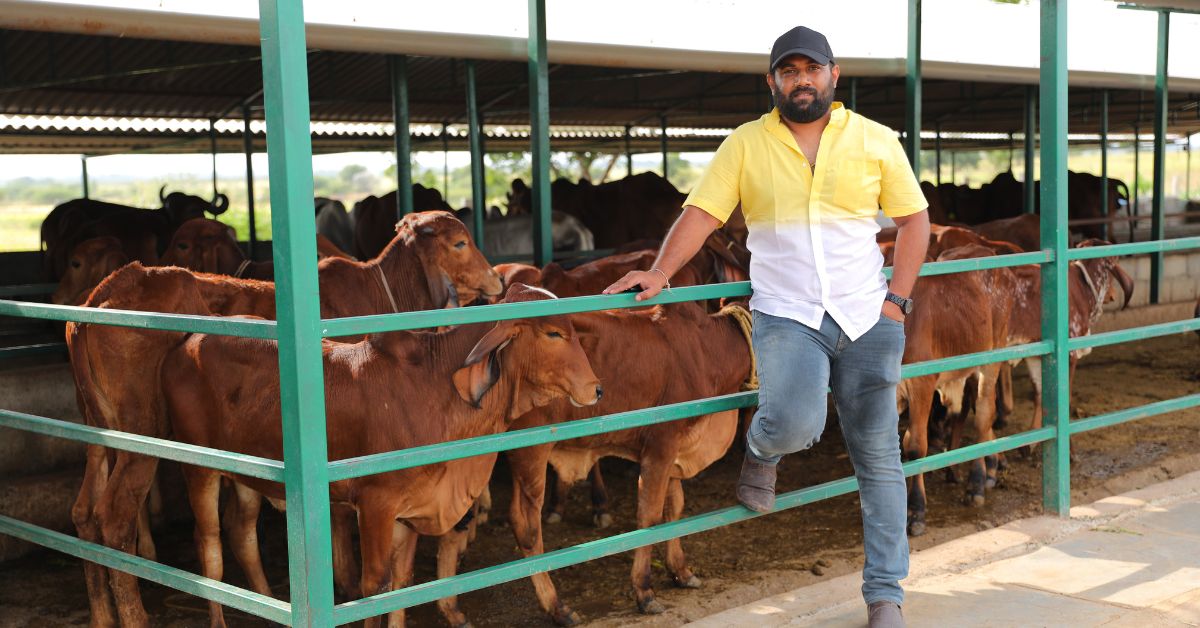 Amith Kishan left his banking career to take up natural farming, and has started Hebbuvu Farms, which sustainably grows its food and provides livelihood to thousands of women.
Picture this — a tranquil farm where farmers sow only indigenous seeds, bulls are free on the field to plough the soil, cows graze on pollution-free open grasslands, and rural women are busy making ghee (clarified butter) in an earthen pot heated over a slow wooden fire. All this, and no hustle of the city life.
This is Amith Kishan's farm in Andhra Pradesh.
Troubled by the increasing availability of chemical-laden food, the 33-year-old quit his corporate job in the banking sector in Bengaluru to turn to traditional methods of farming and revolutionise the way food was grown, harvested, and consumed.
Amith runs Hebbevu Farms with an aim to provide customers with organic and fresh vegetables, pulses, and dairy produce. Keeping sustainability at core, he adopted eco-friendly practices and replaced the use of plastics, chemicals, and tractors, relying on traditional farming methods.
"Farming should be done in a sustainable manner. For the past four years, we have been following zero budget farming and have been successful in it. We grow everything in a natural way and we do not use chemical fertilisers to ensure soil is safe in the long run," the Penukonda resident tells The Better India.
"We use desi cow dung and cow urine, we use bulls to plough the soil and produce wood-pressed oil. We sow native seeds and grow only what Mother Earth has given us. Indigenous farming is the uniqueness of our farm," he adds.
From indigenous varieties of brinjals and groundnut to gangabhavani coconuts, white chickpeas, and pulses like toor (pigeon pea), moong (green gram), urad (black gram), Amith grows about 40 varieties of food grains and vegetables besides dairy products and vegetable oils. He sells up to six tonnes of vegetables and 1,500 litres of milk every day. So far, he has catered to over 3 lakh customers, and around 1,800 customers daily through a store in Bengaluru and his website.
From banks to farms
In a span of eight years, Amith worked with several banks like ICICI, Bajaj, Axis, HDFC, and Punjab National Bank (PNB) handling top corporates in Bengaluru. But he always felt like going back to his roots and becoming a farmer, like his grandfather.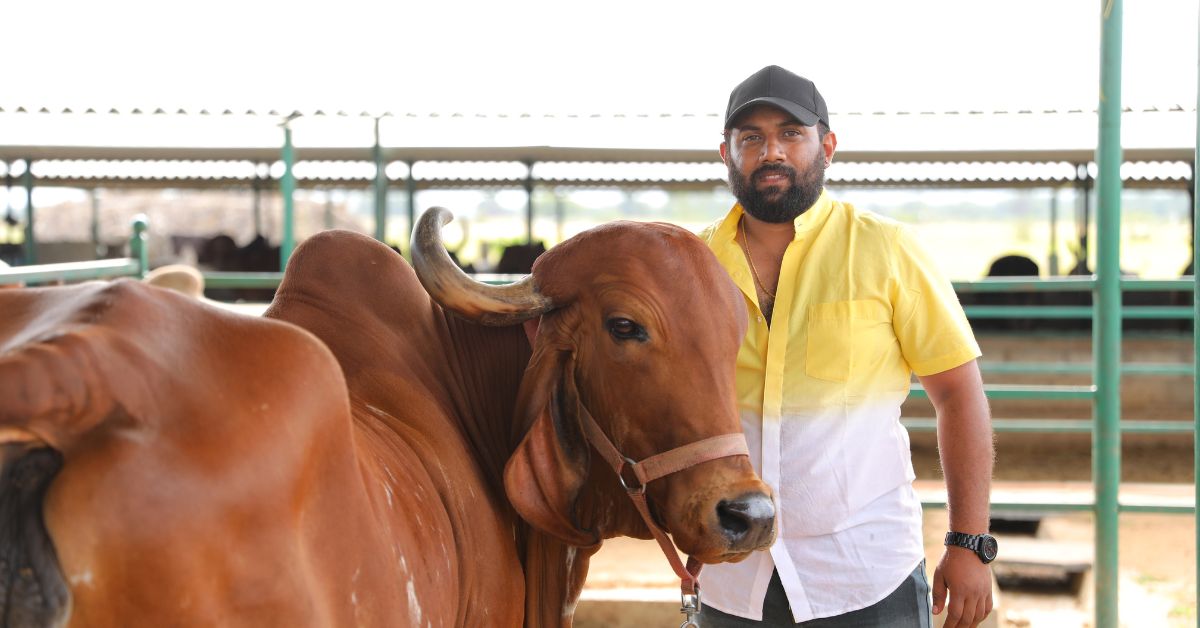 "My grandfather was a renowned farmer in the area. As a child, we used to go to the farm and play with soil while he worked on the field," he recalls.
The motivation to leave the corporate world and follow in his grandfather's footsteps was triggered when he lost a client to cancer. "There was a person who was insured with me. In a span of 1.5 years, he died of cancer. I did all the claiming formalities for the family. Looking at this, I understood that we need to correct ways of how we are living, and what we are eating as our food is not up to the mark. I wanted to correct that. Everything was pushing me to do something better," he says.
In 2016, Amith quit his job to become a farmer. Recalling the initial months, he says, "We did not know what to grow and when. When farmers in the neighbouring fields grew chillies, we would grow groundnuts. We did not understand the kharif and rabi seasons," he says.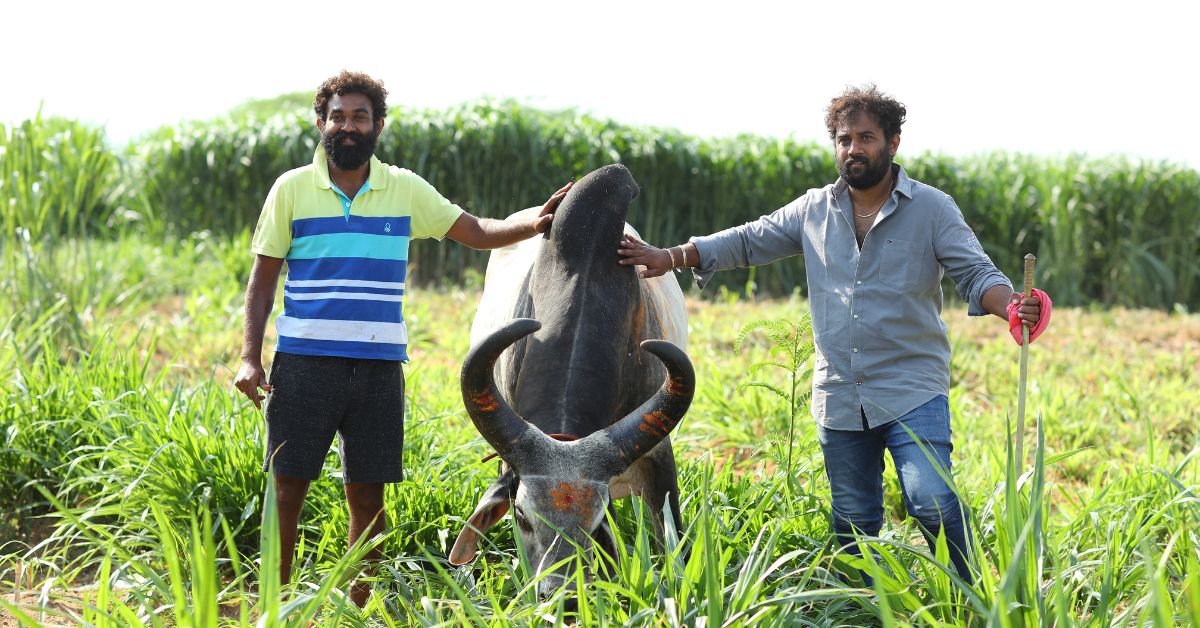 After three years of research and development, he co-founded Hebbevu Farms in 2019 with his brother Ashrith. "We started everything from scratch. We met many organic farmers to understand the nitty-gritty of farming," he adds.
But practising natural farming also came with a set of challenges. "All the farmers in surrounding fields were using chemicals to grow food. At that point in time when I started growing food without chemicals, people termed me a fool and laughed at me. They would spray chemicals and insects would attack my farm. In order to survive, I tried to educate them as well on natural and organic ways of farming," he says.
The natural methods Amith adopted include ploughing soil up to a depth of 4 feet for better root growth, and replacing chemical fertilisers with cow dung, cow urine, and bananas to boost potassium levels in the soil.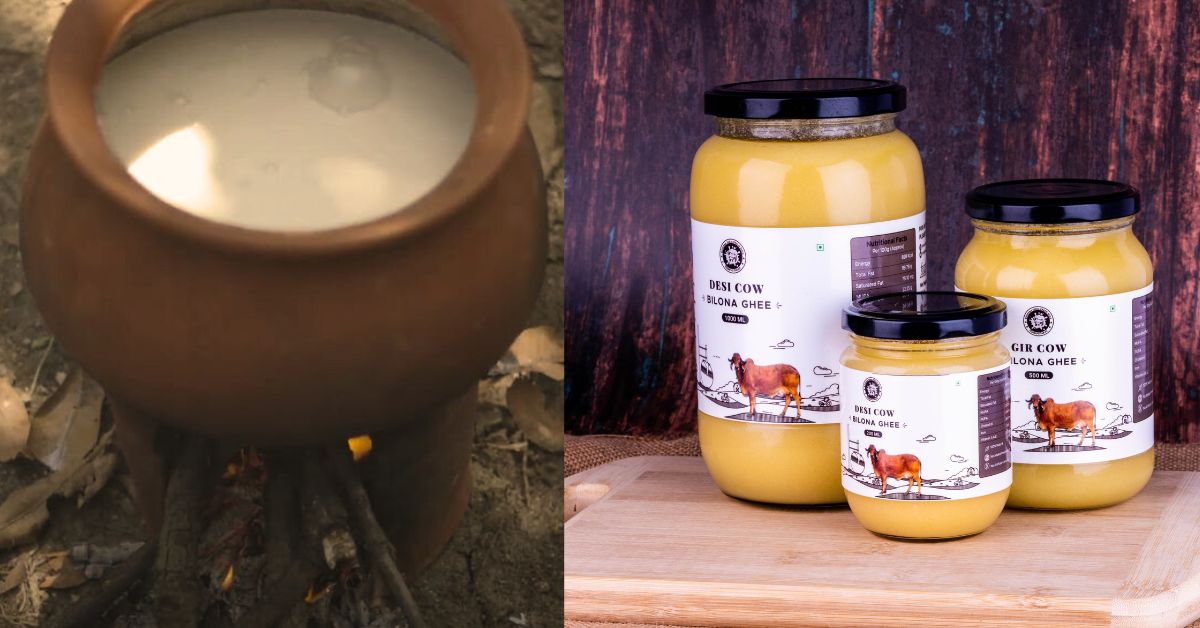 "As a result, we started seeing earthworms back in our soil, which became very rare because of chemicals used in farming. But the boost in farming was observed when we introduced native animals to our farms," he says.
Today, his farm is home to 700 indigenous cows and buffaloes including Gir, Sahiwal, and Jafarabadi. "The cows, buffaloes, and bulls help us practise natural farming, sell dairy products, make biogas, and boost farm tourism," he adds. Other than this, he is dependent on solar power, which has reduced his monthly power expenses from Rs 3 lakh to Rs 40,000.
Starting with a loan of Rs 1.5 crore and a 15-acre farmland, today Amith clocks an annual revenue of Rs 21 crore from his field spread across 650-acre farmland.
An army of 3,000 rural women
Besides a team of 120, Amith works with an army of rural women. So far, he has provided employment to more than 3,000 women from 18 nearby villages including Chinnamanthur, Mavutur, Peddamanthuru, Roddam, and Madakasira.
"We give 25 litres of milk every day to each woman to make ghee, paneer, and other dairy products. For every kilogram produced of our A2 desi cow Bilona ghee, one woman from the village receives a direct employment opportunity," he says.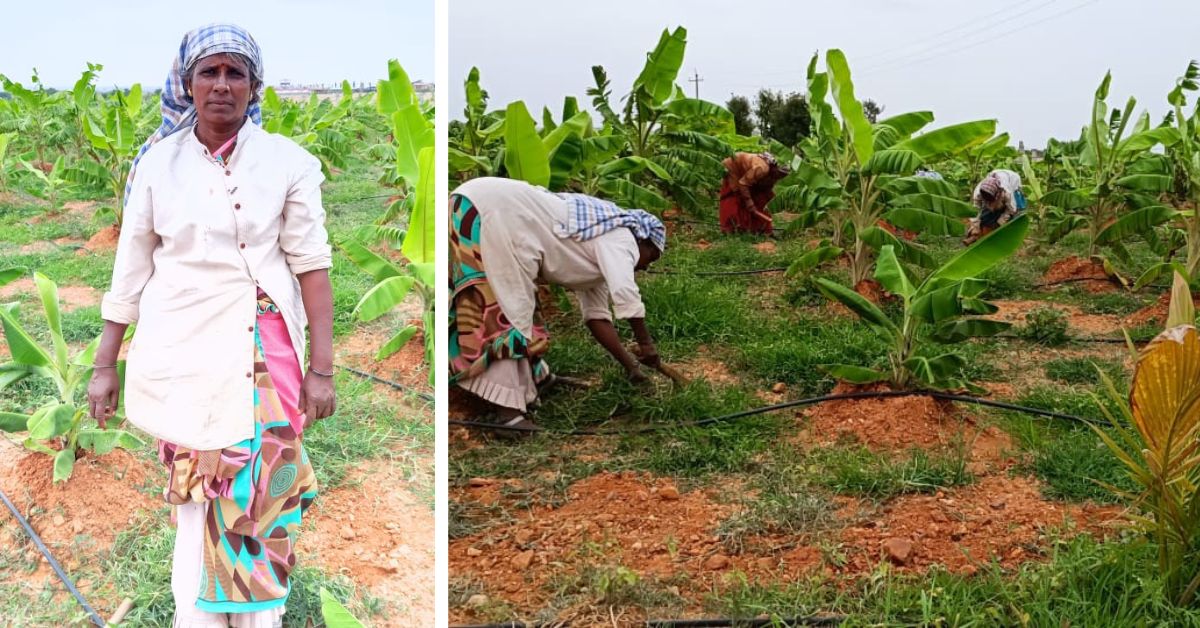 Govindamma from Mavaturu village has been working with Amith for the past three years. Before, the widow and mother of one would toil as a daily wager. "I would get work for only 12 days in a month, which would earn me Rs 200-300 per day. After the death of my husband, the entire financial burden fell on me," the 48-year-old tells The Better India.
Today, the proud salaried worker earns a regular income of up to Rs 15,000 a month. "I have been able to construct a home for my family of four with this income," she adds.
While as many rural women feel empowered, Amith believes his decision to become a farmer was the best choice. "In Bengaluru, I used to leave for work at 8 in the morning, hustle in the pollution, and come back only by 8 in the evening. We were dependent on burgers as a meal. Here, I live a peaceful slow life and spend sufficient quality time with my family and pluck fruits directly from the tree whenever we want," he says.
"There, I used to work and exhaust myself for others, here I work for myself and my village," he adds.
Edited by Divya Sethu
We bring stories straight from the heart of India, to inspire millions and create a wave of impact. Our positive movement is growing bigger everyday, and we would love for you to join it.
Please contribute whatever you can, every little penny helps our team in bringing you more stories that support dreams and spread hope.