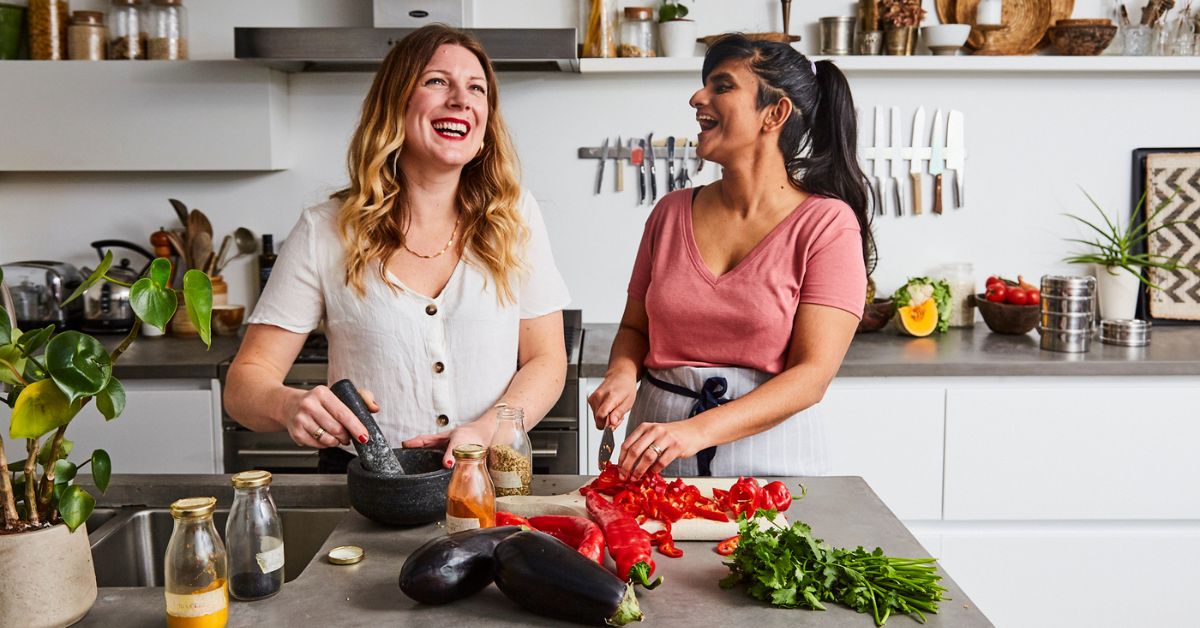 London moms Anshu Ahuja and Renee Williams co-founded DabbaDrop, a sustainable venture that serves the nostalgia of South Asian dabbas to people across London.
The object that ties two strangers in The Lunchbox (2013) is the ubiquitous dabba. A rare mix-up by the dabbawalas is what leads Ila (Nimrat Kaur and Saajan (Irffan Khan) to develop a special bond, and the dabba becomes a medium through which they express themselves and their desires.
It's no secret that the dabba is an integral part of every Indian household, where you'll find cabinets full of various steel, plastic, glass, and tupperware containers. In school and college, opening the dabba is a way to forge friendships and share pieces of our lives wrapped in the food. How many times have we heard, or asked, "Aaj dabbe main kya hai'? (What's in your dabba today?)"
Long-time neighbours and friends Anshu Ahuja and Renee Williams, too, find the dabba to be the voice of their dreams. In 2018, they started Dabba Drop, and Anshu says that one of the reasons behind starting an eco-friendly delivery business was the waste that gets accumulated when we order in.
"In the past few years, people have started ordering a lot, thanks to the arrival of food delivery apps. After having that food, we end up with a bin full of plastic. The packaging is very wasteful and greasy. You can't recycle it. So I wanted to find a better way to order in," Anshu tells The Better India.
Growing up in Mumbai with a Tamilian mother and Punjabi father, food was a big part of her life, she says. "When I was a teenager, my favourite food when we would go out to eat was pav bhaji or chinese. When I'd get home, I'd try to recreate those dishes. This way I could continue to taste the flavours."
Meanwhile, a childhood in Mumbai meant that Anshu was no stranger to the dabbawalas, who have been serving food to over 2 lakh people daily since 1890.
It was this mix of love for home-cooked food and the dabbawala institution that led her to quit her 15-year-long career as a TV producer in East London to start Dabba Drop in the region.
The theatre of the humble dabba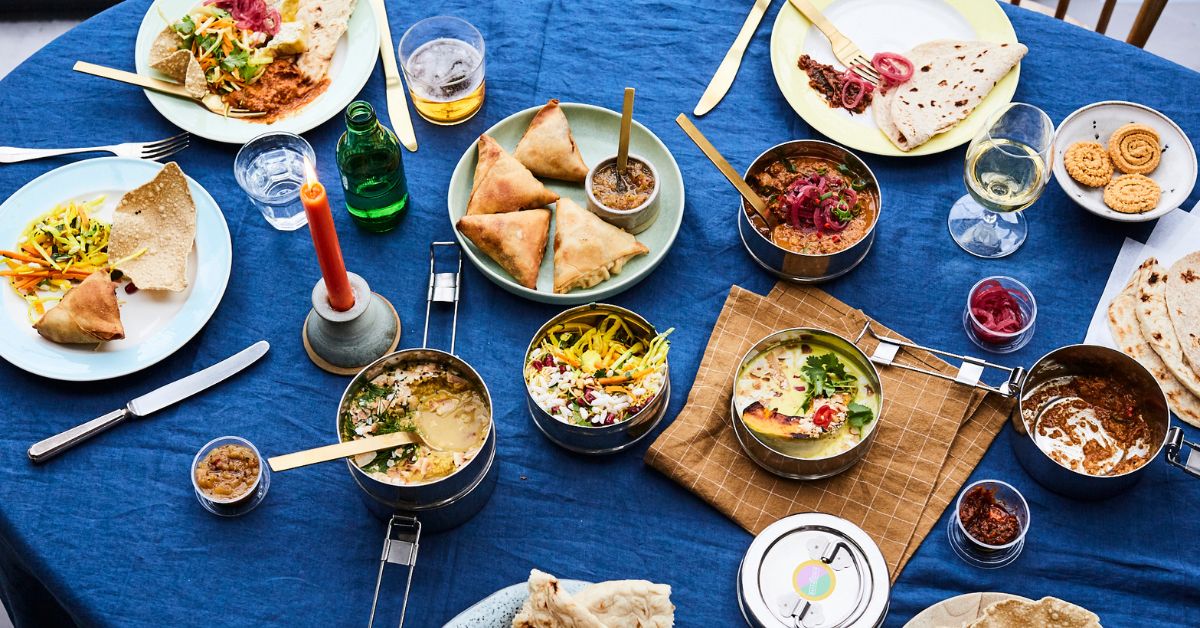 In June 2018, Anshu texted a few friends about her idea and asked if anyone would be interested in her home-cooked dabbas. "I cooked for five people in the first week of trial," adds the entrepreneur.
She remembers the first evening as though it were yesterday. She had cooked a meal consisting of a pumpkin errisery (curry), green beans and peas poriyal (vegetable dish), cabbage thoran (vegetable dish with coconut) and puliohare (tamarind rice).
"The dabbas had gone out. No comments had come in an hour later. I thought to myself, 'Oh, everyone hates it'," says Anshu.
But that feeling of dejection lasted only for a few minutes, as appreciation suddenly began pouring in. "Everyone messaged me saying that they loved it. And that rousing feedback made me believe in the idea. I began thinking that this could work," she smiles.
Amongst the people who tried the first trial batch was Renee, who absolutely loved the food.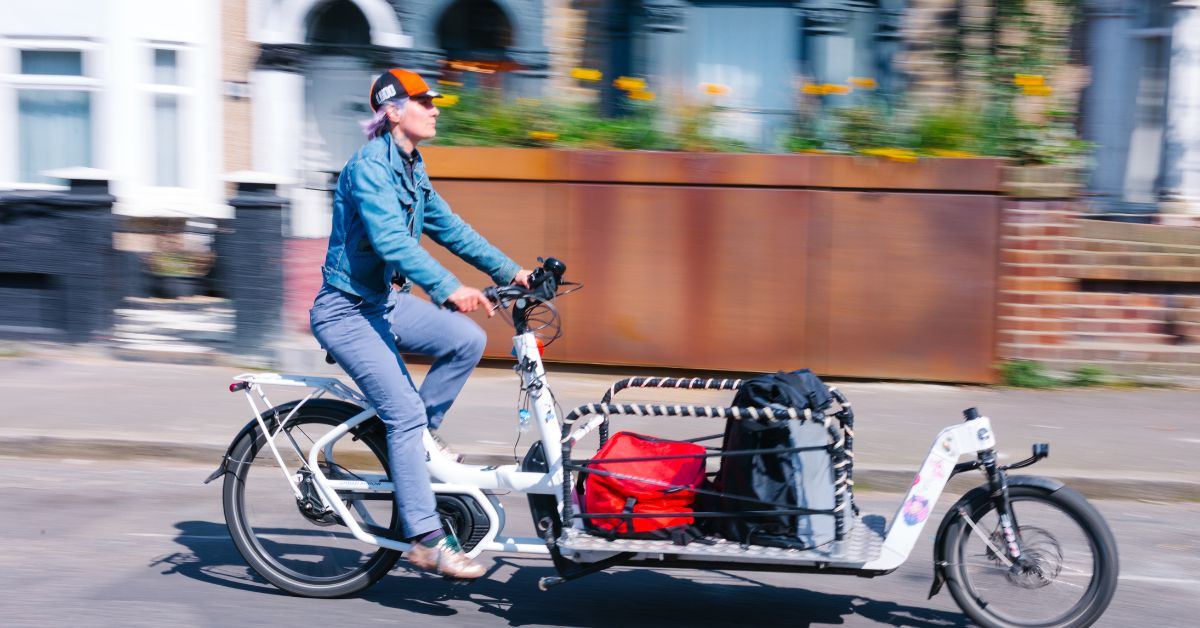 "I fell in love with the idea of DabbaDrop as soon as I experienced it. I loved the theatre of not knowing what was inside the dabba before I opened it, and the wholesome food and sustainability element really ticked all the boxes for me too," says Renee.
One of the issues we face in the 21st century is the problem of plenty. We simply have too much choice. Anshu wanted to combat that through her humble dabbas. "We live in a world where we have to make so many choices, every single minute of the day. Our menus are set for the week. You can't choose. I'm making that one choice of what to have for dinner simpler," adds Anshu.
She also wanted to introduce Londoners to Indian flavours and textures. "What we serve is not something that is easily available in a traditional Indian restaurant."
How Dabba Drop works
People can sign up weekly or fortnightly, and the menus are set for every week. "You get four freshly-cooked dishes — a salad, a sabzi or dal, a curry, and rice. People can pause or skip their subscriptions. We are flexible. Our meals are vegan and South Asian. We want to follow the journey of the curry. This way, we are uncovering the history of Indians as they emigrated across the world," adds the London resident.
All the meals have to be pre-ordered. This way, the duo avoids wastage as the chefs know how many they are cooking for. One dabba can be enjoyed by two people, and they serve meals from Kerala, Hyderabad, Delhi, Sri Lanka, Pakistan, Vietnam and Japan.
The dabbas are delivered on bicycles, e-bikes or other emission-free vehicles. A cloth is tied around the dabba which can be reused. The samosas, rotis and naans are tied in compostable, grease-proof paper, explains Anshu, and the empty dabbas are picked up during the next delivery.
"We use everything that is reusable. We are constantly trying to improve our packaging. We want to leave a better planet for our kids," says Anshu.
They claim to have saved 2,03,370 plastic containers and prevented 2,500 kg of food waste through their venture.
Meanwhile, Anshu notes that her children were the biggest inspiration behind DabbaDrop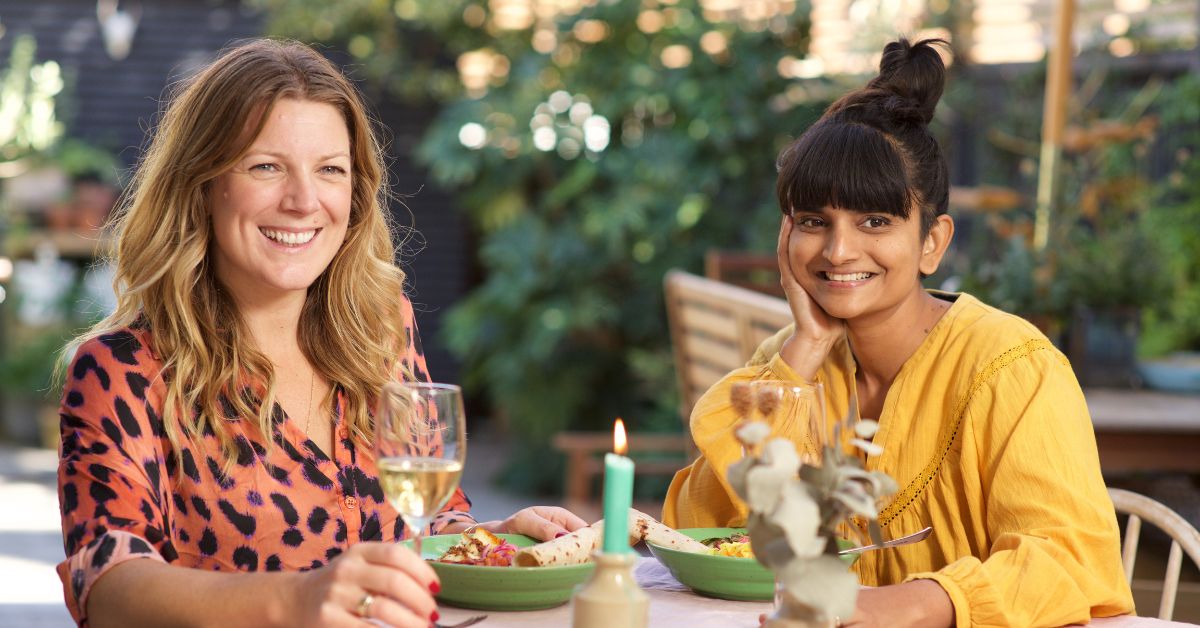 "When I started this, my kids were 3 and 6. TV production is a very taxing job, and I was missing their events at school. I was not able to drop them or pick them up from school. I was keen on doing things on my own schedule rather than on someone else's timeline," adds Anshu.
Renee also has children of the same age and was facing similar problems in her events company. Having managed restaurants, her experience helped them in this business.
"We would drop the older kids off at school at 9 and work around the younger ones. We set up an art table for them while we brainstormed, fulfilled some orders and tested some recipes. After picking up our older kids, we would spend some time with family. After they were asleep at 8, we would work for 4-5 hours," says Renee.
Starting from Anshu's house, they slowly moved into a kitchen. They've grown through word of mouth, and from 150 subscribers when they launched in November 2018, they now have 1,500 today.
During the pandemic, while their subscriber base grew, they weren't able to cater to everyone fast enough. "We weren't able to get the dabbas from India due to the lockdown. It was also an unstable time for us financially. Even today, thanks to inflation, paying bills is a big challenge," says Anshu, adding that as of now, they deliver to postcodes in Zones 1-3 in London.
"For me, food is a method of expressing oneself. Every time I come to Mumbai, one of the highlights is my mom's food. The simple rasam and thayir sadam (curd rice) is heavenly. I want to serve this feeling to Londoners," says Anshu. 
Edited by Divya Sethu
We bring stories straight from the heart of India, to inspire millions and create a wave of impact. Our positive movement is growing bigger everyday, and we would love for you to join it.
Please contribute whatever you can, every little penny helps our team in bringing you more stories that support dreams and spread hope.