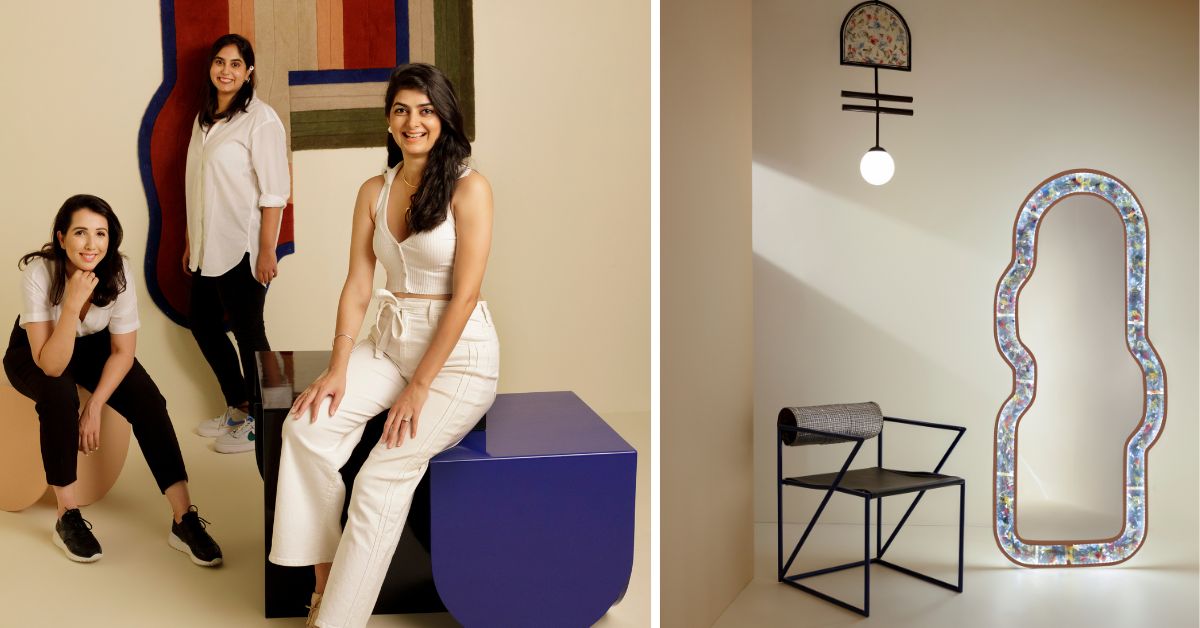 Friends Jannat, Mallika and Sharon have collaborated on the project Daera X Cancelled Plans, a sustainable collective that turns pharmaceutical and textile waste into stunning furniture and unique designs for home decor.
Telling stories thoughtfully through objects and materials has been a core message that Daera — an interior and product design studio based in Delhi — has prided itself on since its inception in 2018. At the intersection of the brand's sustainable furniture designs and stylish silhouettes, there lies a love for colours and textures shared by Jannat Gill and Sharon Sethi.
Sharing how their common passion resulted in Daera, Sharon says it was a combination of the right timing and the perfect opportunities. And as most great stories have an unassuming beginning, this one started at a wedding.
In 2015, Sharon, who was working in California, was in India for Jannat's wedding ceremonies. Having recently quit her job, Sharon was all set to explore new ideas in the fashion space, perhaps even venturing to test entrepreneurial waters if she could. During the wedding, it wasn't fashion inspiration and fairytale endings that the two bonded over.
"We were tinkering with the idea of starting a venture of sorts in the fashion space. While we did come up with the idea for a jewellery line partnering with the artisans of Rajasthan, it wasn't until 2017 that we got our big break," Sharon tells The Better India.
Jannat, who had recently redecorated her new home and been featured in an interior magazine, was being flooded with leads for home decor. She saw this as a wonderful opportunity to put her and Sharon's fascination for fashion and design to the test by saying yes to these projects. Meanwhile, Sharon, who had returned to the US, was thrilled.
"I made a trip to India, thinking that if this worked out, I would make the move a permanent one," says Sharon. Things moved fast. The success of one project led to the next and before the two knew it, they had set up their design venture Daera which translates to 'establishments' in Punjabi.
Today, the repertoire of work by the studio caters to both interiors and furniture. Flipping through the redesigned spaces, one comes across bedrooms designed to resemble the palaces of Indian Maharajas, living rooms designed with English sofas, and vintage art, while the furniture they retail comprises wall art, tables, beds, chairs, hanging lights, etc.
But what catches the eye is a new collection 'Daera X Cancelled Plans', a partnership between the duo and architect Mallika Reddy.
Three minds, one idea
"Cancelled Plans is driven by a love for rejects and a passion for using the unused," Mallika notes as she sets the tone for the work the brand does. At the helm of the brand since 2018, Mallika has been engaged in curating fabric made out of different kinds of waste that would otherwise pile up in landfills.
It seemed as though weddings were the most serendipitous events for ideas to bloom — in 2019, Mallika, Sharon and Jannat struck up a conversation during a ceremony in Thailand, and realised they shared the same interests, even if their body of work was different.
"This was when we came up with the idea for the collection," says Mallika. "While Jannat and Sharon would be in charge of the colours and silhouettes, I would take care of the textures and patterns."
Daera X Cancelled Plans is unique not just for its range of furnishings, but also for the kind of waste that it repurposes. And interestingly, it was Mallika's background in the healthcare space that formed the basis of this.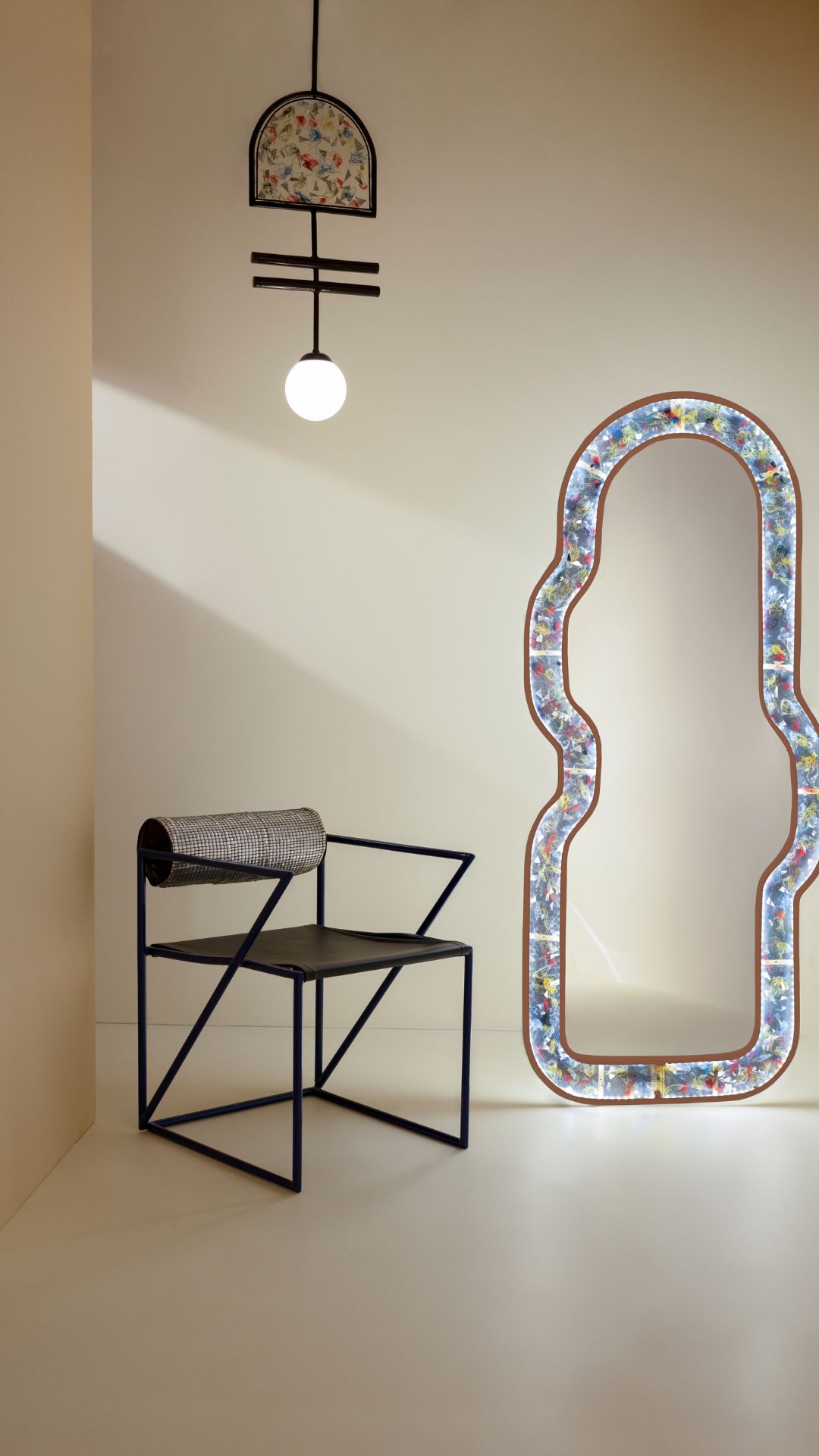 "Following an MBA, I was working with a pharmaceutical," she notes. "During this time I became aware of the amounts of waste generated in this industry and later, when I founded Cancelled Plans, I revisited this thought, ensuring that waste always found a way into my designs."
As sustainable designs dot the pages of their collection, the friends share this was always the theme they intended. "We wanted our designs to reflect the future, and this was our guiding principle all the way." Mallika goes on, "We intended to create furniture of tomorrow."
Where waste gets a new face
The process is simple to understand, albeit tough to see through to the finish. But the friends say after the initial few weeks of figuring out the intricacies, they found a way around. Every piece belonging to Daera X Cancelled Plans is made out of waste.
Since Mallika had already been doing this as part of her individual venture, she was familiar with the route to take. "I develop different kinds of fabric from waste and then develop clothes and accessories from this fabric," she shares. This same concept is used for the upholstery of the furniture at Daera.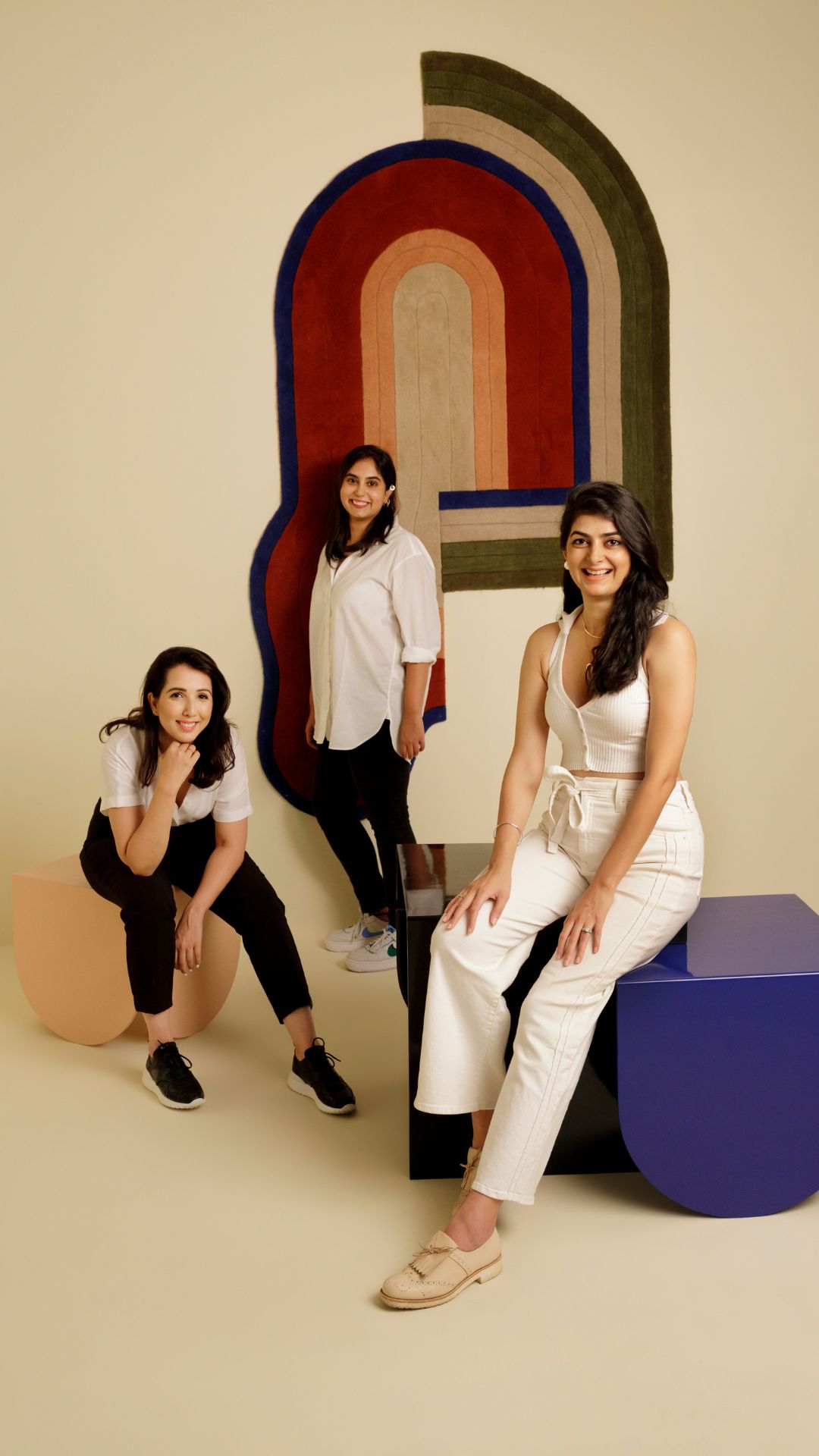 The primary waste is sourced from industrial areas in and around Delhi and Hyderabad. "Having lived in Hyderabad, I am familiar with the manufacturing industries here. In fact, I started sourcing waste from the same pharmaceutical company where I worked. We collect the non-hazardous waste from these companies." 
This includes the packaging of tablets, plastic wraps, the shredded bits that come out as the machines are cutting off tablets, empty containers, etc. Waste from the other factories includes textile waste, extra material obtained from billboard printing companies, and many other such kinds of waste. Mallika adds, "We have prevented 500 kg of waste from entering into landfills by repurposing it for our products."
Once the waste material is ready, the next part of the process is turning them into fabric.
For this, the trio works with artisans in Hyderabad comprising traditional embroiderers who work in the Char Minar area, handloom weavers, and textile workers in Pochampalli, Tamil Nadu.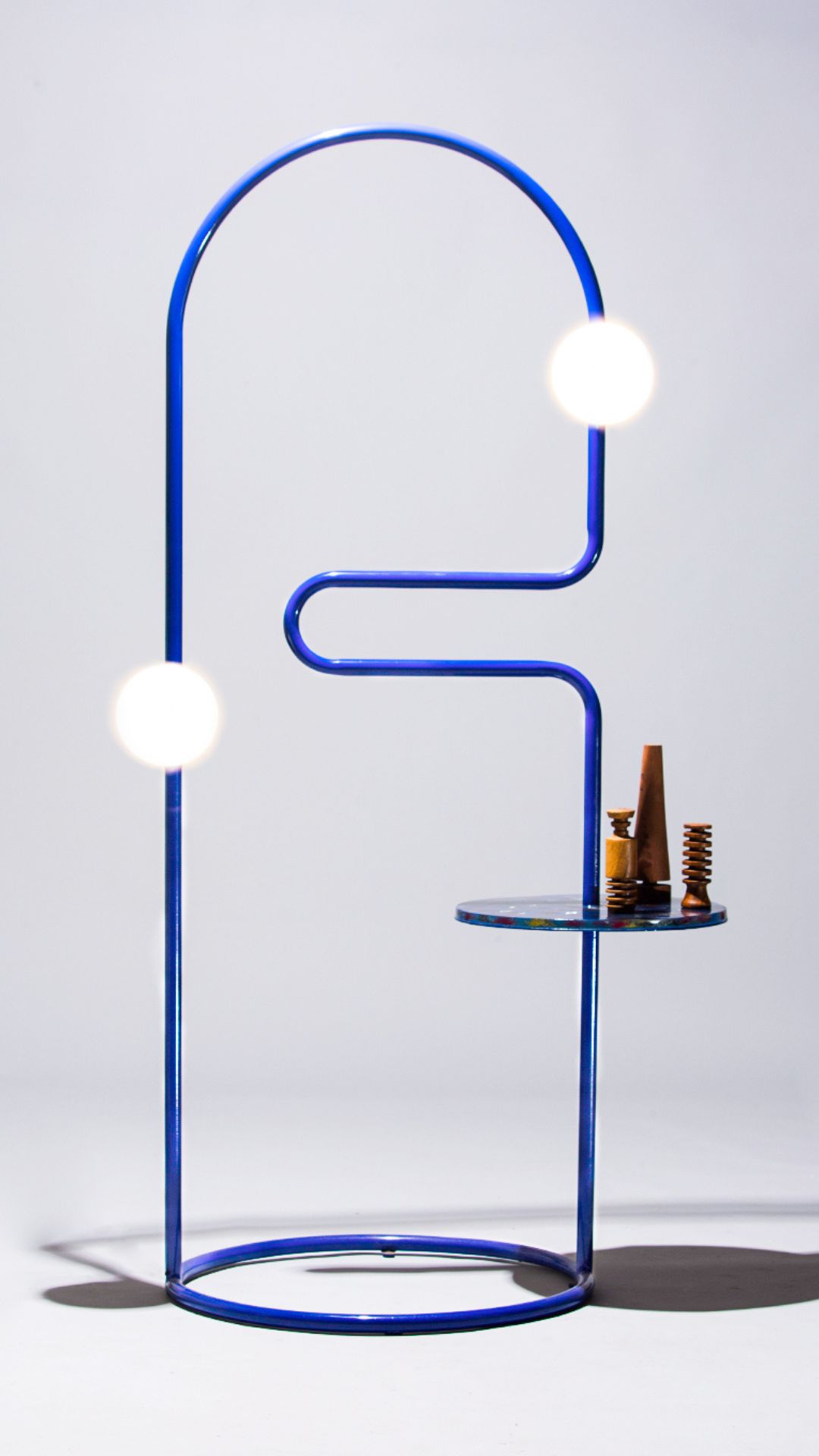 Whilst Mallika heads this part of operations, Jannat and Sharon come up with designs for the pieces. "And more importantly, what the story behind them is going to be," says Jannat.
"We wanted to keep the pieces in the collection minimalistic and derived inspiration from the Bauhaus era — a modern art that was started in Germany in the 20th century and focuses on abstract forms with a focus on function," she adds.
"The products exhibit a silhouette-like fine, linear, subtle and minimal appearance for the fabric to take heed to create a distinct collection. The collection helps drive a circular economy by crafting rejected materials into everyday usable products with a tinge of style."
After developing a number of drafts, the trio came up with their final collection that coupled style with upholstery that allowed for a lot of stretchability. The products include furniture such as lounge chairs, warp chairs, shuttle benches, along with decor comprising chandeliers, pod lights, and oracle mirrors. The items from the collection are sold across India.
Meanwhile Jannat, Sharon and Mallika say their labour of love has intended just what it set out to do — give waste a brighter future.
Edited by Divya Sethu
We bring stories straight from the heart of India, to inspire millions and create a wave of impact. Our positive movement is growing bigger everyday, and we would love for you to join it.
Please contribute whatever you can, every little penny helps our team in bringing you more stories that support dreams and spread hope.