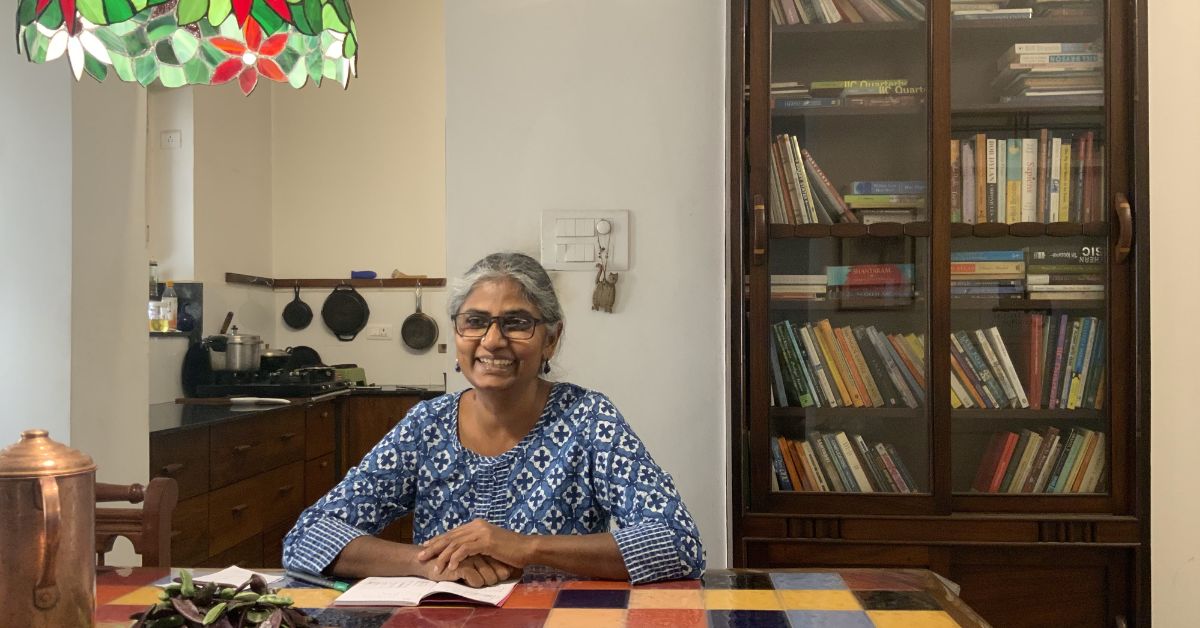 Bengaluru resident and design consultant Gracy Elezebeth has been turning old, used wood left behind from pulled down buildings into beautiful and sustainable furniture. She shares how she has carried on this work for almost two decades.
Bengaluru-based Gracy Elezebeth's venture is a combination of her two passions — sustainability and old, vintage material. "I have always loved the look and feel of old things, because they are of good quality, and simple, yet elegant," she says.
The 53-year-old design consultant has, for the last 19 years, been designing 35-40 houses in and around Bengaluru by restoring and reusing this old wood. She turns the material into sustainable fixtures like doors, windows and kitchen cabinets, and furniture like chairs, tables, wardrobes, and so on.
Was sustainability an integral part of Gracy's life while growing up?
"I don't think it was a conscious thing. But we always lived a minimalist lifestyle. I have three older brothers, so I would get hand-me-downs, be it cycles or school bags. In fact, I always rode a men's cycle. We grew up very aware of the value of things, whether it was water, food or clothes. So, the concept of recycling and upcycling was always a part of my life," she says.
Her venture began with visits to Puducherry and Kerala, where she would pick up antique wooden pieces for herself.
"There were numerous shops selling old furniture on the East Coast Road in Puducherry way back in 1998. There would be lovely stuff just piled up, unappreciated. I would rummage through all the wooden stuff and pick up what caught my eye," she recalls.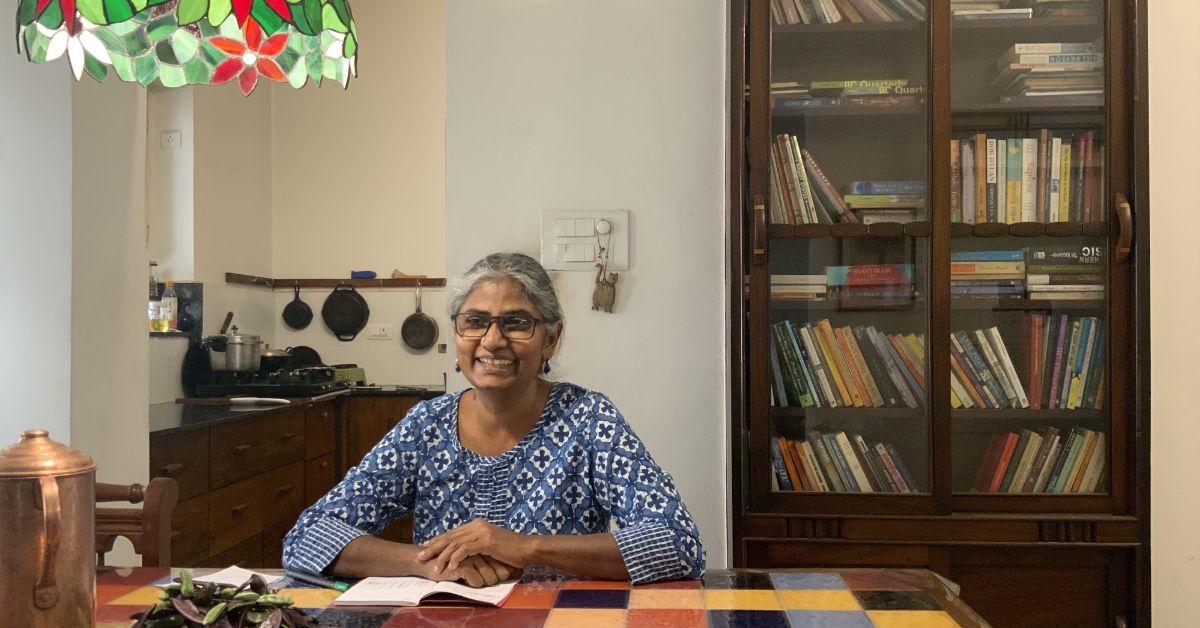 When friends came home, they loved her wooden furniture (straight-back chairs, bookshelves, and various other pieces) and would ask her to source some for them. She started buying standalone objects for friends.
Enchanted by the beauty of old wood, as well as her sense of style, a few friends started asking her to do the interiors of their homes.
"My first project was to do up the new apartment of my husband's colleague in Bengaluru," she recalls. "The client had visited our home and liked the look."
"At that time, I was sourcing from Pondicherry. I got shutters and planks from there and found a carpenter (who has been with me ever since). When I saw him cutting the wood, I panicked, as I was not sure he knew what I wanted. In the early days I had sleepless nights. I was not sure I would be able to deliver. But the project turned out well and from there, there was no looking back," she notes.
By word-of-mouth, she began receiving more clients. Gracy's venture took off around 2004-05, and since then, she has worked on about two projects a year.
The metamorphosis of old wood
For sourcing wood, Gracy depends on the people she has worked with over the years and know her taste. They inform her when a building is being pulled down in Bengaluru or in other parts of Karnataka, like Mysuru, Dharwad or Belagavi.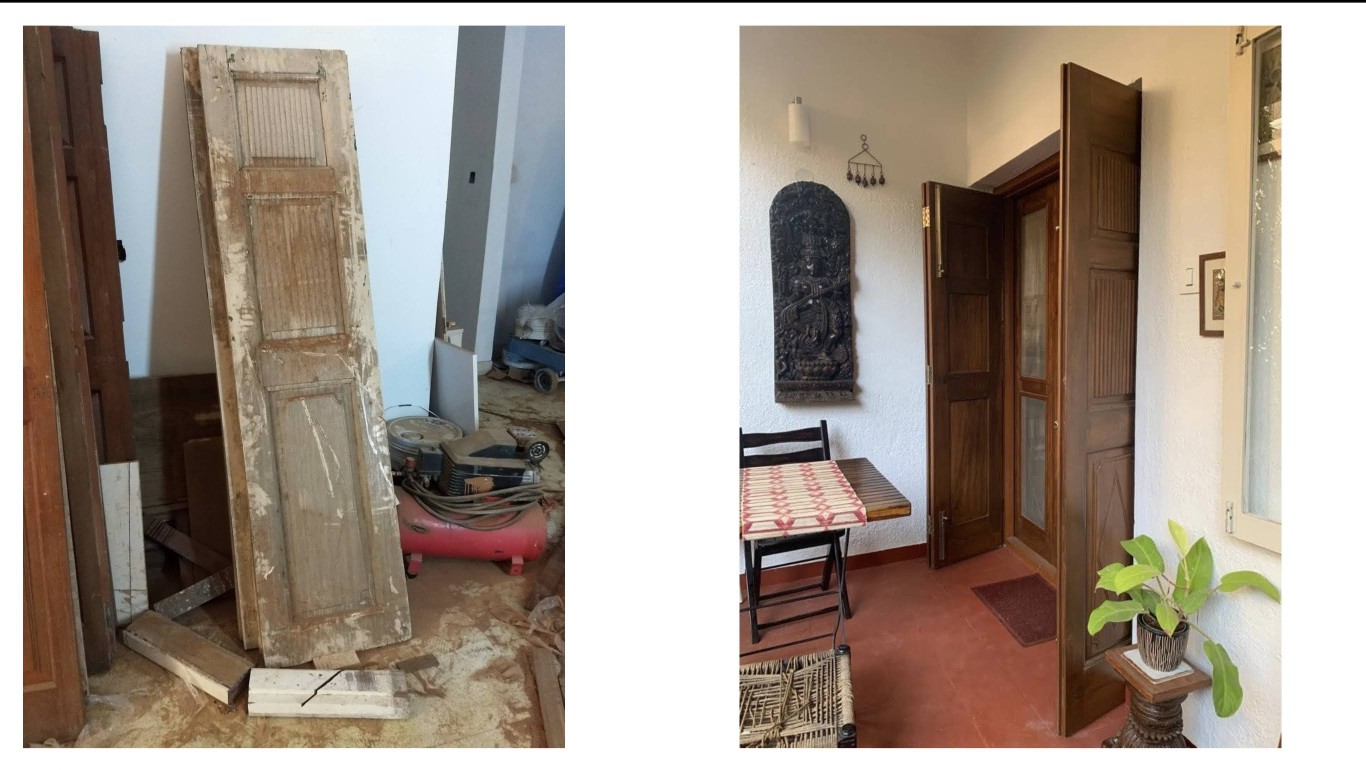 From these sites, she procures wooden parts like old wooden beams, pillars, faces of built-in cupboards, old tables, wooden boxes, and other things. These are made of mostly Burma teak, matti wood (native to the Western Ghats), mango wood, jackfruit wood, and occasionally, very good quality rosewood. Rosewood is even more durable than teak, but expensive. The old natural wood is then used to make door frames, pillars, shelves, tables, swings, and other items.
"Old wood is sturdy. It will last a lifetime if you take basic care," she explains. "Old wood fixtures and furniture can be taken apart and refashioned into new things. You can't do this with manufactured or engineered wood products. Most stores do not sell old natural wood products. Even if they do, they are prohibitively expensive. They sell products made of 'new wood', which is of lower quality. New wood lacks the colour, grains and strength of old wood."
The first step is removing all the metal parts like nails, screws and hinges, and any layer of paint.
The wood is run through a planing machine to even it. Sanding is done by hand and the wood is cut as needed. Sometimes, doors and windows are used as is in new construction. Door frames are used to make other objects, while shutters are used as the face of built-in wardrobes.
After the carpenter finishes his work, the polisher takes over. Gracy favours a matte finish and prefers polishing to painting, as in the former, one can see the beautiful grains of the wood. After the hand polishing, a compressor pump is used to coat the wood with melamine, a thin resin film, that protects the wood from weathering.  
It takes two months to complete a home, but can take longer during the monsoon. "My costs are sourcing the wood and paying the charges of a small team of carpenters and polishers. Old wood is now in short supply, so costs are rising. I ask my clients to first survey the market. For instance, they would find that furnishing their kitchen with restored old wood would cost about the same as the cost of a branded modular kitchen, invariably made with engineered wood."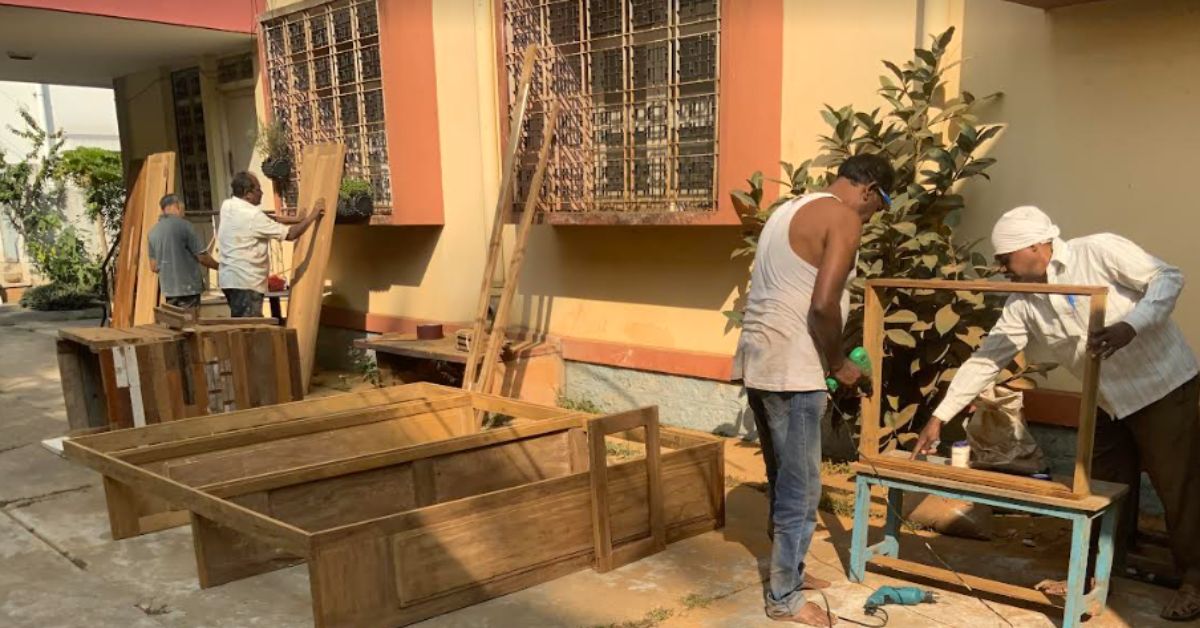 Do it yourself
Gracy says her process is never rushed, and that she believes in taking it slow so as to not compromise on the quality. In fact, she has refused several projects because the clients wanted the work done in a short period.
"Procuring the right wood and pieces in a hurry is not always possible. I am willing to take up work that gives me pleasure. I am not keen on scaling up for financial gains. I like to keep it small and take up projects which I can do justice to," she explains.
A commerce graduate, Gracy has had no training in wood restoration work. "I have learnt on the job, by physically watching people work. When I began, YouTube videos and online sources of information were not so pervasive. I am a very DIY (do-it-yourself) person. Of course, I have a carpenter and wood polisher who bring their teams to help me do the restoration work."
The work is generally done on site, she says, adding that as per research by her clients, they end up cutting 25-30% of the regular cost. "But the real benefit," she notes, "is in getting better quality products. It's like buying a pure pashmina shawl instead of a synthetic one."
Why reuse old wood?
Environmentalist and the editor of Sanctuary Asia Bittu Sahgal says, "There is no doubt at all that restoring old wooden furniture, or using old wood such as railway sleepers, wooden beams and supports of old homes, is infinitely preferable to using timber from forests or importing timber."
"We should study and understand the value of natural forests and their contribution to sequestering carbon, harbouring biodiversity and thus helping to moderate the worst impacts of our climate crisis."
"Rather than cut down forests to plant timber species, it would be far better to use farmlands where trees can be planted as windbreaks and harvested in a planned manner. The other option is proving to be bamboo, which is fast growing and does not need pesticides and other toxic chemicals to cultivate," Sahgal notes.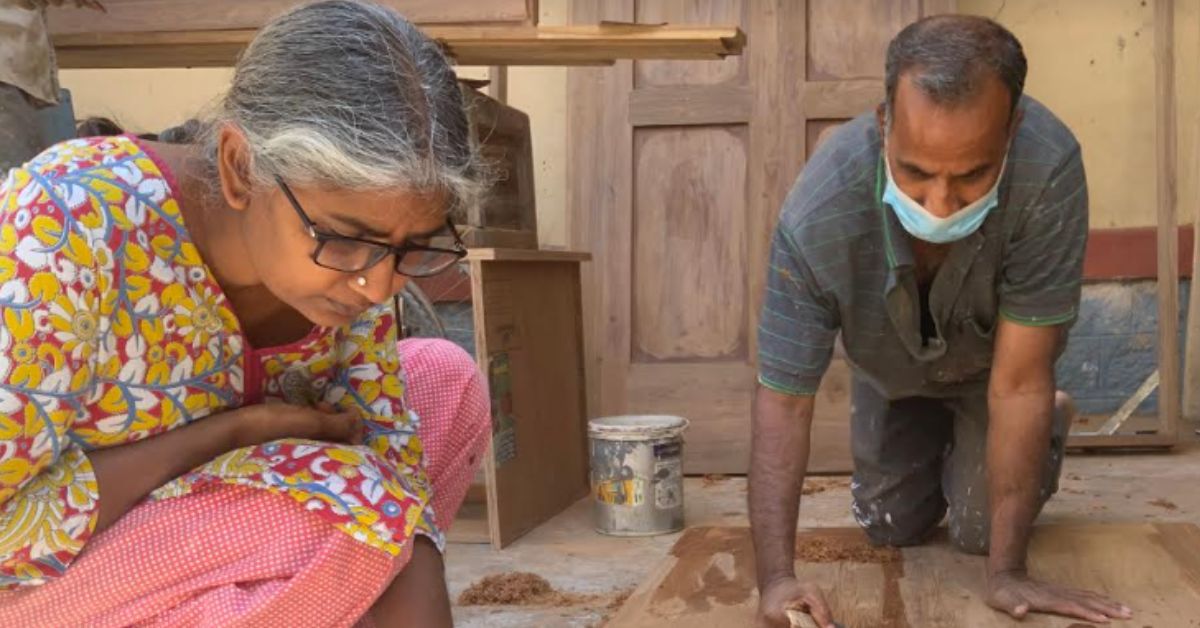 Meanwhile, Binu Bhaskaran, furniture designer and a faculty member at Srishti Manipal Institute of Art, Design and Technology, says, "Old reclaimed wood scores on three dimensions. It is aesthetically appealing as the grain quality is amazing. Second, we use the term 'workability' of wood. The workability of old wood, especially teak, is good. It is easy to cut and plane, and the finish of the product is better. Thirdly, reclaimed wood is sturdier and more durable, as it has been exposed to elements like rain and harsh sunlight already and does not need much seasoning. There are no worries that it will twist or swell up with moisture."
"There are many restrictions on cutting trees in India, and we mostly import wood. Imported Burma teak costs around Rs 3,500 per cubic feet. Using old wood to fashion new furniture and other products is definitely a good idea from the sustainability point of view. This is because you are upcycling and giving life to something that has been discarded," explains Bhaskaran.
'Old wood never goes out of fashion'
The interiors of Anita Gurumurthy's house 'Sharan' in Bengaluru were done by Gracy 15 years ago.
"Old wood is like a Kanjeevaram saree and never goes out of fashion. Gracy's work has brought an exceptional quality to our home. The character of old wood lends a warm sense of home to a space. It has a certain aesthetic about it. Also, it gives a feel of solidity, stability and security. There is a sense of simplicity and elegance about Gracy's style, which I like. It is not really about embellishment. Furniture should not overwhelm the space," says Anita, who works on issues of technology and society.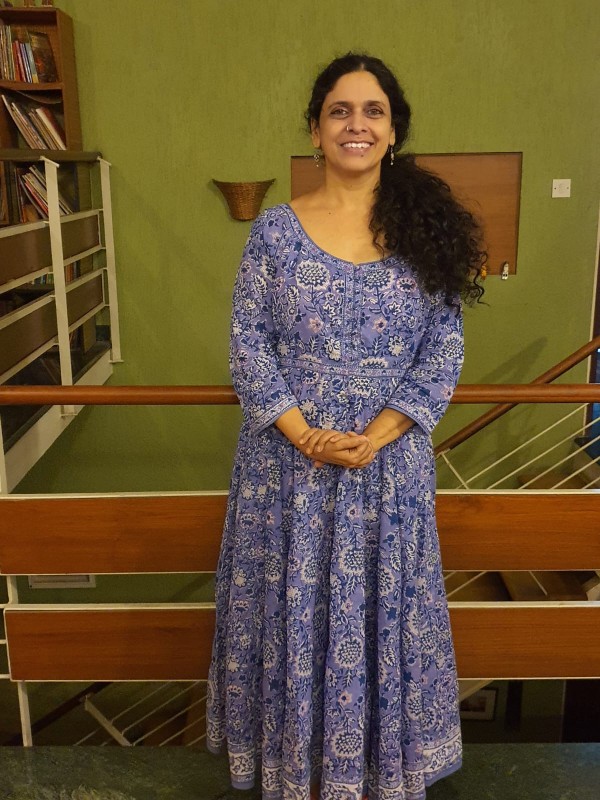 "Gracy advised us to go minimalist. We had purchased an old house that was pulled down to build a new one. We used the small windows from the old house to make shelves. A wooden tray from Kashmir, which my mother had gifted me, was converted into the top of a side table."
"Many such small things gave a sense of uniqueness as well as minimalism. We tried to make good use of what we had. Gracy told me not to worry too much about harmonising the colours of wood. We got some bookshelves. The house has wall mounted wardrobes. I am very happy with my kitchen too. It is not modular. It doesn't look boxed up and flat. It looks more vibrant — it's neat, but has the sense of a living kitchen," she elaborates.
As for how Gracy looks back at her work, she notes, "It brings great joy to see something that is old morph into something useful and aesthetically appealing."
"I am also happy that I have encouraged a few carpenters and polishers to keep the skill of working with old wood alive," she smiles.
Edited by Divya Sethu; Photo credits: Gracy Elezebeth
We bring stories straight from the heart of India, to inspire millions and create a wave of impact. Our positive movement is growing bigger everyday, and we would love for you to join it.
Please contribute whatever you can, every little penny helps our team in bringing you more stories that support dreams and spread hope.